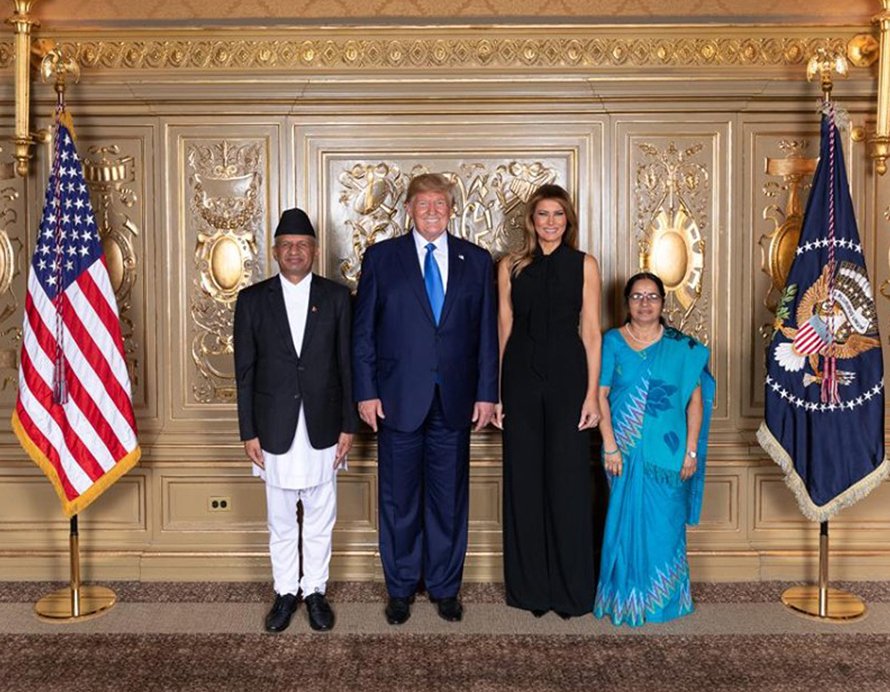 Kathmandu, September 26
The Nepali delegation to the ongoing United Nations General Assembly in New York is busy in many high-level meetings with leaders and officials of other countries on the sidelines.
On Tuesday evening, the delegation leader, Minister for Foreign Affairs Pradeep Kumar Gyawali, and his spouse Saraswati attended a reception hosted by US President Donald Trump and the First Lady, informs the Ministry of Foreign Affairs. The two leaders also held a brief meeting.
Meanwhile, Nepal and Ghana established formal diplomatic relations on Wednesday. Minister Gyawali and his Ghanian counterpart Shirley Ayorkor Botchwey signed a joint communiqué to that effect.
With this development, the number of countries Nepal has established diplomatic relations has now reached 168. The two ministers also held a bilateral meeting and shared the confidence that the diplomatic ties would help bring the two countries and peoples closer on the bilateral front while continuing their collaboration at multilateral forums.
Likewise, Gyawali held separate bilateral meetings with his counterparts of Bahrain, Norway, Saudi Arabia and Venezuela.
Also on Wednesday, Gyawali addressed the annual Ministerial Meeting of the Landlocked Developing Countries (LLDCs), where he stated that the infrastructure gap in LLDCs compared to other countries was the highest.
In this regard, the minister highlighted the need for building connectivity, including through durable and effective partnership between and among LLDCs and their transit and development partners.