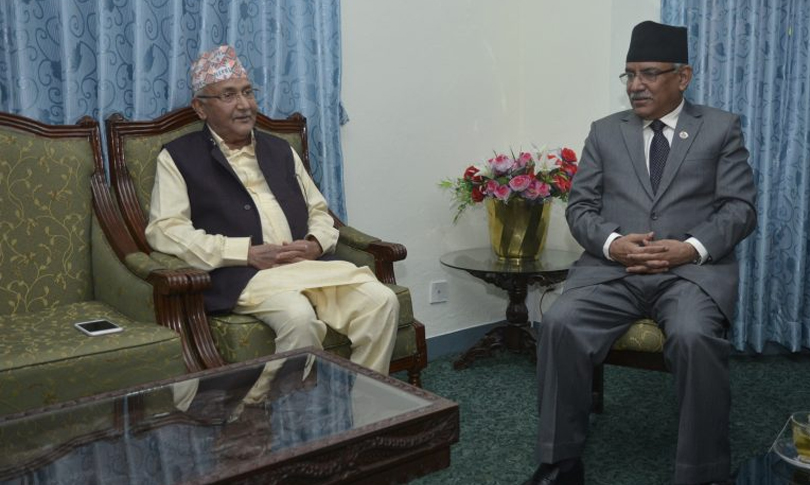 Kathmandu, September 20
Sources in the CPN-UML say the party is now regretting breaking ties with the CPN-Maoist Centre and willing to revive the alliance it had with the Maoists when its Chairman KP Sharma Oli was the prime minister.
Results of recent local level elections have made the UML realise that if the party does not take Maoists into confidence, the Pushpa Kamal Dahal-led party continues alliance with Nepali Congress and it will be harmful for the UML in all respects.
The main opposition has concluded that it lost leadership opportunities in around 40 local units in the polls just because the two ruling parties partnered against it.
Of course, the UML's most favourite condition is three parties contesting any election independently so that it can secure either first or the second position confidently. But, if two parties are to partner against the one, it wants the Maoists with itself.
"Primarily, we can win the polls independently. It has already been proved that the UML wins even if the Congress and Maoists form an alliance against us," UML Vice-Chairman Bamdev Gautam who has been advocating for the Communist alliance for years says, "If the Maoists realise the truth, they have to form alliance with the US for partnership with the Congress means the Maoist party's destruction. The Maoists should review their unnatural ties with the Congress."
Of late, factions within ruling parties have expressed dissatisfaction over the continuity of Congress-Maoist alliance. Leaders close to Ram Chandra Poudel in the Congress view that the party could not earn any benefit from the alliance. Party's General Secretary Sashanka Koirala blames that the party dropped to the second position in the local polls also because of the alliance.
On the other hand, Maoist leaders including Narayan Kaji Shrestha have also expressed unhappiness over decisions made by Congress President Sher Bahadur Deuba-led government.
In this context, it is not sure when the Maoists will decide to change the partner.