Everyone swarms around Lok Chitrakar as he enters the Museum of Nepali Art (MONA) to unveil his painting that he has been working on for the past 25 years. Among his peers and art lovers, Chitrakar is a superstar. During the time he is at MONA, he is drilled with questions about his work. And with a bright smile on his face, he answers them all.
"It feels great," says Chitrakar. "Places like these are important for artists. This will give us the motivation and the audience and the idea of how good Nepali artists are. Kudos to the team!"
Museum of Nepali Art, located at the Kathmandu Guest House in Thamel, is the brainchild of Rajan Sakya, the CEO of the KGH Group of Hotels and Resorts. His aim through this museum is to promote Nepali art and artists like Chitrakar. The museum wants to give them a stage where they can show their work so that the general public can come, watch and be inspired by these living artists.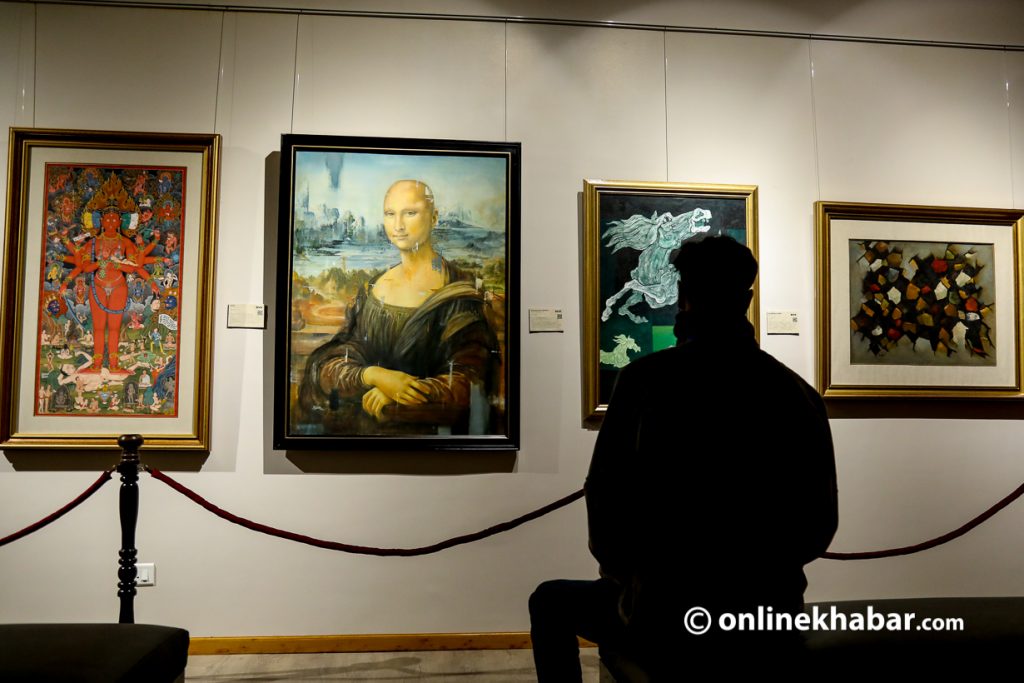 Bringing art to people's access
"I know how hard it is for people to get to see the art by these artists," says Sakya. "I wanted to open this museum for these artists so that their work can be appreciated. Why? Because they are our national treasure."
The idea came up around two years ago when Sakya was sitting at a gallery in Patan. There, he heard about how a Nepali artist refused to sell an art piece to a Chinese collector even when he was offered Rs 35 million. Curious, he wanted to have a look at the art piece. But both the artist and the collector refused to show Sakya the art.
"That's when I envisioned the Museum of Nepali Art," he says. "I wanted to do something for these artists because, here in Nepal, we hardly know any artists. I want to give people the chance to come and admire the best artwork Nepal has to offer."
The best works of Nepali artists are hardly available to the general public. They do exhibit their work from time to time at galleries, but these generally last less than a week. After that, most of their works either go abroad or are at homes of the rich in Nepal.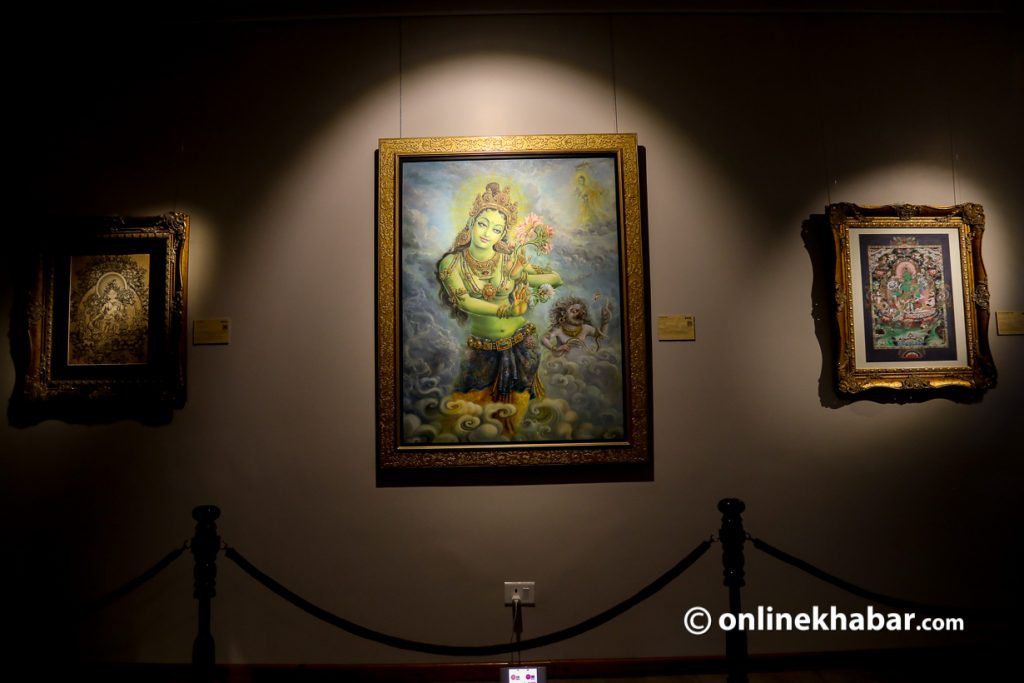 Samundra Man Singh Shrestha is one of Nepal's emerging traditional artists whose work has been displayed at the Museum of Nepali Art. He has won awards both nationally and internationally for his work. That said, there are only a handful of people, mostly from the art world, who know him.
"We are called the national treasure, but honestly speaking, no one knows us," says Shrestha whose most works have been sold abroad.
But, Shrestha is hopeful that a place like the Museum of Nepali Art will give artists like him the recognition they deserve.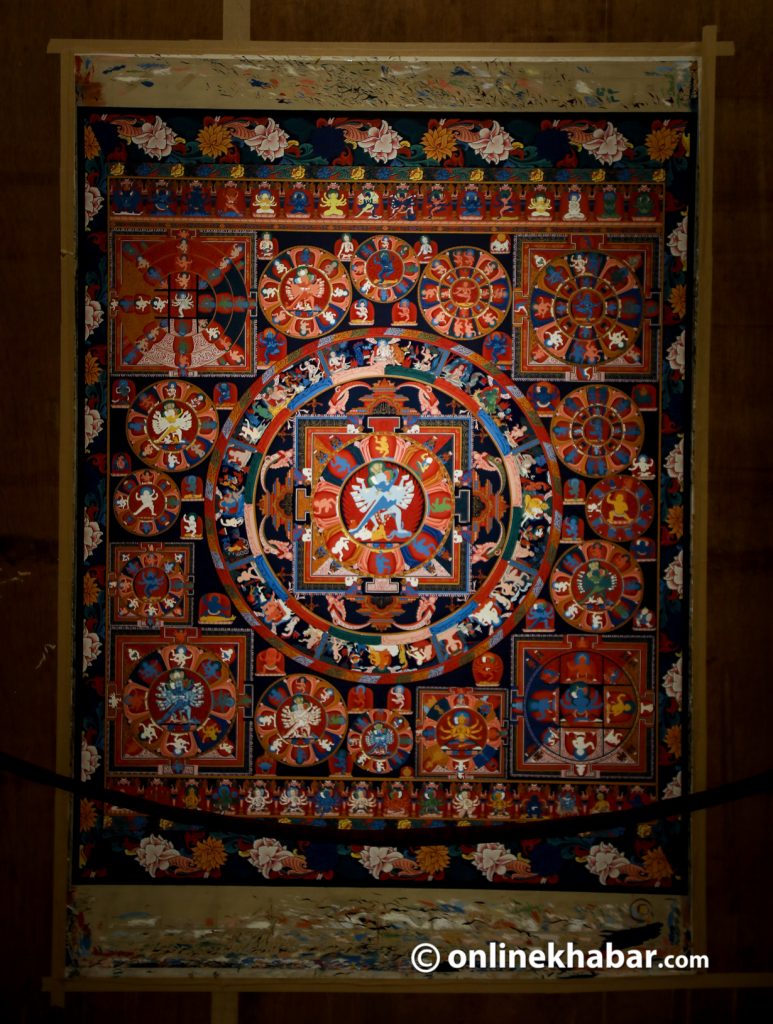 Heralding a change
An example of things changing can be the Green Tara painting at the museum. The painting, before it was bought by Sakya, had been sold to a Chinese collector by Shrestha.
But when Sakya saw the painting and found that it had been sold, he was obsessed with bringing it back.
"The Green Tara is to the Museum of Nepali Art, what Mona Lisa is to the Louvre," says Sakya. "I put in a lot of effort to get that back from China. It feels quite good when I go to the museum and look at that painting."
Shrestha is pleased too. Having done art for over two decades, he had never thought such a thing would happen.
"There was a time when I would feel happy about foreigners buying my art. Now, when Nepalis buy it, especially from abroad, I feel proud."
The Museum of Nepali Art aims to do just that. It wants to give these artists the stage to showcase their talent so that the future generation has something to be proud of.
"The art and these artists define us and our culture. If we put no effort to conserve it, it will disappear," says Sakya. "I firmly believe that Nepal, after Buddha and Mount Everest, can be known for its art."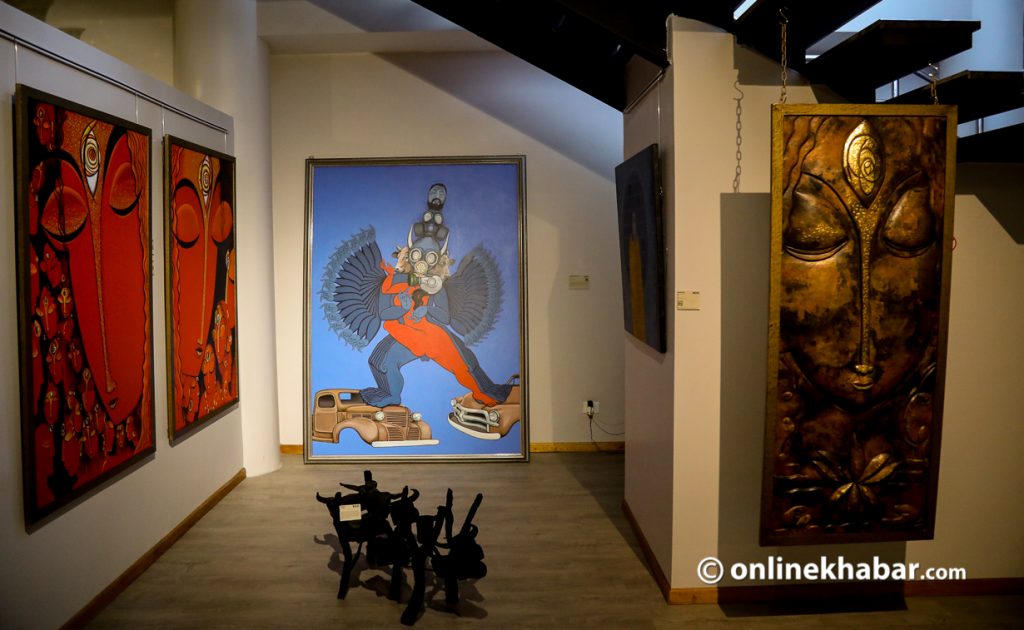 The museum has art by most of Nepal's premier traditional and contemporary artists like Raj Prakash Man Tuladhar, Prem Man Chitrakar, KK Karmacharya, Kiran Manandhar, Lain Singh Bangdel, Asha Dangol, and Erina Tamrakar.
Shrestha and most of the artists say that they are glad that the Museum of Nepali Art offers them a stage where people can come see their work.
"I get a lot of people who tell me where they can go to watch my work," says Shrestha. "It's quite sad when I have to tell them that there is no place that has my work in Nepal. It's either at the houses of collectors or have been taken abroad."
But now, Shrestha has somewhere he can send people who want to see his work.
"It's given us a stage. I hope through this stage, I can inspire the younger generation of artists."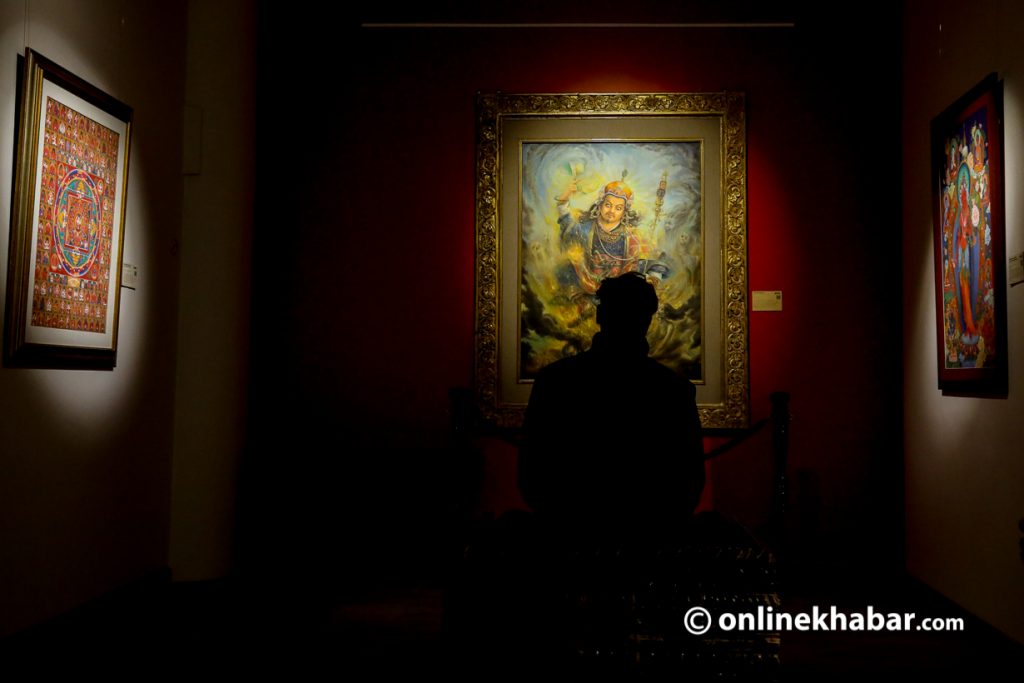 The place has only formally opened and in a bid to encourage more Nepalis to visit and admire the art by these artists, the Museum of Nepali Art has tied up with Qatar Airways.
Through that tie-up, one lucky winner who visits the Museum of Nepali Art from February 1 to March 26 will get a chance to win one round trip to a country. Apart from that, a 10 per cent discount is also given by Qatar Airways after you visit the museum.