Bimala Khanal used to work at a mill when she was 16. She had long, luscious hair. But, one unfortunate day, her hair got stuck in the crushing machine and she got burn injuries. She lost her hair in the accident.
After years of struggle with the pain and the judgements of society, the 42-year-old, a mother of a daughter, is working happily to sustain her family. To date, she has been busy learning sewing works and has experimented to make bags, mats, keyrings, purses, and t-shirts.
Bishnu Pukar Shrestha had just entered his 20s. But, a certain fall from a roof injured his spinal cord and was restricted to a wheelchair. However, Shrestha has now turned his fate around and has learned new skills. He is a thangka artist now, working independently and earning decently.
Behind the change in fate, both Khanal and Shrestha credit the Boddhisatva In Action (BIA) Institute where the two have been learning and earning. "Our focus is to empower them and make them capable of executing the vocational skills they have learned so that they can earn," says Gokarna Dhungana, the executive director for BIA Institute in Jorpati.
Giving a base
The BIA Foundation is a philanthropic initiative of Chogyal Rinpoche who founded the institution in 2013 after he came to Nepal. "He went to several places to research where and how to help back the community. After several encounters, he reached Sanga to research disabled people and, convinced, he founded the organisation," Dhungana informs.
On the premises of the Nepal Orthopaedic Hospital and Nepal Disabled Association, the institute works closely with the disabled and the troubled alike.
The main objective of the institute is to make the lives of the disabled community better. For this, it started giving them not only shelter but also vocational skills necessary to make and build a living.
Ngawang Chhiri Sherpa first came to BIA after sustaining a spinal cord injury in one trekking expedition. "I came here in 2014 and was in the first batch here to learn to make the thangka paintings. I had previously learned thangka making, but I felt there was a need for a more proper course. I am now happy that the skill is being transferred to some 30 to 40 others too."
Sherpa, at BIA, has met like-minded people and bettered his thangka skills. His growth can be seen in the fact that he has made it as a trainer and is doing very well within and outside the institute.
Focus on structured learning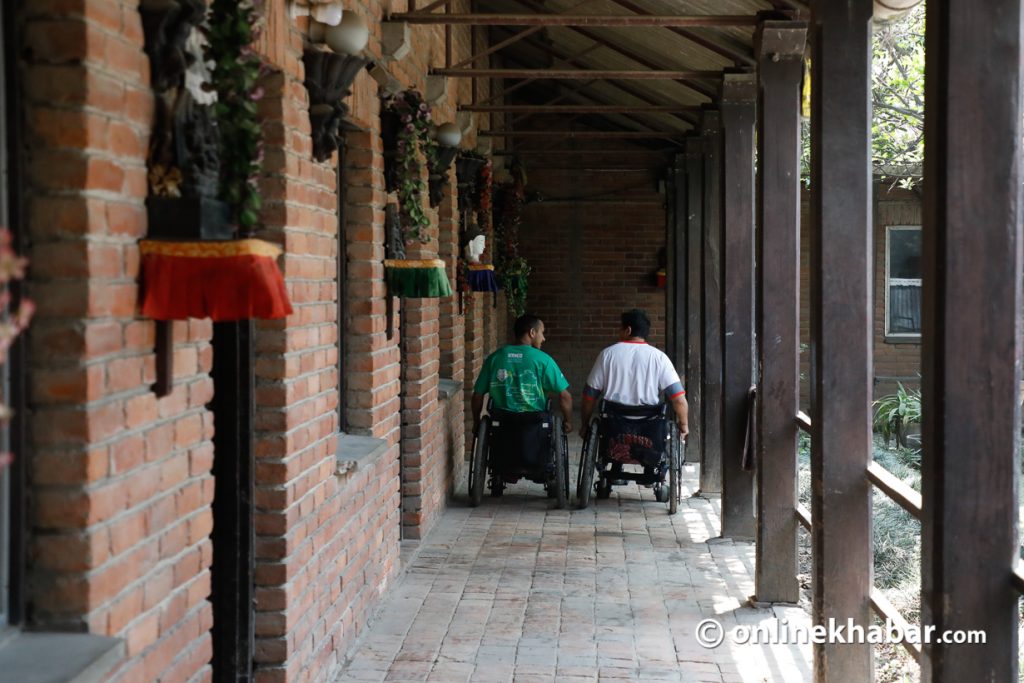 There are a number of training workshops that are targeted towards the disabled community to strengthen and make them independent. However, Dhungana adds, it is not enough.
"If you ask any random disabled person, they are sure to have taken at least one to four training of various kinds given by various institutions. But, to really judge the implications and reliability, we have to see how the training has made an impact on their lives. Just two days or even a week of training cannot refine or make them capable of earning once they are done."
Before the BIA, Khanal had received training at the Department of Cottage and Small Industries (DCSI) for three months and then at Shanti Sewa Griha. She found a job in a paper mill and worked there for 13 years. "Since I came here, the economic aspects have changed slightly for the good. There is a place for me, and my daughter is getting a good education."
Keeping long-term impact in mind, the charity has developed a proper six-year course to teach and groom those who seek solace in their premises with vocational skills, explains Dhungana.
"We first started with thangka and then applique thangka. On an average day, they spend their time here like at a proper educational institution and learn the basics of thangkas and then work to refine their skills," Dhungana says, "The course is divided into a yearly course system with exams and a ranking system. We believe this has opened floors for open and healthy competition among the students."
Not just in thangka, they have the structural learning system in others too. "We are teaching incense-making to visually-impaired people. It is because they have a better sense of smell and touch. Other than that, there are a group of disabled and troubled women who weave Dhaka fabric, carpets and make felt products and tailoring."
Further, in Jawalakhel, the BIA Foundation is holding statue-making workshops and in Kirtipur, it is giving metal crafting workshops and thangka training. "The best part is that the training involves amputees, not just as the trainee but also a trainer."
Comfort a priority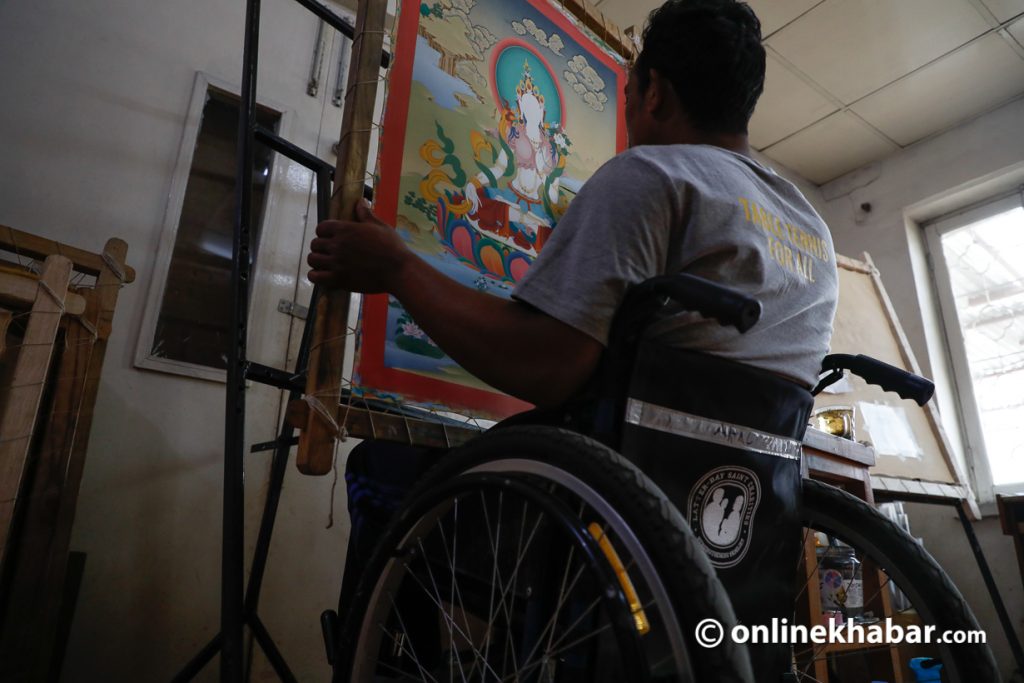 The BIA Foundation says its course is very flexible and designed to accommodate their physical and psychological needs. "Given that there was a pandemic in between that affected the psychosocial aspects of their lives, we have also pushed the dates of the exams and the whole training to accommodate them," adds Dhungana.
The flexibility is accommodated throughout the course. "We first started with chart paper and learned colour-mixing techniques. Then, we move them to canvas. The institute has provided us with custom-made frames so that we can slide in and make the thangkas with ease. On a daily basis, we have a routine we follow that takes care of the fact that we cannot sit for too long. The art is hard but is worth learning," explains Shrestha.
Meanwhile, Dhungana adds, "We have appointed a nurse and physiotherapist to give them the care, treatment and rehabilitation they need besides vocational skills. The direst and most common problem for wheelchair users is they are prone to getting bedsores. They do not have any sensation in their lower half, which is why they need a regular break and checkup in between."
Other than just making them learn vocational skills and practise, the institute has its focuses on their physical and recreational activities too. "There are regular picnics, marathons, trekkings, sports (basketball and cricket) and other celebrations. A team has also gone to participate in the paralympics. Other than that, there are regular interaction programmes with celebrities and motivational speakers to keep them motivated."
Adding more value to the care it gives to the trainees, the institute has even set up a daycare room where 10 children of the BIA members are taken care of.
Uplifting first
But, its major focus is to produce skilled human resources with appropriate vocational skills who either can be independent artists or can sell their skills to the platform and the market where they feel positive, says the organisation.
To make the system effective, "those who perform better also get better and more incentives. Everyone gets a basic incentive of Rs 6,000. Though incentives might not completely change their lives, they get pocket money and they can also use it to purchase thangka supplies and canvas once they graduate."
The incentive system makes others who fall behind want to better their performance next time. And at the end of the day, they sometimes even plan to hold an exhibition so that the trainees get the exposure and platform to showcase their talent. "We are soon exhibiting at Taragaon Museum for people who are graduating this year."
But, the institute realises that there might be people who will not continue their vocational skills even after graduation. "Yet, the focus is still on enabling them to earn on their own, be it by teaching others like them at BIA or independently and/or by selling their crafts."
However, the market may not be welcoming to them. For this, the BIA becomes their first buyer and helps them refine their crafts and generate a market for their products where needed.
Other than that, the organisation is also providing grounds for them to earn extra. For example, Khanal here runs a chatpate stall during her break time. Some trainees there also have a special interest to invest in the share market and trading in the secondary market.