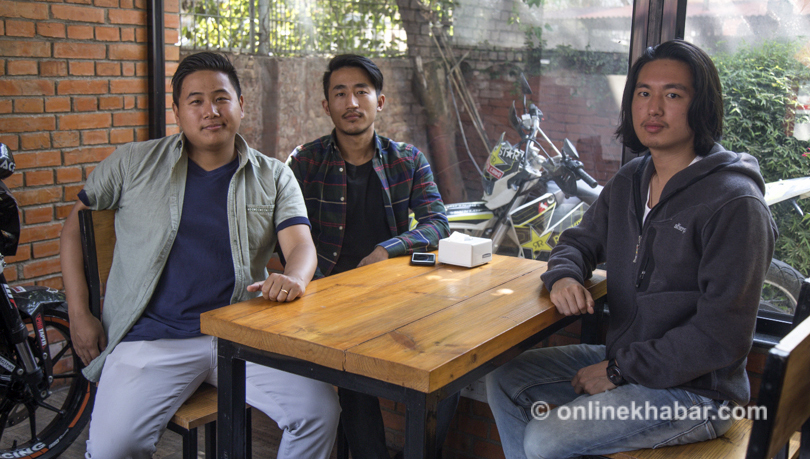 Imagine you are on a night out with friends or back home partying and it's 2-3 am.
Suddenly, you feel hungry. You scour the fridge but don't find anything. What would you do in such situations? The first thing on your mind would be to order some food. Right?
But can you get food, let alone freshly-cooked, healthy food, in the middle of the night?
These were the questions four friends Shejey Agyitsang 'CJ', Abhishek Gurung, Pratiyush Man Singh and Phinjock Sherpa, were asking when they were looking for ideas to start their own business. A year ago, CJ had this idea of opening a food delivery company which would cook and deliver only in the night time for those who love midnight snacks. The idea took off with support from the families of all the friends.
"When we went to register the company all pumped up, it was then we got the real taste of how government offices work in Nepal. From running from one room to the other, waiting for almost an hour just to get a signature from an official out on lunch, we did it all," shares CJ.
But when everything was done, and the company registered, the team realised that 'Bhok Lagyo Food Delivery Company' was born. The company, through several rounds of brainstorming, is clear about its niche. It will deliver only healthy food to anyone who's hungry only at night. From doctors to gamers, Bhok Lagyo has served almost all night owls in the city.
Initial hiccups
Kathmandu is one of those cities where finding address is not particularly easy during the day, let alone at night. When it pours in Kathmandu, all the roads are clogged and moving around becomes difficult. But as time went by the delivery staff at the company have come to terms with the challenges and they now know their way through the complicated alleys of Kathmandu.
Health concerns
When it comes to the food, Bhok Lagyo's emphasis is on healthy cooking. The company uses organic vegetables and avoids the use of MSG. The founders have always stressed using as less oil as possible.
The choice they have made is for the long run of their business. In the short run, people would feel that their products are not as tasty as the food you get in cafes. "That's because we Nepalis are so habituated to MSG, we find food without it bland," shares the team.
Bhok Lagyo has gone one step ahead by using only stainless steel utensils to make momos. The reason is that food cooked in aluminum utensils is believed to be bad for the nervous system.
Similarly, the buns they use in their burgers is bought from an American baker.
"Since our digestion will not be good at night, too much of oil or stock food can mess up our health. So the first priority of the company is to take care of the health issue," explains CJ.
The company has two chefs working. The partners sit in a small room they use for administrative work. All of them switch to kitchen gear when it comes to helping the chef especially when the orders pile up.
The food is usually delivered within an hour of order. To deliver the food, Bhok Lagyo uses a special bag to keep food warm.
Their food items ranges from Rs 250 to Rs 375 (the minimum order must be of Rs 500).
Bhok Lagyo is an example of how Nepali youth are taking charge of their own lives to do something they find meaningful. As the saying goes, "You do something new and build a business then you are an entrepreneur, but if you just copy from other businesses and earn money, then you will only be a businessman".
"Make a proper business plan and work on it. It's not that you start something today which will reap profit overnight. Also, it's not wrong to fail. It's a good thing to happen actually. When you fail you learn and failures are the pillars of success," that's what the team has learned from their experience.
Five years from now, the team wants to see themselves as one of the pioneers of the food industry with a network all over Nepal.
But for now, as a startup Bhok Lagyo wants to focus on customer satisfaction.
Bhok Lagyo on Facebook.
Deliveries from 8 pm to 4 am, except on Tuesdays.