How many old traditional houses do you get to see nowadays in Kathmandu? No doubt, they can be counted on fingers. And, it is no secret that the valley has already become a dense jungle of concrete.
Amidst this scenario, Narayan Acharya is on a mission to build eco-friendly and sustainable green buildings in the country through his startup named Sustainable Future.
Revival of old technology
Acharya's company has already constructed over 50 buildings ranging from small to big within five years of operation. Started with an initial investment of about Rs 2 million in 2016, the company has already done a turnover of about Rs 40 million by now.
"We use rammed earth technology to construct the buildings. These techniques were used by our ancestors to build their houses," Acharya says, "We just improvised the techniques used by them for the better output that suits modern needs."
Sustainable Future manages raw materials like clay, stone, soil required for the construction from the site area only. An eco-friendly house made by this startup has its own aesthetic value and nature. "This house maintains the heat, controls moisture, and offers breathability itself inside the house," informs Acharya.
The walls of such buildings are 16 to 18 inch thick. And, the buildings are no more than two storeys. Such eco-friendly buildings are made using 20-30 per cent clay, locally available sand-mixed soil, stone chips, and 4-5 per cent cement, without using any machinery.
Acharya argues the avoidance of machinery serves two purposes: no pollution, and employment opportunities to the workers.
"But, we had to mix the cement in our construction as the building code of Nepal says so. But, we mainly follow the building code of New Zealand," Acharya says, "… because very few things about this type of building construction are mentioned in the code here."
Change begins at home
Acharya, who is originally from Jumla, came to Kathmandu and worked on many environment-related projects. The man, who is 50 now, even worked on one of the projects of the United Nations in the beekeeping and resource management area in Somalia for two years.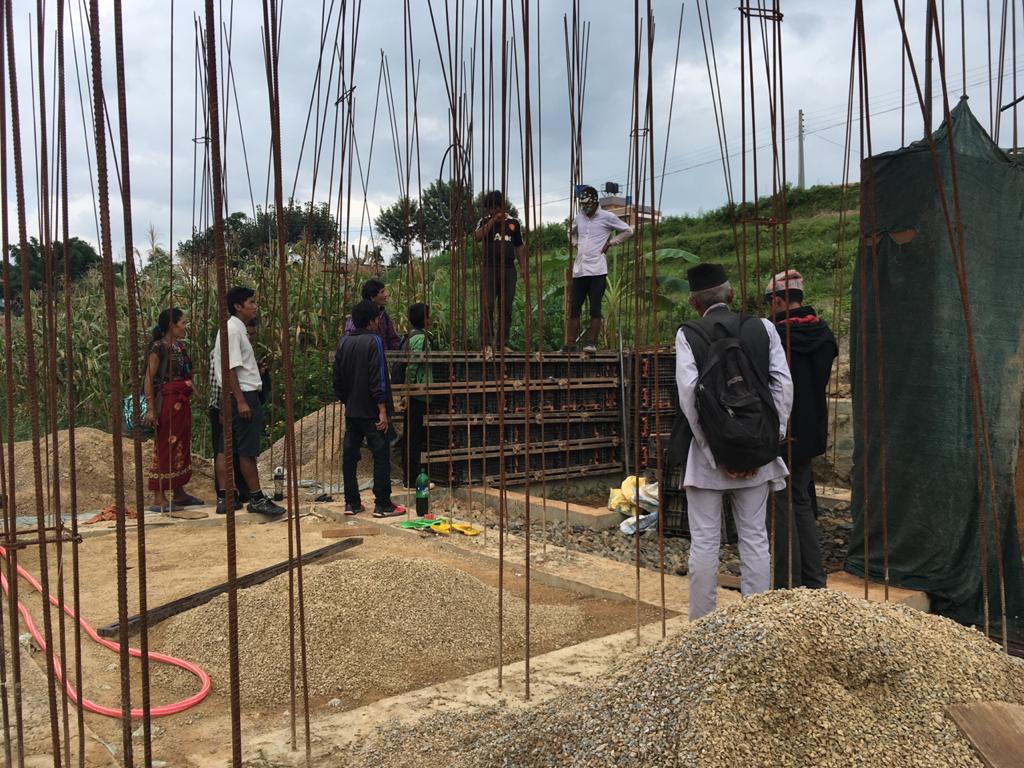 In 2001, he went to the United Kingdom and did a course on permaculture and green buildings. He says, "I got to learn about the rammed earth technology during my study there. Also, I worked in the same field until 2006."
Just before going to the United Kingdom, and after buying land in the Kathmandu valley, he and his wife were searching for eco-friendly alternatives to construct their house. Acharya opens up, "We were very sure that we did not want to make our house using concrete. Therefore, we thought of using compressed earth blocks for building our house. However, after learning about the technology, we both decided to use this."
Accordingly, he started constructing his house in Godavari of Lalitpur in 2011. And, the house was complete in 2013. Acharya says, "During the construction, I got to study practically and know a lot of things about this technology. And, thus, I realised that this construction technique is very suitable and significant for Nepal and everyone should know about this."
About 700 people visited his house as it was the first house of its kind in Nepal, claims Acharya.
His family had lived in a concrete house in the past, and shifting to the new technology was exciting. He shares, "After shifting to the house, we gradually found that the house used to be cool in the summer and warm in the winter. There was a vast difference in the temperature inside and outside of the house."
After realising the beauty and value of the house, Acharya thought of promoting this eco-friendly technology of housing. Meanwhile, Arun Rimal, a USA-based Nepali engineer, was looking for someone to build a hospital in an eco-friendly way in Achham of far-western Nepal.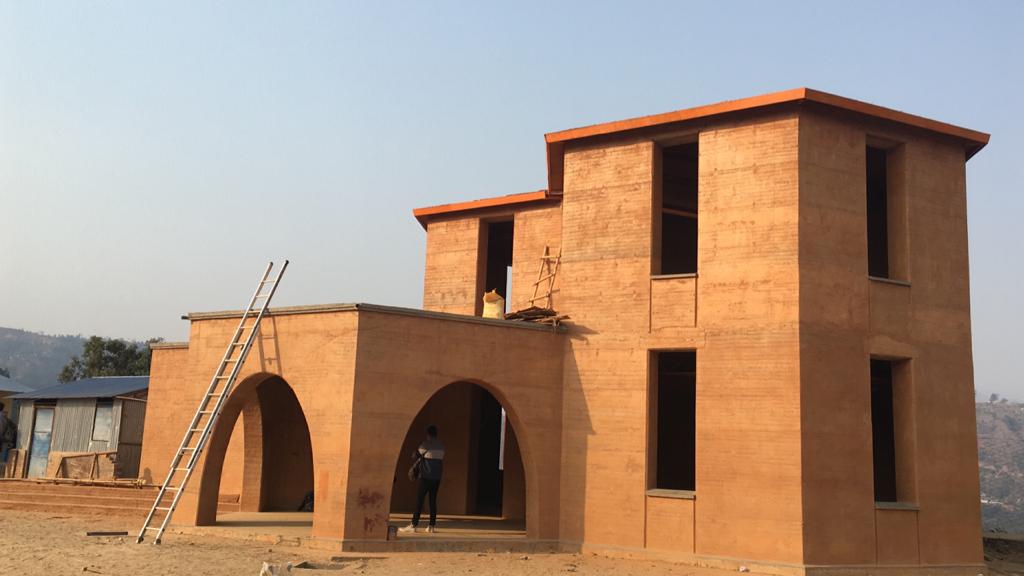 In the process, Rimal got to know about Acharya, contacted him, and also visited his house. After that, Rimal not only hired Acharya to build the hospital, but he also joined hands with him in establishing a company to promote this technology.
"As he [Rimal] was from an engineering background, it became a plus point for the work we do."
Acharya says they started their startup with an aim to promote healthy living, create social impact (provide jobs to the needy ones) and support the environment. Acharya also adds, "Not only us, we believe that all the businesses should abide by these concepts."
Though the duo had been actively working in this sector since 2013, they only formally registered their company in 2016.
Executing the model
As soon as he completed his own house construction and found a new partner in 2013, Acharya began efforts to attract other clients also. The next year, he found one in a goat farm in Chitlang of Makawanpur.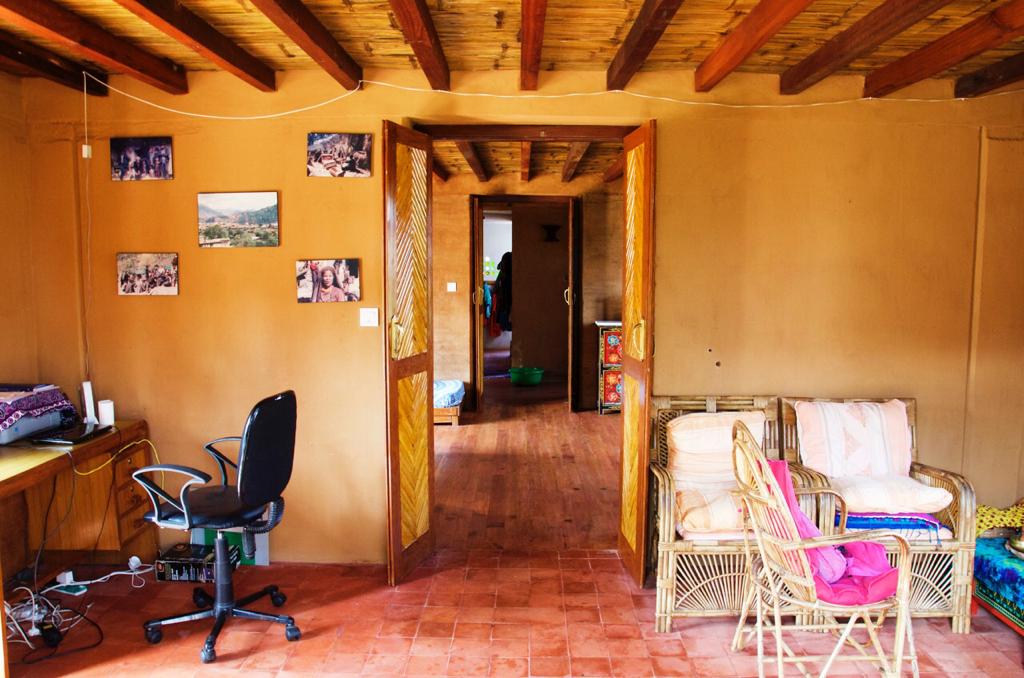 "We mobilised the same workforce that built my house," he says, "Then, some people visiting the farm got attracted to our work and approached us. And, we built a residential building in Lalitpur."
Then came the turn of the hospital in Achham, the idea of which had resulted in the partnership between Acharya and Rimal
They had already created about five rammed-earth-model structures before the 2015 earthquake hit Nepal. "The earthquake stood as a test for us. And, our buildings stood up to that test very well," he smiles, "All the buildings were safe and didn't have any cracks. And, this added a lot to our business."
As the company has not promoted itself via social media, the major marketing tool of this startup has been the word of mouth, says Acharya. By now, it has constructed both residential and public buildings in Kavrepalanchok, Sindhupalchok, Surkhet, Chitwan, Kathmandu valley, and many other parts of the country. The entrepreneur claims most of his clients are happy with the work and the results.
"I always stay with the workers on the site every time and also keep the clients on the site. We frequently discuss the working mechanism of the construction with the clients and workers and assure them the quality work."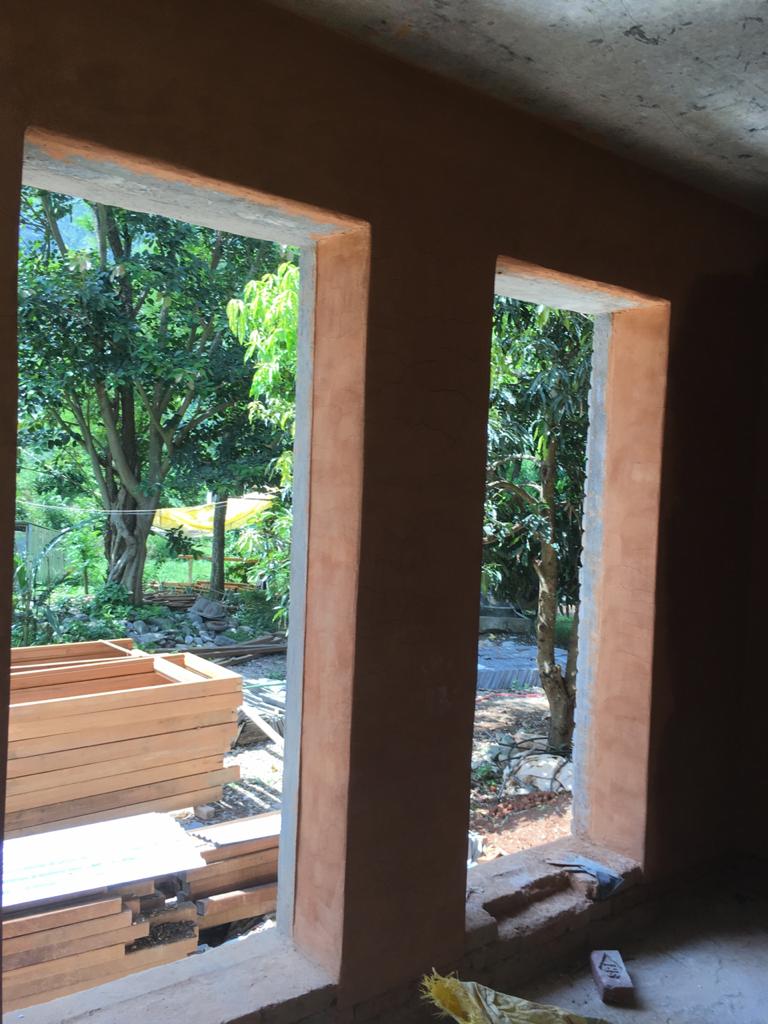 According to Acharya, the cost of constructing a house in this model ranges from Rs 4,200- Rs 4,500 per square foot on average. The cost is almost close to the cost of constructing a concrete building. The company with around 50 workers also provides insulation services for roofs, floors, and windows.
Moving on
"However, it is not always easy to find the workers," says Acharya, "…because not every worker can give the quality and not every worker has the patience that is required for constructing a building using rammed earth technology."
This is not the only challenge that Sustainable Future has been facing. Other hurdles are the lack of awareness of 'green' buildings and their importance among the general public. Acharya says the country's building code also needs to be changed to create a favourable environment for his company.
Gradually overcoming the challenges, Sustainable Future has been completing around three to four projects yearly. Acharya and his team are aiming to promote this technology of housing to the wider population and to transfer this technology to the younger generation.
"I want more and more people to build this type of eco-friendly homes for sustainable living and environment. Also, I want the younger generations to know, learn and follow this technology."