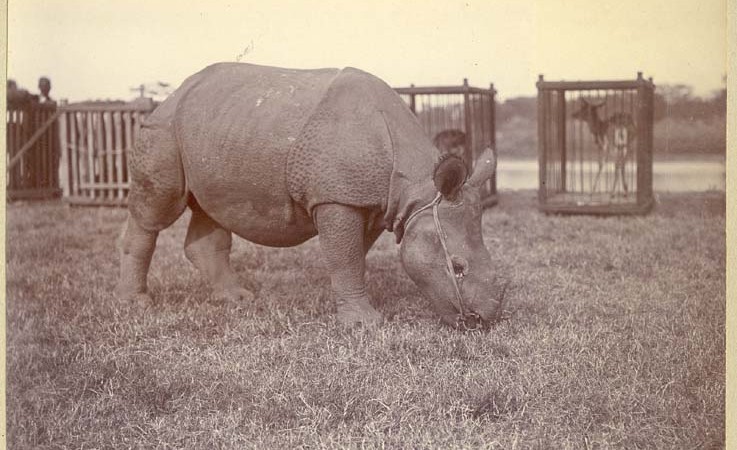 Nepal's southern plains are famous not only for fertile agricultural land but also for the dense forests and a plethora of wild animals.
Now converted into national parks, the area was once a fertile ground for hunting. The current Chitwan National Park was used as a royal hunting reserve from 1846 to 1951 by the Nepali Rana rulers and their guests.
A set of historic photographs have become viral online showing shocking images of British and Nepali rulers engaging in a bloody hunt of many animals including tigers, bears and rhinoceroses.
The British royal hunts began in February 1876 AD and were hosted by then-Nepali Prime Minister Jung Bahadur Rana, writes Subodh Rana in his blog:
In February 1876 A.D. Albert Edward, Prince of Wales, (later King Edward VII), son of Queen Victoria came to hunt in Banbassa in west Nepal hosted by Prime Minister Jung Bahadur Rana and bagged 23 tigers in a two week shooting spree. He had presided over the Delhi Durbar in celebration of his mother Queen Victoria having been proclaimed the Empress of India on January 1, 1876 A.D. It is written that he was so bored with the formalities of state that coming to shoot in the Terai was the highlight of his India sojourn.
Later many British Royals followed the tradition invited by the Rana prime ministers. Even Archduke Franz Ferdinand, whose assassination in 1914 triggered the World War I, came to hunt in Nepal invited by Maharajah Bir Shumsher in March 1893.
However, the most barbaric and horrific hunting trip was that of King George V who visited Nepal after being crowned Emperor of India in 1911.
Having been invited by Prime Minister Chandra Shamsher Rana, the hunting team shot dead 18 rhinos, 39 tigers and 4 sloth bears from December 18-28, 1911.
The king himself shot eight rhinos, 21 tigers and one bear.
The Royal Hunt of Tiger and Rhinoceroses in the Nepalese Terai in 1911 by Kees Rookmaaker, Barbara Nelson and Darrel Dorrington details the hunting spree.
Nepal's PM Chandra Shamsher greeting King George V during a hunting trip to the Nepal Terai in 1911 pic.twitter.com/swkboCV96H

— Eddie Du (@Edourdoo) December 12, 2015
King George V with the day's kill in Dec 1911. A total of 39 tigers, 18 rhinoceroses & 4 bears were killed. #Nepal pic.twitter.com/TcMTlC86N1

— Nepal In Pix (@NepalInPix) November 24, 2015
1911 – Edward Henry, Former IG of Bengal Police, during a royal hunt with King George V at Narayani, Nepal pic.twitter.com/AO8pkduA2M

— British India (@BritishRajTimes) March 30, 2015
The royal hunt has been documented in 50 photographs from an album donated to The Australian National University. The ANU Library has supplied captions to the photos.
The article His Imperial Majesty's Shoot in Nepalese Terai, December 1911 describes the hunt as:
[…] The Maharaja's entourage, who were in a separate camp further along the river, numbered 14,000 including 2000 elephant attendants. After Divine Service on Sunday 24 December 1911, the Maharaja presented the King with a collection of over seventy varieties of animals indigenous to Nepal. During the hunting that followed Divine Service on 25 December, nearly 600 elephants formed the "ring". The King shot the largest tiger of the expedition on that day. […]
Below are select photos from the royal hunt.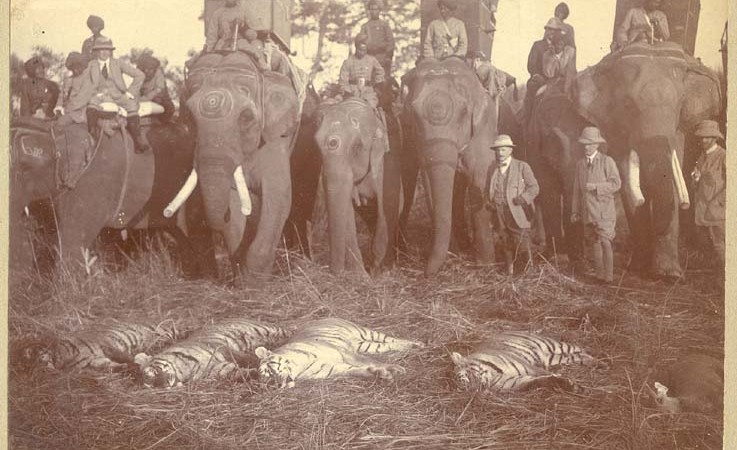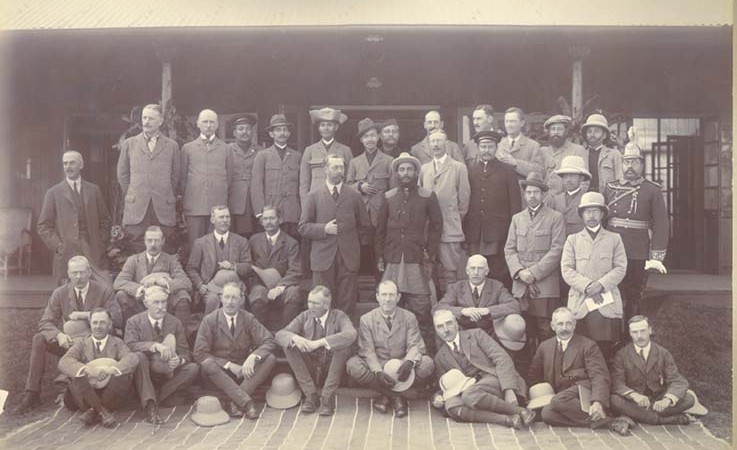 Other than these photographs, there are few concrete reminders of the era. Shankarshan Thakur, Delhi-based journalist tweeted:
The hunting lodge built for King George V at Bhikhnathori on the India-Nepal border is now an abandoned gambling den pic.twitter.com/Zye85uoC21

— Sankarshan Thakur (@SankarshanT) July 21, 2015
A version of this article was first published on Global Voices. Read the original story here