When Ishan R Onta, Dipesh Gurung and Raunaq Adhikari first went to Kau Danda near Pokhara to work on their single, Aparichit, two years ago, they knew that they would be back there again. The trio, members of a Nepali indie band called The Elements, had been working on the song for quite some time, but due to some reason, they were not able to. But, a few days at Kau Danda was all it took for them to complete it.
"It was a great experience. It made us realise that we needed this space to create what we wanted to create and that took us back there again," says Onta, the band's vocalist.
In January 2021, the trio, with equipment in hand, reached Kau Danda again. This time, they wanted to work on their new album: Urja. The reason to go there was simple: to create music with freedom and in a state of bliss. On the hill some 50 kilometres away from Pokhara, freedom is what they found.
"We made this album in a state of bliss," adds Adhikari, who is the band's guitarist. "We wanted to push ourselves to our limit and create a type of music that we hadn't in the past. This place helped us do that."
The album was launched on December 11 at a show held in the premises of 5150 Productions, where hundreds of The Elements' fans lined up to listen to them sing new songs. They were not disappointed as the album had a bit of everything. From rock ballads to hints of punk rock, the five-track album takes people on a journey.
The quest for newness
"The response has been good so far and we hope more people listen to it in the months to come," says Onta.
The idea of the album is based on the post-Covid world. With all three of them stuck in their homes, the lockdown gave them the time for introspection. But, to express things wholeheartedly, they knew they had to get away from Kathmandu.
"I don't think we could've done the album staying in Kathmandu because we needed the freedom that the place gave us. All of us were free to do whatever we wanted, but when it was time to work, we pulled our socks up and did what we had to do," says Adhikari.
The Elements wanted to create an album that was musically different from what they had been doing. They had realised that their gigs went by at the same pace which they felt was not right. So through this album, they wanted to try to give something different.
"We feel we did something different with Aparachit and Sawari, but we wanted to carry on doing that," says Gurung, The Elements' percussionist. "Once your start, you need to keep pushing yourself to reach the next level."
With the aim to evolve both lyrically and musically, they started to compose music together. They had done it in the past too, but this time things were different as they were all in the same place at the same time.
"Space and time were just concepts to us. We didn't care. We'd be doing whatever we wanted to do, but when it came to music, we got together. I think this was quite a conscious process," adds Onta, who claims there was a feeling amongst them that every word in every song mattered more to them.
Spontaneous expressions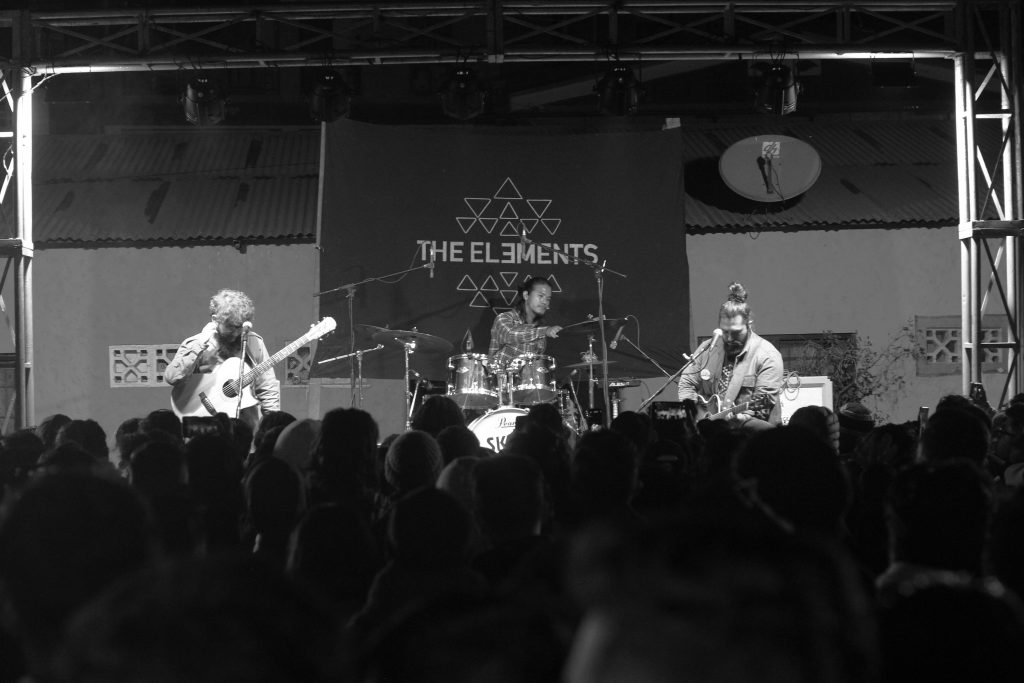 That is why when they started writing, the songs came to them automatically. They say each song grew on them. For Urja, the title track, they wrote the chorus first, after which the rest of the song pretty much wrote itself. Maybe that is why the song feels fresh and like its title, it is full of energy. Onta is great as usual, but the drum work on the title track is commendable.
Upahar is similar to The Elements' previous songs but has something new to it. Adhikari's guitar work is quite flawless along with his solo that is sure to make people go 'Woah' during live shows. They say this song is about love and add that writing it was quite easy during a time when the three were all alone in the jungle on the hill.
Bhaag is a song for the revolutionaries. But, if you solely look at it through the musical lens, it is great as it is full of energy. They say this one grew on them as they were making it.
"It's our revolution song, in which we want to tell people to not let anyone bury the art and the artist in them," says Onta.
Tyaag was something The Elements had prepared for their previous album, but as they wanted to work on it more, they did not release it. That might be a great decision as they have polished the song into something really great.
The song that took the most time, they say, was Indirya. This is the last track of the album and arguably the best too. Onta calls it the most positive song from the album, but it took a lot out of them to write and compose this song.
"We reached a threshold, I think. In six days, we'd written and composed three songs. But when it came to Indiya, we just couldn't do anything. It was really frustrating," says Gurung.
But, The Elements pulled through. They knew they had it in them to produce an upbeat high tempo song. Despite having insecurities, they finally finished composing it and went to record their album.
The recording was also a fun and learning experience, say The Elements. The album was recorded at 5150 Productions where people like Bikash Bhujel and Steven Tamang did a marvellous job in capturing and presenting the ideas that the band have played around with.
"They took us to a next level. We've worked with Bikas dai previously, but this year we recorded everything with him and have realised what we want to sound like in the future," says Adhikari, adding this was the best audio The Elements ever recorded.
Heading towards the masses
People from the scene also agree. Noodle album review lauds the work done by the band and the 5150.
"The multiple inputs and stereo layering has definitely made the mix punchy and the drums sound outstanding. This album is a prime example of what happens when good ideas meet a good mix," the review reads.
Now, The Elements want to take their music out to the masses. Having recorded the album, they want both, to tour Nepal and go abroad.
"We've never done a Nepal tour and we feel that would be nice. Along with that, we have also wanted to travel abroad and take some part of Nepal along with us to Nepalis living abroad," Onta says, "But, sadly, due to Covid-19, we've not been able to. But, we're hoping things settle down and we can go do shows abroad."