When Tashi Wangchuk Tenzing Sherpa began accompanying Tenzing Norgay Sherpa, his sexagenarian grandfather (mother Pem Pem's father), on a trek to the Everest Base Camp along with many foreign climbers, he did not know who the old man was.
Tenzing Norgay Sherpa was just a 'baaje' (granddad) for Tashi; but this carefree teen used to wonder why other people in the trekking group would give the old man the highest possible love and respect.
Gradually, Tashi recognised that he was not any other grandpa as his mother told him stories about the struggles and successes of Tenzing Norgay Sherpa, the first person to climb Mount Everest, the highest mountain in the world, 12 years before Tashi's birth.
"My baaje was already a hero for the world. Later, when I learned about what sorrows and sufferings he faced in his life and how he coped with them just to keep his family happy, I could not control myself from bursting into tears," he shares, "This is how he became my biggest hero and truest inspiration."
Tashi, the 'heir apparent' of Tenzing Norgay Sherpa's legacy, feels that his granddad's contribution to Nepal's fame in the world is not only unprecedented but imperishable too.
Tenzin Norgay Sherpa
Tashi later learned that Tenzing Norgay Sherpa, born in the Khumbu region of Nepal in the bosom of Mount Everest in 1914, migrated to Darjeeling of India at the age of 18.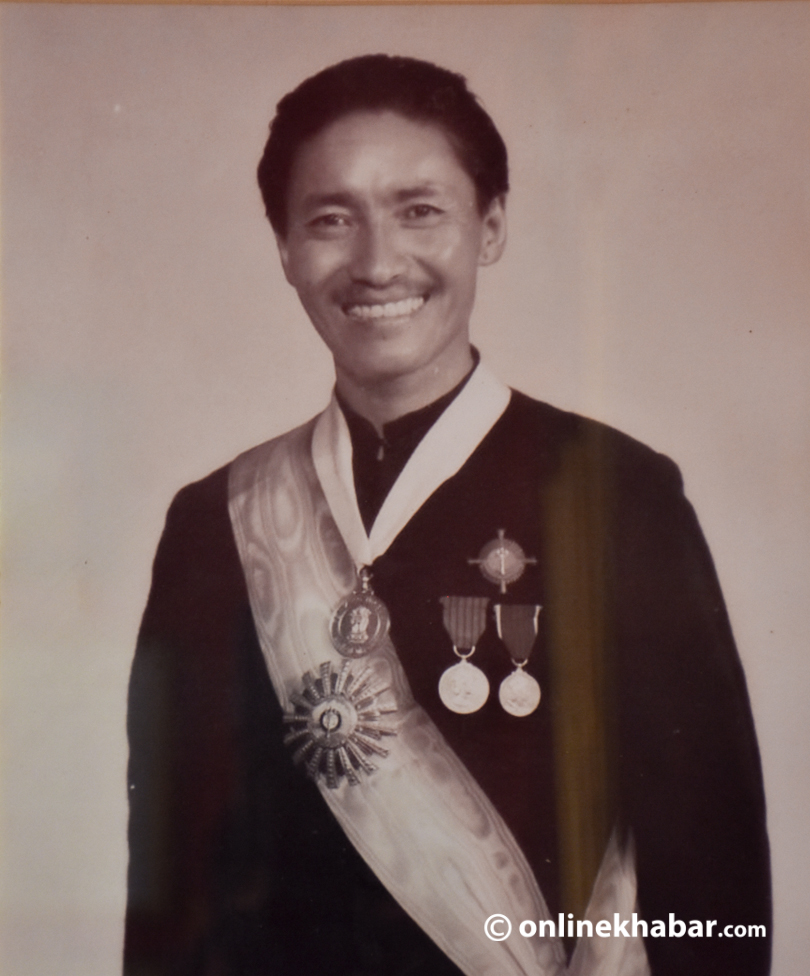 "Living in Solukhumbu was too tough then. No crop would grow except potatoes, and that would also be insufficient," he recounts what he came to know from his mother, "Nepal did not open the door of its mountains to foreign climbers until 1951; therefore Sherpas there would not find any job. Later they came to know that mountaineering activities were thriving in Tibet and began migrating to Darjeeling so they could find jobs to assist expeditions from there."
Then, only a few families continued to stay in the Khumbu region as just around five to 10 houses were there in Namche Bazaar then. Across the border, Nepali Sherpas had established their own village named Tungsung in Darjeeling, which other people would call Zigzag Road.
Tenzing Norgay Sherpa also joined multiple foreign expeditions to Everest from the Tibetan side after he migrated to Darjeeling. It took him around 20 more years to conquer the top of the world as a part of the British expedition. Though all members of the big team could not reach the peak, two persons including Tenzing Norgay Sherpa and New Zealander Edmund Hilary set the world record by successfully climbing Everest, for the first time in history.
Contribution to Nepal
"My baaje's record is not only the first, it will last forever as there will not be the third person (after Tenzing Norgay and Hilary) to climb Everest as the first climber," Tashi proudly shares, "This event is not only important for his personal fame but for the overall identify of Nepal. You know there were many people who never heard of Nepal by then, but came to know that a Nepali Sherpa successfully climbed Mount Everest."
The apparent heir's claim does not amount to exaggeration, at least for one reason: even today, there are thousands of people in the world who have not heard of Nepal but know that Mount Everest is the highest peak in the world.
Therefore, Tashi thinks that the Nepal government should officially celebrate May 29 as Everest Day or Tenzing Norgay Day. Whereas the government has recently trimmed its public holiday list, he says the state needs to declare the day as a public holiday and organise a multitude of activities from local to international levels.
"I wish the government took some serious initiatives to acknowledge my grandfather's contribution. From my side, I will also continue my efforts to keep his name bright and shining as much as I can."
"Many records have been made on Everest after my granddad's ascent, but most of them have already been broken and forgotten," he says, "This is the only record on Everest that cannot be broken and a Nepali holds it. No one should forget this."
The citizenship debate
But, sometimes, Tashi Sherpa gets irritated with comments that the Nepal government does not owe any tribute to Tenzing Norgay Sherpa as he was an Indian citizen. But, he thinks that this controversy is useless.
"If you really understand history, you will know that my baaje went to Darjeeling just to save his life and family. Because his relatives were also living there, he built his house there and acquired Indian citizenship," he clarifies, "It was not only Tenzing Norgay Sherpa, but thousands of people from hills of Nepal had not acquired citizenship certificates as they did not need them. So no one should go after the fact that he did not have Nepali citizenship."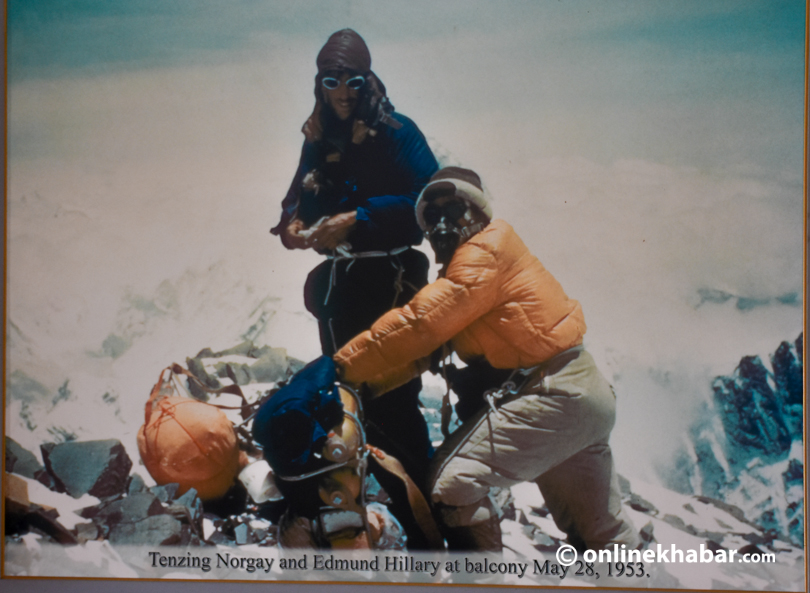 "Given that he put the flag of Nepal on the top of the world, please tell me why citizenship is still an issue."
Further, he says, "After the summit too, he used to frequently come to Kathmandu. If our government had really wanted it, it could have convinced him to stay in Nepal; he could have changed the decision. This is what India and its Prime Minister Jawaharlal Nehru did for our granddad."
Tashi claims that Tenzing Norgay Sherpa had passports from both Nepal and India when he visited British Queen Elizabeth II after the summit.
Further, if the Nepali leadership really wished to own Tenzing Norgay's contribution, it could have given the honorary citizenship to him, he suggests. "If Edmund Hilary got the honorary citizenship of Nepal, there is no question that Tenzing Norgay cannot be a Nepali."
"Bureaucrats here should have explored options to own and cash in on his contribution, but in fact, they just tried to find how he can be made a non-Nepali," Tashi sounds quite emotional as he wraps up the talk about the citizenship debate, "Your love to your motherland comes from your heart and soul, not from a piece of paper called citizenship. We should be proud to regard Tenzing Norgay as a Nepali."
However, Tashi is happy that Tenzing Norgay has been conferred the Nepal Tara, one of the most prestigious medals awarded by the government of Nepal.
Looking forward to additional recognition
Recognising Tenzing Norgay Sherpa as a Nepali is just one side of the story, believes Tashi Sherpa. He thinks that there are many things that the government needs to do so as to give due respect to his contribution.
"Whereas Everest itself is a goddess for the Sherpa people, it is a priceless gift the god sent to Nepal and its people. It has to be conserved, respectfully."
With respect to the goddess, Tashi Sherpa means that haphazard climbing activities should be controlled on Everest. For example, some climbers have recently used helicopters and drones to reach upper camps before climbing. It has to be stopped. "Climbing means climbing; you have to walk on your foot from the very bottom," views the multi-time Everest summiteer.
Likewise, he suggests that the mountain should be kept clean. As the Nepal government collects hefty fees from the climbers, it should be able to offer a clean environment to them. For that, according to him, strict policies and rules should be adopted and effectively implemented.
"In 2017, I was in North America to summit Mount Denali and they did not let us throw anything in the region. There were no coolies, no Sherpas; we had to carry all the bags on our own. We had to clean up everything," he remembers, "This is what real mountaineering is. This is real adventure and fun."
—
Tenzing Norgay Sherpa died when Tashi was 21. He was a bachelor's in arts student at Delhi University and the final year examinations were ongoing when the baaje was on his deathbed in Darjeeling. Tashi could not see Tenzing Norgay Sherpa in his last days. Perhaps, this is why he always felt that the legendary mountaineer's wishes could not be fulfilled.
"He had a wish to visit Chitral, where his first wife and my grandmother died, and I had told him that I would give him company," Tashi remembers, "I could never go to Chitral. I could never give him company sufficiently as long as he lived."
Perhaps this failure inspired him to take over the role of Tenzing Norgay Sherpa's successor, and make the towering figure's personality even taller.
"History does not repeat itself. That is why I will work to keep the history alive."
---
This article is based on a 2018 interview Onlinekhabar did with Tashi Sherpa.