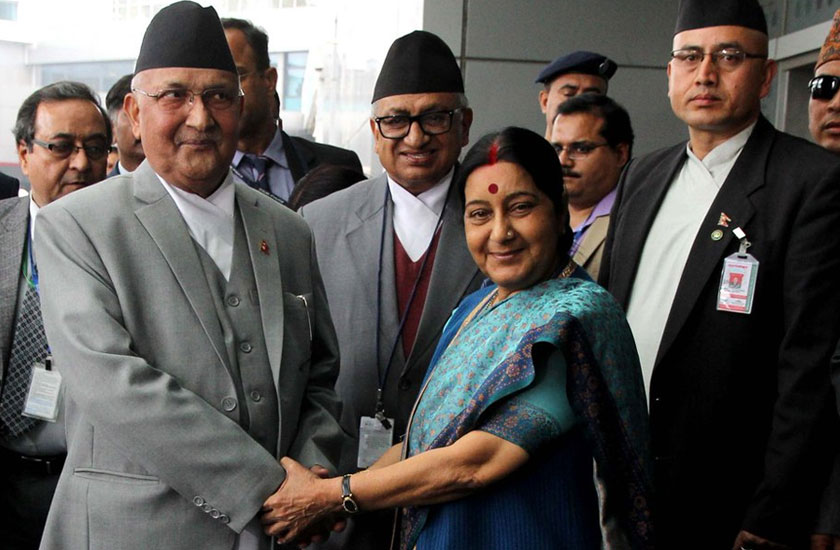 Commentary
After months of speculation about which country Prime Minister KP Oli will go to on an official visit, Nepal's Prime Minister landed at the Indira Gandhi International Airport on Friday afternoon.
Oli, who became Prime Minister in October, had maintained that he would visit India after two things are done. The first (lifting of the blockade) task was for India to complete, and the second (setting up a political mechanism to address the demands of Madhesh-based parties related to revision of provincial boundaries.
Oli had said publicly that he would visit India only after New Delhi lifts an unofficial blockade on Nepal, and behind closed doors his messenger Bishnu Poudel had told the Indian  government that the political mechanism would be setup before the visit.
But to the surprise of many on both sides of the border, both the issues remain more pertinent than ever. The threat of another blockade looms large, and questions have been raised about the political mechanism after the Madheshi Morcha disowned it.
Another person to be surprised today was the Prime Minister himself, who was expecting a state minister to receive him at the airport, that was what the 'signs' said. But Sushma Swaraj came to the airport to welcome KP Oli.
Yet another surprise maybe in store for the Nepali delegation, that's what the grapevines say. It could be in the form of a 'surprise' announcement of a 'big' assistance, or a 'surprise' party for the Prime Minister himself, who, by the way will celebrate his birthday during the course of his visit.