After looking at the early days of mountain biking in Nepal last week , I look at the big names behind the glorious years of the sport in Nepal. I also continue the saga where I left off.
Sonam Gurung: 'A cross between a Buddhist monk with a kick boxer'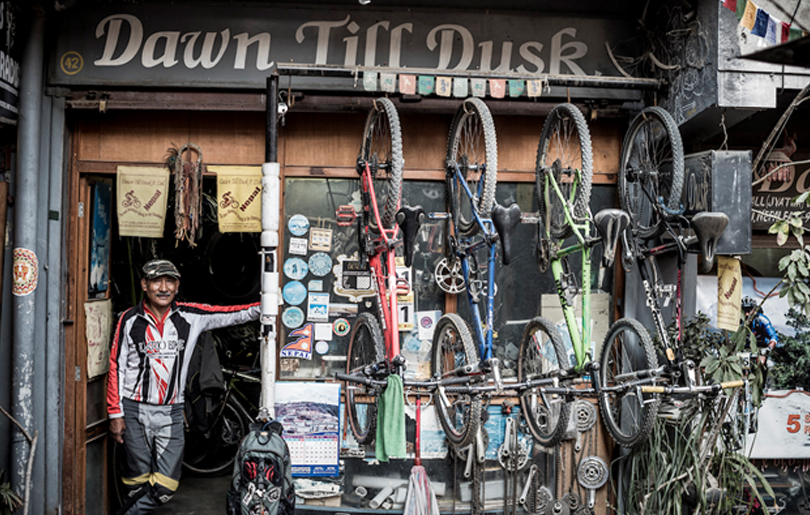 If looks were anything to go by, I would not have believed a word about the wiry little man I met at his Jyatha Shop (now shifted to Thamel). History repeated itself when in 1988 this little man, the first Nepali, a fifth generation native of a small village called Gyaru in Manang, rode his mountain bike to the Everest Base Camp, then to his home turf Manang, again the first to achieve this feat—a great pride and joy for his fellow residents.
That intrepid biker was Sonam Gurung. John Williams in the Mountain Biker (British magazine: 1994) began his story as thus: "What do you get if you cross a Buddhist monk with a kick boxer? The answer: Sonam Gurung". Williams called him the Mountain Biking Guru of Nepal. And nothing can be truer about this statement.
More than two decades into his biking career, Sonam started when mountain biking in Nepal was still in its infancy. "When I first decided to enter into it as a full-fledged profession, my compatriots from Manang, mostly doing business, scoffed at me.  They thought I was nuts, but I stood my ground," Sonam tells me as I survey the glittering array of trophies, citations and plaques displayed in a cabinet in his little cramped shop. His resilience and self-conviction in the long run, however, proved his native folks wrong.
Plain speaking, forthright and unabashed about being an illiterate, Sonam had quite a story to tell me. His early days bore a harsh testimony to a saga of epic struggle and sheer hard work.  A young Sonam started his career with a trekking company as a porter. Later he tried his luck in Thailand, where he landed only menial jobs like mopping restaurant tables and cleaning horse dung in an army barrack. Not a man to give in though.
He fought overwhelming odds with dogged determination. Consequently, he took up Thai Boxing and in 1981 clinched the Junior Thai title. After a seven-year sojourn in Thailand, the homesick Sonam returned to his homeland. He bagged the Sagarmatha Taekwondo championship Junior Title in 1983.
It was, however, mountain biking that was his passion and his forte. And nothing daunted him from achieving this goal. He began with HMB as a cook, a mechanic and finally graduated to a bike tour guide.
The four-time Annapurna Triathlon Champion (team event), and a host of tittles under his belt, the Nepali mountain biking fraternity today regards Sonam as the doyen of mountain bikers. Besides Nepal, his biking exploits include Tibet and India.
In 1994, Sonam finally saw his dream come true. He teamed up with a close cousin, Chhimi Urkyen Gurung, and set up Dawn Till Dusk, the first Nepali-run mountain biking company with outlets at Jyatha and the Kathmandu Guest House complex,  Thamel.  Now 65, he still bikes (took part in Kathmandu Kora Challenge 2017).  "Work hard and believe in yourself"–that's the message to all from Sonam Gurung, the living legend.
Chhimi Gurung: Second to ride to EBC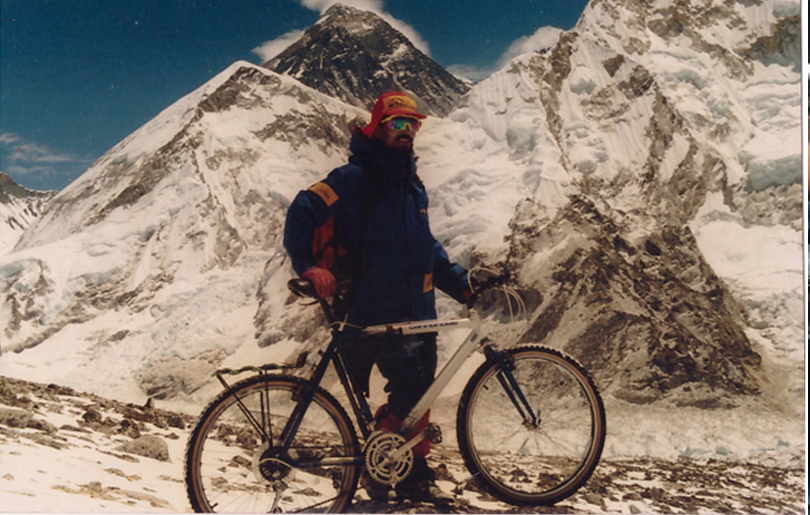 Chhimi Urkyen Gurung is regarded as nothing short of an institution among the Nepali mountain bikers. Chhimi, with his cousin Sonam, started his career as an employee at the HMB in the late 1980s. Dawn till Dusk was a pay-off for his and his cousin Sonam's hard work and dedication to mountain biking in Nepal.
Words fail to describe Chhimi's untold contribution to mountain biking in Nepal. From a struggling rider, when mountain biking was at its initial stage in Nepal, to initiating the Nepal Cycling Association and always remaining as the indefatigable leader guiding this sport to higher levels, he has worked almost like two decades in this field.
Whether charity rides, a rally, a relief mission or a competition race, virtually every event is marked by his presence. The three-time winner of Annapurna Triathlon race, Chhimi became the second to ride to the EBC and the Kala Patthar in 2010. He is still the incumbent president of the Nepal Cycling Association.
More championships, rallies and races
With staging of more races and a steady rise in popularity among Nepali mountain bikers, the sport really took off. Eventually, the year 1995 saw the formation of the Nepal Mountain Biking Association (NMBA, renamed Nepal Cycling Association (NCA) in 2006) with a close affiliation with the Nepal Sports Council and the Nepal Olympic Committee.
Soon the association was able to forge a tie with the Asian Cycling Confederation (ACC), and the International Cycling Union (UCI), thus, acquiring an international recognition and a new lease of life for this sport. The same year, under the auspices of newly formed NMBA initiative, the First National Mountain Biking Championship took place in Kathmandu in March 1996. Khagendra Gurung took the top podium standing to become the first XC National Champion (among Nepali riders/ third overall). The top two positions were taken by Jack Maitland and Tai-Lyon.
After the First National Mountain Biking Championship, the stage was set for more championships, rallies, and charity races. The races and rallies sparked off a new appeal among the younger generation. What first appeared as the prerogative of visiting tourists and expats, Kathmandu and Pokhara saw young Nepalis spinning along the streets in their colourful jerseys, Lycra tights and snazzy helmets.
As more biking tour companies emerged, trekking agencies started including mountain biking in their itinerary. In 2004, TAAN (Trekking Agents Association of Nepal) and NCA shook hands to promote it as an adventure sport. TAAN hosted the same year the Thuraiya-TAAN Bike Championship with the theme "let's preserve nature for future generation". TAAN has upheld this championship with eco-friendly themes.
In 2008, the sport took to new heights as Nepal hosted the 14th Asian Mountain Bike Championship in Kathmandu, Chobhar, with 66 participants from 13 countries including Nepal. Staged in two disciplines, XC and DH, the Nepalese riders got the opportunity to compete against the very best in Asia.
Nepal's ace XC biker, Padam Sabenhang (National Champion 2008/2009, winner 2009 endurance race, the Yak Attack, title holder: Hercules Himanchal Pradesh Stage Race, India 2008-2009), who finished 17th, was the only Nepali biker to complete the XC race; another formidable biker, Shajjan Rajbhanshi, finished 7th in the DH category. The championship was dominated by two Asian Giants, China and Japan.
The Mountain Queen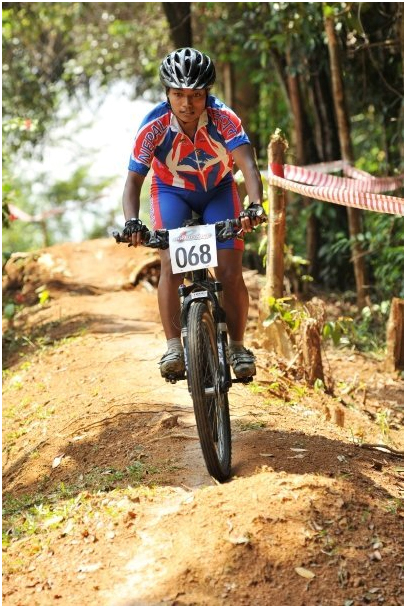 Yes, she was christened the 'Mountain Queen' by the Nepali mountain biking fraternity—the first ever Nepali woman mountain biker, Nirjala Tamrakar.  Born on 24 August 1979, she had never ever dreamt she would become a mountain bike rider in her life.
Her life took a sharp turn when acting on a whim she participated in her first mountain bike race called the Himalayan Mountain Bike Race Series in 2001 and bagged the national women's title. There was no looking back for her after that.
For 12 long years she reigned over the Women's Mountain Biking Championships in Nepal and her exploits extended to the international arena bringing home more titles, trophies and national fame. She became Nepal's national figure and fed great inspiration for younger women to get into this sport.
Destination Nepal  
"A Mecca for mountain biking", "Mountain biker's absolute paradise", "Every mountain biker's wildest dream"—that's how Nepal has been described by visiting riders.
Given Nepal's topography, from flat Terai plains to mid hills followed by craggy alpine heights and arrays of world's tallest mountains providing a dramatic backdrop, we have everything a mountain biker would crave for.
We have dirt roads to flowing single tracks by the thousands, climbs and descents from mild to the extreme, a landscape brimming with bounties of nature and abundant opportunities to mingle with the local people and observe their unique customs and their diverse ethnic cultures. Weather-wise, Nepal is mild, rich and pleasant offering thrill-seeking visitors the ultimate in mountain biking adventure, almost around the year.   
Over time, Nepal's growing exposure in the Western world lured more and more bikers to this rugged country. Some came for adventure and thrill; others combined it with different ideals.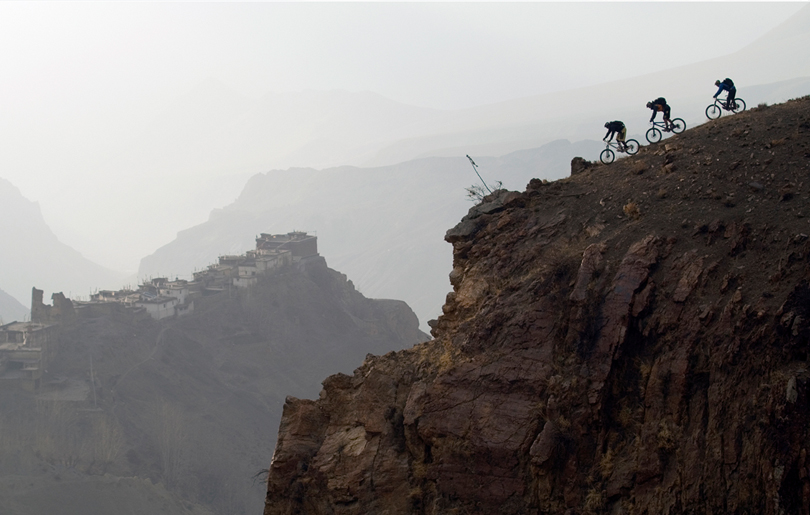 Nepal lures World cycling legends
In 2010, an adventurous trio, Rob Story (US), Dan Milner and Seb Liljberg rode the century-old Salt Route to Tibet on their cycling trip to Lo Manthang and most of Upper Mustang. With khatas (white silk scarf that Buddhist Lamas give as gifts to bring good luck) around their neck, they braved the arid highlands, the barren and inhospitable Nepal's last great wilderness with dust in their mouth and burning yak-dung smoke in their nostrils.
They sought "enlightenment". "Sure, I came to Nepal more for thrills than religious transcendence, but maybe one can lead to other," wrote Rob in a magazine called Bicycling.
A leader in Extreme Mountain biking, former trials riding World Champion, an inductee in the Mountain Bike Hall of Fame, Hansjorg Rey, aka Hans 'No Way' Rey, accompanied by world Freeride legends, Richie Schley and Wade Simmons, had a set purpose when he landed in Nepal.
Apart from biking to the Langtang Mountains and the rugged trails of the Annapurna circuit, doing some literally unrideable tracks, part of his mission was to donate 30 bikes to the needy and the underprivileged through his charity trust called Wheels4life.
 "A bicycle can make all the difference in a person's life. It can be the difference between having a job or not, going to school or not, seeing a doctor or not …" is the message Wheels4life is trying to get across to the world.
In 2010, Frenchman Fabien Barrel (the double DH World Champion) invited International mountain biking icons, Sabrina Jonnier (multiple winners of World Cups and World Championships), Darren Berrecloth (World Freeride Champ),  Rene Wild Haber, Nicolas Vouilloz, Sam Peridy and a host of other celebrities to do an epic race on the craggy heights and desolate landscapes of Mustang.
This event was hosted on behalf of Urge Nepal 2010, a sequel to Urge Kenya 2009–a humanitarian venture. The proceeds from the race went to constructing schools in the remote areas of Nepal and Tanguy Rebours' mountain biking school in Pokhara.
A second home
A writer and an adventure lover, Jenny Lama came to Nepal about a decade ago from Australia to trek and bike, and found her niche in Kathmandu by opening a mountain biking business. She also got involved with a charity organisation called A Simple Thing, helping villages of Kavre district with things like, water for the village, books for schools, goat farming for the villagers, and so on.
A Frenchman, Tanguy Rebours, an avid DH (downhill) rider came to Nepal more than a decade ago to sample some of the most rugged downhill tracks, and got hung up with the rugged terrain of the country. He has been participating in races in Nepal since 2006. "Nepal is a DH paradise", shares Tanguy his fascination with this scribe.
He is a brand ambassador of Commencal mountain bikes for Nepal.  He set an example of his dedication to this sport by opening a mountain biking school for the under-privileged in Pokhara in 2003.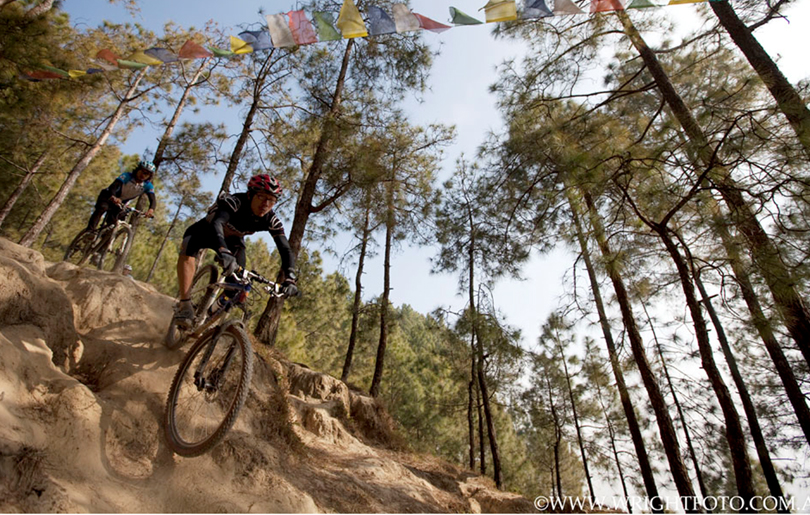 Surendra Rai
To Recall the MTB Greats  
Stepping into the shoes of forerunners, Sonam Gurung and Chimmi Gurung, the early nineties saw many bikers vow sheer dedication, and brilliantly showed their paces. Greats emerged in the likes of master Lokesh Sharma and the elites Shajjan Rajbhanshi (DH champ), Rajesh Shrestha, Suresh Dulal, Shyam Shah, Pramod Shrestha, Ashok Upreti, Sanjeev Thapa, Deependra Bajracharya, Sonam Lama, Binod Nagarkoti aka 'bahula', Shambhu Maharjan, Nailesh Maharjan (mechanic), Manoj Krishna Shrestha, Ranjan Rajbhandari, Rajendra Khadka, Prayas Lama (National Champion Masters 2008,  present volunteer National Coach & co-owner of Kathmandu Bike Station, Panipokhari),  Rupesh Man Shrestha (owner Epic bikes, Jhamsikhel) and Dhanjit Rai (Santosh Rai), co-owner the Himalayan Single Tracks, a mountain-biking company in Thamel).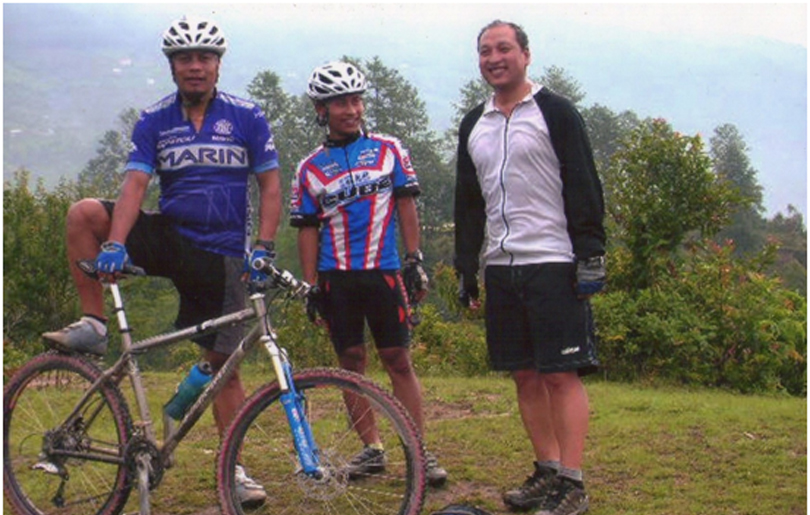 Another great, Gyanmani Ray, today, bikes between his painting and photography stints. The early 2000 produced pros like Chandra Bahadur Chhetri (National Champion 2001), an ace stunt rider and Nepal's only unicyclist—and not the least, Surendra Rai, the two time National Champion (2006-'07) and the winner of an XC race in Sikkim.
In those days, there were no state-of-the-art multi-speed bikes like today, which are faster, lighter and reliable than their predecessors. Those stalwarts rode or raced with either non-suspension, less geared with coil-spring suspensions, or more often than not, rented or borrowed bikes.
They were greats because, despite the odds stacked against them, they fought their way through pushing the boundaries and keeping their spirits high in retaining this sport alive and pulsating. Hats off to those unsung heroes!  
Epilogue
Touted as one of the most popular adventure sports in the world, mountain biking today has reached cult standing and turned into a global phenomenon. In Nepal, too, everything about mountain biking has taken a dramatic metamorphosis for the better, if not the best.
What really stands out as exemplary are the vows of unwavering faith and grit shown by today's 'hungry for glory' new breed of mountain bikers who seem so committed to take this sport to dizzying heights! Let's high-five to that …!
Also read:
History of mountain biking in Nepal: How the wheels were set in motion