Sita Neupane has just four videos in her name in Nepal's standup comedy scene. Yet, she is often praised for her critical and satirical comedy and her confident presentation.
Through her sarcastic comedy, Sita Neupane sheds light on the bitter truth of society, social divisions, and unjust treatment and much more. Moreover, she reveals the hypocrisy of Nepali society with an insightful and witty tone.
"I have tried to voice the issues, be it political or social, experienced by myself and others in Nepali society in the form of humour. And, I hope to continue to do so," says Neupane.
Born and brought up in Chitwan, Neupane grew up in a jolly family, to whom she credits her sense of humour. As the youngest child of her parents and the only sister of two elder brothers, she says she was much pampered and loved by all.
However, neither her parents nor her brothers had any set aim for her. She remembers she used to keep getting sick during her childhood. "Therefore, they just wished me to be a good human being, nothing else," says Neupane.
But, fate has different plans for her. Sita Neupane, who was always surrounded by people who used to ask her to entertain themselves, realised her passion for standup comedy much later.
She says, "Everyone used to enjoy my company, particularly my humour. In my school and college days, even students from other sections and classes used to join me for being entertained."
As she has always been funny and talkative, her neighbours and relatives used to tell her parents that she will look after herself and her parents by talking and cracking jokes only, which Sita Neupane feels is turning true now.
But, how did it all happen?
Neupane had come to Kathmandu to pursue a master's degree in microbiology, but she was hit hard by the Covid-19 pandemic and resultant lockdown. But, it was then when she turned the tables and made it into a life-changing opportunity. "I felt so low during the lockdown as my studies also got stuck and there was nothing much to do. It was then I thought to give it a try."
During the first lockdown in 2020, she realised this as her forte. She says, "I remember even while having a chit-chat with friends, I was the funny one making everyone laugh. Therefore, I thought not to limit my humour to my circle only."
Sita Neupane, who grew up watching and admiring the comedy icons of Nepal such as Maha Jodi and Magne Buda, says she knew nothing about standup comedy as a career until three years ago, neither had she known that she belonged here then.
"It was actually from an Indian standup comedy video itself that I got to know about. Then, I followed Indian standup comedies regularly and had a wonderful time watching them."
After Sita Neupane made her mind to give an audition for Nep-Gasm, she began preparing content. "I messaged the Nep-Gasm team approaching for the audition as I was following them for a couple of years."
But, in the meantime, her phone got damaged, and for about a month, she was contactless.
"I supposed that they had already called me and everything went in vain. But, luckily, they called me after a month for the audition. It was such a feeling, I tell you."
Following the call, she says she went for the audition last February and presented her content. She got selected and had a chance to present her first standup performance 'K Hereko Bey'.
"Since then, each performance has been a beautiful memory for me. Nep-Gasm has been my second family to me; they are very supportive and down to earth," says Neupane, "They help me with the content also. I don't feel any different while being there."
Rising high
Her first video was an instant hit which garnered an immense amount of praise and support from the audience. "My parents and my family are also very supportive. They are very proud of me and my work," says Neupane.
Sita Neupane also mentions that crossing 1,000 comments on a video is considered a huge milestone in the Nep-Gasm community. Every video of her including her first performance has crossed that bar. "This praise and love for my audience please and motivate me the most to perform further."
Neupane says, "I know we can make jokes on the system, but cannot attack any individual. Also, I have made up my mind to not crack jokes on issues of colour, caste and religion."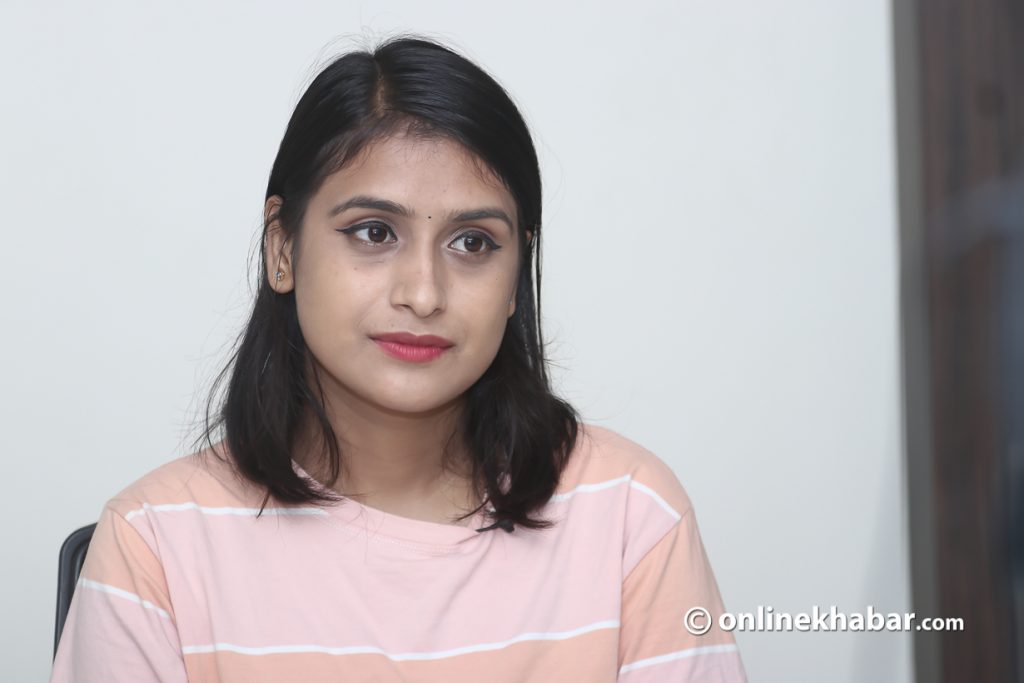 "We can point out every wrong happening in the society and the system and express ourselves via this medium and yet make people laugh, which I find is the best part of being a standup comedian," says Neuapane.
While planning any of her performances, she says she first thinks about the issue. Mostly, she considers focusing her performance on contemporary issues; then, she goes deep into it, reads articles and notes the punchlines.
It has been just six months since Sita Neupane walked this path and she says she is enjoying every bit of it, says Neupane, who has earned the tag of Rastriya Didi by now.
However, she says nothing is certain about the future. "I will just go with the flow. I can't say anything about the future. However, I plan to take forward my studies and standup comedy career side by side."