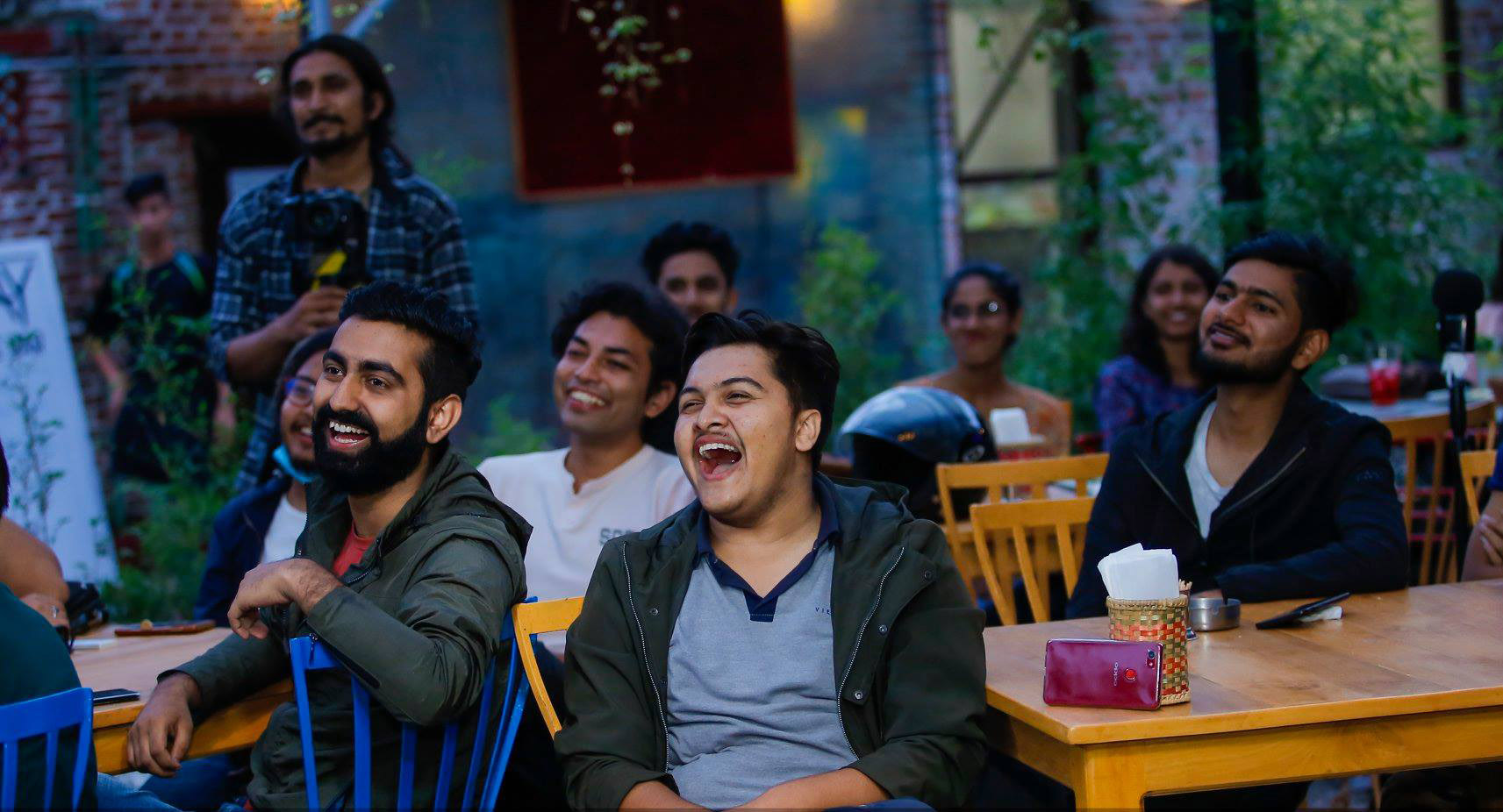 At a restaurant with around 20-30 people, Kshitz KC, 25, roasts the crowd in front of him with utmost ease. Instead of offended grimaces and flying shoes, the man behind the microphone gets a roar of laughter and applause. He further uses the encouragement to roast more people.
Before KC tried his hands at stand-up comedy, his roasts usually landed him in a bit of trouble. But ever since he's been doing this, he's getting a lot of applause–something he says he did not expect.
His journey as a stand-up started six months ago with Comedy Circle, a club established to revive comedy in Nepal. Comedy Circle is part of a production house (Viewfinders Production) which after working for clients for over two years, wanted to do something for itself.
"Having worked for clients, we really wanted something to call our own," adds twenty-five-year-old Suraj Khadgi the co-founder of Comedy Circle and Production Manager at Viewfinders Production who adds he watched a lot of comedy shows and felt that such a show would do good in the market here.
"The comedy here isn't for our generation," adds 27-year-old Anup Ghimire, co-founder of Comedy Circle, and founder of Viewfinders Production. "That gap in the market made us start this project."
"Our calling came when we didn't have anything to call our own. All the content we made were for clients and we desperately wanted to do something for ourselves and after Suraj shared with me his idea of starting this club, it just felt right," adds Ghimire.
After deciding to start the project, they first needed someone who knew how to make people laugh. "I knew Kshitz from our college days and as he was always joking around. I asked if he wanted to do stand-up. He agreed and after the first video did well, we were well on our way," adds Khadgi.
Why stand-up?
Comedy, for many, is like therapy. It gives people a chance to let loose and enjoy. The two founders believe that stand-up comedy is a powerful tool to educate, heal, incite, and make people ponder about ideas and things beyond themselves.
"We feel stand-up gives people the opportunity to relax after a hectic day at work. Our two-hour-long show gives people the setting in which they can come with their family and friends and have a good time," adds Khadgi who shares that even he feels relaxed when he goes to the shows.
Finding artists
No one in Nepal dreams of becoming a stand-up comic and that was their first challenge. Apart from KC, they didn't have anyone to do comedy. "Our first challenge was finding artists for which we used social media. We boosted a post calling for stand-up comics and after Kshitz's video started doing well, we started getting calls," adds Khadgi. Now they even take auditions of aspiring comics.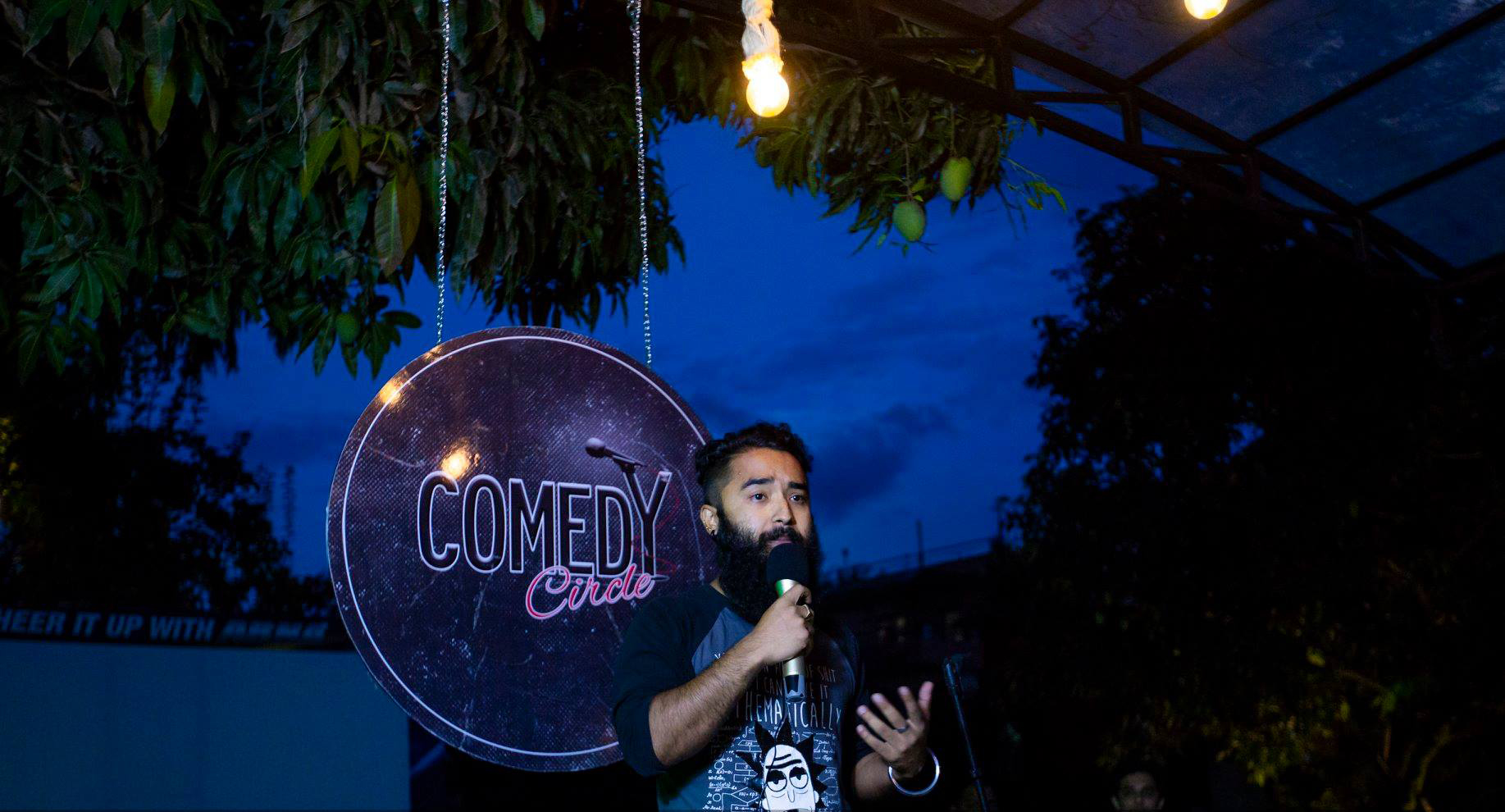 "When Suraj approached me, I didn't think twice. But after thinking for a day, I got scared and ran off to Pokhara for a week," adds KC. But not wanting to let his friend down, he returned to do the show.
The video, although a bit raw, did well on YouTube and was shared by various pages on Facebook after which they started to get more artists.
Himesh Panta, 22 approached Comedy Circle after he saw their Facebook post. "I was always interested in being a comedian. Used to do a lot of comedy in school and college but hadn't found a platform but when I saw the post I jumped at the chance of joining this club," adds Panta.
While looking for artists, the founders also came across many who were thinking of doing something similar. One of them was Sajan Shrestha, 25, who was looking to open a similar platform for a long time. "I was looking to start my own, but it was hard as I didn't find many comics and when I say Kshitz's video I contacted Suraj and asked if I could join them," adds Shrestha.
They also have a female artist, Namuna Giri, 19, who says her friends asked her to join because they felt she'd be funny as she has so many things to talk about. "The time I've been here has been fun. The people are great and I'm learning a lot of things," she shares.
Now the club has over 15 members.
Challenges
After getting artists, they now had to make sure they got an audience. "Initially our set was in the office itself where Viewfinders staff were the audience," adds Ghimire. "Fifteen of us would sit in is a room where we'd put up our camera and tell the comic to make us laugh," he continues.
But that soon started to get monotonous. That was why they started doing shows in restaurants where the crowd is not the same every day.
"We needed a different crowd and for that, we had to approach restaurants. Approaching restaurants was not as tough as we already had a few good PRs and Samay Restaurant and Bar. They liked our idea and decided to let us use their space every Thursday," says Ghimire
"Every week we are getting more people to come to Samay. This is good as it also helps our YouTube channel which is doing quite well," adds Khadgi.
The final challenge that is coming their way is about money. "For any business to run, it has to make money and that is what we are working on now because we have to make the artist happy and that is our next step," adds Ghimire who says they don't want to monetise their YouTube channel just yet. "We want to look at other ways to make money and distribute that money," he shares.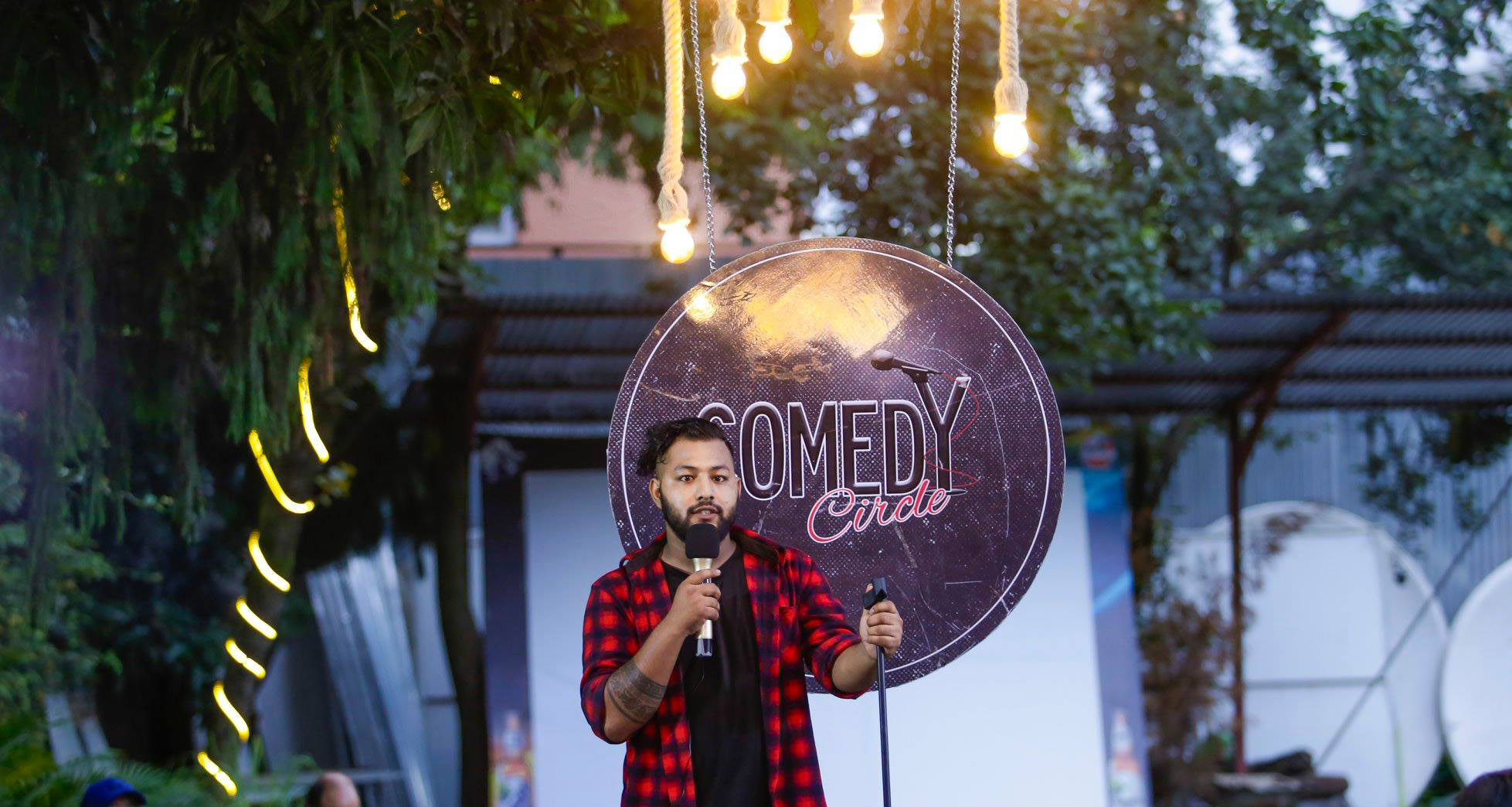 Platform for artists
Nepal is a country which doesn't have a lot of space for comedians. Traditional comedians like Hari Bansha Acharya and Madan Krishna Shrestha became famous through TV shows and Gai Jatra shows. But at a time when people don't even watch TV, Comedy Circle has become a great platform for these budding artists to try it out.
"We have been receiving messages from all over the world," adds KC. "The videos are watched by Nepalis all across the globe and are thanking us for promoting Nepali stand-up comedy," he continues.
It's also giving these artists a chance to learn from one another. "We sit down every Tuesday and share our content with one another. It gives us a chance to improve our content as we give feedback to one another," adds Shrestha.
Chance to learn
The toughest part of being a stand-up is to create quality content. No one becomes a stand-up in one performance. An example can be of famous Indian stand-up artist Vir Das, who in an interview said he was booed off stage 14 times in a row.
"We learn every day as it takes nearly a month to produce quality content," shares KC. I keep playing my content in my mind every day trying to make it better," he continues.
Shrestha also thinks the same. He adds, "It takes a lot of time to become a quality stand-up and none of us have reached that level yet. This platform has given us a chance to do so."
Their improvement can be seen from some of their videos on YouTube. KC's initial video is that of a nervous guy who looks out of his depth. Although his jokes are funny, his presentation is all off.
"I was petrified," adds KC continuing "I had no idea how to do it. My legs were shaking; palms were sweaty and I was looking down all the time as I put some papers on the ground which had my content. But since then I feel relaxed and am more comfortable now," he adds.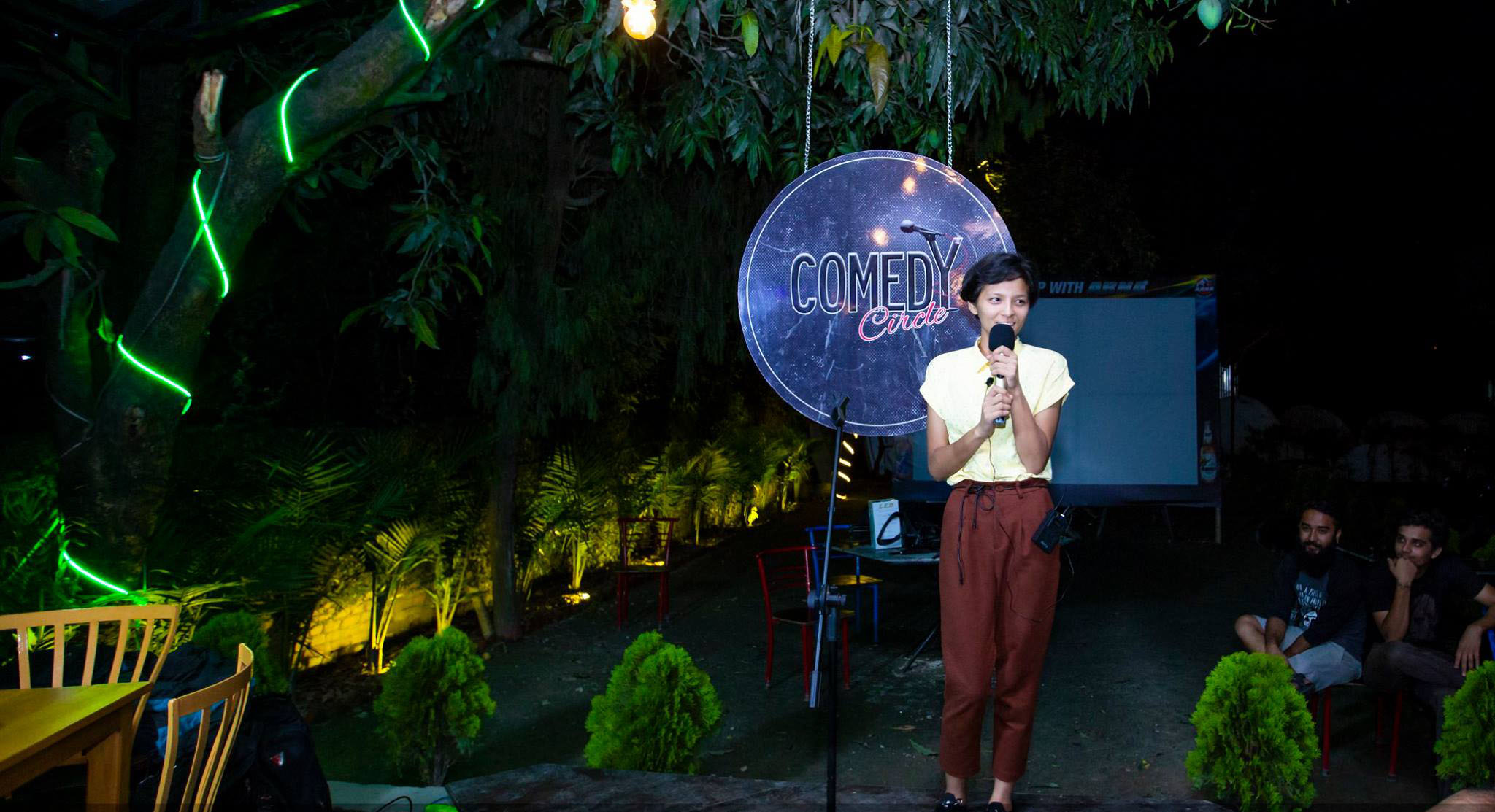 He isn't alone in this, Panta too looks nervous in his first video along with Shrestha who seem have come a long way since starting their stand-up career at Viewfinders office in Kupandol.
"We worked a lot on our presentation," adds Shrestha. "It's one the toughest part. If our presentation isn't good our content will not come out very well," he adds. "We need to know how to deliver a statement in a manner that the audience likes a reason why we work a lot on how to interact with the audience," he continues.
"Writing was hard too," he adds. "We are still working on styles and patterns which will make our content better," he continues.
The club has 49 videos on their Youtube channel–all of which has over 50,000 views but one has over 400,000 views. Kushal Singh Rathore contacted Comedy Circle while he was on a business trip in Kathmandu. Having lived with Nepalis in Bangalore, the Indian man knows Nepali. "He was like any other artist to us. He gave an audition and we felt he was good enough to perform at Samay. But what we didn't think is how popular the video would get," shares Khadgi.
"Every time we hit refresh the views increased by either 500 or 1000. That video helped us a lot when it comes to getting more subscribers. Never had we imagined that it would cross 400,000," shares Ghimire
Evolving Nepali comedy
Humour is a beautiful thing because it's subjective, what is funny to one person can be offensive to another that is what makes it different. Even here in Nepal that is the same case. Some find the Gai Jatra and various Nepali comedy shows are very humorous; whereas others find it offensive and don't really bother watching them.
The founders feel that stand-up might be treated in a similar manner. That is why they want to do more than just stand-ups. "Our long-term goals are more than this. We want to do skits, movies and various other shows because we know there is a market," adds Ghimire who wants Comedy Circle to be a comedy club and not just a stand-up comedy channel.
"Stand-up will always be a big part of our work, but 10 years down the line, we want to be known for more than just stand-ups. We want to create a platform which will help the artists that are associated with us to well," adds Ghimire.
"We want to make this a business that isn't people dependent but system dependent and that I feel will help us sustain for the next 10 years," he adds.
YouTube, for now, is a good platform–they have over 45,000 subscribers. "Our main aim is to have good live shows which we can then put up on YouTube,"  adds Khadgi.
"Live shows are better," adds Shrestha. "It's fun and more interactive," he shares.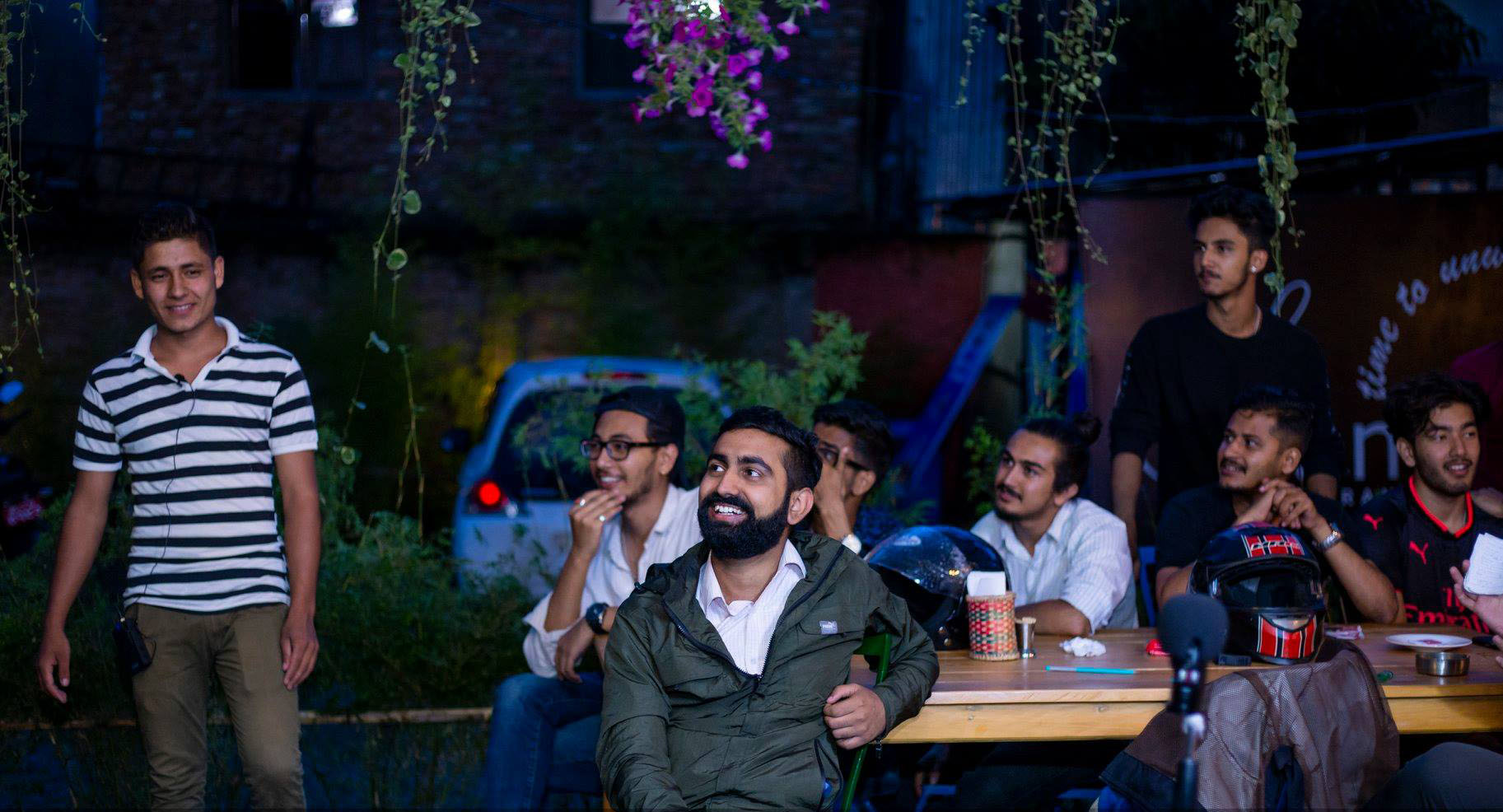 The founders and the comedians also want to do shows away from the Valley. But that hasn't been planned for the near future. "It needs to be a collective effort," shares Ghimire.
Over the years it's always been big businesses who have helped artists take the next step, and maybe that is what the comedians need too. "Like Tuborg take musicians to cities, it would be great if they'd take comedians too because I feel comedy is just as powerful a tool as music is," shares Ghimire.
The stand-up comedians feel the future can only get better. "Nepali comedy is slowly evolving. There are many stand-up comics coming who will only make the comedy industry better," adds Shrestha.
Comedy Circle is still a work in progress but both the stand-up comics and the founders are working hard to make sure this venture a success. Comedy is certainly one of the toughest forms of performing art. Tickling a live audience's funny bone isn't easy, but Comedy Circle seems to have got it just right, at least for now.