Prasanna, 25, a student in Kathmandu is an avid reader. It is no wonder that he visits bookshops almost every week.
But, for a student like Prasanna, it is not always affordable to buy books frequently. A few years back, he started having hard times buying new books frequently because he did not have enough money for that. He once thought of quitting the reading habit.
But, it did not take him long to discover places that would quench his thirst for buying new books at affordable costs. While roaming around Kathmandu, he found a few secondhand bookshops–the shops that trade used books, relatively at low costs.
Walk around the street of Bhrikutimandap or anywhere around big colleges in Kathmandu, you can find many others like him. They say secondhand bookshops that buy and sell used books have been boon for them. However, traders involved in the business say of late they have begun fearing the continuity of their business due to different factors.
Double dividends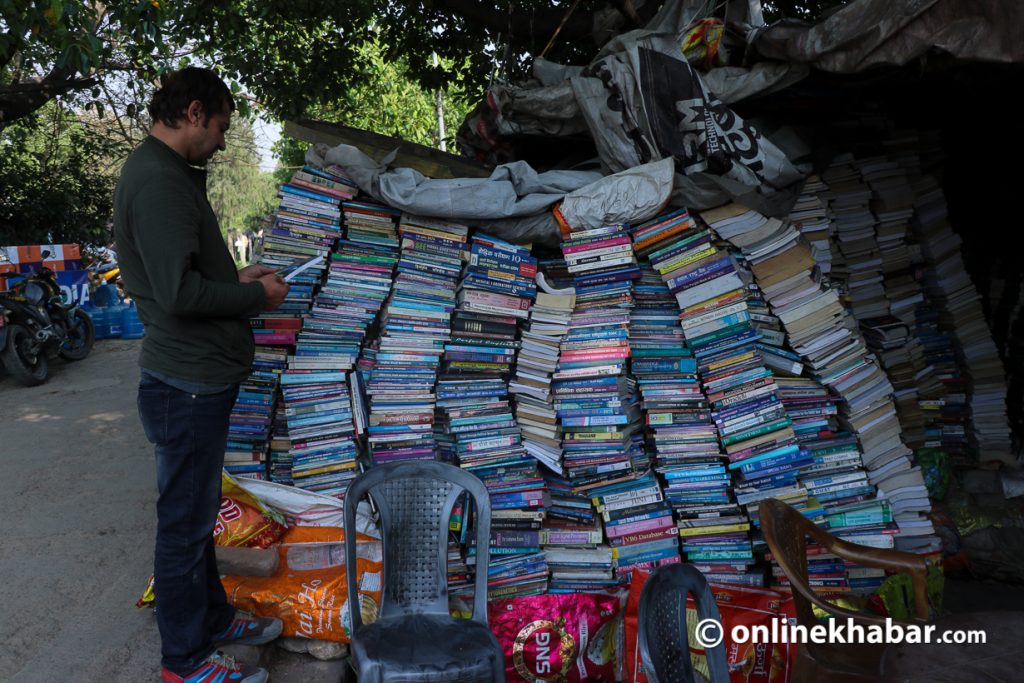 These days, Prasanna does not only buy secondhand books. Once he finishes reading them, he again sells them to the secondhand bookstores.
"These bookstores have made my learning life very convenient," says Prasanna. "Now, I do not have to worry about the price of books like I used to do earlier."
Prasanna's experience with secondhand bookshops is satisfying. While people generally raise concerns about the book's physical quality and appearance, he says he accepts any book as long as it is readable.
Ashish Khatri, the owner of one of such secondhand bookshops in Sundhara of Kathmandu, says people of different backgrounds have been his customers for the past 15 years. "This includes students to officers and intellectuals," the owner of Khanda Devi Books and Stationery says, "It's been 15 years, and I am happy with my business."
In the beginning, some people may feel awkward about making purchases at secondhand bookshops, but once they start it, they become habitual of it, says Khatri.
Generally, secondhand bookshops sell books at 30 to 50 per cent of the original costs, according to him.   
Per day, Khatri earns Rs 5,000 to 6,000 on an average from his secondhand bookshop.
Promoting the reading culture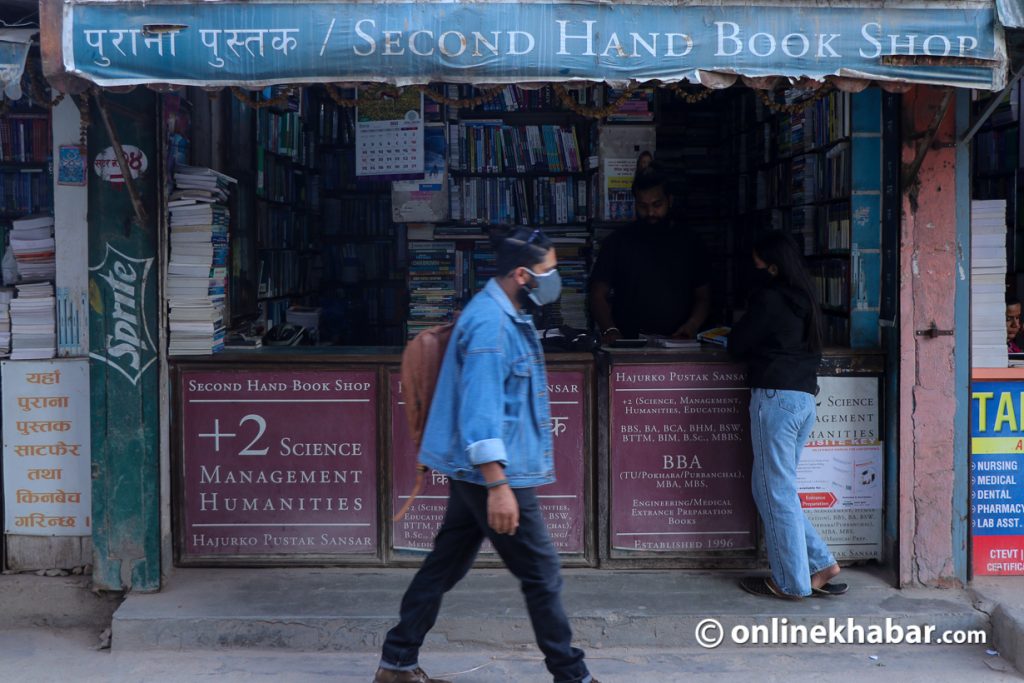 For someone who buys secondhand books in a larger quantity, with a motive to establish a library, Khatri provides a discount of up to 65 per cent so that he can help promote the reading culture among the young people.
In Khatri's experience, readers who are trying to develop their reading habits frequent his shop as they are reluctant to spend big bucks on books, he says. He says this also makes him happy as secondhand bookshops like his have helped them get into the world of reading.
Another secondhand bookshop owner Hari Krishna Khadka also echoes Khatri regarding many aspects of the secondhand book business.
Khadka says, "Most of the time, students prefer buying them. I feel happy to have helped students while doing my business"
Khadka claims that second-hand books are worth buying, and they do not create any hassles for reading. He even says, for the prudent readers, they are a better choice as they can collect more books from secondhand bookshops at less cost.
Fears about the future
But, Khadka complains many of his customers have not understood this fact. In his experience, the market of secondhand bookshops in Kathmandu is declining each and every day.
Khatri too sometimes feels the market for secondhand books is on the wane as universities are changing their syllabi more often than they used to do. "In that case, they don't have an option to buy new books."
On the other hand, students, these days, have begun saving pdf files of the books on their mobile phones. Yet, he hopes this cannot be an issue as reading the prints has its own benefits.