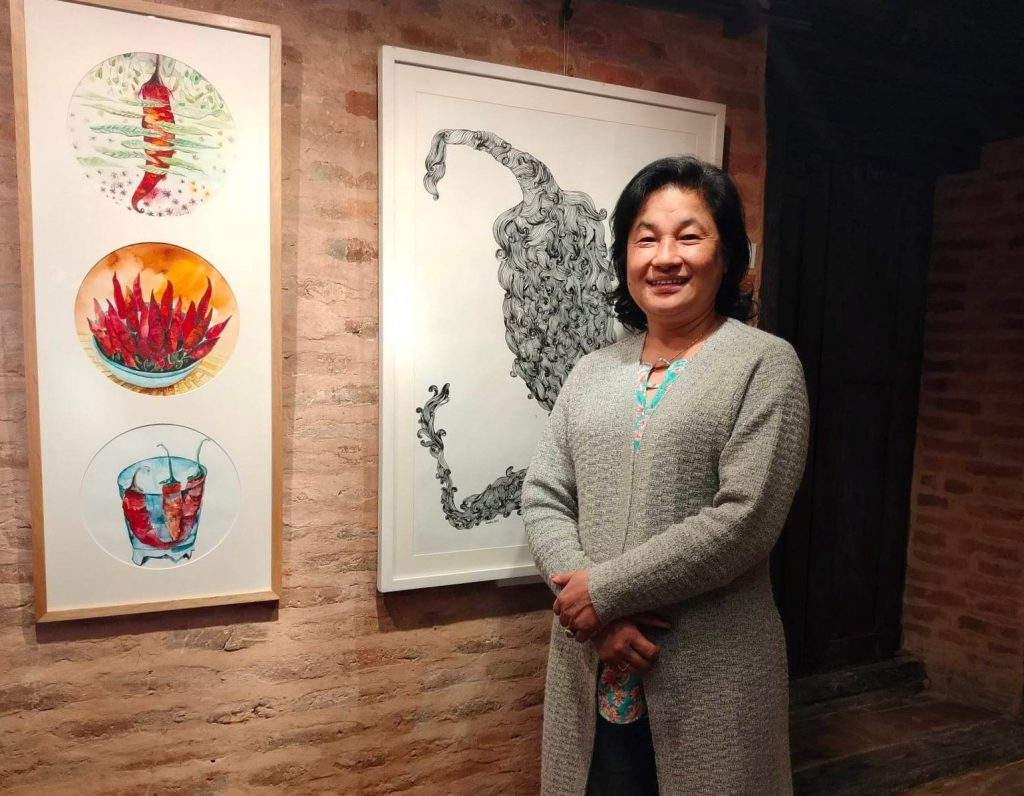 With the 14th solo exhibition, An Odyssey with Chilli, by visual artist Sarita Dongol, Newa Chen Gallery, Patan, is now open for the first time after the 2015 earthquake.
The exhibition began on February 9 and showcases 24 of her paintings created from 2016 to 2023. Dongol uses chillies as her major motif as reflected in the exhibition title. She has used mediums like pen and ink, acrylic and watercolour.
Dongol has always explored nature and her femininity in her artworks. But, she says this solo exhibition is her way of expressing what she feels, experiences and practises as a part of the culture while living in society.
From her memory lane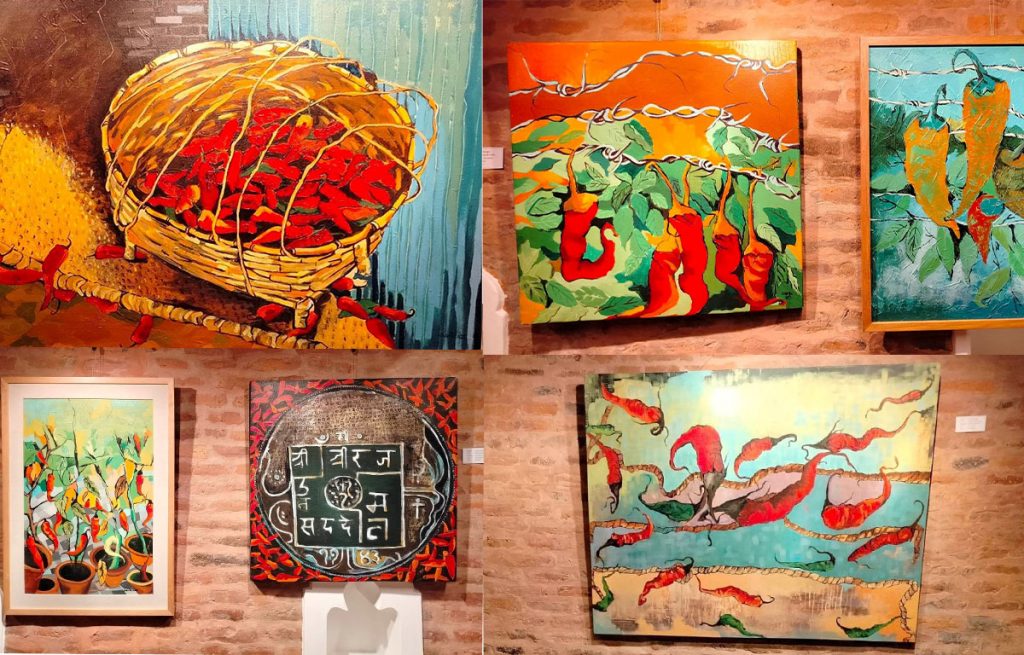 Sarita Dongol has always focused on nature in her painting and since 2013 chillies have become the major motif for her paintings. She finds a special connection to chillies, which she discovered while using them in her paintings. "I started using chillies in my painting because I was fascinated by the colour and the shape," she says, "and its use in our everyday life."
Moreover, Dongol says life is all about the journey and one tends to get its meaning in the process of that journey. Accordingly, when she connects her artistic journey and the selection of chillies in her paintings, she refers back to her initial days when she was a child.
"When I was around 11 years of age, life challenged me with big family responsibilities. One of my responsibility was to cook for my family," she says, "And I had to deliver meals to my mother who worked in a shop."
Then, her mother would instruct her to put chillies in the lunchbox. "She would say if it were not done, the bad spirits would make her fall sick." It was not only her mother, but her grandmother too used to hang chillies and lemons in a string on the ceiling to chase away the evil spirits and ghosts.
She says, "Now I see why I have been choosing chillies in my painting as my major motif."
In the exhibition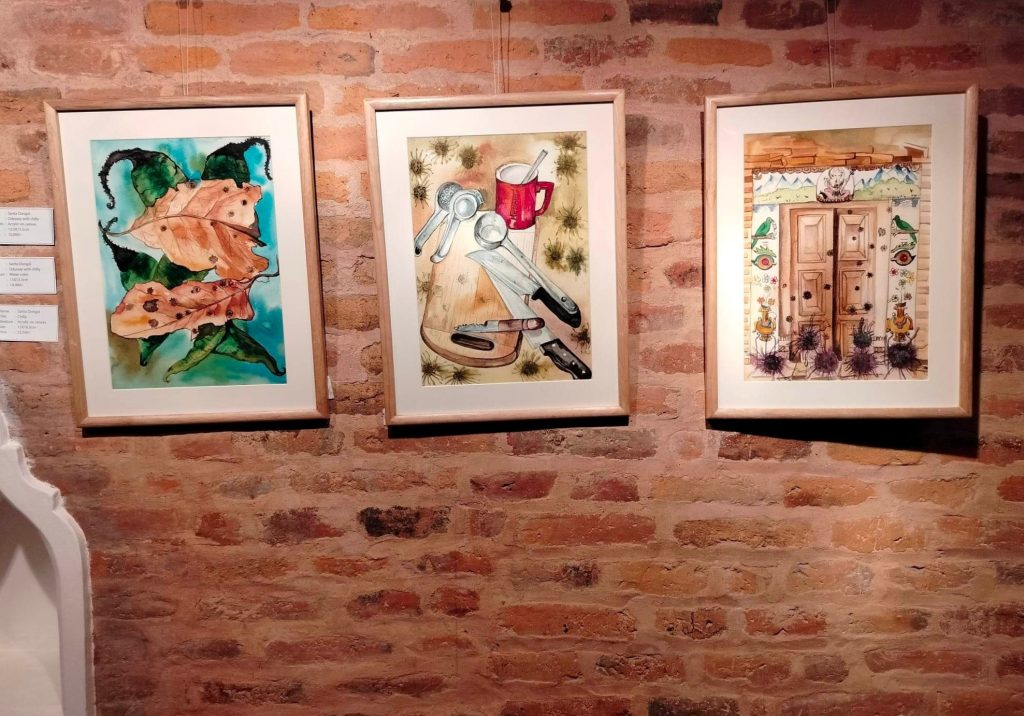 This series of paintings thus interlinks her childhood memories, cultural beliefs, and myths artist Sarita Dongol grew up with and her lively and positive affirmation of life at this point in time with a conviction that each one of us has our own way of understanding a subject such as a chilli.
"I have understood that chillies mean so much in my life," She says, "Using chillies in my paintings is my way of sending positivity as chillies are not only food but possess mysterious power too."
In one of her paintings, Sarita Dongol has objectified chillies and painted them in a state of free fall. A dozen of red chillies are freely falling down and there are two strings of rope parallel to each other in the background painted with yellow and blue background.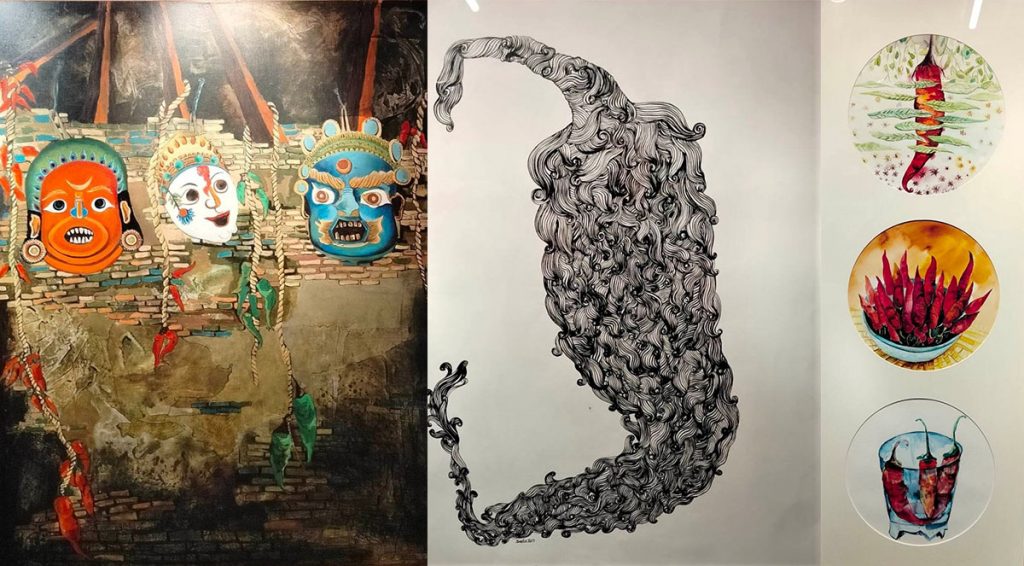 "I thought about chillies and realised that in traditional ways, they are always bound together and are hung in certain areas of the house," she says, "They might too feel good if they could be free and flow as they wish. That's why I have created them in such a manner."
She has expressed her sentiments and attachment to her past through the motionless object of chillies. Similarly, she has interestingly highlighted the unique forms of character, textures and colours of chillies in her paintings.
The exhibition continues till March 5.