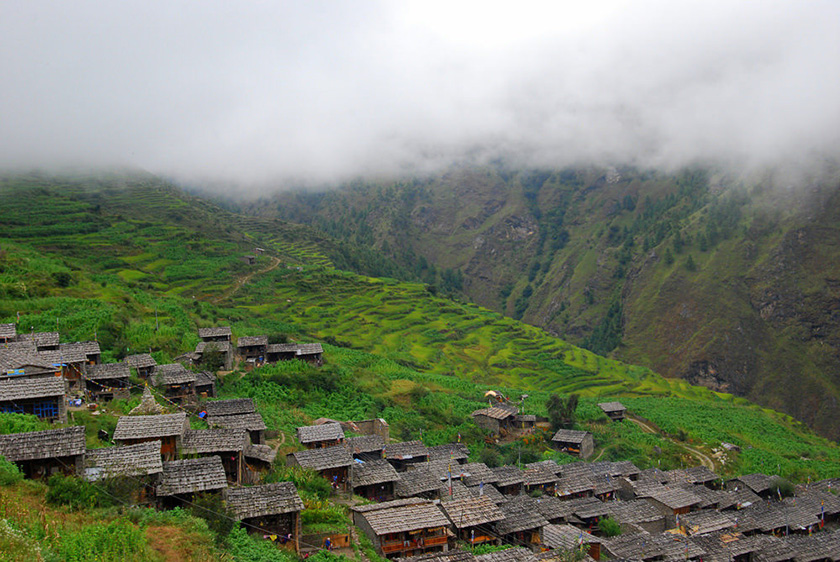 Road trips, to me, are a joyous escape. Get in a car, listen to good music and you roll down the windows (or not) because usually, you're going somewhere fun.
That fun place this time was Rasuwa where we were to assess the development work being carried out by various aid agencies in Nepal. After driving for around nine hours we reached our overnight stop Gatlang, a village in Nothern Rasuwa. Gatlang, is known to many as the 'black village' as all the houses in the area once had black roofs. But after the 2015 Earthquake, most houses in the village have no roofs.
Part of the Tamang Heritage Trail, the village, before the earthquake, used to see a lot of tourists but now the flow has virtually stopped. Most tourists, who come to see the 'black village', leavethe place disappointed.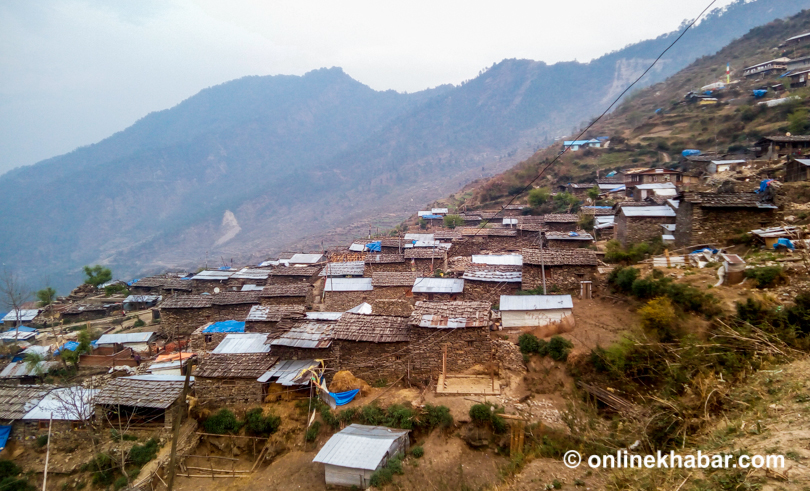 The black wooden roofs have been replaced by tin ones as the people don't have enough money to replace the wood.
On an evening stroll around the village, I came across many who were affected by the earthquake and were slowly rebuilding their houses with the grant they received from the government.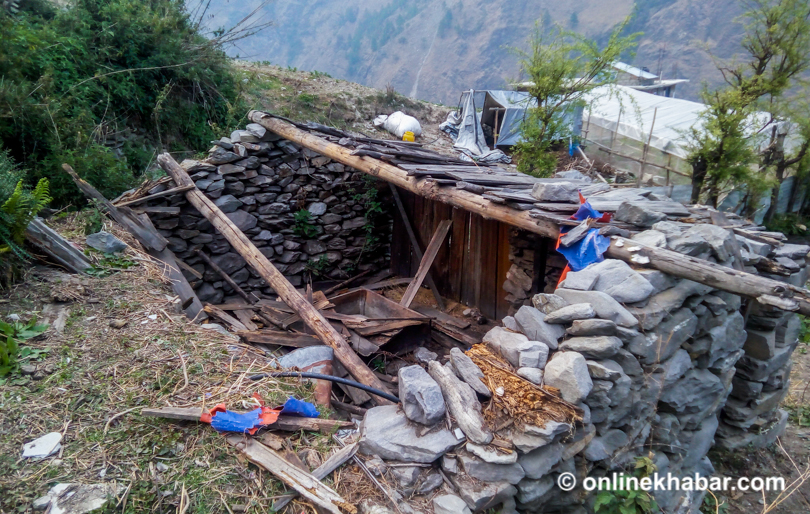 "I was drinking with my fellow mates when it all happened," says Dil Bahadur Tamang whose "world came crashing down with this house." And it hasn't been easy for him after breaking his leg in the earthquake he has had a tough time getting back on his feet. He works hard to rebuild his house.
Most houses in the area are made up of stones, and as these don't have concrete pillars, the earthquake took a heavy toll on them. "The initial aid that we received was not much but it helped a lot. At least the tents we received put a roof over our heads," says Tamang who now feel that the no help is enough when one loses so much.
A brief stroll around the village brought us to our overnight stay, Langtang View Homestay, a lodge/tea house at the bottom of the village. The lodge was rebuilt after the earthquake and the first floor didn't look very strong as most of it was made from wood. After having a healthy local dinner we went to bed wishing to see the mountain in the morning.
Our wakeup call at 4:30 am wasn't a knock on the door, but the literal sensation that our roof was going to fly away. The wind was rapid and made a noise that felt like the whole floor was moving. The gale gave us little choice but to wake up, and as I left the bed to go outside.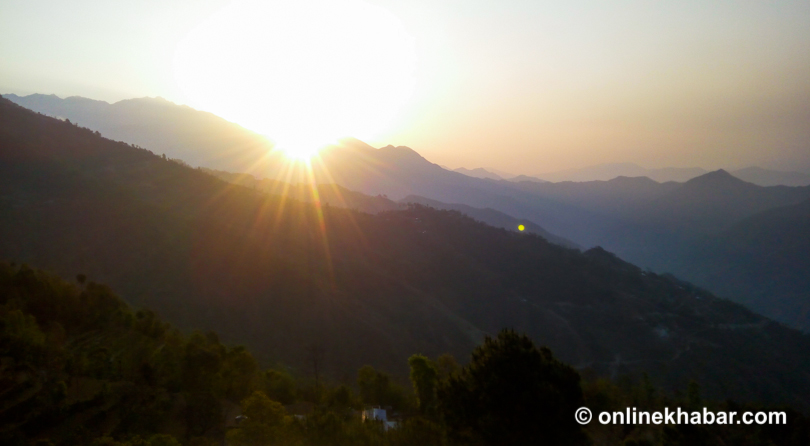 Then I got my first glimpse of the Langtang mountain. Far away between large hills, I could see the top of the mountain where the rays of the sun were just hitting the mighty mountains. And after admiring the mountain and the valley, our group had breakfast and left to explore the village.
Many stone houses in the area suffered structural damages but many were still living there. "People here still want to live in these old houses because they relate to it. Most of us have grown up in these houses, a reason why I am rebuilding it in a similar way," says Ram Tamang who adds that the window he plans to put in his house costs around Rs. 50,000.
Building the houses in its traditional forms will definitely be expensive which is why many are replacing these stone houses with bricks and HELVETAS, a Swiss INGO, has been training both men and women to make earthquake resilient homes.
This initiative trains 10 workers who learn the basics of building an earthquake-resistant house starting from laying the foundation to placing the roof and what even more encouraging is that they make sure they have 30 per cent female representation in the groups.
While driving to Rasuwa, I read that it is a district full of lakes and we were later informed that there was a lake around 20 min drive uphill from the lodge. So we drove up through a pine forest where we saw multi-coloured rhododendrons and reached Parvati Kunda, a popular pilgrimage during Janai Purnima where thousands of devotees visit the sacred pond and nearby temple.
We also found out that there was a DDC (Dairy Development Corporation) factory a few miles up and not wanting to miss out on fresh cheese, we climbed further up. We reached a green meadow where some yaks were grazing. Unable to get fresh cheese as their production had stopped, some of our team bought cheese and we were on our way to Goljung.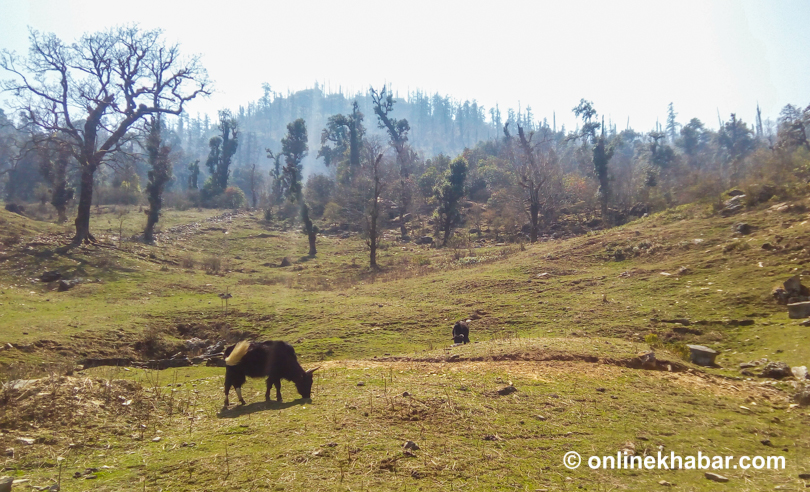 Goljung, like Gatlang, was another village under-construction. There we visited a stone cutter's house where Norbu Tamang and his wife Chewang Gyalmo Ghale cut stones using a machine and earned a decent living.
Most people in the area break stones using hammers due to which the houses don't have a still foundation. But as this village has better road connectivity and most men in the village go to Kerung to work, houses here have been built using bricks as it saves more time and effort, even though it's a bit expensive.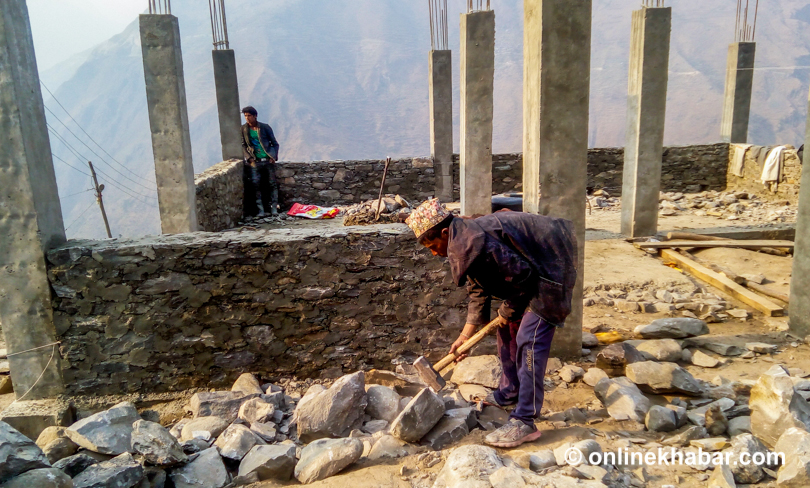 After talking to a few people and to avoid driving on bad roads for the entire day, the next day we left for Dhunche. Driving past a relatively dry river on dusty roads we climbed up some tough terrains suited only four-wheel drives as we passed Shyaprubesi and reached Dhunche a stop from where most pilgrims head to the holy Gosaikunda Lake.
Our next day would be spent mostly on the car which is why we went to bed early. Unlike the lodge in Gatlang, the one in Dhunche was comfortable and to my surprise even had hot water and wifi. And after a hearty breakfast, we drove to some of the most remote parts of Raswua.
Our destination was Langbu, a village near Yarsa. Driving from Dhunche to Langbu was extremely tiring as the entire day we drove on roads not meant for cars. We passed through huge scenic rocks some perfect for climbing but people don't seem to visit these areas as they do think it good for tourism.
We reached Langbu, a small village with less than 200 houses. There we ate lunch at Curry Ghale's house and talked to women who were involved in making foot trails from Langbu to Abu Kharkha.
Walking around, I notice that most houses in this area have been rebuilt with support from the Batas Foundation and Chaudary Group but none of them look authentic as they have used tin doors and window along with bricks.
After a few hours in Langbu, we left for Kalikastan our final overnight stop. On our way there we couldn't help but stop to click pictures in a small waterfall and at that point where all of us forgot how bad the road was.
Driving off-road for a few hours we finally saw fresh tarmac which was welcomed after moving like a pendulum for the entire day. But even though the ride was tiring it was worth it as we experience rural Nepal like never before.
One the final night most of us had a heavy dinner which included dal-bhat-tarkari-masu and locally produced ghee which was extremely fulfilling as it might just have been the best meal of the entire trip.
The next day we left early for Kathmandu, but on our way visited two CSEB (Compressed Stabilised Earth Blocks) firms. One firm in Pipaltar was owned by a woman who has for the past year has been producing around 500 blocks a day to meet the demand she gets from remote areas of Nuwakot and Rasuwa.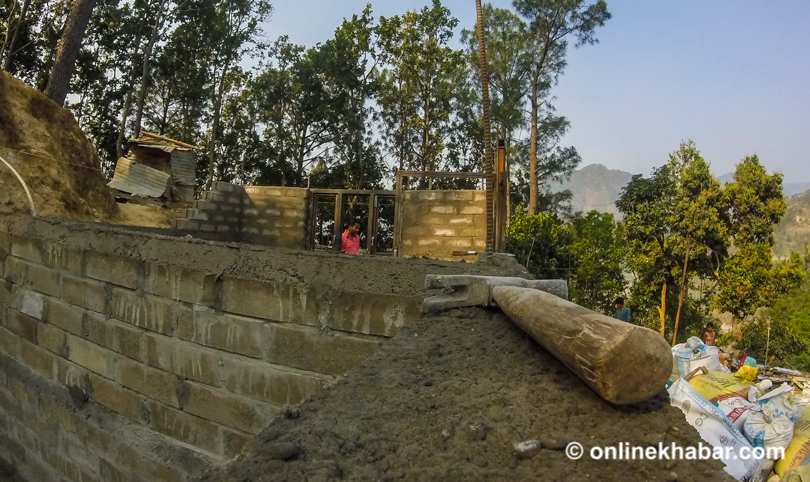 The other firm in Bogatitar was owned by a school teacher who had employed local women to produce the blocks. It was encouraging to see the women work to sustain their family and earn a modest living by working 5-6 hours a day.
The trails around these regions saw a lot of tourists during the tourist season which helped many sustain themselves. But after the earthquake, the flow of tourists have stopped drastically.
In times like this tourism is what will help them get back on their feet and give them a steady income but without promoting places like Gatlang or Langbhu that will never be possible.