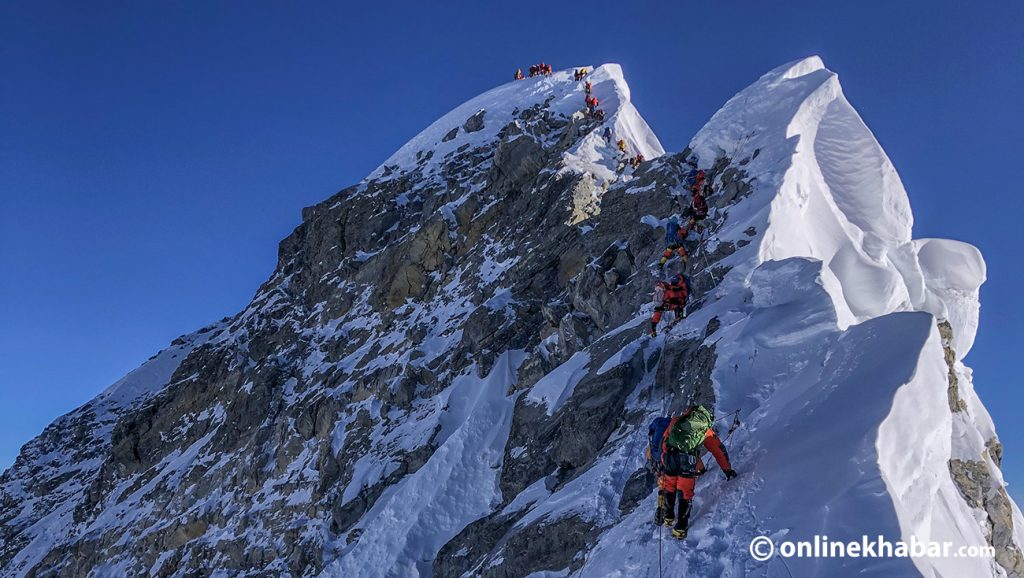 "Everest is full of waste. It is the world's highest garbage dump."
As hundreds of climbers reach the base of the highest mountain on earth every spring, this statement is repeated in both national and international media outlets. The statement holds true too as waste like human faeces, kitchen waste, shoes, socks, wrappers, tents and old fixed ropes have piled up in the mountain over the past 70 years.
Ever since Tenzing Norgay Sherpa and Edmund Hillary reached the top of Everest, over a thousand people have followed in their footsteps. While a few have climbed the mountain differently, around 80 per cent or more have used fixed ropes on Everest.
These ropes have been a boon to Himalayan climbing. But it has a downside. Since they are fixed, these ropes stay on the mountain forever and no one brings them down as tons of old fixed ropes have been on the mountain for decades.
"The companies pay us to fix them to the top. We have never been asked to bring them down," says a Nepali climber who has led the rope-fixing team in the past.
This year, however, things are looking different. Imagine Nepal and its team of climbers led by IFMGA guide Dawa Gyalje Sherpa are planning to bring down old fixed ropes on Everest. The team has won the bid to fix ropes to the summit of Everest and wants to bring back old ropes to set a precedent for the future and play their part in cleaning the mountain.
"This should have been done a long time back but no one has done it. It's difficult, yes. But it's not impossible," says Dawa Gyalje.
When boon turns into a burden
Fixed ropes are an important part of Everest. These ropes have helped thousands fulfil their dream and reach the summit of Everest. These ropes are essential not only for foreigners but also for Nepali porters who carry around 40 kilograms of weight up the mountain.
But now with old ropes on Everest piling up, things are becoming risky. Dawa Gyalje says he has seen many people's crampons being entangled in old ropes and falling down. He has also seen people having minor accidents by holding onto an old rope instead of the new one.
"When you're climbing in altitude, you get tired quite easily. This is when people grab hold of old ropes which causes risk of accidents in the mountain," he says.
Incidents like these have been seen on K2, the second-highest mountain in the world, where people have fallen to their death.
"The situation on K2 is so dire and we want to make sure that it is not the case with old ropes on Everest," says Dawa Gyalje.
A challenge to inspire change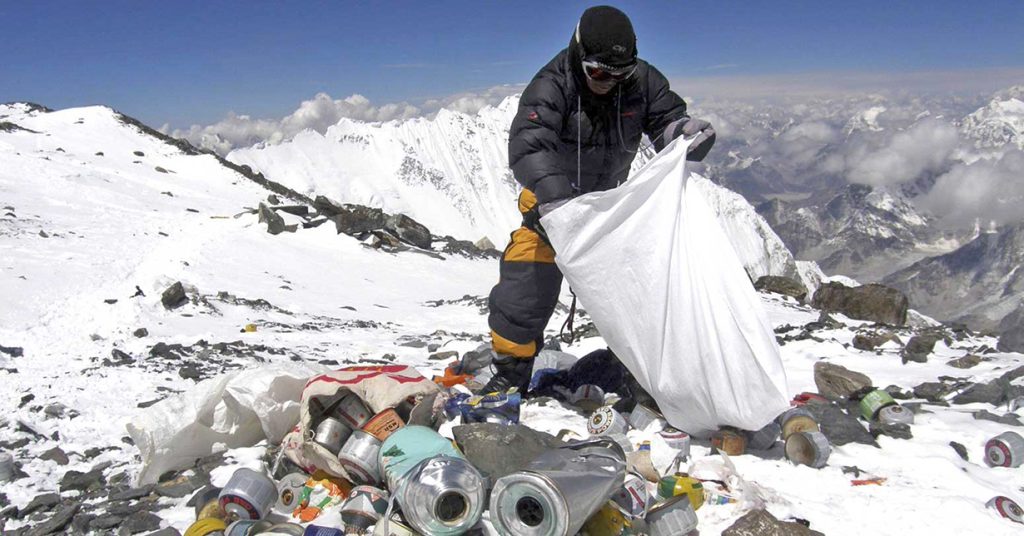 He says the team is planning to bring down around 4,000-metre ropes from the mountain mostly from its rocky areas.
"We will bring down old ropes that we can and are visible."
But he understands it is not going to be as easy and has prepared his team accordingly. Dawa Gyalje is preparing a team of 10 people for the task at hand this season.
Their main challenge will be the weather. They understand some ropes on Everest will be stuck under snow which will be hard to remove along with those that have been frozen.
"There are ropes that have been there for years and its knots are so tight it will be hard for us to cut through. But we will go there prepared," he says.
Dawa Gyalje says his team did this on Ama Dablam in 2021 when they removed around 500 metres of rope from the rocky section of the mountain.
"The mountain looked so clean," he says.
Now with their plan to remove old ropes, he feels other expedition agencies that fix ropes on Everest or any other mountains follow their suit.
"We need to respect our mountains and work together to clean them. We need rules like those in South America where mountains are a lot cleaner compared to Nepal."
Fixing ropes on Everest
Ropes on Everest are fixed by two different parties. Ropes from the Khumbu Icefall to Camp II are fixed by icefall doctors hired by the Sagarmatha Pollution Control Committee (SPCC). The rest of the mountain is then fixed by one member of the Expedition Operators Association of Nepal, usually selected through an open bidding process
For many years, the company submitting the lowest bid got the contract but this year, things have been done differently as the company submitting the third lowest bid got the contract.
"This was to ensure quality was not compromised when fixing the ropes," says Mingma G Sherpa, whose company Imagine Nepal will be fixing the ropes this year.
The total cost of ropes on Everest and other equipment ranges anything between 5 to 6 million rupees (USD 50,000) as eight to ten people are needed to do it.
Dawa Gyalje says he is excited to be fixing the ropes and wants to do it fast but knows things are not in their hands.
"The weather is very unpredictable, but we want to do it as fast as we can so that people can climb the mountain in small groups like they did last year," he says.