Mingma G Sherpa, before he left for Pakistan to climb K2, the second-highest peak in the world, earlier this winter, wanted to prove a point. Having failed to reach the top last year, for Mingma G, this was all or nothing. He had spent a fortune of his own money and taken no clients. But, to put his name and the Nepali flag in the mountaineering record books, he was ready for anything.
K2 was the last great prize in mountaineering: the only 8000-metre peak unclimbed in the winter, hence the last great mountaineering adventure. Since the 1980s, K2 had seen only seven attempts in the winter, all ending in failure. Summiting it would book a place in mountaineering's hall of fame. But, for Mingma G and his team, it was also a chance to show the world how capable Nepali climbers are when it comes to high-altitude mountaineering.
"The international media and the mountaineering community were calling us a weak team," says Mingma G. "Only me and my team know how much effort we put into this expedition. There was no chance we were going to let anyone else beat us to the top.
Climbing one step at a time
Born in Rolwaling valley in Dolakha district, Mingma G's journey in mountaineering started in 2006 when he helped his uncle at Manaslu as a 'climbing Sherpa'. Having seen his father, grandfather and uncles climb to make a living, Mingma G knew that he would eventually get into the sport and on his first expedition, he reached as high as 7,300 metres. The next year, he reached the summit of Everest, after which he never looked back.
First, he was lured in by the brotherhood and fun in the mountain. Later, it was the money that kept him going as he became the first Nepali climber to make the most ascents of 8,000-metre peaks without using supplemental oxygen. But, he always yearned for more. Maybe that is why, he solo climbed Mount Chobutse, a 6686-metre mountain above his village in the Rolwaling valley in 2015.
"At one point, mountaineering becomes an obsession and you start looking for the edge," he says. "Apart from that, I wanted to prove to the international climbing community that Nepali climbers are also technical when we have to be."
That Chobutse summit got him a lot of attention, after which he started to dream about climbing in the winter.
By 2016, all but one of the 14 8,000-metre mountains had been climbed in the winter. The last that remained was the most difficult: the savage mountain K2.
"I wanted to do it for our mountaineering community. It was a shame that Nepal didn't have a name as the first climbers in any of the 13 winter accents. The coming generation would ridicule us."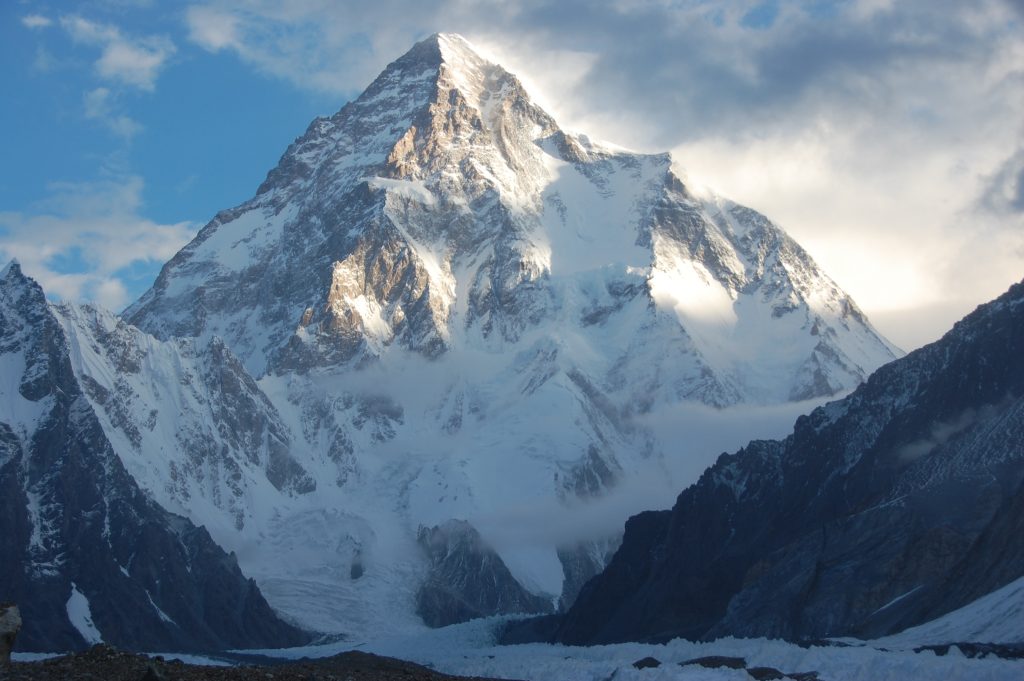 He tried it in January 2020 with Iceland's John Snorri, China's Gao Li and Slovenian Tomaz Rotar. However, due to bad weather and poor health, he gave up his summit bid and came back.
This year, however, things were going to be different from the start. He was climbing with Nepali mountaineers Kili Pemba Sherpa and Dawa Tenzing Sherpa and without foreign clients. Joining him in the mountain was record breaker Nirmal Pujra (Nimsdai) and his team along with a commercial expedition from Seven Summit Treks. Nepal was running K2, and he would be getting all the help he could need there.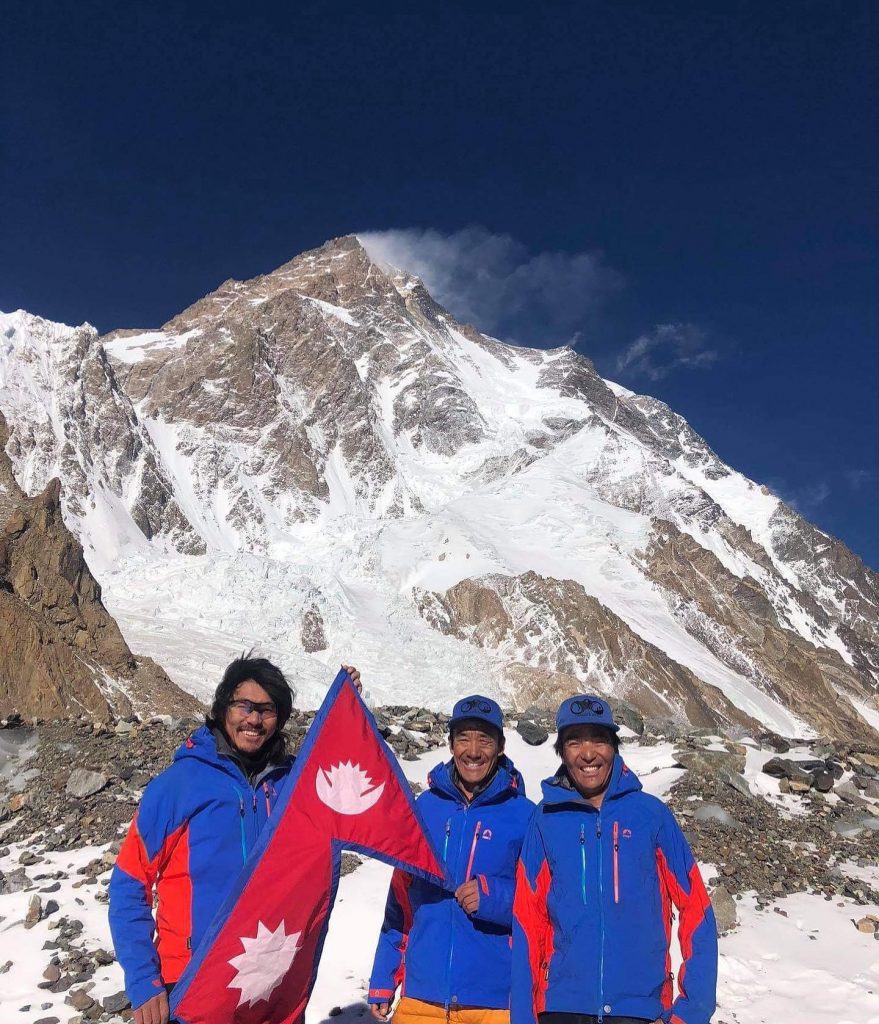 Hoping against hopes
But, his expedition nearly hit a brick wall before even leaving Kathmandu. Both Kili Pemba and Dawa Tenzing were hesitant about going as were their wives who had heard about how people die on K2.
"Convincing their wives was hard. It took time and both Kili and Dawa, who are also parts of my expedition company, were in a dilemma about going. They were afraid that they'd lose jobs, but I was taking them because they are my best climbers. When they agreed, we rushed to Pakistan."
The fear was justified. According to the recent history on K2, approximately one person dies on the mountain for every four who reach the summit. Even this year, five have perished on the savage mountain.
Having learnt a lot from last year, he even left for Pakistan early so he could make the best use of the good weather.
"We wanted to give it our best shot. So, we left Kathmandu on December 6, 2020, for Pakistan."
After meeting Nepal's ambassador to Pakistan and briefing him on what they were to do there, he along with his climbing buddies left for Skardu from where they began the long trek up the Baltoro and Godwin Austen Glaciers.
"It was so snowy, it took a week to get to the base camp. When we reached the base camp on December 18, the only team there were John Snorri, Ali Sadpara, and his son Sajid."
The trio of Sherpas then spent a few days acclimatising and assessing the situation. As ropes were fixed till camp 1 (6,050) by Sadpara and Snorri, they waited until December 21 – the start of winter according to the astronomical calendar. On 21, they reached camp 1 and stayed the night there. It was cold, but all three were prepared for it. On 22, their plan was to fix ropes to camp 2 (6,700) and they did so effortlessly.
"Various media outlets internationally had written that reaching camp 2 would be our best achievement. Wanting to prove them wrong, we reached camp 2 in just two days."
Fixing ropes to camp 2, they returned to camp 1 where they spent the night battling the high wind. On 23, they went back up to camp 2 to deposit tents and ropes for the coming days and returned to the base camp to rest.
Mingma G says that the weather gods were very kind on him and his team. The weather cleared just as they started their trek to basecamp until the day they fixed ropes to camp 2. After 23, the weather started to deteriorate and they stayed at the base camp on December 24-26.
On 27-28, after the weather cleared, they spent the night at camp 1 and camp 2 respectively for acclimatisation, braving temperatures as low as -30 celsius. On 29, they headed to fix ropes to camp 3 but stopped just below the Black Pyramid and spent the night there.
"We fixed ropes to 7,000 metres just below the Black Pyramid. Our plan was to push for the summit on 30, but due to heavy loads and bitter cold, we gave up after walking for an hour. We realised that day that you move slower in the winter than you do in the summer."
Teamwork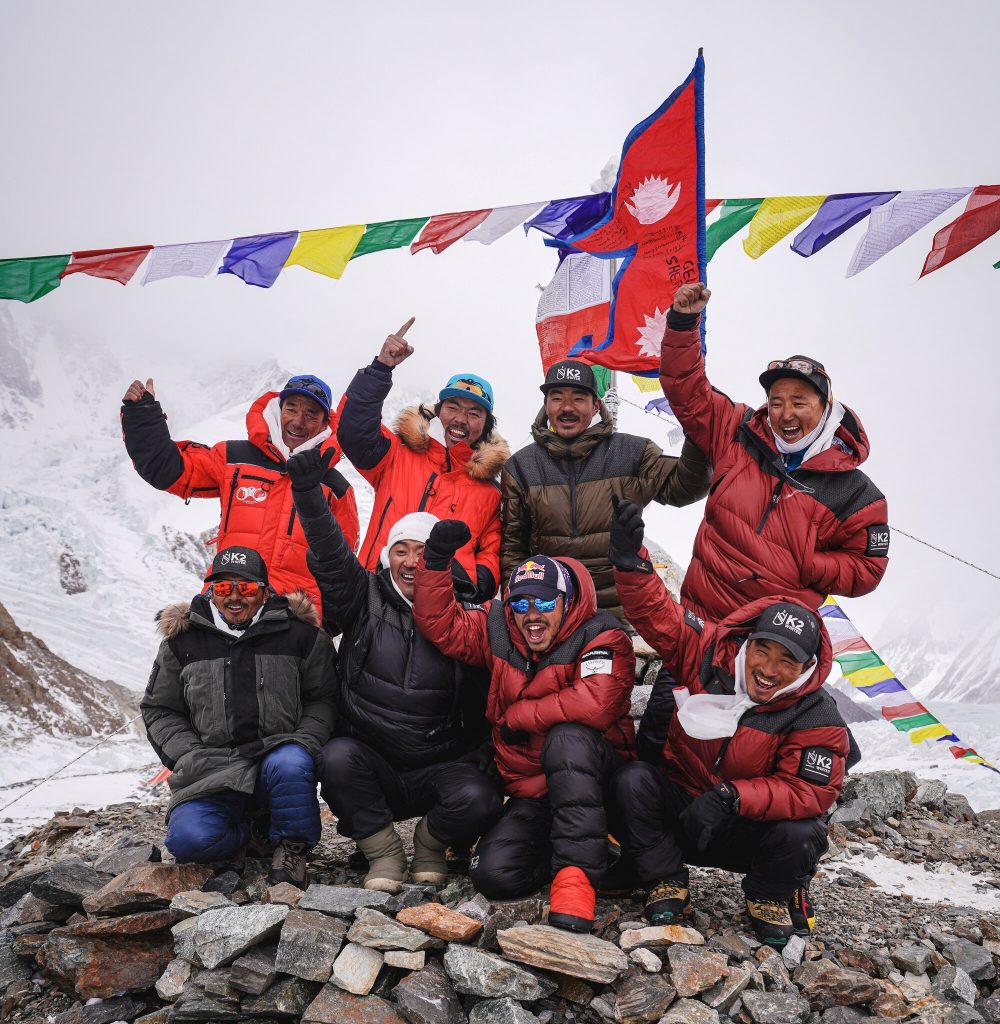 On 30, they planned to fix ropes to camp 3 (7,200 metres). As they were on the way to camp 3, they ran out of ropes that they had brought along. They radioed Chhang Dawa Sherpa, the expedition leader of Seven Summit Treks, and asked him to tell Nimsdai and his team to bring some ropes. They even used strong old ropes on the mountain as they made their way up.
Soon after the radio call to Chhang Dawa, Mingma Tenji Sherpa from Nimsdai's team came up and helped as they fixed ropes to camp 3. After fixing ropes to around 7,300 metres, where the team left oxygen, oxygen regulators and ropes, they decided to call it a day and come back to the camp they had set up at 7,000 m and called it a night.
On the way back, Mingma G met Nimsdai for the first time.
"All by himself, he was carrying 200 metres of ropes for the later part of the expedition. He did not complain that he was alone nor did he make a deal of it. That day, I had a lot of respect for him."
At 7,000 metres, another problem plagued Mingma G as Kili Pemba started to show symptoms of high altitude sickness. With the oxygen saturation as low as 30, there was no option but to drop down to the base camp.
As they reached the base camp on 31, the weather started to get worse. That gave Kili Pemba and Mingma G some time to recover after a few brutal days on the mountain.
It also gave them the time to celebrate the arrival of the new year before heading back up the mountain. That was also the day that Mingma G and Nimsdai decided to climb as one team: Team Nepal.
"We had a lot to drink that day. We bonded over booze," says Mingma G, laughing.
That day, Nimsdai even proposed starting the summit bid on January 2. But, with the team members tired and bad weather incoming, Minmga G convinced Nimsdai to wait for a better window.
"He was worried that the foreign climbers would acclimatise and follow us to the top. I was too. But, we were in no shape or form ready for the summit push and with bad weather looming, he agreed."
That wait gave him and Nimsdai and the eight other climbers enough time to recover. The weather got horribly bad too during that time, creating doubt among the climbers.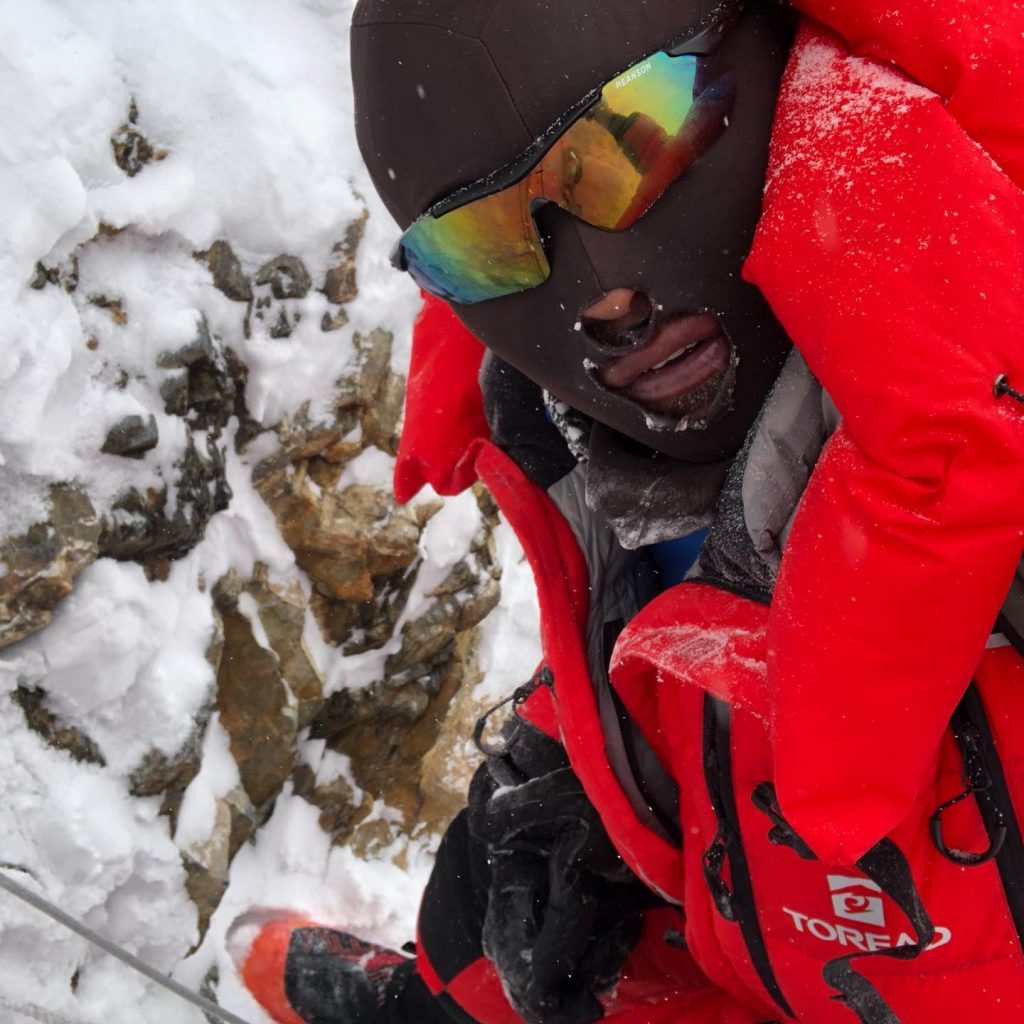 Right forecasts
Winds of up to 50 mph were recorded at the base camp from January 1 to 7. As the weather cleared, the Nepali team then started to plan when to move.
First, they had to go up to the high camps to check the state of equipment they had left for the summit push. Nimsdai's team left for camp 2 on January 10 to ensure their equipment was okay. Sadly, the wind blew most of it away, including Nimsdai's paragliding gear.
Mingma G, who had left it at around 7,300 metres was hopeful that his gear was safe, and gladly it was.
"We had dug a pit and put everything in it. It was a good decision. If we had lost that, our expedition was over."
Losing the paragliding gear did not deter Nimsdai who continued to carry on. The next plan was to summit on the 15. Nimsdai's team was to leave a day early while Mingma G's team would join them at camp 2 before they pushed for the summit on 15.
But, the weather window kept changing and the summit day kept shifting.
By January 13, all 10 climbers had left the base camp and were a few hundred metres below camp 3. There, they started to get conflicting news about the weather. Nimsdai and Chhang Dawa's weather report suggested they should not climb camp 3 on 14. But Mingma G's weather report said otherwise.
"Ours, provided by Krishna Manandhar, showed clear weather above camp 3. I was worried that day because I knew if we didn't move that day, our summit bid would be over as we didn't know what conditions to expect beyond camp 3. Even the Russians didn't have proper information beyond camp 3."
On January 14, Mingma G woke up early as did Nimsdai. Both were on the radio about pushing towards camp 3 as the weather was good. They got nothing from Chhang Dawa from the base camp, and as the weather started to get better, they risked and pushed to camp 3 to fix ropes to camp 4.
That was the same day Snorri, Sadpara and his son were also on their way up. But, as their weather report said bad weather, they stayed at camp 2. When they tried to climb on, the winds stopped them from doing so.
"They had winds at camp 2, we had great weather at camp 3. It was like the mountain gods telling us to have K2 all to ourselves."
But, the plan to summit on 15 took another hit as they had to fix ropes to camp 4 which was no easy task.
"In the summer, it takes you four hours to reach camp 4 from 3, but in the winter, we got lost. We encountered crevasse after crevasse, after which we decided to climb a near-vertical wall, through which we could reach camp 4. When we reached camp 4, it didn't look like camp 4. It looked different."
That he says was the most challenging day on the expedition. Climbing the vertical wall in hard snow, fixing ropes in freezing conditions certainly tested their metal. Mingma G for most parts of the day was leading the pitch and by the time he neared, camp 4 was knackered. Realising that, he asked someone else to do it and Mingma Tenji fixed the last 50 metres to camp 4.
VIDEO
Final push
"As we fixed ropes to camp 4. We were assured that K2 was ours. There was no way we would let it slip."
After fixing the rope, he returned to camp 3, excited and anxious about the next day. Mingma G knew that the summit of K2, where he had stood before, was at a touching distance. Coming down, they had planned to start the summit push at around 11 pm on the 15th. But they only reached camp 3 at around 5: 30 pm and realised that they needed to rest for at least six hours before the big day.
"We were shattered. We had worked very hard. I had planned to climb without supplemental oxygen, but as I was knackered, I decided to not risk it and climb with it."
The day was upon them: D-day. As they knew that the weather would be generally clear with mild wind, they started the summit push at around 2:45 am on 16. But soon, the cold started to get the best of it. Moving slowly, they continued to climb. Up to camp 3, they were fine. But, as they reached camp 4, which was like an open meadow of snow, the wind started to get them, testing their resolve.
"We were moving so slow. My feet were freezing. There was a time I thought about turning back. I even called Dawa Tenzing, but he didn't respond. Had he responded, it would have been over; I'm glad he didn't"
All 10 had decided beforehand that they would wait for one another 10 metres below the summit and walk to it, arm in arm, like brothers, singing the national anthem.
"It was a great gesture, was an extremely emotional moment for all of us. When we reached the summit, we were happy, ecstatic. But, more than that, we were relieved. We had done it. We had climbed K2 and completed the last great mountaineering adventure."
At base camp, they got a hero's welcome. In Pakistan, they were treated like royalties. The part did not end there. When they arrived in Nepal, they were treated like kings.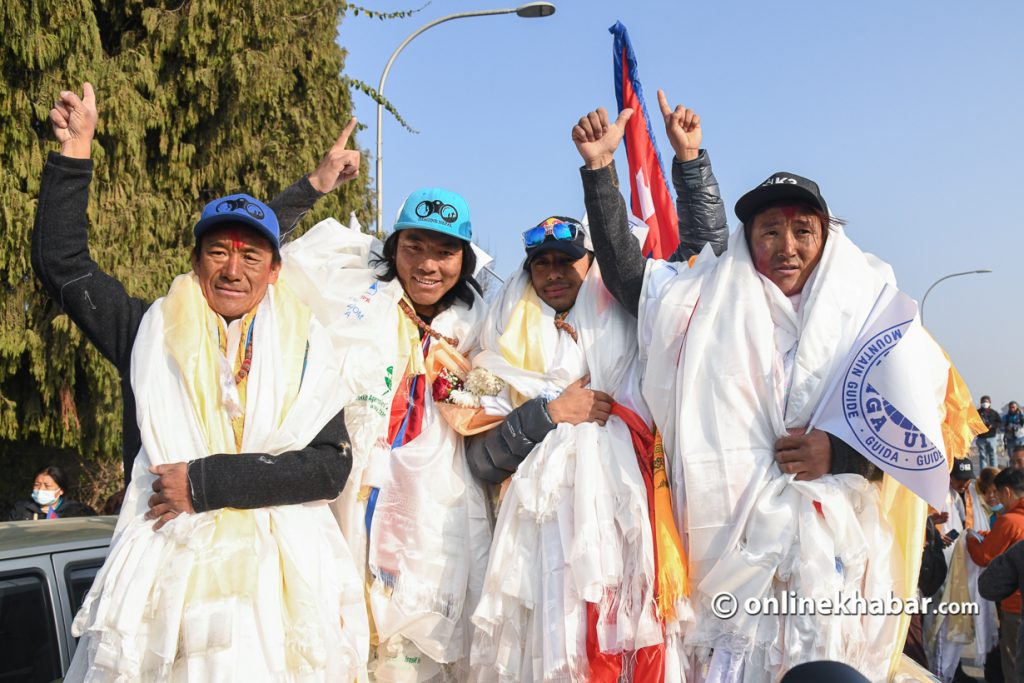 "This is bigger than the world cup," said Nimsdai at an event.
He is right. This was. They did not just climb for themselves, they did this for Nepal and most important for all, their fellow climbers. All they have all wanted was recognition from the world. And, on January 16, 2021, the world took notice.
"I know it might sound cocky, but this does prove that we are the best high-altitude climbers in the world. People can say that we were lucky. But, that doesn't hide that we have etched our name in the mountaineering hall of fame.