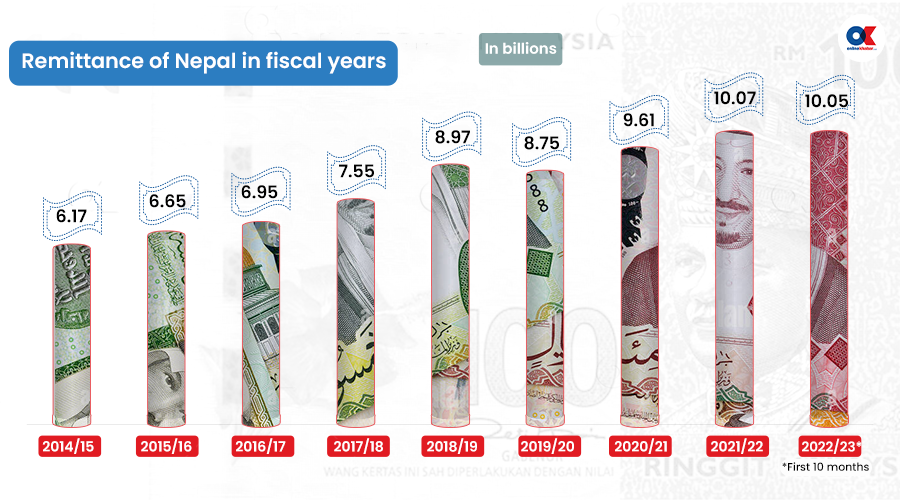 During the fiscal year 2019/20, Nepal experienced a negative remittance flow due to the impact of the Covid pandemic. Following that, many predicted that it would be difficult for Nepal to increase its remittance flow. However, in the following fiscal year 2020/21, despite the lingering effects of Covid, Nepal achieved a remarkable feat by setting a new record in remittance inflow.
The trend has followed as this year the remittance inflow has gone even higher as Nepal saw a monthly average of more than Rs 1 billion in remittances coming into the country. If you look at the data, over Rs 1.5 trillion came in as remittances in Nepal in the last 10 months of the current fiscal year. This is 23.4 per cent more than the same period last year.
Nepal ranks 11th among countries with the highest remittance inflows relative to its gross domestic product (GDP). As per the World Bank's Migration and Development Brief-2022, remittances to Nepal were estimated to make up 21.8 per cent of the country's GDP. With a GDP of approximately Rs 4.8 trillion, Nepal receives remittance revenue equivalent to 22 per cent of its GDP. Last year, Nepal was in 10th position in the world.
Among countries in South Asia, Nepal ranks first in terms of receiving a higher proportion of remittances in relation to its GDP. While countries like India, Pakistan, and Bangladesh receive greater remittance amounts in absolute numbers, the proportion of remittances to their respective GDPs is relatively lower compared to Nepal.
According to the World Bank, Nepal has implemented several measures to facilitate remittances, such as offering additional interest rates for fixed deposits made with remittance funds, increasing the daily remittance limit, and introducing provisions for opening foreign currency savings accounts.
As the world economy is going into a recession, why is Nepal's remittance on the rise?
Former executive director of Nepal Rastra Bank and economist, Nar Bahadur Thapa says that the increase in remittances to Nepal during a global economic recession can be attributed to a combination of factors. Here are eight key reasons why Nepal's remittance climbs up:
Effect of rising oil prices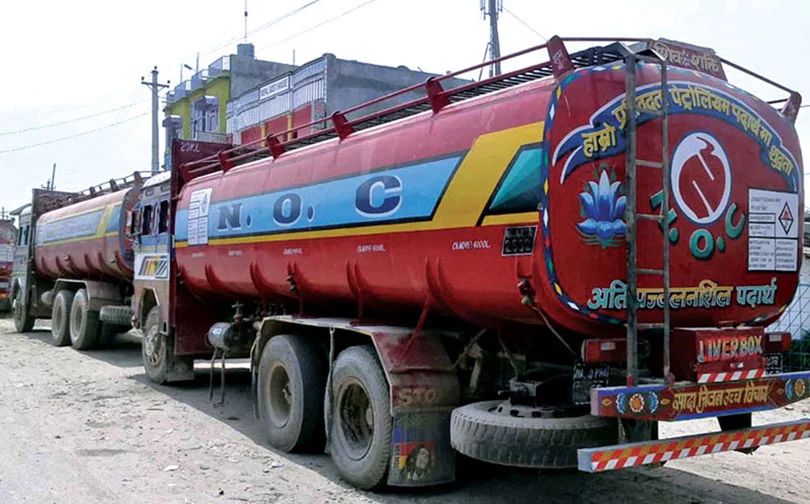 One of the main factors highlighted by Thapa is the positive economic conditions in the countries where Nepali workers have migrated for employment, particularly the Gulf countries like Saudi Arabia. He explains that the price of oil has a direct impact on the economy of Gulf countries, and the economic well-being of those nations influences the wages of Nepali workers.
Suresh Mijar, who works as a cashier in a cosmetic shop in Saudi Arabia, supports this observation by noting the increase in customer traffic and higher earnings in recent times. Unlike other years, Mijar has been clocking a lot of hours at work in the duty-free shop where he works.
As the world is experiencing the effects of the recession, Gulf countries have undergone a notable transformation in their economies by diversifying away from their reliance on oil. This shift towards tourism, industry, and service sectors has created opportunities for low-cost workers from Nepal, resulting in increased remittances to the country.
Increasing migrant workers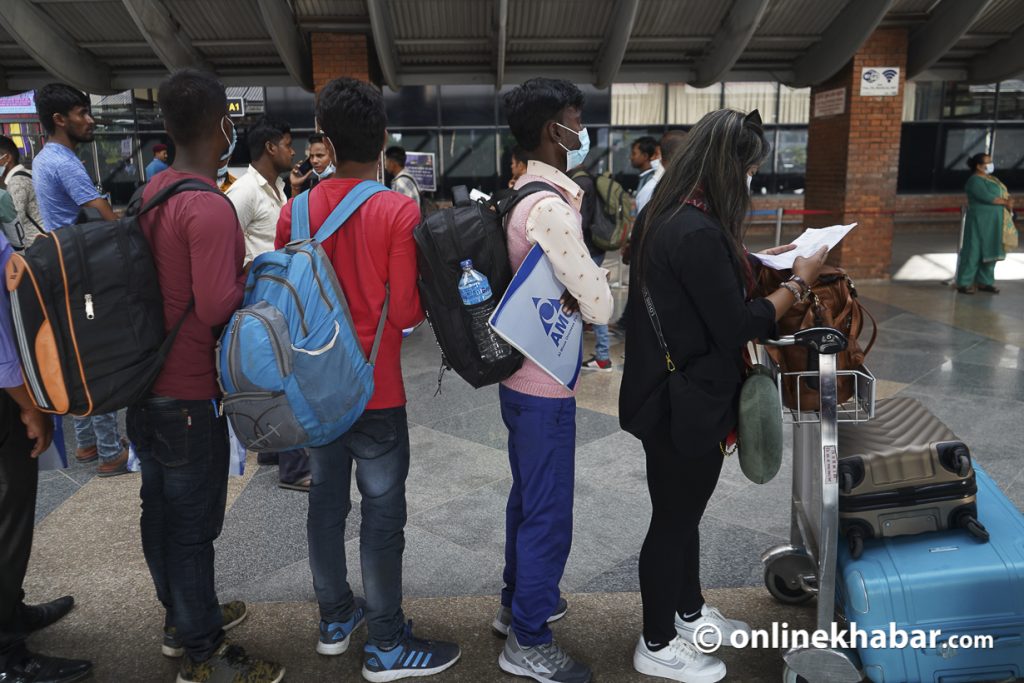 The increase in remittances is not just due to the steady economy of the Gulf. In the last two fiscal years, the number of migrant workers has significantly increased as well resulting in remittances going up.
In the 10 months of the current fiscal, the number of people going abroad for foreign employment has exceeded 650,000. According to the Department of Foreign Employment (DoFE), 421,279 have taken new labour permits and 244,996 have renewed old permits for foreign employment.
The number of new labour permits exceeds 91,000 in just May and June, it is certain that a new record will be set. There is no doubt that this has played a role in increasing remittances.
New labour destinations including Europe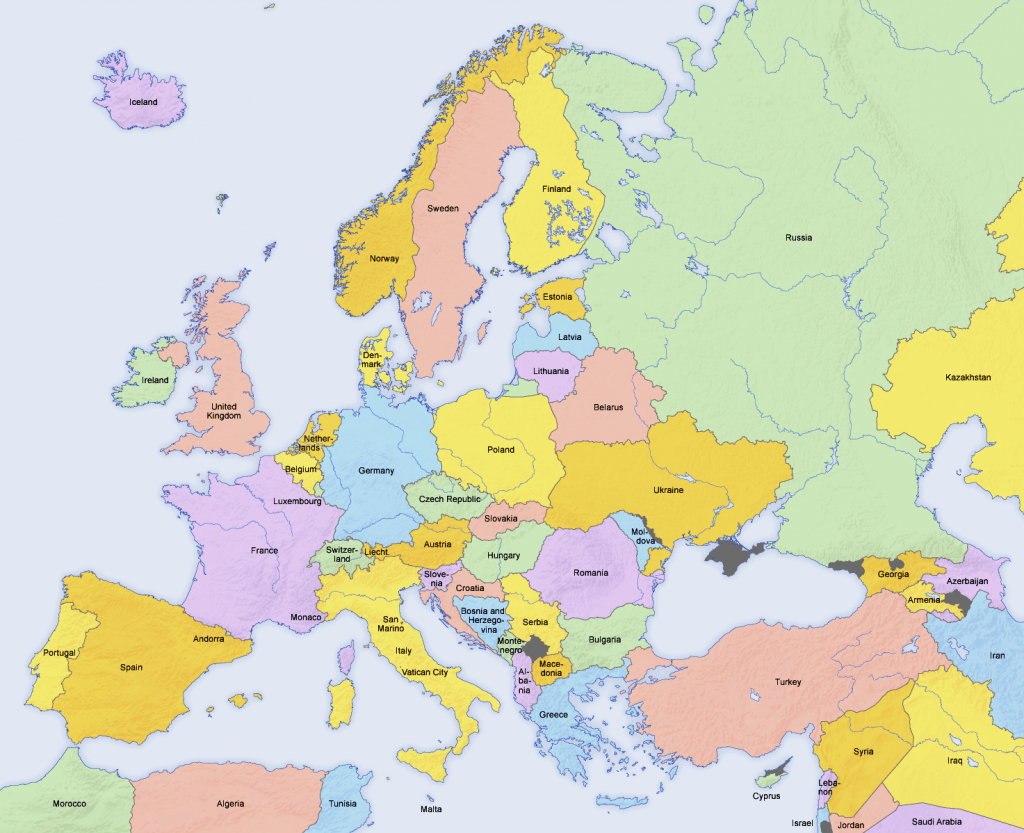 The attraction of Nepalis to new labour destinations is also seen as another reason. In the past year, many Nepalis have sought employment in countries such as Malaysia, South Korea, Romania, Cyprus, Maldives, Poland, and Malta due to relatively higher earnings compared to traditional Gulf destinations. The number of Nepali workers going to these countries has been on the rise, resulting in an increase in remittances from these new labour destinations.
In the first 10 months of the current fiscal year 2022/23, at least 11,463 Nepalis left for Romania for employment on new labour visas, compared to only 3,706 in the previous fiscal year 2021/22.
Romania has become the seventh major labour destination for Nepalis in the current fiscal year. Similarly, Malta has reached the eighth position on the list this year with 4,890 Nepali workers going there for work.
During the 10 months of this year, 4,419 people have left for Japan, 3,967 for Poland, 3,153 for Cyprus, and 3,018 for the Maldives. This year alone, the number of people going abroad with new work permits has increased by 51.4 per cent. Cyprus is attractive for females to get work as domestic helpers.
After the Covid pandemic, foreign recruitment agencies began exploring opportunities to send workers to countries as they were required to send a minimum number of workers each year to maintain their permits. This led to migrant workers leaving for countries like Romania and Cyprus. Sending workers there also benefitted these agencies as they could charge more money from them.
Many Nepalis are enticed to go to these countries because they do not require specific skills and can earn around USD 500 a month.
According to foreign employment expert Ganesh Gurung, the number of skilled workers going to work abroad has increased as well which may have impacted in increased remittance flow.
Contribution from seasonal workers to students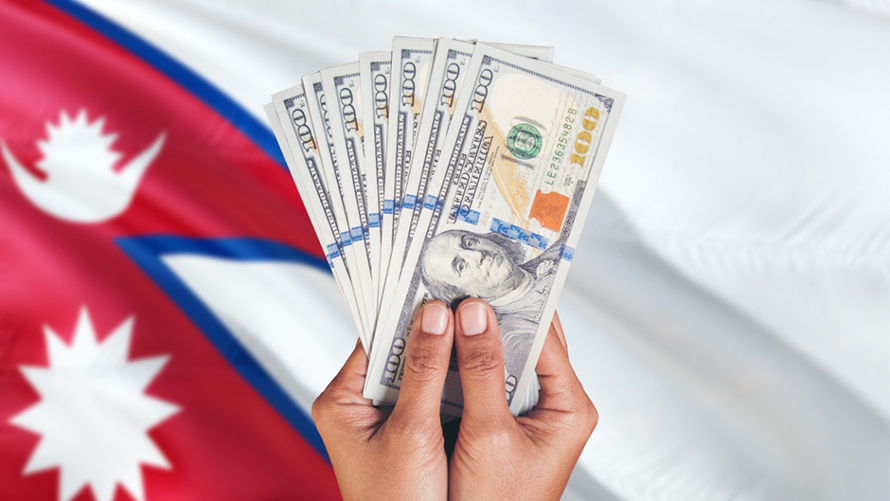 Officials state that the process of going abroad illegally with the assistance of various agents also has had an impact on remittances.
According to Department of Foreign Employment spokesperson Gurudatta Subedi, educational consultancy companies are actively sending people abroad for employment purposes despite not being permitted to do so. This suggests an increase in their involvement in illegal activities, as observed during monitoring efforts.
Additionally, there is a significant number of individuals who go to countries like Korea, the UK, Canada, and others as seasonal workers. These individuals often reach these countries on visit visas, and despite not having legal status, they still send remittances back to Nepal. Many of them convert their tourist visas into work visas after arriving in the destination country. Since they do not possess labour permits, these workers are not included in official records.
Students also send back significant amounts to families back home to help pay off loans taken by their families to send them abroad.
Benefits of foreign regulations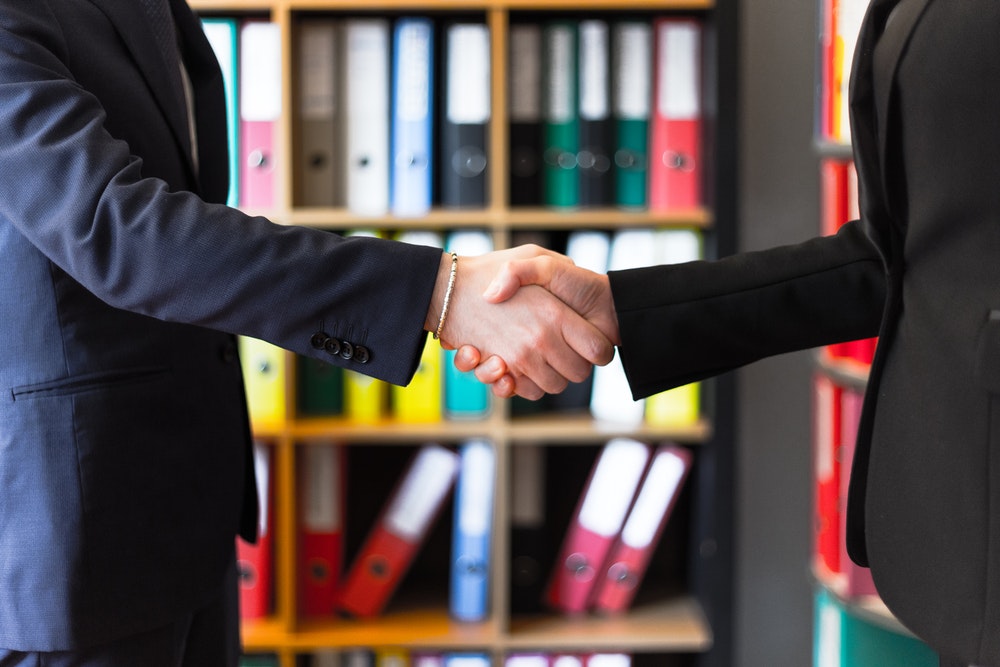 Another reason for increasing remittances is the devaluation of the Nepali currency. The value of the dollar has set a new record in the current fiscal year itself.
According to Nepal Rastra Bank, the Nepali rupee depreciated by 2.79 per cent against the US dollar in mid-May, compared to mid-June last year. When the price of foreign currency increases, it also increases income through remittances.
"When the value of the dollar goes up, it has a positive effect on remittances. People living abroad tend to send more money during this time, as the increased value of the dollar means their transfers have a greater impact in their home countries," says Thapa.
He further highlights that in the first 10 months of this fiscal year, the inflow of remittances in US dollars increased by only 13.4 per cent, contrary to the reported 23 per cent growth in remittances. Nepal Rastra Bank reports that remittances totalling USD 7.7 billion arrived in Nepal during this period, showing a decrease of 1.2 per cent compared to the same period last year.
Reduced imports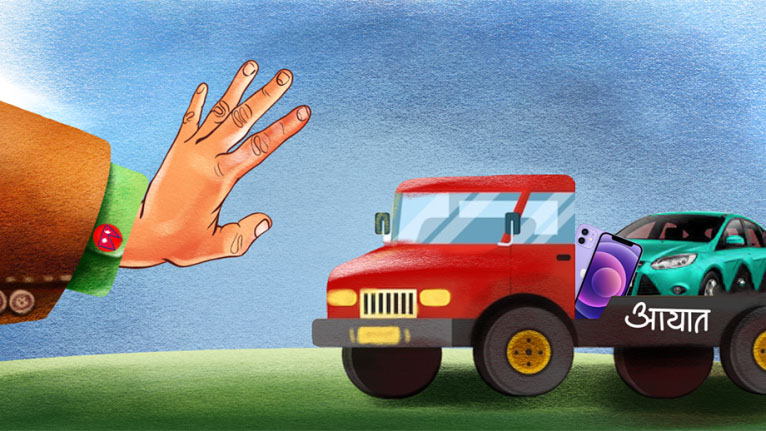 Due to the present economic condition, the demand in the market and imports from abroad have decreased. In the 10 months of the current fiscal year, the total import of goods has decreased by 16.8 per cent. Up to mid-April, goods valued at Rs 1.3 trillion have been imported, which had increased by 28 per cent in the same time frame last year. It is estimated that the reduction in imports may have indirectly played a role in increasing remittances.
To cope with the shortage of foreign currency caused by the declining imports, businesses have been utilising the funds of Nepalis living abroad. Instead of immediately spending the proceeds from selling foreign currency in the market, they hold onto the Nepali currency for payment purposes.
However, when there is a decrease in market demand and consumption, as observed this year, remittances may not reach the expected levels. The authorities analyse the amount held in such cases through legal channels. Thapa states, "It is said that remittances are used in foreign countries to compensate for devaluation. Unless proven otherwise, it cannot be denied."
Reduced hundi and discouraging crypto
The government's efforts to discourage hundi have also helped increase remittances flow. In recent times, Nepal Rastra Bank has also repeatedly requested Nepalis not to invest in cryptocurrencies like Bitcoin, hyper-fund, etc. While Nepalis abroad are attracted to it, it is estimated that the legal measures taken by the government against it may have discouraged such investment and increased remittances.
The government has also made provisions for Nepalis living abroad to be able to receive pensions in the future by depositing money in the social security fund. Since last April, those who are voluntarily employed abroad have joined the fund.
According to the Fund spokesperson Bivek Panthi, once the workers deposit the specified contribution amount into the fund on a monthly basis, they become eligible for three types of benefits: accident insurance, dependent family protection plan, and old-age pension. This initiative is a new policy aimed at attracting remittances and providing social security to Nepalis working abroad.
There have been attempts to bring such policies before too. As per the policy, those in abroad were urged to offer an additional one per cent point more interest on remittance savings and fixed deposits, although it is unclear how much impact this has had on increasing remittances.
10 per cent reservation in IPO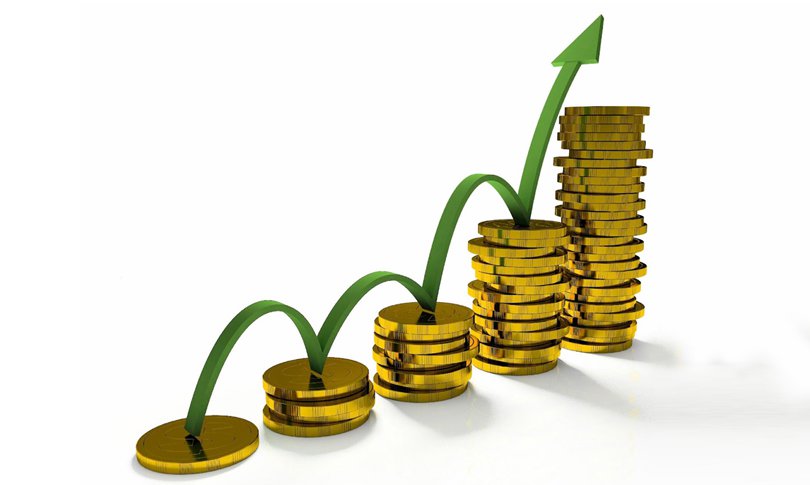 Another policy taken by the government to increase remittances is the incentive to buy shares. The Securities Board of Nepal (SEBON), while revising the Securities Issuance and Allotment Guidelines, arranged a 10 per cent reservation to Nepalis working abroad in the primary shares of companies starting last year.
According to the new rule, individuals employed abroad need to deposit Rs 50,000 in a remittance account from the country where they are employed in order to apply for shares under the reservation category. They are also required to provide their work permit proof and obtain a CRN from their remittance savings account.
As a result, many companies have opened IPOs based on these quotas. Although it may not directly attract Nepalis working abroad to invest, it has encouraged them to send money to Nepal legally.
Similarly, the government has been issuing foreign employment savings certificates since 2010 as a form of domestic debt. Although the interest rate on these certificates is higher compared to other savings bonds, the number of people purchasing them remains low. Nevertheless, investment in these certificates has contributed to bringing remittances into the country through legal channels, even if the amount is relatively small.
---
This story was translated from the original Nepali version and edited for clarity and length.