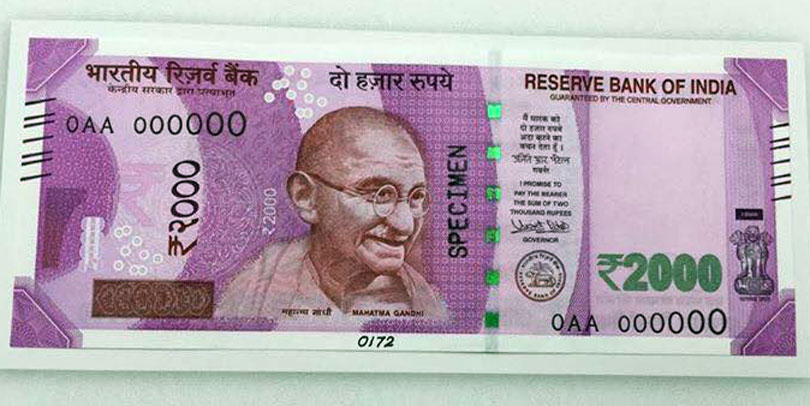 Kathmandu, November 24
The new Indian currency notes of INR 500 and 2000 denominations, which the Reserve Bank of India introduced recently, will not be in circulation in Nepal for sometime.
Nepal Rastra Bank, the central bank of Nepal, has called them 'unauthorised and illegal'.  It should be noted that India has banned old IC notes of 500 and 1000 denominations.
The new INR 500 and INR 2000 notes have started circulating in the Nepali market as well. But monetising these notes will take time. Narayan Poudel, spokesperson for NRB, told Onlinekhabar that these new notes are yet to be legal in Nepal.
Poudel said these notes will be legal in Nepal only when India issues a FEMA notification as per the Foreign Exchange Management Act.
India is likely to issue a FEMA notification, allowing people in Nepal and India to possess certain amount of IC.
Earlier, a ban was in effect in Nepal against the use of INR of 500 and 1000 denominations. Through a notification, authorities had lifted this ban after the visit of India's Prime Minister Narendra Modi to Nepal. This notification allowed Nepali nationals to transact in IC notes of 500 and 1000 denominations up to IC 25000.
But this did not last long, with India recently banning IC notes of 500 and 1000 denominations.
Poudel said: Before FEMA notification, there was a ban in place against INR 500 and 1000. These notes have the same status in Nepal at present.
Before the issuance of FEMA notification, transaction in IC notes of 500 and 1000 denominations will continue to be illegal, Poudel said, cautioning that such transactions can cause problems.
At present, transaction in IC notes of up to 100 denominations is legal in Nepal.