In April 2015, Kathmandu, like most parts of Nepal, was reduced to rubble due to the devastating earthquake that killed nearly 10,000 people all over Nepal. People lost homes they had lived in for generations. But, along with that, Kathmandu lost its identity as hundreds of years old monuments came crashing down destroying the intricate artworks that were carved in the wood and walls of these age-old monuments.
Ram Prakash Shrestha, a traditional artist based in Kathmandu, was devastated to see what had happened. His favourite monuments were gone, along with the art that was carved in them.
"It was heartbreaking to see these monuments that I'd watched growing up being reduced to rubble. People did recoup some artefacts from the rubble, but I knew that redoing all the artworks in the same manner that it had been done would be next to impossible," says Shrestha.
To change that and help the coming generation, Shrestha last year released a book called Newar Traditional Motifs and Designs, in which he has accumulated thousands of traditional Newa designs seen at various temples and historic monuments across the country, in particular, Kathmandu. With the book, he hopes to help the next generation get interested in traditional art and share with them whatever knowledge he has when it comes to traditional Newa designs.
Leaving the legacy behind
"[With the book] I want to leave behind a legacy, other than my art, that people can remember me by," he says.
He started documenting the designs even before the earthquake as he had decided he was going to write the book. He would spend his days going out visiting various temples around the valley and out of it, observing designs and jotting them down on different pieces of paper.
"I love going out and visiting places and that is what I've done for the past seven years (he had been doing so even before the earthquake, which pushed him further towards this). I have gone and drawn designs and clicked photographs for the book. It's been busy seven years, but it's been quite a fulfilling one."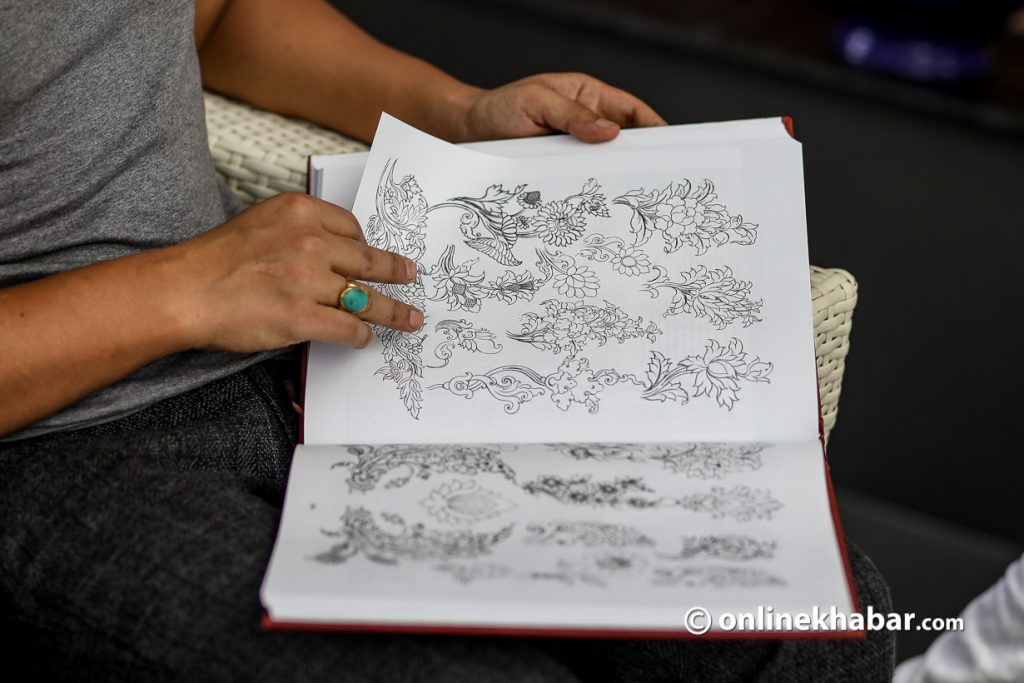 His calling for a book like this came when he would visit book shops that had design booklets for mehendi. Not seeing a book that was dedicated to traditional Newa art always made him sad as he felt that the new generation needed a book to remind them how rich Newa art really was. Not seeing these designs and motifs in today's art, some of which were over a millennium old always puzzled him as he calls that the driving force behind the book.
"We need to teach the younger generation how rich the Newa art really is. People don't appreciate it as much as they should."
The volume with a value
Rajan Sakya, the CEO of KGH Group of Hotels and the founder of the Museum Of Nepali Art (MoNA) says the book is a great reference for not only traditional artists but for anyone with a knack for creation.
"When we (MoNA) posted that such a book had been released, we got calls from not only students but from architects, designers and jewellers who want to incorporate ancient Nepali art in their designs," says Sakya, who believes people want to bring back ancient Nepali-ness when they design things.
Shrestha also feels that this can be a great reference material that can bring back these designs into the mainstream as people have been distorting age-old art in the name of innovation.
"They can innovate all they want. But, please don't call it traditional because it isn't traditional. That is why I've written this book," says Shrestha.
He says that the book is more practical than theoretical as it does not include iconography. He did not dwell on the iconography because there were already enough books about it and only wanted to highlight the how rather than the why.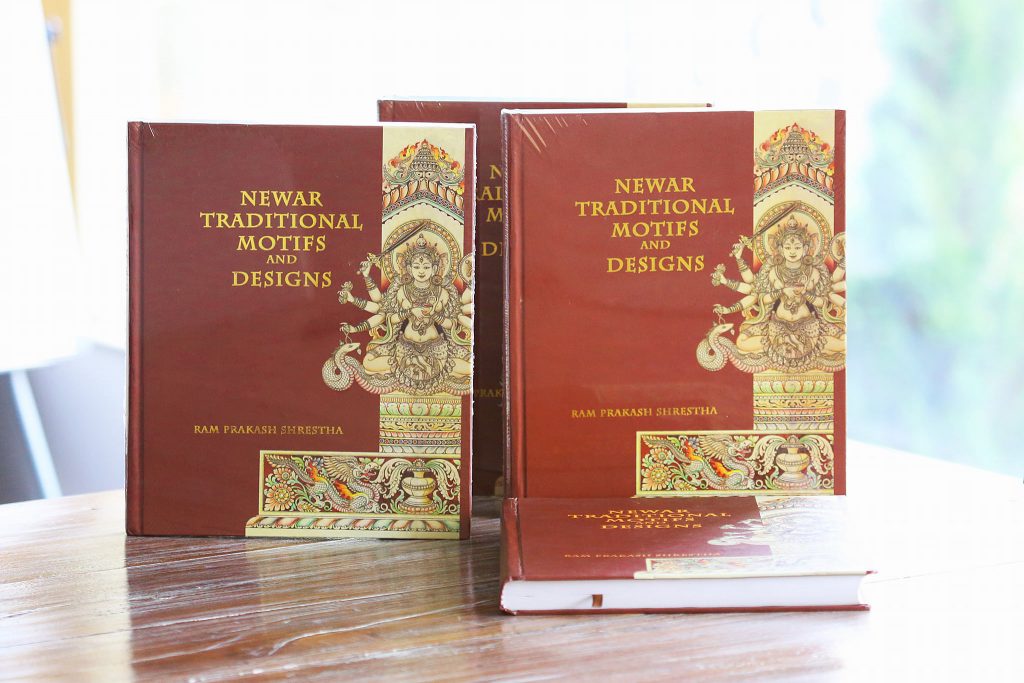 The book was launched last year during Nepal's first lockdown and has got some good reviews. He was helped by artists Udaya Charan Shrestha and Ritesh Shahi who, he says, have been crucial for the book being launched.
"I rush a lot and this book was also made in a rush. But, these two were patient with me. I can't thank them enough."
His only regret is he was not able to show his work to his teacher Prem Man Chitrakar and one of his idols Dina Bangdel, who passed away in 2020 and 2017 respectively.
"It would have been great to have shown this to them, but sadly the universe wasn't on my side," he says. "But I did offer the book to Prem Man guru's wife recently on Guru Purnima."
Even though he spent seven years, he calls this only the tip of the iceberg and says these are the designs that he has seen.
"Hopefully, this will inspire more people to research this topic and come out with more designs and add to my legacy."
—
The book is available in all major book shops in Kathmandu along with the Museum of Nepali Art.
Price: Rs 3,000