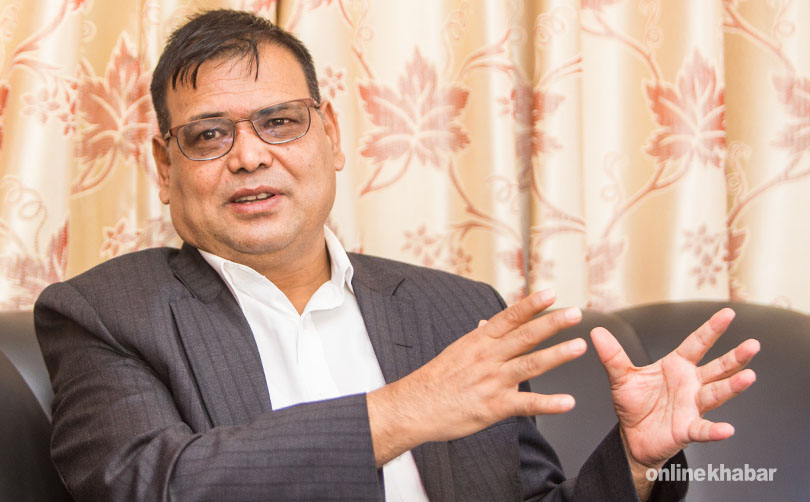 In Nepal, there's this practice of segregating political leaders on the basis of their close relations with foreign powers, discounting the fact that they represent the Nepali electorate and should be accountable to them, above all.
This segregation applies to Krishna Bahadur Mahara as well. The senior leader from the CPN-Maoist Centre is deputy prime minister and finance minister in the Prachanda-led coalition government, and is considered close to Nepal's northern neighbour China.
During an interview with Onlinekhabar, Mahara said he and fellow Deputy Prime Minister Bimalendra Nidhi, who is considered close to India, had discussed the possibility of visiting India and China as Nepal PM Prachanda's emissaries, respectively.
But this could not happen as the Cabinet had already decided the matter, Mahara revealed.
Excerpts from the interview:
Right after returning home from China, you declared your visit successful. On what grounds did you say that? Have the two countries finalised the upcoming visit of China's President Xi Jinping?
The objectives of my visit were to fix the visit of Chinese President and Prime Minister to Nepal, to strengthen cordial relations between Nepal and China, and to promote the flow of Chinese aid and investment to Nepal. So, these should be the criteria to judge whether the visit was a success or a failure.
China's President Xi Jinping will surely visit Nepal. But it will take place as per China's plan. They will fix the time of the visit and notify us. This is also a technical issue.
But Chinese officials have taken the invite from Nepal's President and Prime Minister very positively. There's no doubt about the visit as foreign ministries of two countries will be on standby.
During the formation of the new government, there were worries about the future of agreements that then KP Oli government had signed with China. Did China also seem worried about the fate of those deals?
Change in government is Nepal's internal matter. We will give continuity to understanding that the previous government reached with China. We will try to expand their scope and try to enter into new deals with them also. But we will not be biased against the previous government.
But then China expresses worry over frequent changes in government in Nepal, pointing that this gives rise to instability.   
You are right. But let's not forget that Nepal and China have two different systems. China has a different system and we have a different system. In China, there's president's rule, there a government lasts till 10 years.
In Nepal, we have the parliamentary system, we have different political parties that compete with each other for power.
The Chinese may find changes in government in Nepal rather surprising. But change in government is not unnatural. Amid all this, we are striving for stability. We are approaching the end of the transitional phase. The peace process has not reached its logical conclusion and we have yet to implement the Constitution. There will be relative stability after local, provincial and federal elections.
I articulated this with the Chinese side during my visit. And they understood. We cannot intervene in each other's system. Rather, we should respect each other's systems.
So, you managed to assure China that the change in government in Nepal will not affect the implementation of Nepal-China deals
Top leaders of Nepal and China are yet to sign the bilateral trade and transit treaty. We may sign the treaty during the visit of China's President Xi or during any other suitable occasion. I have clearly told this to the Chinese side – that we are not in favour of blocking the implementation of this treaty. This is no hush-hush deal.
When Prachanda became Prime Minister, he decided to send you to China as his emissary, and another of his deputies Bimalendra Nidhi to India. Do you think the Indians are bit in a spot of bother about your visit to China?
No, absolutely not. I would like to use this opportunity to say that I did not go to China as part of a game-plan. I have good relations with friends in India as well as China. In fact, I have good ties with most of the political leaders here in Nepal itself.
I am a Nepali, who is committed to nationalism. I am neither Chinese nor Indian.
When Bimalendraji and I met before our visits to our neighbours, we discussed the possibility of him going to China and I going to India. But the government had already decided by then. So, the next time I will visit India, and he will go to China.
I might as well visit India after the Prime Minister's visit. I am neither anti nor pro-China or India. I am a Nepali.