A doctor is sitting in a chair surrounded by his patients' record files spread all over the table. He flips through one file from another, looking for something, perhaps something about his patient's health condition.
Of course, the scene seems normal. After all, it is the duty of a good physician to understand and analyse the health condition of the patient. Right?
But, what would you say if the scene has a doctor in a PPE set with a cannula attached to his left hand and saline solution dripping in from a bottle hanging on the stand next to him?
Social media, nowadays, are filled with such a photo. It has caught everyone's attention and Dr Purushottam Barma, in the photo, has touched hearts.
Who is he anyway?
Duty and dedication
Barma works in the Nepalgunj Medical College, Banke.
While treating patients, he suddenly developed abdominal pain, diarrhoea, and eventually fatigue. He needed to be given saline. He then started having headaches and had trouble breathing. And his pressure dropped too, for which he had to be given an injection.
He had symptoms similar to Covid-19. It is clear that the doctor himself is ill but still is constantly working in the service of the patient. Meanwhile, the number of Covid-19 patients kept increasing in the hospital. And since Dr Barma did not want to run away from duties, he is continuing with his duties to treat the patients while getting treated himself.
Implications of action
People are praising and saluting his dedication, in fulfilling his duties to treat Covid-19 patients, 24X7, despite being ill.
A few of the doctors who work with him have also tested positive for the coronavirus. They are not showing symptoms but are in the home isolation. With this, he has shouldered over the responsibility to treat the increasing number of patients.
There is no shortage of netizens encouraging and giving emotional support to the ailing doctor. On the other hand, they are criticising and lamenting over how the people are struggling to breathe in the epidemic, yet state policymakers are all about thinking of their vested interests. And, how politics has become a dirty game focused only to overthrow others and preserve their own power even in times of crises. There will be parties and leaders, only if there are people, and there is a country, they say.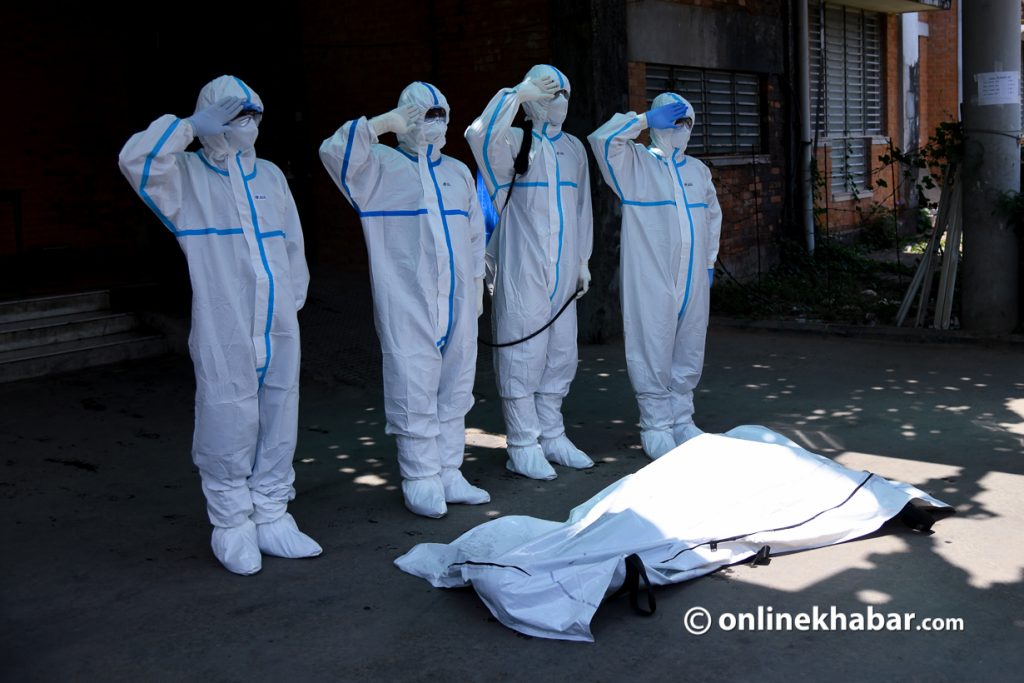 There are 38 Covid-19 patients being treated at the hospital, currently, in serious conditions. "All the patients need oxygen support and have to be monitored 24 hours," he says, "All doctors have to be on high alert at all times."
Not just there, 90 health workers, including nine doctors working at Bheri Hospital have been infected in the Banke district.
Boosting patients' morale
Seeing the doctor work even while he is sick, patients' morale has increased, Dr Barma says, "I am encouraged by their boosted morale as well."
As the pressure of the infection is getting higher, the shortage of doctors necessary to treat them is also increasing. The state, however, has not been able to make adequate arrangements to meet the dire situation.
Banke Chief District Officer Shiva Ram Gelal recently requested Deputy Prime Minister Ishwar Pokharel to send more health workers for the treatment, on Sunday. Who will hear the due plea? It is still a dilemma.
"To serve is our duty, and I wish to continue to serve the sick," he says.
Immediately there, the hospital gets two more critically ill people, suffering from the coronavirus infection, forcing Dr Barma to end the telephone conversation with Onlinekhabar.