Ministries in Nepal are in a weird race at the moment. As the Covid-19 pandemic showed how weak Nepal's health system is, different ministries are discussing building hospitals these days. But, most of these hospitals are specifically for people affiliated with the sectors the ministries serve. They are profession-specific hospitals.
Profession-specific hospitals like these are common in the country. Kathmandu has quite a few of them. The Home Ministry has Nepal Police Hospital. The Army Hospital is under the Defence Ministry while the Civil Service Hospital is under the Ministry of Federal Affairs and General Administration. Works are underway at different ministries to build hospitals for teachers, senior citizens and labourers.
Following this, discussions are underway to have profession-specific hospitals for bankers, journalists and doctors as well. But, these are drawing a lot of criticism as people are questioning the need for new hospitals when the government has not been able to run hospitals that are already there. This is why experts are warning that these new projects might just be a way to make ministers and their close aides rich while the country's poor health system continues to suffer.
One profession: one hospital
The Ministry of Education, Science and Technology has started working on building a 300-bed hospital dedicated to teachers in Bharatpur, Chitwan. Following this, the Labour Ministry has also started its preliminary work to build its hospital for labourers.
The preliminary work for the Teachers' Hospital has almost ended as the Council of Ministers has approved the proposal, says Deepak Sharma, the ministry's spokesperson. Following this, Labour Minister Krishna Kumar Shrestha has also announced that he will build a hospital for labourers. He has also received the green light from the Council of Ministers and hence has asked joint secretary Shesh Narayan Paudel to form a committee to start the pre-feasibility study. Work will start as soon as the committee submits the report, says Dandu Raj Ghimire, the ministry's spokesperson.
The ministry states that such a profession-specific hospital is necessary to raise productivity. It states that if workers were healthy, the production sector would benefit a lot from it.
Vivid shortsighetness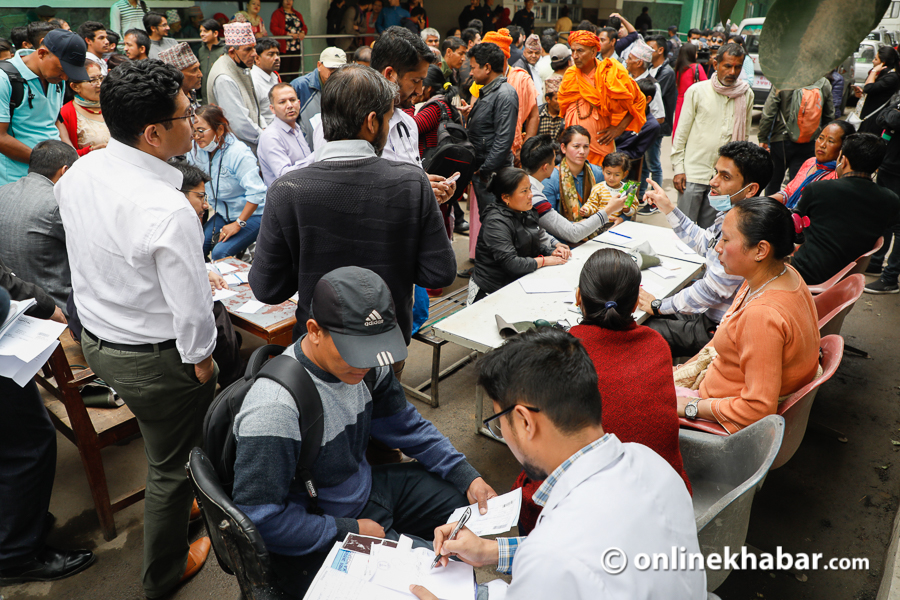 Public health experts question why the government was focused on building new profession-specific hospitals when it needed to focus on bettering the current hospitals. They say that these decisions are taken either for political gain or for votes. Opening new hospitals will not help the country's crippled health system, warn experts.
"The government doesn't think long-term. A few years ago, they opened many schools, but due to poor planning, most of these schools have merged. The same things might happen to these hospitals which might become ruins in the long run," says an official at the Health Ministry on the condition of anonymity.
The main problem surrounding hospitals in Nepal is a lack of medical professionals. Government hospitals in the country do not have a lot of positions, but most of these positions are vacant, argue experts. Due to a lack of human resources, the expensive equipment at hospitals is not being used. This is why experts say that unless there is a long-term plan to produce skilled medical professionals, there is no use building more hospitals.
Even Dr Bhagwan Koirala, the president of Nepal Medical Council, thinks this is wrong. He says that the country does not need such profession-specific hospitals.
"We have private hospitals for that. Yes, the fee might be a bit more, but these private hospitals are public institutions. Why do we need separate hospitals for teachers, labourers? It makes no sense to me," says Koirala.
Koirala says that almost every health expert in the country shares the same sentiment. He says that they believe that instead of spending money to build new profession-specific hospitals, the government should use the funds to refurbish government hospitals and offer services to these professions there.
Wrong priorities
Dr Sushil Nath Pyakurel, a former chief specialist at the Health Ministry, says there is no basis to open new profession-specific hospitals.
"To think this will make things efficient is just a wish. The government should rather work on building a new wing in existing hospitals and make sure they better the service there," says Pyakurel.
He says that the government's current plan will only waste taxpayers' money.
And, he is right. Building a hospital is not easy. You need a lot of equipment and skilled medical professionals. If the same money is used to improve current hospitals, the entire medical sector will improve, argues Pyakurel.
"The government that can't improve current hospitals wants to build new ones. What is their basis? How do they think this will be efficient," he says.
Public health expert Dr Baburam Marisini says the government needs to focus on what is best for people rather than politics. He says that the current decision to build profession-specific hospitals will have a lot of long-term problems.
"Do they want to create a divide? Because that's what it looks like and when that happens, every other profession will want a hospital. Then what?" Marasini questions. "This will break down Nepal's already weak health system."
What experts really want to do is to make sure the hospitals in every part of the country has the means and professionals to help people when they come with a problem. They argue that when there are no proper hospitals in remote areas of the Terai of the mountains, what difference would it make to build new profession-specific hospitals.
"Places like Jumla and Humla don't even have a health post. People have to walk two to three days to get treatment. So many die on the road. The government should focus on building hospitals or health centres in these areas instead," says Marasini.
Marasini even disagrees with the establishment of the Civil Service Hospital. He argues that the hospital only helped people close to the Kathmandu valley.
"The rest are still suffering," he says.
Marasini says that the government should keep its focus instead on bettering provincial and district hospitals so that no Nepali would have to die due to poor healthcare.
Overlooked concerns
An official at the Health Ministry tells Onlinekhabar that many district hospitals can offer services related to orthopaedics, gynaecology, surgery, skin, nose and ear. But, due to a lack of medical professionals, these hospitals have not been able to give these services regularly.
"I think the government's focus should be on creating more health professionals and deploying them in remote areas. But instead, they just want to open more profession-specific hospitals and it makes no sense to me," says the official.
It makes no sense from a medical standpoint. But, it makes even less sense from a financial standpoint. The government is constructing hospitals in all 753 local units. These hospitals are not going to be big. Some will have five beds while some will have 15. Because this will directly help locals, the government's effort should be on this.
"For major diseases, the government also planned specialised services in provincial hospitals. This is what should be their main focus. When that happens, we will not need profession-specific hospitals," says Koirala.
Koirala argues that the money the government wants to spend on new hospitals should be turned into a welfare fund and used to help poor people get better services.
Lumbini's Provincial Health and Population Ministry's secretary Dr Biskash Devkota, who worked at the Federal Ministry of Health for decades, also agrees with Koirala and adds that the existing departments at government hospitals needed to strengthen before building new ones.
Health experts say opening profession-specific hospitals is nothing but a misuse of power. Pyakurel says while it is okay to establish a hospital for a specific disease, it is wrong to do so for a specific profession.
Marasini on the other hand says that instead of promoting health insurance, the country's ministers are taking two steps back by envisioning these hospitals.
"If you look at things, profession-specific hospitals under various ministries offer poor service. These hospitals are also accused of financial irregularities. Due to a missing common system that monitors the hospitals, they feel they can do anything and that has meant the services these hospitals offer are very bad," says Marasini.
Promotion of poor services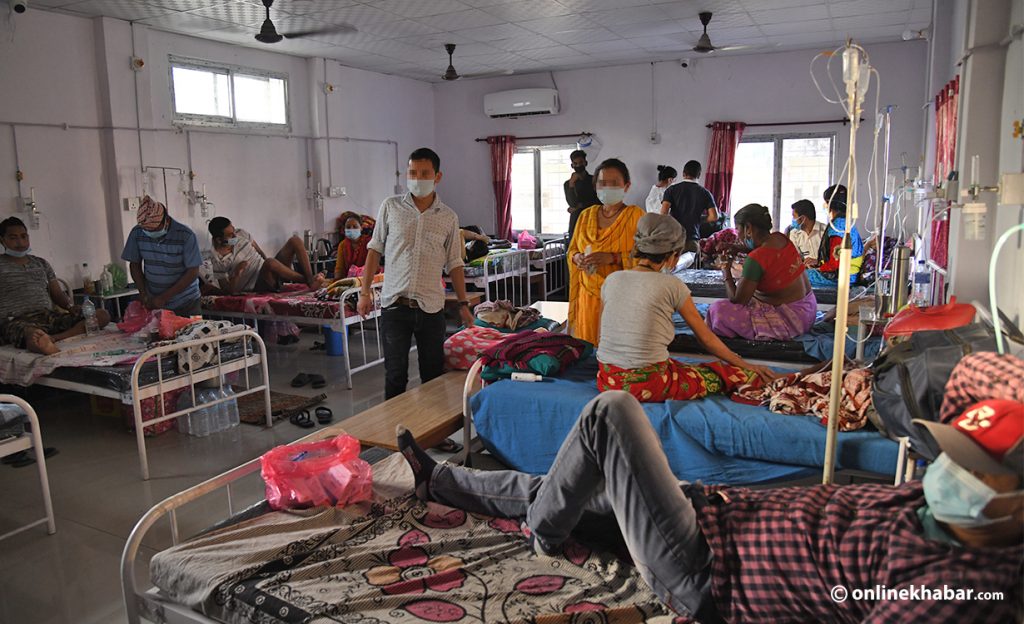 And, he is right. The Civil Service Hospital has only three permanent staff. The staff at the hospital are discontent as they have been in the same post for 12 years. They also get little to no benefit and due to this, the staff in the hospital are constantly protesting.
"We offer the same service to all. A lot of us have realised that medical service won't improve this way," says an employee at the Civil Service Hospital. "We need more than just a building. We need resources and training. How can you expect to run a hospital with two doctors per department? The government should take us for example before building new profession-specific hospitals."
Existing health professionals in Nepal leave the country or work independently because they do not get the respect they deserve. With most of the government hospitals not having specialists doctors, opening more profession-specific hospitals makes no sense, according to them.
Out of the 793 specialists doctors working under the government, only 30 per cent are working. When it comes to general doctors, around 25 per cent of seats are vacant. And even the seats that are filled, 15 per cent of doctors are away on study leave. This shows only 50 per cent of doctors are currently working. So starting profession-specific hospitals does not make sense given how few doctors the government currently has.
"We haven't thought about the future. When the population was 10 million, we had 1,300 doctors. Now, when the population is nearly 3 million, we still have the same number of people and that makes no sense," says Dr Lochan Karki.
Karki adds when planning these profession-specific hospitals, the government also needs to plan on increasing the number of doctors.
"We focus on the size and number of beds at the hospital. But we should be focusing on increasing the number of skilled medical professionals," says Karki.
Due to a lack of professionals, the ventilators that have reached the local level are lying idle and people there do not know how to use them.
"The government says that they can't afford to add more doctors but then talks about building new profession-specific hospitals. This makes no sense and due to this, the citizens are suffering," says Karki.