On a humid, warm summer day, Pramod Kharel is at a studio in Anamnagar of Kathmandu, recording a song. He has been there for over four hours and he is still going strong. For a boy who came to Kathmandu to become a doctor, never did he think that he would become a singer, let alone one of the most popular singers in Nepal.
With over 2,000 songs under his belt, it is safe to say that Kharel has made it in Nepal's music scene. But, he does not take this for granted as he knows that it does not take long for things to go away. "To stay relevant and in the scene, I must carry on working hard. I've been lucky to have the love and support of the fans, but I know what I have to do to carry on doing things I've been doing to stay where I am," says Kharel.
A different dream
Life has been a pleasant surprise for Kharel who had come to Kathmandu from Jhapa to become a doctor. But, as fate would have it, his interest in singing got the best of him as he gave up on that dream to become a singer.
"I was a bright student who had topped his school. I didn't want to do anything else. It was the doctor or none for me. But, fate had different plans and I am quite happy with how it panned out."
As a child, he sang a lot in his home, but away from home he rarely sang. Attending various events in school, he always wondered what it would be like to sing on stage, but he never sang in these events.
"Both of my parents were teachers. I think I had a pressure do well in school when I was growing up."
But, by the time he was in high school, he started to sing on stage and around people. His friends started to encourage him as he developed confidence and dreamt about recording an album. However, his first album was not what he had hoped for.
"It was a good test of my abilities. I wanted to know where I stood. That is why I then started to sing in collection albums in which other singers also sang."
Struggle for existence
Thus started his struggle. While singers nowadays have a lot of things going for them, back then, it was different. One needed a composer, a lyricist and an arranger to record a song. They needed a deal with a cassette company too. But, this was only easy if the person had influence.
"I went to many arrangers and composers who told me I could sing but never gave me an opportunity. Those were some really tough days."
As a side gig, he started to teach. He did not teach music, he taught chemistry but on the side, he continued to learn music. While he was teaching, he started recording his second album. Unlike his first which had a sentimental feel to it, the second was completely different as it had a lot of pop flavours.
While he released his second album, he also got an opportunity to sing for a song in a movie. That, he says, kick-started his career.
After singing for one movie, he started to get offers from others too. His career as a playback singer had taken off. Any time a composer wanted a high range song with a sad tone, they contacted Kharel.
"My life changed completely from 2007 onwards. I started to get calls to sing on an everyday basis. People wanted me to come to perform in their cities. I think life has been the same since."
Rise and relevance
A song that is synonymous with Kharel is Ma Bina Kasai Kasailai Muskil Chha Pokharama. That song set him apart as fans from throughout the country and abroad started to adore him. After that, there was no looking back.
"After that, I started to tour both Nepal and abroad. People from the US wanted me to tour as did people in Europe and places like the Gulf and Korea and Japan. I think before Covid-19, I'd be touring for six months."
But, he did not let Muskil Chha Pokharama define his legacy. He continued to present one hit after another. He knew that he had to remain trendy to be relevant. In order to do that, he sang dance numbers like Jhuma Jhumkawali.
"One has to change with time and situation. I've done modern songs (adhunik), pop, gazals and now dance numbers. This has helped me stay relevant event after 20 years."
While he sings songs written by others, he does write songs himself too. However, unlike most of his commercial songs, his own creations are not as big a hit as he says he does not expect them to be big hits as these are his passion projects.
Leading the future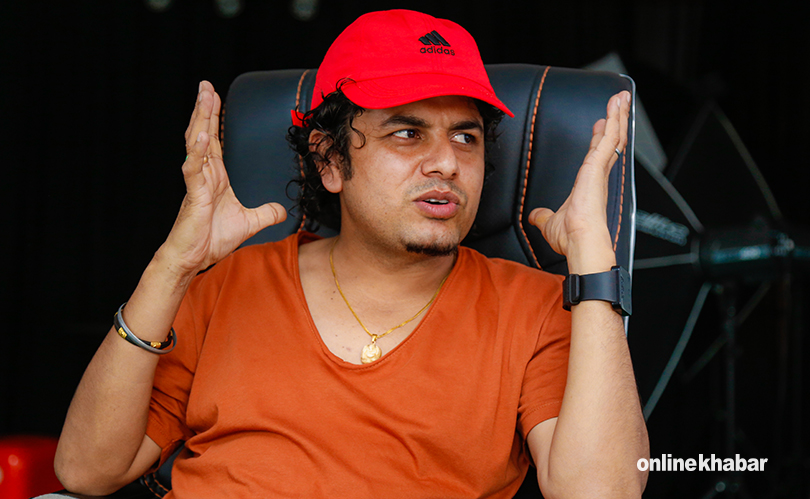 For the past three years, he has also been coaching at The Voice of Nepal, in which for the past two years, he has been the winning coach. He says that this journey at The Voice has been a great one as he has met a lot of talent from different genres which has broadened his thinking and mindset.
"I'm a commercial singer and there are times I don't have time to see things differently. The Voice has given me that space to teach and learn. I get to know a lot of things from the talents that participate in the show. I feel it's been a holistic experience."
Now, he wants to work with these talents or singers and musicians from different genres. He feels that at 41, he has reached a point of his career where he has done whatever he wanted and now wants to collaborate with other artists.
"Girish (Timilsina) has been telling me that he wants to do a song with me, which is great. I want to work with different artists and bands from different genres to see how the audience sees it. But, with a shortage of time, I think a lot of things need to go right for that to happen."
Even though successful, there are times where he feels he does not have enough time. He adds that there are times that he feels he does not have enough time to learn new things. The lockdown was great for him in a way as he got a chance to relearn things, but now with things back to normal, Kharel once again is busy five days a week.
"I miss out on creative things. That is the only drawback."
He knows he does not have much time, which is why he wants to experiment more. That is why he wants to learn new things.
That is where his collaboration drive comes from. He wants to release songs that are different from the ones he sang in the past. But, most of all he wants to tour with a tight band and create a video to show for it.
"I want to do intimate gigs: ones that both look and sound good. Hopefully, (I) can do that soon."