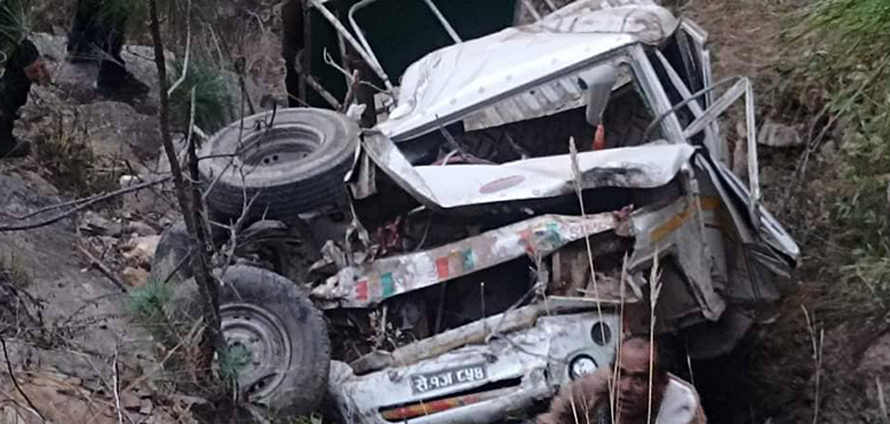 Baitadi, November 14
The death toll in the Baitadi SUV accident has hit four.
The deceased have been identified as assistant head constable Arjun Kathayat and constables Lok Bahadur Bathamagar, Ramesh Saud and Birkha Bahadur Bista, according to the Chief District Officer Suresh Panthi.
Nine police personnel including the driver were injured in the accident. Of the deceased, Bathamagar, Saud and Bista died on the spot and Kathayat at Patan primary health centre.
Of the injured, head constable Ganesh Khadka, assistant head constable Gopal Bahadur Pal, constables Putali Khadka, Naresh Kathariya, Aasha Dhami, Bhanu Bista, Tikendra Airee, Chandra Singh Thagunna and Dev Ram Mahar, have been transferred to Kohalpur on a Nepal Army helicopter, said Panthi.
Of others receiving treatment at the centre, Kathariya, Dhami and Mahar are reported to be in serious condition, and preparations were underway to transport them elsewhere on a helicopter, said the district administration office, Baitadi.
An SUV (Se 1 Ja 854) carrying police personnel skidded off the road and fell some 200 metres into the local Ningladi river at Patan Municipality-4 in Baitadi district along the Dasharath Chand Highway on Monday morning.
The vehicle was returning after transporting filled ballot boxes to the district headquarters. Sleep-deprived driving is said to have caused the accident, said Panthi.
It has been said that the driver droved overnight in transporting filled ballot boxes. Further investigations were underway, said the police.
(Updated at 1:00 pm)
3 police dead in SUV accident in Baitadi
Baitadi, November 14
Three police officials died in an SUV accident in Patan in Baitadi on Monday.
The SUV, returning after transferring the ballot boxes from Patan in Baitadi, fell some 200 metres from the road.
Nine others travelling in the SUV are in a critical situation, says the local police office.
The injured have been flown to Kohalpur on a helicopter, informs Chief District Officer Suresh Panthi.