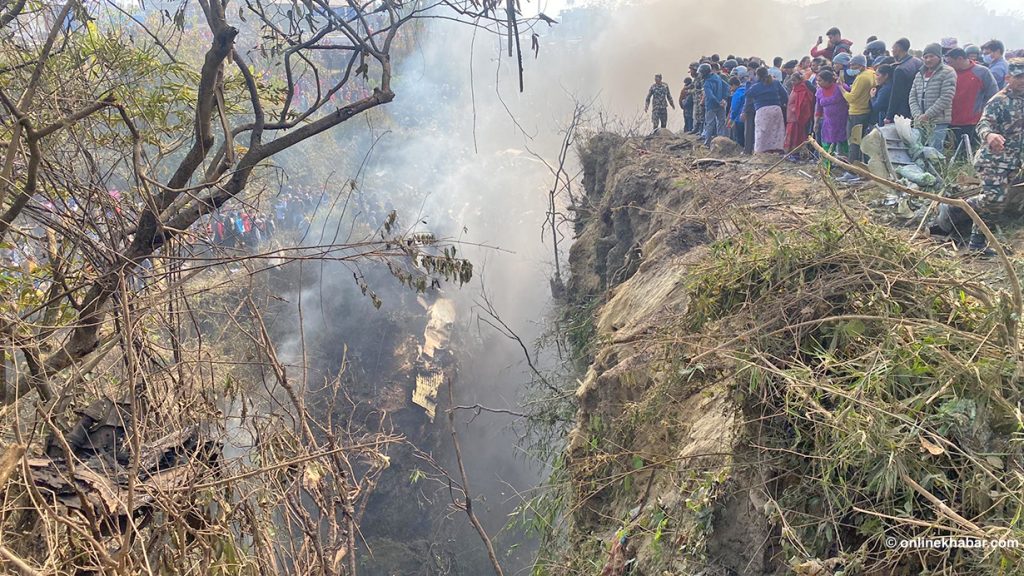 Kathmandu, January 15
The Civil Aviation Authority of Nepal says it has recovered 62 bodies of the victims of Sunday morning's Pokhara plane crash.
There were 72 people on board including four crew members and 68 passengers.
Nepal Army spokesperson Krishna Bhandari says security personnel have continued the search and rescue mission, which has been delayed due to the depth of the gorge and continuously billowing smoke from the wreckage.
(Updated at 4:25 pm)
---
Here are the nationalities of 15 foreigners
Yeti Airlines says there were 72 people on board the aircraft involved in the Pokhara plane crash on Sunday morning.
Of them, 68 were passengers and four crew members. Of the passengers, 15 were foreigners and 53 were Nepalis.
Likewise, three were infants.
Here is the detail of the nationalities of the passengers:
Nepalis: 53
Indians: 5
Russians: 4
Irish: 1
Korean: 2
Argentinian: 1
Australian: 1
French: 1
---
Govt forms investigation team
Meanwhile, the government has commissioned a five-member team to investigate the Pokhara plane crash, in which most of the passengers are presumed dead.
(Updated at 2:40 pm)
---
Pilot diverted the plane to the gorge to save human settlement: Witnesses
Meanwhile, locals who saw the aircraft before the crash assume the pilot diverted the aircraft to the gorge of the Seti river in a bid to save the human settlement after knowing it was going to crash.
"If it had been just one more minute late, the plane could have hit the old airport in Pokhara, which is so close to the Ramghat market area," a rescuer says.
(Inputs from Pokhara correspondent Bikash Roka Magar)
(Updated at 1 pm)
—
Pokhara plane crash: Details of the casualties awaited
A Yeti Airlines aeroplane flying to Pokhara from Kathmandu has crashed near the destination airport.
The 9N ANC ATR72 aircraft involved in the Pokhara air crash had 68 passengers who had left Kathmandu a while ago. Besides, there were four crew members led by Captain Kamal KC.
The company's spokesperson Sudarshan Bartaula says efforts are underway to douse the fire caused by the Pokhara plane crash.
Government authorities say they have mobilised security personnel in rescue efforts at the incident site. Details of the casualties are still awaited.
Plane crashes in Nepal are very common. Not only domestic flights crash but also foreign ones killing hundreds of people. Nepal has also had several serious aviation disasters in recent years.
Over the last 30 years, there have been nearly 30 fatal plane crashes in Nepal, the most recent–before the Pokhara plane crash today–being a Tara Air crash, in May 2022, killing 22 people on board.