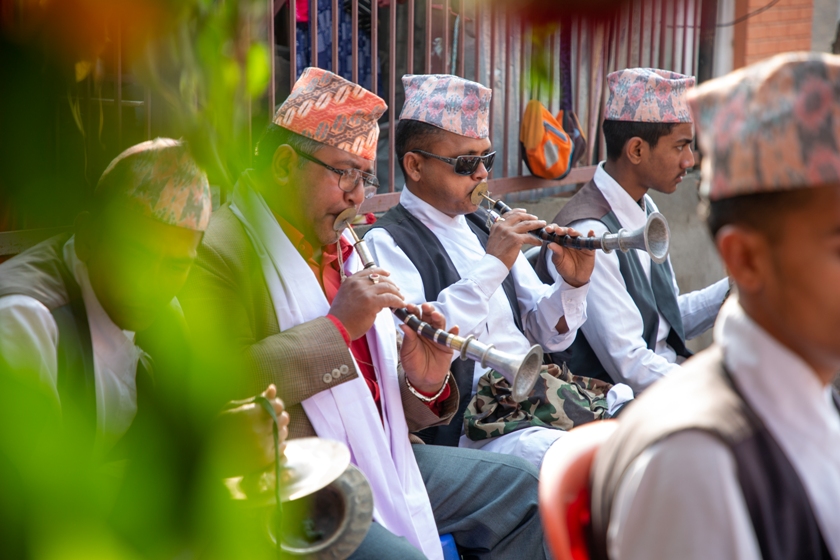 Dhan Bahadur Nepali, 39 came to Kathmandu 22 years ago with a lot of hopes and dreams. One of those dreams was to become a part of a panchebaja band that played in weddings and other religious events but he soon realised that it wasn't going to be that easy.
Growing up in a Damai family at Sunarpani in Ramechhap, he was surrounded by musical instruments from an early age. "I had music running through my veins," says Nepali, who adds that he thinks he developed the love for music from his mother's womb.
On the other hand, from an early age, his parents and grandparents taught him the significance of panchebaja, which has been an essential part of life of Nepali and thousands of Damais like him.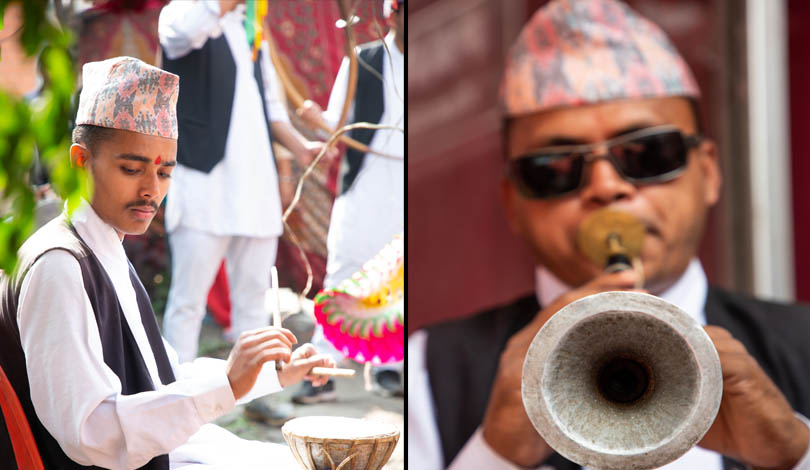 Besides, the panchebaja has been an effective cultural showpiece that has helped Nepali culture and traditions get transmitted from a generation to another. With its popularity apparently revived for last few years, the musical set is sure to hold its significant position in the Nepali society for at least next few decades.
The essence of the world
Panchebaja (a set of five musical instruments) represents the panchatatwa (five elements) that have been referred to in the Vedas – earth, water, wind, fire and sky.
The tyamko (small kettle drum) represents earth as its beat resonates the way people walk on the ground. The damaha (kettle drum) represents water as inside the bamboo vessel is some water which adds some tune to the sound. The jhurma (cymbals) made from bronze represents fire as it resembles the grinding of stones used to made fire.
Likewise the dholaki (two sided drum) with its hollow space represents wind. And finally, the narsingha, sanai and karnal, all pipe instruments represent the element sky. The pipe instruments which are similar are put in the same category and even though there are seven instruments, they call it panchebaja.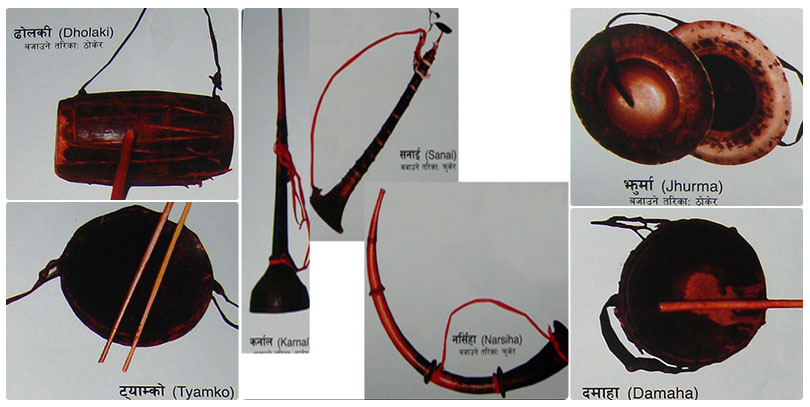 "When played together, there are a total of nine instruments as we always have two sanai and two damahas. The reason I was told was that these represent the nine grahas (planets) and appease them," adds Nepali.
He learned how to play panchebaja from his father who used to play them at various events in the village. "I grew up listening to these instruments and that helped a lot when I started to play," he says mentioning he played in a lot of events in the village before coming to Kathmandu at the tender age of 17.
"Things were quite different here. People refused to rent me a room because I was a Damai and that made me really sad. A lot of people I know used to live by lying about their caste," he adds. He had come to Kathmandu at a time when panchebaja was not as popular as it was taken over by the popular 'band baja' which brought a certain energy to marriage ceremonies with its oomph. This is a reason why he stopped playing as much when he joined the army.
The band baja's attack on panchebaja
According to proven records, the 'band baja' came to Nepal via India in the 1930s, says the founder of Music Museum of Nepal, Ram Prasad Kandel. As the British had the bands in their army too, the Nepali Army embraced them. Soon it started to gain popularity as the army's top officials started to use it in their weddings and it was a matter of time before it became a part of many weddings.
With the rise of band baja, a lot of people from India started to come to Nepal to play the instrument. As they played Bollywood songs and slowly started to include popular Nepali songs, the panchebaja started to lose its appeal.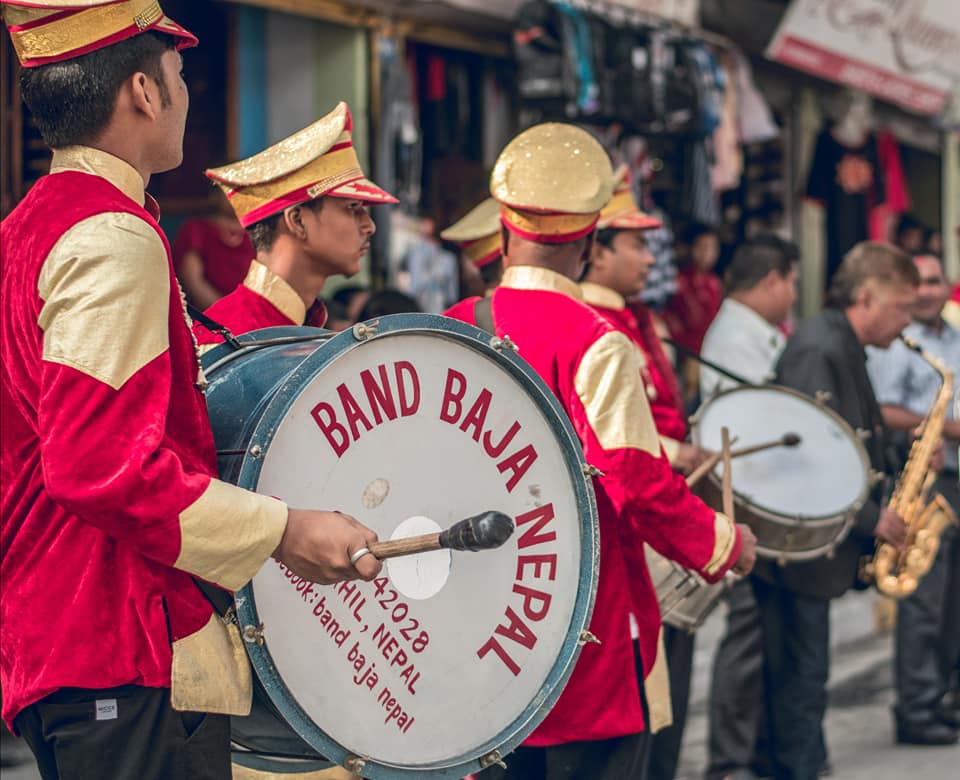 Another reason it lost its charm was that a generation stopped playing it citing that only lower caste people played it. "A lot of them stopped playing for various reasons and money was one of them. They could earn a lot more doing other jobs," adds Kandel who shares that two decades ago around 90 per cent weddings used the band baja.
Encouraging revival
Kandel says that as Nepali instruments were losing its appeal, he founded the Music Museum which aimed at documenting over 1000 instruments found in Nepal–something that is still happening today as he says he is still trying to find instruments from all over Nepal.
Having researched and spent six years trying to dig up information about panchebaja, Kandel decided to try something different. He called a few of his acquaintance which included Nepali, who he met in 1996 and decided to go from place to place playing the panchebaja to try and market the product.
"Initially, it wasn't easy. We went to a lot of places in Kathmandu. During that time we visited almost all alleys in the Valley promoting the panchebaja," adds Kandel, who shares they even played at various weddings for free.
After playing for free for a few years, they started to attract people who asked them to play at weddings and bratabandhas.
"They realised that this music was better than the band baja. People understood that this was our music which needed to be preserved and also realised that it was soothing too, a reason why many weddings nowadays have the panchebaja," adds Nepali.
Other uses
The panchebaja is played during any auspicious occasion. "Back in the days, our ancestors used to play it when a woman became pregnant to know whether the child would be a boy or a girl," adds Kandel. Apart from that, the instrument is also played during the birth of a child, during the bratabandha or gunyocholo, and of course weddings and at the time of welcoming someone. The instrument is also used during the ropain festival during Asar.
"Each occasion has a different tune which has been passed on from one generation to another," adds Nepali who shares that the Music Museum played an important part to resurrect the panchebaja in Nepal.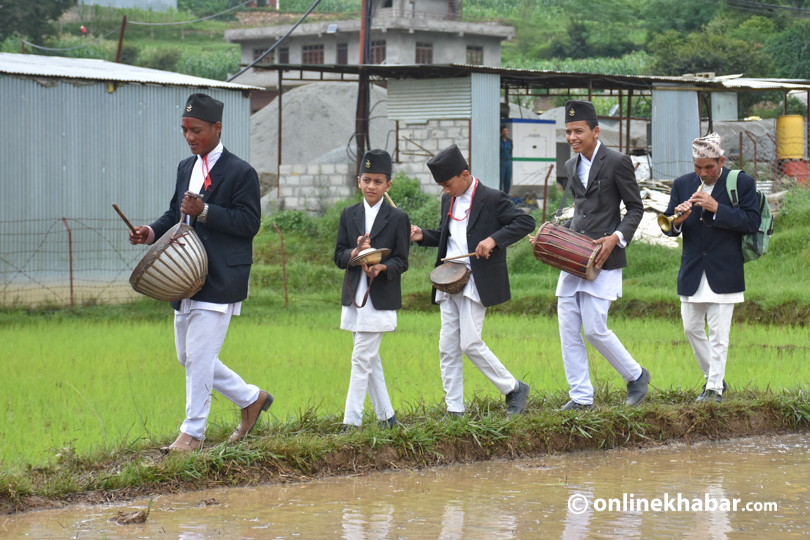 "We at the Museum do a lot of competitions all over Nepal to make sure people practice this instrument and the crowd is entertained," adds Kandel, who has been working for the preservation of Nepali music for over two decades.
Now that the instruments have taken over the market here in Kathmandu, both Kandel and Nepali feel that it is here to stay. "After nearly a decade of hard work, the pachebaja is back in demand with around 50 per cent weddings opting for these instruments," adds Kandel.
"After so much work, I do not think it will disappear now," adds Nepali, "We need to make sure that everyone knows its importance. We have to inform kids from school level so that they can be proud of their culture and heritage."