While there is an impending threat of the new Covid-19 wave growing more severe, the Makar Mela that happens only once every 12 years has officially started on Saturday (January 15), the first day of the Nepali month of Magh. Now, it is celebrated for the whole month (till February 12).
On Tuesday last week, district officials in Kavre had directed that the month-long Makar Mela be cancelled because of the increasing threat of Covid-19. Yet, local devotees have decided to hold it. They have said they would follow health protocols, but you know strictly adhering to distancing and masking is not always possible in rituals in the Nepali way.
So, what is the festival anyway? Here is what you need to know about the festival.
Where is Makar Mela held?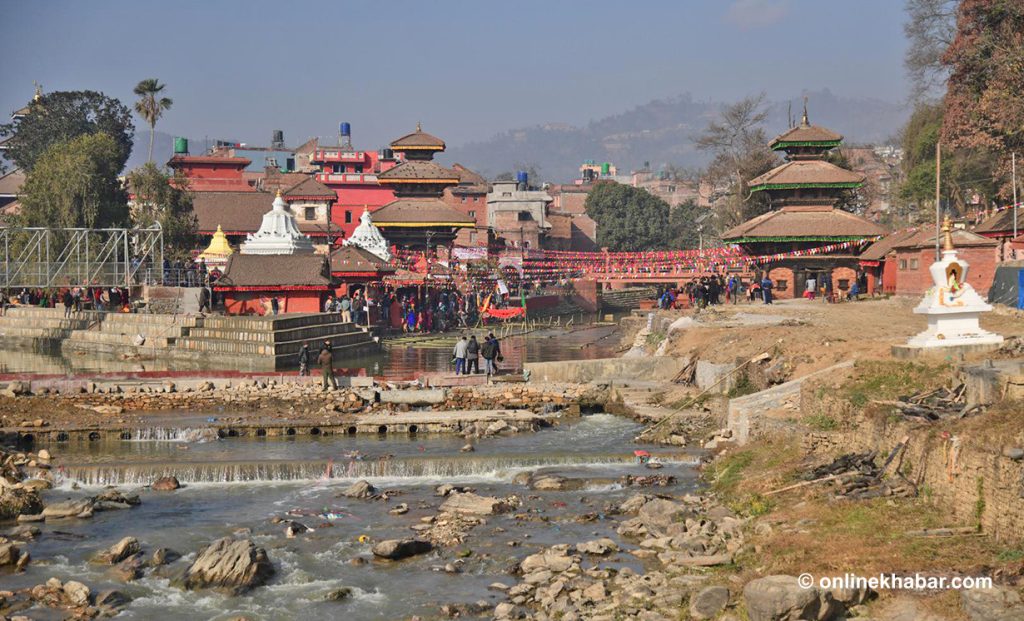 It takes place at Triveni ghat, a confluence of three rivers–Punyamati, Lilawati or Roshi and Rudrawati–of Panauti. The town of Panauti is situated some 32 km southwest of Kathmandu.
Who do come to Makar Mela?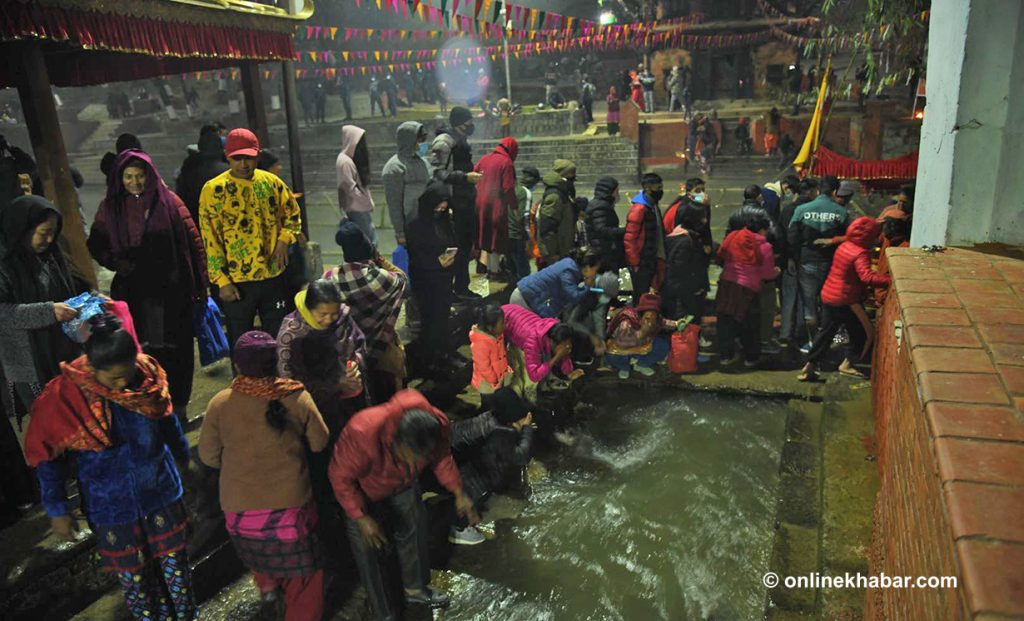 The festival attracts Hindu pilgrims from all over Nepal, India and even some foreign tourists. This year, the festival is expected to see six million pilgrims from Nepal and India.
With the onset of the festival, the management committee marks and builds areas for men and women to take a dip in the holy river. The areas are separated with bamboo sticks. They place sandbags to create a mak-shift dam that prevents the polluted water from polluting the makeshift sections.
What is Makar Mela about?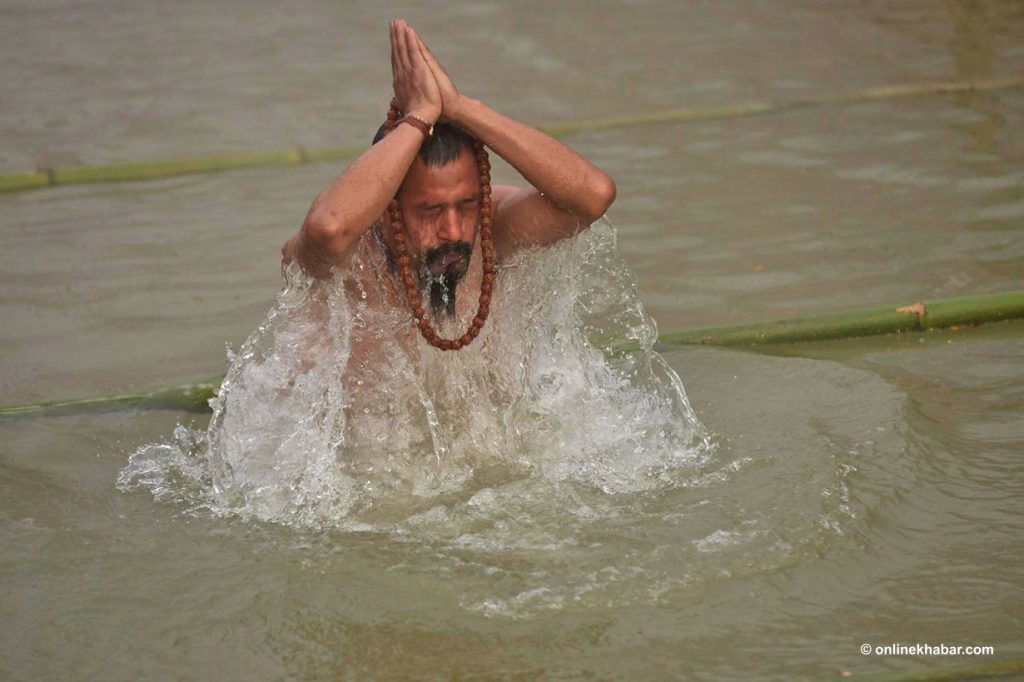 During the festival, pilgrims take a dip in the holy river believing it washes away their sins. Pilgrims bathe in the river and worship Basuki Naag, considered to be the snake around Lord Shiva's neck and the caretaker of Panauti. Then the devotees proceed to worship Indreshwar Mahadev, a temple of one of the forms of Lord Shiva.
The festival starts when the sun enters Makar Rashi as per the Vedic astrology.
What do you offer during Makar Mela?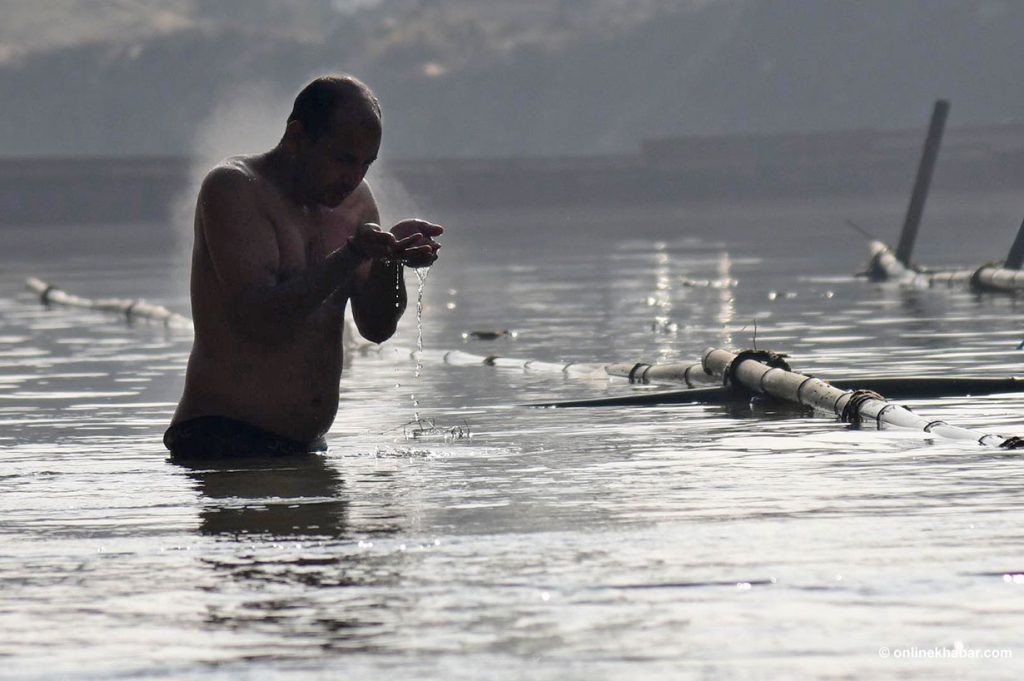 Devotees offer rice, flowers, vermillion powder, incense sticks, and a butter lamp. These five items represent five human life-supporting elements such as earth, water, air, light (heat) and mind.
Why is Makar Mela celebrated?
There are different stories behind this.
1. Story I
According to mythology, once Lord Indra, the king of heaven, suffered from an incurable disease. Indra, looking for a cure, meditated for 12 years at Triveni ghat to please Lord Shiva and get rid of the disease. When Shiva appeared, he poured some nectar in the Rudrawati river. He told Indra to take a dip in the river and, he got cured.
It is said that every 12 years, the nectar flows in the river and will cure all the diseases.
2. Story II
In a different version of the story, it is said that there Lord Indra takes a dip in the river and washes away the sins he had committed against Ahilya.
Ahilya was the daughter of Lord Brahma, the creator of the universe, Ahilya was a beautiful woman who everybody wanted to marry. But, Brahma married off his daughter to Gautam Rishi. However, Lord Indra was still having a strong desire for Ahilya attempts to seduce her.
So, he transformed himself into Gautam Rishi and visited Ahilya after her spouse was out of the house and asked her to join him in bed. When Gautam Rishi came back, he found out that his wife had been with another man. The sage then threw holy water from his kamandalu, a kind of pot, and cursed Indra for his sins saying that his body would now be covered with vaginas. The sage also cursed his wife to become a stone.
Indra's wife Indrayani, knowing this, sought help from Guru Brihaspati, who advised her to go to the confluence of Padmavati and Lilavati rivers in Panauti and meditate for mercy from Lord Shiva and Goddess Parvati.
Indra and Indrayani meditated for 12 years after which Shiva and Parvati appeared in front of them. After listening to their plight, Goddess Parvati transformed herself into a Rudravati river and joined Padmavati and Lilavati rivers, making a confluence of three rivers in Panauti. Shiva and Parvati then told Lord Indra to take a dip in the river and wash away his sins and lift the curse.
So, the devotees reach the confluence to take a dip in the holy confluence and wash away their sins.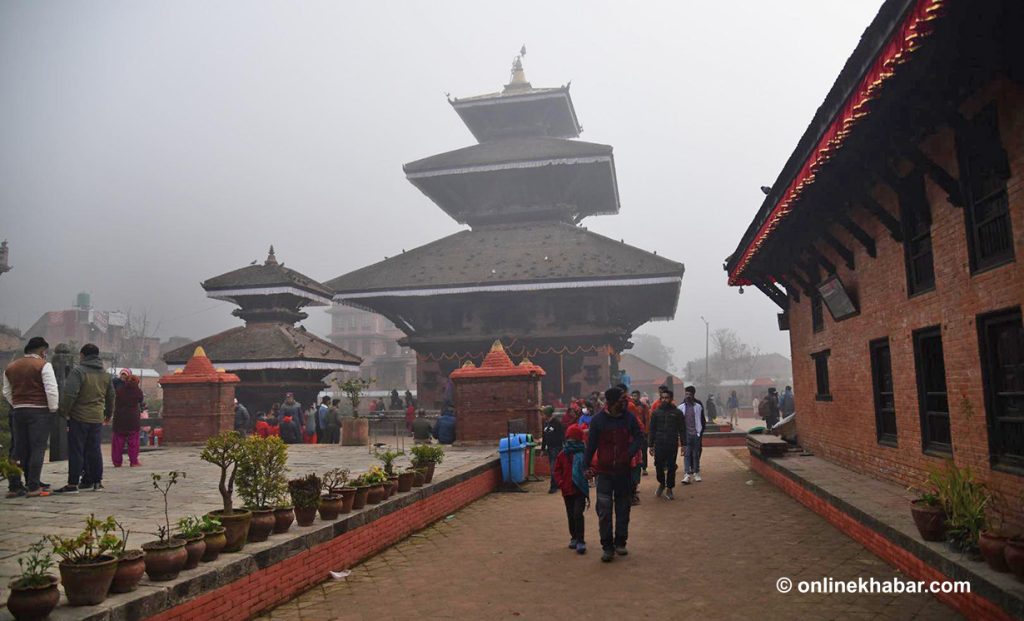 3. Story III
Another significance of the festival in Panauti relates to the snakes. It is said that serpents from Taudaha came to visit the temple of Lord Shiva during the Makar Mela and stayed there for one whole month. Panauti is also known as the city of nagas (snakes) and every 12 years, devotees reach Panauti to worship the snakes.
In fact, even today, it is said that the devotees witness these snakes around the Indreshwar Mahadev.
How to get to Makar Mela?
To reach Panauti, you can board a local bus from Ratnapark, Kathmandu. It travels along the Araniko Highway, so you can board it from the stops on its route as well. It takes about two hours.
You can also hire a microbus, taxi or travel bus. Another option is to take a private car, jeep or two-wheelers.