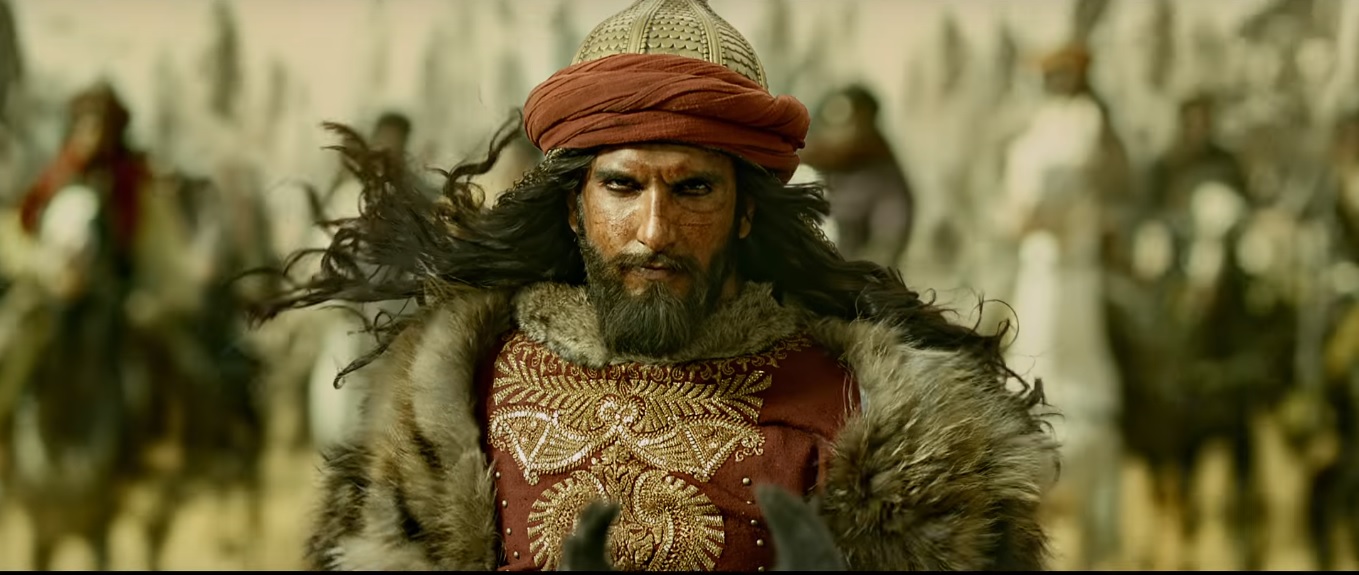 Amidst controversy and violence in India, Padmaavat has finally been released all around the world on Thursday. The Sanjay Leela Bhansali movie, based on a poem written in the 1500s by Malik Muhammad Jayasi, is glamorous and extravagant; the director's interpretation of the poem is like a fairytale.
The story revolves around Rani Padmaavati (Deepika Padukone) who is said to be one of the most beautiful women of her times, and Maha Rawal Ratan Singh (Shahid Kapoor), the Rajput ruler of Mewar. Their perfect life takes an unfortunate turn when Allauddin Khilji (Ranveer Singh)'s lustful gaze falls on Padmaavati. Alauddin Khilji (Ranveer Singh) is one of the most brutal rulers of the Khilji dynasty– he ascended the throne by killing his father-in-law, his brothers-in-law and their uncles. He was known for attacking states, only for their land and women. And, the motive behind his attack on Mewar was none other than Rani Padmaavati.
The movie stands out in all aspects. The location and the wardrobe are exquisite. But what makes the movie special is the stupendous acting of all the members of cast. Bhansali has once again paired two of his favourite actors –Deepika Padukone and Ranveer Singh, and on top of that, added Shahid Kapoor to complete a full house of commendable acting talents.
Shahid Kapoor, ever since Haider, has been brilliant in all his films. He plays Maharawal Ratan Singh with ease and brings a royal aura his character warrants. Deepika Padukone yet again lays claim to the title of the undisputed queen of Bollywood. One can't even take their eyes off her during the entire film!
But the person who steals the show has to be Ranveer Singh. He has truly turned a chapter in his career since his debut in 2010 and he is, no doubt, Bollywood's most prized asset. His portrayal Allauddin Khilji makes you hate him from the moment he enters the frame. He plays the character with utmost ease and completely owns the character. He has given his all to the part and is full of ferocious energy. With every movie, he seems to have evolved as an actor and he's not afraid to try new things.
Besides the trio, Aditi Rao Hydari, Jim Sarbh and Anupriya Goenka–all play their roles well, but it's safe to say that they are somehow lost in the shadows of Ranveer, Deepika and Shahid.
The first half of the movie is attention-grabbing and fun; and the final 30 minutes is where Bhansali's extravagance is highlighted and it's even better in 3-D. Cinematographer Sudeep Chatterjee has done a good job as he has captured some memorable scenes. However, the war scenes are a bit bland and can't be compared to the rest of the show. The songs seem to have been put into the film to make it longer; they don't really add to the story.
The movie does seem a bit long, but in overall, it's an entertaining watch thanks to Bhansali's visual creativity and Ranveer's acting. After watching the movie, I feel the whole controversy regarding the film is pointless. Bhansali has created a spectacle that is sure to please those who watch the movie with an open mind. Women and Rajputs haven't been disrespected, they have been honoured. But if you ask me, you should watch this movie only to watch Ranveer Singh at his best.
Genre: Action/Romance
Director: Sanjay Leela Bhansali
Cast: Ranveer Singh, Deepika Padukone, Shahid Kapoor
Screening in cinemas near you. Also available in 3-D.