Commentary
Prime Minister KP Sharma Oli, in his statement, after meeting his Indian counterpart Narendra Modi, said the main objective of his visit 'is' (note: he did not say it 'was', even as he was making the statement after meeting with Modi was over) to clear 'misunderstanding' between the two governments.
During his speech, Oli touched upon "the misunderstanding that surfaced during the last few months." We want to get back to how our relations were when Modiji visited Nepal in August 2014, he said.
What was Oli referring to as 'misunderstandings'? The answer is obvious.
He was referring to the crippling unofficial Indian blockade against Nepal after the promulgation of the constitution in Nepal in September, and India's tacit support for the Madhesh movement that put the government in a difficult position.
Although Oli spoke for around eight minutes, he stopped short of saying that he discussed the 'misunderstandings' with Modi, especially as doing so was the main aim of his visit. He used the opportunity, instead, to thank the Indian government for help during the earthquake, and discussing how important India was (and still is) for Nepal.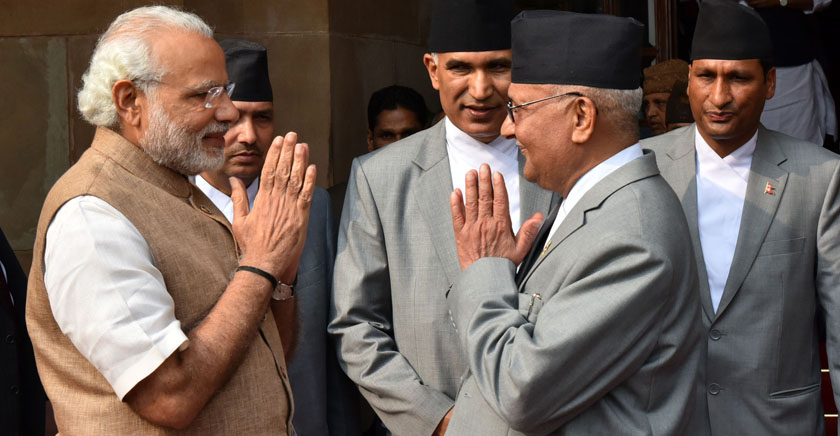 Before Oli spoke, it was Modi who gave an 'extempore' speech on India-Nepal ties. Modi, who also spoke for around eight minutes, but did not even hint towards any 'misunderstanding', let alone acknowledge that India-Nepal ties had reached their lowest point ever in the last few months, as many on both sides of the border have been saying.
On Nepal's new constitution (one of the major points of misunderstanding, from Oli's perspective), Modi stated that the Indian position has not changed. Rephrasing what he'd said in Kathmandu during his visit, Modi said that he was confident that Prime Minister Oli would resolve all constitutional issues on the basis of consensus and dialogue by taking along all sections of Nepal.
When Oli concluded his speech, he said that the 'misunderstanding' was no longer there after the meeting of the two Prime Ministers.
When Oli concluded his speech, he said that the 'misunderstanding' was no longer there after the meeting of the two Prime Ministers.
How could it have vanished even without the Prime Ministers discussing it?
Modi's statement on the constitution shows that India has not changed its stance on the blockade (it hasn't accepted there was ever a blockade), and on the issue of the Madhesh (it still wants the government to address the Madeshi Morcha's demands).
It was obvious that the major contentious issue facing bilateral relations were the blockade, and the issues of the Madhesh. But both words found no mention in the statements. This could have happened because both Modi and Oli chose not to talk about it in the public, or because Oli made no effort to make himself understood, or Oli thought the misunderstanding was over, going by the royal treatment he received in New Delhi.
(Photos: PIB, India)