Oasis Thapa was nearing the end of his high school when he, like most teenagers in Nepal, went through a breakup. He was low and emotional. He wanted to pour it out somewhere, but he did not know where and how. The only way he knew how to share his emotion was through songwriting and that is exactly what he did.
He wrote a song, An Apology to My Ex, recorded it and put it up on YouTube and Facebook, in 2017. Deep down, he believed that the song would be the making of him as it was one of the best things he had ever written and composed. But, it did not blow up. He did get positive feedback, but the video only got a few hundred views and one comment with two middle fingers.
"It was quite disheartening, but it gave me the push I needed," the 22-year-old says, "I think that was the making of me in many ways as I learnt that it was important to be grounded and keep working hard."
But, things are a lot better for him now. In a short span of two years since the launch of his first 'professional' song, Oasis Thapa is starting to make a name for himself. His songs are well received by the audiences as his peers also speak highly of him. But, he knows this is just the start as he aims to make a mark in Nepal's music scene for years to come.
Attempting for an impression
Oasis Thapa started singing during his early teenage years. He says he did so to initially gain "attention from girls". But, soon, he fell in love with music and from that, there was no going back.
"All the girls in my school were crazy about artists like Justin Bieber, Maroon 5 and Bruno Mars. I wanted to stand out by knowing how to sing their songs. But, slowly I started to get deeper into music and by the time was 15, I knew that this was what I wanted to do forever."
Wanting to get better as a singer and an artist, he started to learn how to play the guitar more efficiently. He would spend hours in his room, perfecting the art of playing the guitar and writing songs. Inspirited by international artists like Ed Sheeran, he wanted to produce similar songs and by the time he was in grade 10, he had already written numerous songs and was hoping he would be able to record them one day.
Oasis Thapa would play songs to his friends who would give him feedback, but he still needed one song to put himself on the map. He had felt that An Apology to my Ex was going to be that song, but he was wrong. Not letting it affect and wanting to prove his doubters wrong, he continued working hard.
"The early days were quite hard. I didn't have the skills, equipment or support I needed as a young artist. But, that helped me understand I have learnt how to be independent."
He started to produce songs on his own. Using his phone as a microphone and an outdated laptop, Thapa gradually learnt the art of music production. After taking a break, he released his first single Juni Vari Lai in 2019.
Rising into the profession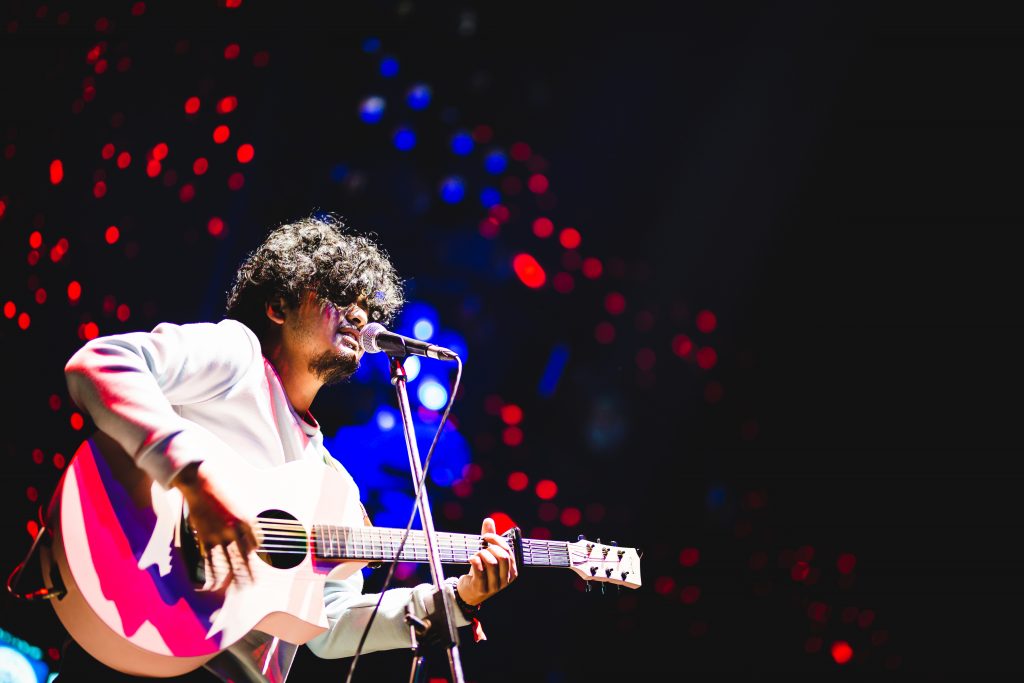 Initially, the song did not do as well as Oasis Thapa had wanted, but gradually it started picking up. After that song's release, he started to get acquainted with other musicians and artists too.
"I started discovering myself musically. Meeting other artists was helpful because they gave me positive feedback that helped me get better as an artist."
But, it was not until last year that he started to really make a name for himself. His song, Aparachit Bhaawanaa, became a hit. Released in January 2020, the song reached 100,000 views quite quickly and in a little over a year, the video has been watched over 5 million times.
"It feels great to get the recognition, but this is still only the start."
Oasis Thapa has always believed in himself, but the success of that song made his family believe in him too. He says his decision to focus fully on music had not gone down well with his family, but gradually they have understood it is what he is good at and wants to do.
"You'll only get support from your family once you prove yourself. I think that's why they believe in me now," he says.
But, he knows his struggles are not over. He believes he is still a struggling artist and it is going to take time before he becomes a household name in Nepal's music scene.
Taking the tough road ahead
And, Oasis Thapa is right. It is going to take some time because Nepal's audience is still not ready for his type of music. He sings melodic songs with a hint of melancholy. They are soothing but quite foreign to a Nepali ear. And, unless Nepal's listening culture changes, artists like him will still find it hard.
"I know it's going to be a grind, but that said I will not stop. I'm sure there will come a day when more and more people will start enjoying the type of music that I do."
Oasis Thapa says an artist evolves more quickly than an audience and that creates a certain divide. That said, he hopes things changes soon because he believes there are multiple underrated artists in Nepal who deserve more recognition than they have been getting.
"People think I've made it, but I'm still struggling and will continue to struggle because that's what it is like being a musician in Nepal," Oasis Thapa says, "But that said, I'm not going to give up because I know that if you keep on grinding and working hard, one day everything will pay off."
He says he is exploring the prospects of melodic rap and hopes he can help create a space for that in Nepal.
"I'm still learning new things. Being a musician is an evolving process and I think I'm just getting started."