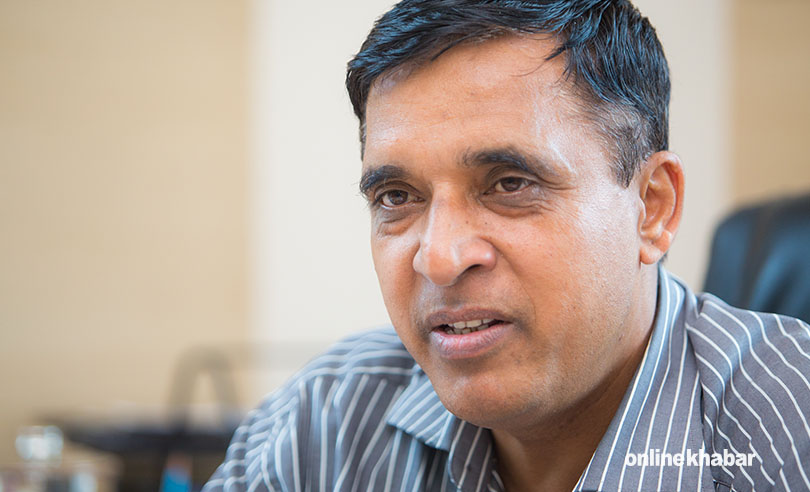 Balananda Sharma is Chairman of Local Bodies Restructuring Commission formed in accordance with the new constitution. The commission says districts have demanded more local levels than what the commission has suggested in its preliminary report. So far, about 14 districts have forwarded their reports on local-level restructuring to the commission, most of these districts have demanded more local bodies than the commission has suggested, and political parties continue to disagree over the issue, even as a constitution-set deadline to hold local elections looms. Onlinekhabar recently talked to Sharma about the commission's work.
Do you not think the commission has been unable to work at a fast pace?
No it would not be appropriate to say we have been slow. Lot of work is going on, and that too at a brisk pace. As our deadline is in February, the time we were given to work on our report was not adequate. If you look at international examples, you will see that commissions like the one I chair at the moment are given 5-6 years to complete their work.
But the drafters of our constitution passed a provision that gives the commission only a year to work. The truth is we have not even received a year's time to finish our work. The first 2-3 months, we had to work on managing our office. If you look at what is going on, we have been able to work in the truest sense for three months only. So, if you look at things from this perspective, you will see that our work is not slow. But looking at what is ahead of us, there is a need to speed things up.
We need to submit our report at the earliest if we are to hold local elections within this March-April. We have till date received reports from 42 of the 75 districts. But in the case of five of the 42 districts, the report is still inconclusive.
If we are look at your pre-determined schedule, you were supposed to receive all reports by last month. Why were the technical teams in 33 districts unable to submit reports?
The task we were entrusted is not an easy one. You need to understand that at the local level, the people and the politicians have their own sets of concerns. It is difficult to get them to talk and to reach an agreement over an important issue. That we have received reports from 42 districts is something we see as encouraging. We hope that this will set the tone for the remaining 33 districts.
We are finding it difficult to work in the Terai, where political parties are obstructing our efforts. In the hill districts from where reports are pending, they are holding discussions. Agreement has not been reached. But our attempts are on.
A few days ago, the commission said work is yet to begin in four districts. There are also districts where discussions have just begun. Has the situation changed?
In the districts you are talking about, the technical committee is at work. They are trying to organise discussions among local political parties. But they have not been able to perform as per our expectations. I believe that in the Terai districts, Madhesh-centred parties clearly oppose our work. They want the local bodies to be under the provincial government. They want the local bodies to be restructured only after provincial boundaries are changed to address their demands.
Will this have a bearing on the commission's ability to submit its report by the 15th of October?
We are giving final touches to reports we have received from the districts where consensus has been reached. For districts where reports remain pending, we will soon take a decision on what to do next, and communicate the same to the government. Then it will depend on the level of support we receive from the government.
One thing I would like to clarify is that some political parties have raised issues with us that do not fall under our ambit. The issues they have raised are political in nature, and it is useless to present them before us. That is why the commission rests assured that all political parties will realise the importance of local body restructuring, and see it as something that is bound to happen regardless of the change in provincial boundaries.
You have said that restructuring of local bodies and delineation of provincial boundaries are issues that do not necessarily affect one another. Did the Madheshi parties not understand this, or you were unable to explain this to them? 
We did try telling them this. Whether we succeeded or not is something only time can tell. Having said that, we must admit that due to lack of time, we could not communicate well at the local level. Things would have been different if we had time to run a discourse on restructuring for one year, and then proceed with the reports. With the rush that we are working in, we have relied on the media to communicate our message to the local people.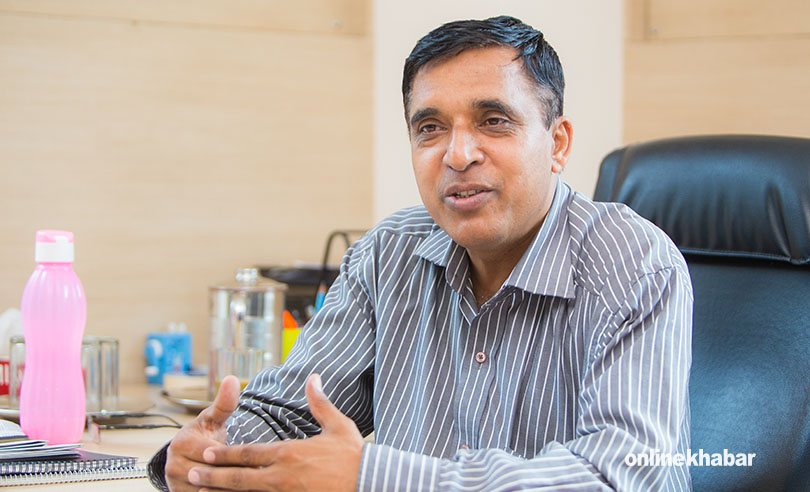 So would it be right to say that political parties pose an obstruction to you, and among the political parties, Madhesh-based ones are the most problematic?
Yes, they have political demands, and that has made it difficult for them to support the commission. I believe that if their political demands are addressed, it would be easier for them to participate in the process.
The Madheshi parties have their reasons to be unhappy. But what about the other parties that signed that constitution?
Thy have been supportive. They have been supportive because they have been open to discussing the issues, especially over the number of proposed local units. While some have said the number we have fixed needs to be increased, others are saying that the VDCs should be continued.
They are speaking their mind, and we welcome this. What the commission wants to say is that the debate should not be just on the numbers. We need to look at the whole thing. We need to let the function guide the form, especially as the new local units will have added responsibilities than their predecessors ever had.
I would like to tell you that we did not come up with '565' out of thin air. We looked at the international experience. Things have changed a lot in Nepal since VDCs were delineated five decades ago. We do not need to hold on to the past.
Don't you think the political parties should have understood this by now?
Yes, they have understood this and realised its importance.
To conclude?
Our work is now taking its own course. We are not even going to take the Dashain break. We would like to appeal to all political parties to support the technical committees and help them send us their reports at the earliest.