Kathmandu, May 11
When Nepali politicians and leaders were preparing for a grand welcome for Indian Prime Minister Narendra Modi during his two-day state visit to Nepal, social media was flooded with enraged comments from common Nepalis.
The general public took to Twitter to remind India and Modi about the wounds the 2015 blockade caused to all Nepalis. Various hashtags 'NotMyGuest','ModiNotWelcomeInNepal', among others can be seen on Twitter.
Criticising the visit, a hashtag has been trending on Twitter (#BlockadeWasCrimeMrModi) for the past two days.
Even the former European Ambassador to Nepal, Rensje Teerink, tweeted with the hashtag #BlockadeWasCrimeMrModi. She garnered a lot of appreciation from the social media users. Teerink, however, deleted it later.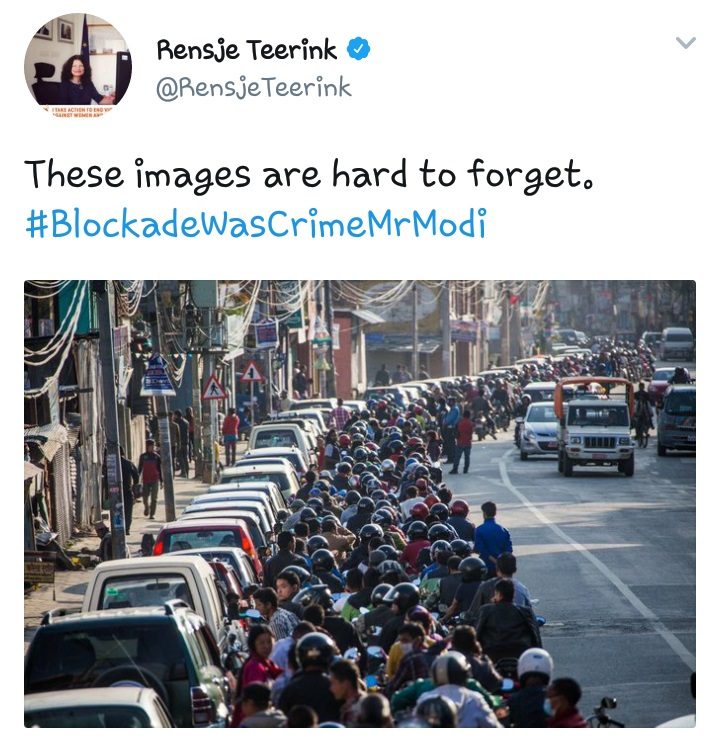 Looks like the Twitterati are in no mood to welcome Modi after the unofficial blockade in 2015. Here are a few tweets that summed up the mood:
trends on nepal pic.twitter.com/p01ZW69GlG

— Super Maila (@iMaila_Saau) May 11, 2018
#blockade was crime Mr modi REALITY OF INDIA pic.twitter.com/CQUkxNOMcD

— bishnu poudel (@bishnupoudel964) May 11, 2018
#BlockadewasCrimeMrModi For the attention of @PMOIndia @narendramodi pic.twitter.com/1ORg3fTEz8

— RatnaSansar Shrestha (@rsansar) May 10, 2018
#BlockadeWasCrimeMrModi
We want justic#BlockadeWasCrimeMrModi #BlockadeWasCrimeMrModi pic.twitter.com/04nAeCPEKH

— Pरेम (@Simprembhandari) May 11, 2018
Visits
Prince Harry UK: In Gurkha's land, I need no guards
Indian PM: Need countless commandoes + >10k securitymen. Clear everyone in his route of visit

Things are crystal clear, how heinous crime Modi did n he knows, he sees every Nepali as a threat. #BlockadeWasCrimeMrModi

— Bhanu Chalise (@bhanuchalise) May 10, 2018
Well Come Modi Jee #BlockadeWasCrimeMrModi pic.twitter.com/c1fYtcLXE9

— प्रतिपक्ष (@TwitteBatuwa) May 9, 2018
No f***ing international media dared to admit 2015 fuel crisis in Nepal as the Indian Forced Blockade. Hypocrites!
Blockade right after the devastating earthquake is no way a political sanction, it's a deadly crime. #BlockadeWasCrimeMrModi pic.twitter.com/G4mpU8Df2P

— Rajan Kathet (@rajankathet) May 10, 2018
Forgive but Never FORGET! #BlockadeWasCrimeMrModi pic.twitter.com/tZpTN0lvsU

— Binaya Shekhar (@binayashekhar) May 11, 2018
#BlockadeWasCrimeMrModi
These photos are hard to forget. pic.twitter.com/h9HuqOOP0y

— Sanjok (@Sanjok75259954) May 10, 2018
I still remember that day
That day when we dont have fuel to cook food.

We were literally struggling enough to eat 1 meal im 1 day cause of so called blockade

Its not only mine story. Its a story of lots of Nepalese out there

We are also human being. #BlockadeWasCrimeMrModi

— Neelam ?? BTS aRMy (@neejun25) May 10, 2018
Any Journalist prepared to raise question of blockade to Mr. Modi during presss conference? #BlockadeWasCrimeMrModi

— Santosh Acharya (@santosh4peace) May 11, 2018
#BlockadeWasCrimeMrModi . We might forget your beautiful speech that made us smile for a day or two but we won't forget the pain and suffering that you gave us by blockade. You are welcome here but you won't get the same respect that we all had before. Wish you a happy journey.

— जीवन खत्री ?? (@JeevanKhatry1) May 11, 2018
Why to show anger against the neighboring leader when your fellow leaders are idiots , puppets , incapable to lead the country ? Support to hashtag: #BlockadeWasCrimeMrModi

— Sushil Pokhrel (@sushilpokhrel) May 11, 2018
"So there is a disaster that has been created in the foreign policy. And it is dangerous for this country." Rahul Gandhi one day before PM Modi visit to Nepal, and massive trending #BlockadeWasCrimeMrModi in social media. is it just a coincidence only ? @canvassss pic.twitter.com/mQWlruNnvL

— \Nirmal\ (@Nirmaltamang1) May 10, 2018
World bank on Nepal #BlockadeWasCrimeMrModi #IamWithBishodipDai #ModiNotWelcomedInNepal pic.twitter.com/MlxVJIATGG

— Bishodip (@Biswasdwivedy) May 10, 2018
What is worse than blockade (unofficial & unverified) ? Nepali people taking advantage of situation to black market, cause inflation, create artificial shortage and government doing nothing but giving "guff". you remember blockade but forgot major detail #BlockadeWasCrimeMrModi

— Pritush (@pri2sh) May 10, 2018
#BlockadeWasCrimeMrModi is trending now. But do folks remember that Modi had 'apologised' for Indian blockade against Nepal and performed 'KshamaPooja' rituals in repentance? ?https://t.co/O2dQTTUIiO

— [keshuvko] (@keshuvko) May 11, 2018
She: I love you baby!
He: #BlockadeWasCrimeMrModi #SheHeStory ??

— Princess Consuela BananaHammock (@_fr0st__) May 11, 2018
.@narendramodi Morning! Do you remember your last two Nepal visits? You were welcomed like "Hero"! Now it looks like you are heading to Kasmir area! Why? #BlockadeWasCrimeMrModi

— Dipak Poudel (@Dipakpoudel) May 10, 2018
Respected @PMOIndia @narendramodi
Apart from visiting Janakpur and Muktinath ! Why don't you visit Lumbini ? For your knowledge We too, have one Lumbini here !#BlockadeWasCrimeMrModi #ModiNotWelcomedInNepal

— Yubraj Parajuli (@Rebelyubraj) May 10, 2018
If #BlockadeWasCrimeMrModi, it was a damn NECESSARY CRIME, in order to stop a BIGGER CRIME of killing one's own citizens, which this shameless state of #Nepal would have continued if #India had not intervened timely.

— Ashish Jha Dhoti (@JhaAcees) May 10, 2018
Recalling my wedding days back in '15! Happy and Resilient despite of all the travails of blockade. #BlockadeWasCrimeMrModi pic.twitter.com/1DzXaG3NZ2

— Daniel D Shrestha (@danield1) May 10, 2018
This what I was wanting for #BlockadeWasCrimeMrModi @lendaai #Nepal #Trending pic.twitter.com/9xAvVib7Ks

— Amit (@hamitm) May 9, 2018
Indian News : Modi promises to provide 3 gifts to Nepal
Me : Blockade, Constant interference n fake promises was good enough, we dont want anything from him #BlockadeWasCrimeMrModi

— Sandeeep Thapa (@thapa_sandeeep) May 8, 2018
Admit it first that blockade was crime before arriving to Nepal @narendramodi. #BlockadeWasCrimeMrModi pic.twitter.com/s6iNKYy6CG

— Shree krishna Adhikari (@Shreekr43820687) May 5, 2018
There is a family
A guest invites himself to the family
Every member of the family dislikes him except head of the family
Guest : Mr. Modi
Head : Mr Oli
Family : Nepal #BlockadeWasCrimeMrModi

— अर्जुन चालिसे (@me_chule) May 8, 2018
#BlockadeWasCrimeMrModi message from citizens of #nepal ?

— Sameer M Dixit (@smadixit) April 28, 2018
Few of these photos from #IndiaBlockadesNepal.
We suffered. We survived. We need no medication now. We were hit by disastrous earthquake and our neighbour added some more. Words ain't healing that. #ModiNotWelcomedInNepal #BlockadeWasCrimeMrModi pic.twitter.com/NfxIzZEGXA

— Deepika Ghorasaini (@nepalidpka) May 11, 2018
Will mainstream Nepali media dare to ask Modi abt the blockade he imposed n the frequent encroachment by India upon our land?? Can they make him reply in an apologetic tone?? If the answer is NO, stop whining about 'rapprochement in relationship' n stuffs. #BlockadeWasCrimeMrModi

— Binod Dhakal (@BinodDhakal75) May 11, 2018
Trending of #BlockadeWasCrimeMrModi today reflects that the scars of blockade are still fresh in the hearts and minds. And perhaps it will take long time for India to regain that goodwill from Nepali public !

— Shristi Kafle (@KafleShristi) May 10, 2018
Must be tough for local media to not report on #BlockadeWasCrimeMrModi. As it is, tomorrow's newspapers will be filled with 'Welcome to Nepal' advertisements. Wag the dog!

— Arpan Shrestha (@arpanshr) May 10, 2018
प्रिय जानकी,मोदि भ्रमणका कारण मेरो दर्शन कार्यक्रम तत्काल स्थगित भएको छ । खासमा पापीहरुकोलागी मेरो देशमा कुनै स्थान थिएन, क्षमा पाउ।#BlackoutForModi pic.twitter.com/huIZRqrsQp

— Deelipa Shree (@deelipaaa) May 11, 2018
अनि आज काठमाण्डौमा चाहि कति बजे कता कता कर्फ्यु छ ?#BlockadeWasCrimeMrModi

— Bishodip (@bishodip) May 11, 2018
Muktinath saying it too #BlockadeWasCrimeMrModi https://t.co/ZZPuFHLYbd

— Umang Parajuli (@umangparajuli) May 11, 2018
#BlockadeWasCrimeMrModi pic.twitter.com/uegUu5zT6P

— ajit (@parajitpar) May 11, 2018
#BlockadeWasCrimeMrModi pic.twitter.com/GAhxNt2STm

— Puspa Rumba (@Puspa4Rumba) May 11, 2018
मोदि जी @PMOIndia सौख से आइए, नेपालमे आपका हार्दिक स्वागत है।
बस इत्ना कहना है, साल २०१५ मे हमारे यहाँ १ नहि २ हाद्से होगए:
१. बिनासकारी भुकम्प
२. हस्तक्षेपकारी नाकाबन्दी
@narendramodi #BlockadeWasCrimeMrModi pic.twitter.com/RWUCDaCX5c

— Badal Basnet (@basnetbadal) May 11, 2018
@DurgaBaral1 & @rabinsayami1 को कार्टून आफै बोल्छ ! ??#BlockadeWasCrimeMrModi pic.twitter.com/7TBwD5PQGk

— Dambar Krs. Shrestha (@Dambarks) May 11, 2018
#BlockadeWasCrimeMrModi pic.twitter.com/jnNw88RB7y

— Bishal ghimire (@bishalHD1) May 11, 2018
#blockadewascrimemrmodi#notwelcomeNepal pic.twitter.com/q23Sska9EJ

— Manoj Aryal ?? (@MAryalNP) May 11, 2018
मोदि नै आउन पर्ने 🙂
सि जिङ पिङ नै ल्याउन पर्ने
आफ्नो महानगर को बाटो पिच गर्न खाल्डा खुल्डी पुर्न फोहोर उठाउन !!!
लाज मान महानगर र सरकार 😉#BlockadeWasCrimeMrModi

— #BlockadewasCrimeMr.Modi (@San4Tos) May 11, 2018