The Covid-19 pandemic has troubled Nepalis working in various countries across the world. Those in Qatar are also not in a different situation as many of them have lost jobs and some are on the verge of it. Apparently, officials in the Qatari Embassy in Kathmandu also must have felt some pressure on keeping the bilateral ties smooth. However, Qatari Ambassador to Nepal, Yousuf Bin Mohamed Ahmed Al- Hail, says there is nothing serious to worry about.
Onlinekhabar recently caught up with the ambassador on the sidelines of a recent event to discuss the impact of Covid-19 on Nepali workers and other dimensions of bilateral ties.
Excerpts:
First, we would like to ask you about the location of your embassy. You recently moved from Maharajgunj of downtown Kathmandu to Bungamati, an isolated village, a bit away from the city. What are the reasons for it?
Yes, it is away from downtown. However, Bungamati is still inside the Kathmandu valley and this village is a very beautiful location surrounded by green farms and the scenery of mountains is really attractive. Therefore the embassy is situated in an elevated place enjoying this rich environment of nice weather, clean air and trees, which is the best place for work. Further, it is not isolated because we reach anywhere in the city in a reasonable time.
Fine. Now, can you please briefly describe major areas of Nepal-Qatar cooperation? What are the milestones of cooperation? What are other issues that the two countries can work together, economically, socially, and culturally?
Now, the major area actually is the field of labour. The State of Qatar appreciates this cooperation and would like to expand this to include more opportunities for the skilled labour force.
Likewise, we are keen to expand cooperation to other areas such as agriculture, hydropower, investment, sports etc. This can be done through agreements and exchange of experiences. We already have successful experiences in the export of Nepali products to the Qatari markets.
Now, let's come to some challenges to cooperation between the two countries. What is the situation of Covid-19 pandemic in Qatar? It is said that many Nepalis have lost their jobs in your country due to the global health crisis. When do you think the situation in your country returns to normality so that it will be as friendly as it was for Nepali workers?
The State of Qatar has succeeded to decrease the daily cases, as well as the hospitalisations per week, and has achieved one of the lowest death rates globally.
Covid-19 pandemic has really caused serious economic difficulties with direct effects on migrant workers. However, I would like to indicate that Qatar's labour law has permitted workers to change jobs, so if a company is affected by the situation, its workers should not immediately return. They can seek another job opportunity.
The next question is about your country, which has been a friend of Nepal for decades. Geographically small, your country has been recognised as a rich and prosperous country in the world. Can you please explain how Qatar achieved prosperity? Are, there any lessons for Nepal?
The State of Qatar has achieved this progress and development and continue to strengthen this situation through proper planning, utilisation of available resources, and cooperation and time-framed partnerships with credible partners. All this is guided by the visionary leadership of His Highness the Amir and united Qatari people who dedicate their knowledge and skills to realise national goals for the common good.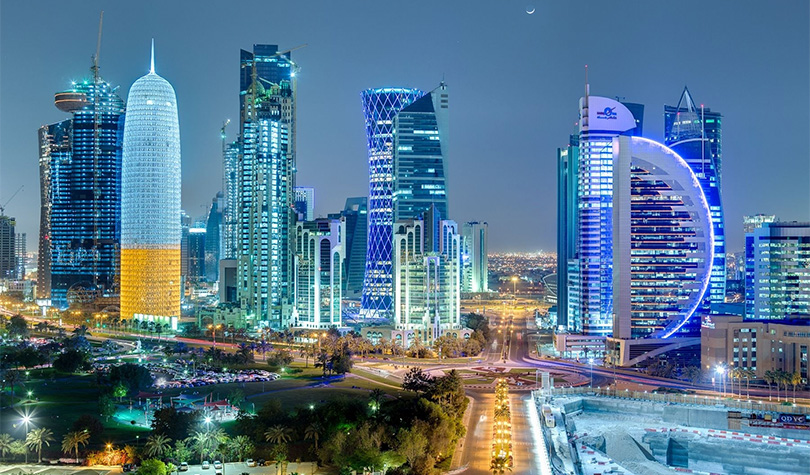 You have been living in Nepal for four years now. What do you feel about this country? How can Nepal follow your paths to prosperity? Apparently, we cannot sell petroleum to the world as you have been doing for ages.
My personal observation is that Nepal is obviously developing. I can see this very clear by comparison during the last four years. Nepal is gifted with all the factors and resources required to achieve prosperity and development. I am optimistic with the political stability, implementation of the constitution and the unified will to concentrate in the way forward in addition to the skilled human resource who are famous with dedication and excellence.
One way Nepalis have been thinking of Qatar these days is the World Cup Football that you are hosting in 2022. How are you preparing to organise the mega event?
Football is a very popular game in Qatar also, and as you know, the State of Qatar is now the champion of the 2019 Asia Cup of Nations. Therefore, the world cup is a source of pride for us, to organise it in the Middle East and West Asia for the first time. The Supreme Committee for Delivery and Legacy is following up implantation of this project. Preparation is going as planned and by 2022, all the stadiums and infrastructures for organising the FIFA World Cup would be in the final planned stage.
Before coming to Nepal, you had experienced different countries and cultures. Here in Nepal also, you have perfectly fitted Nepal as you have begun to understand Nepali also. What do you think of Nepal, Nepali society, and its culture?
I can say that Qatari and Arabic culture, in general, is similar to Nepali culture in many ways. We are all in the continent of Asia; we are west Asia whereas Nepal is south Asia. For example, some foods are similar as well as values of respect, and family connections. I found many other features of Nepali society very close to our life in Qatar. Here, always, I feel home.
So, what about Nepal does inspire you? And, what does frustrate you?
What inspires is the positive attitude of the Nepali people with the smiling face and hopeful spirit. They are welcoming to all visitors and foreigners with an open heart, which makes anyone visiting Nepal to come again.
No frustration! Only my heartily wish for Nepal to realise its plans of development and prosperity.