On May 29, a Tara Air Twin Otter en route to Jomsom from Pokhara crashed, killing all 22 on board. Following the crash, the Ministry of Culture, Tourism and Civil Aviation formed a commission to investigate it under the stewardship of its senior aeronautical engineer Ratish Chandra Lal Suman.
The commission is yet to submit its findings, but according to preliminary reports and local knowledge, the crash happened due to the aircraft flying in poor weather.
The government made another decision following the crash. According to the new rules, clear weather throughout the route is mandatory to carry out a flight. All flights following the visual flight rules (VFR) have to follow the decision, according to the Civil Aviation Authority of Nepal's Deputy Director-General Devendra Lal Karna.
For that, CAAN depends on the Department of Hydrology and Meteorology, which is the only body in Nepal that provides weather forecasts. But, the department says it does not have the resources to provide en-route weather forecasts for domestic flights.
"We also don't have the technology to provide them en-route weather forecast," says senior meteorologist Barun Poudel. "It's not that we can't provide it. We can, but we need technology to do that."
Another senior meteorologist Indira Kandel says Nepal uses weather research and forecast model (WRF) to predict the weather. But, it is hard for that model to accurately show weather forecasts around Nepal's hills and valleys, which is a major issue as most of Nepal's remote airports are in these areas.
"The models used by developed countries can't be used here. If we want accurate data in these areas, we need to install automatic weather stations," says Kandel.
A challenge to aviation safety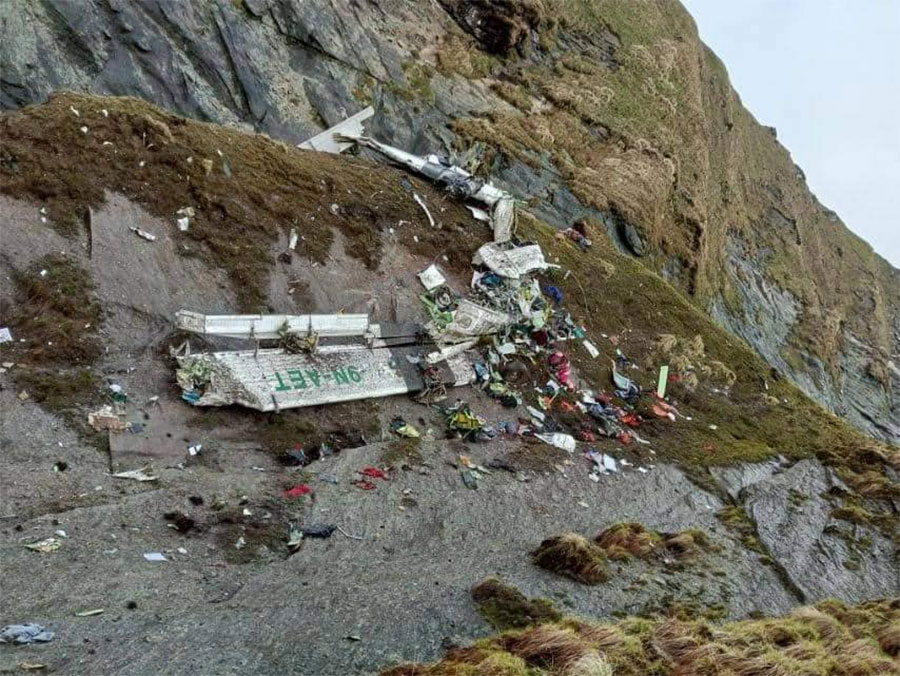 Most of Nepal's plane crashes happen due to changes in weather. On February 16, 2014, 18 people died after Nepal Airlines' ABB Twin Otter en route to Jumla from Kathmandu crashed in Argakhachi. The committee formed to investigate the case said the crash happened due to poor weather.
In the past six decades, there have been many examples of air crashes due to poor weather during monsoons. The Thai Airways jetliner carrying 113 people crashed in Nepal in 1992 in Rasuwa. The incident happened during peak monsoon, killing all on board.
Similarly, in 2006, an MI-17 helicopter crash killed 24 people in Kanchenjunga.
According to Sanjaya Kumar, the chief of the Rescue Coordination Centre at CAAN, changing weather during short intervals was the main reason for air crashes.
"There are a lot of factors that affect flights, such as air velocity, external visibility, air pressure, temperature and humidity. A change in any of these causes several issues in flight," Kumar says.
Kumar adds that during winter, an aircraft faces problems due to fog. During summer, the high winds and torrential rain along with thunderstorms create disturbances in the smooth flight. And when an aircraft does not receive accurate weather forecasts, it faces major problems during the flight, he says.
"Existing weather forecast mechanisms can only give us information about the aircraft and some places around the airport," says Kumar. "But, most accidents happen in Nepal due to the unavailability of en route weather forecasts. We need a mechanism that will provide this information."
Issues galore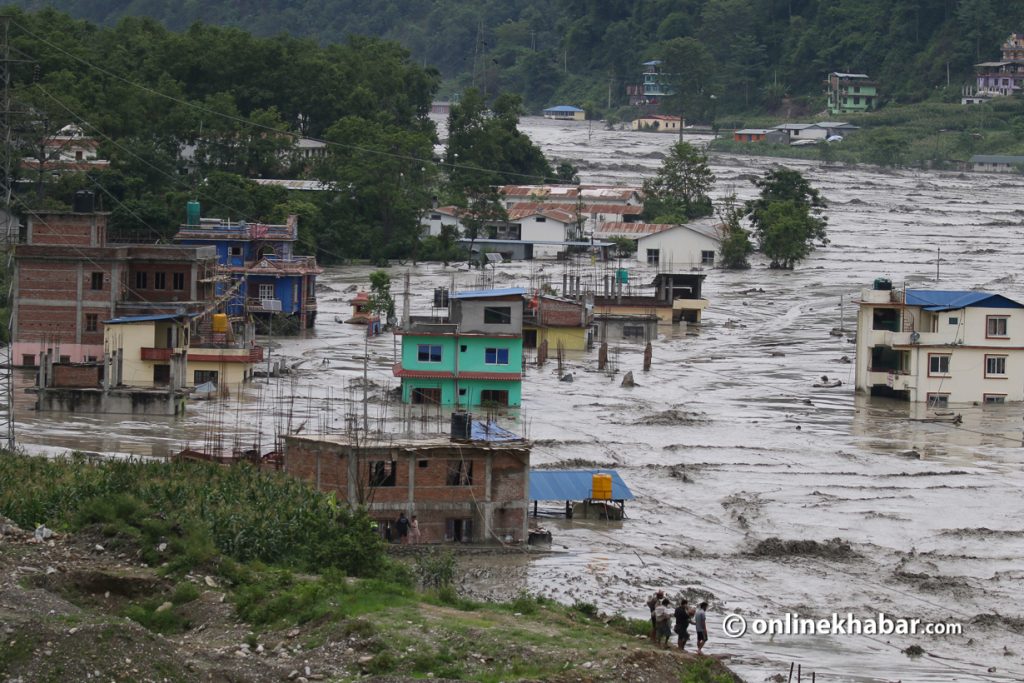 The aviation sector is not the only one facing problems due to poor weather forecasting mechanisms. People who are living close to rivers and those on treks too are facing unfortunate consequences and many have lost their lives as well.
On October 4, 2014, unseasonal blizzards and avalanches triggered by the tail of cyclone Hudhud killed around 39 people, including trekkers, in Manang and Mustang. According to the Department of Tourism, it helped rescue around 384 people including 216 tourists.
Due to the blizzard, there was a 12-hour snowfall in the Annapurna region and snow in some areas was as high as five feet. The people's lives could have been saved and the rescue effort could have been made easier, but weather forecast warnings did not come in time and the blizzard caused havoc in the region.
Similarly, on October 11, 2018, nine climbers, including five Koreans and four Nepalis, were killed by a Himalayan mountain storm in Gurja Himal. Some of their bodies were found inside tents while some were found outside.
Tourism entrepreneur Karma Sherpa Lama says the need for accurate weather forecasts in high-altitude trekking is of paramount importance. He says not having this information is a major risk for the industry.
"The weather forecasts we receive now are mostly inaccurate. There have been times when the sun has beamed the entire day when they have forecast snow while the weather has been the absolute worse when they told us it'd be great. Inconsistent forecasts are a cause for concern," says Lama, "The government says they are bringing in a system, but nothing concrete has happened in years."
The flood in Melamchi in 2021, which killed 24 people, is a good example of the need for a good weather forecasting and information system. As the government has not placed a weather forecasting centre at the source of the Melamchi river, it does not know the amount of rainfall that caused the flood that inundated homes of people leaving hundreds homeless.
"Had we had a centre at the source, we could have warned people downstream that a flood was imminent. This could have saved people's lives," says senior meteorologist Kandel.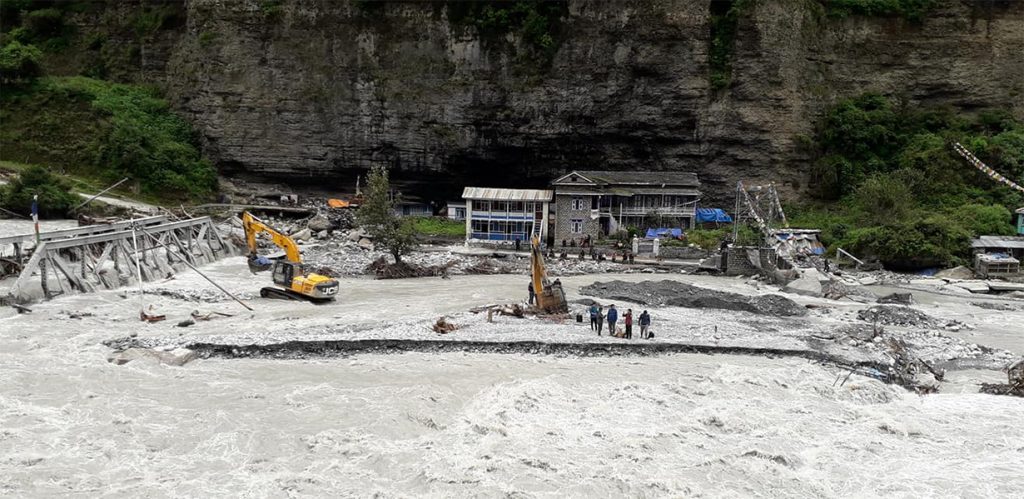 Further west, torrential rain in Manang did a lot of damage in June 2021. The area that rarely receives rainfall caused major floods in the Maryangdi river, which swept away many homes.
Had a weather forecast mechanism been set up in the high hills of Manang, people could have been able to save their valuables even if they could not save their homes.
Barun Poudel from the Department of Hydrology and Meteorology says they need an automatic weather station or a weather radar to provide data.
The department has set up a weather radar in Surkhet, which gives data up to 200 kilometres away. He says that the department is planning to set up these radars in Palpa and Uadayapur too.
But, the radar only gives weather forecasts about places on a straight line so there is still a need to install weather stations in hills and valleys, say weather experts.
No means to measure snow or water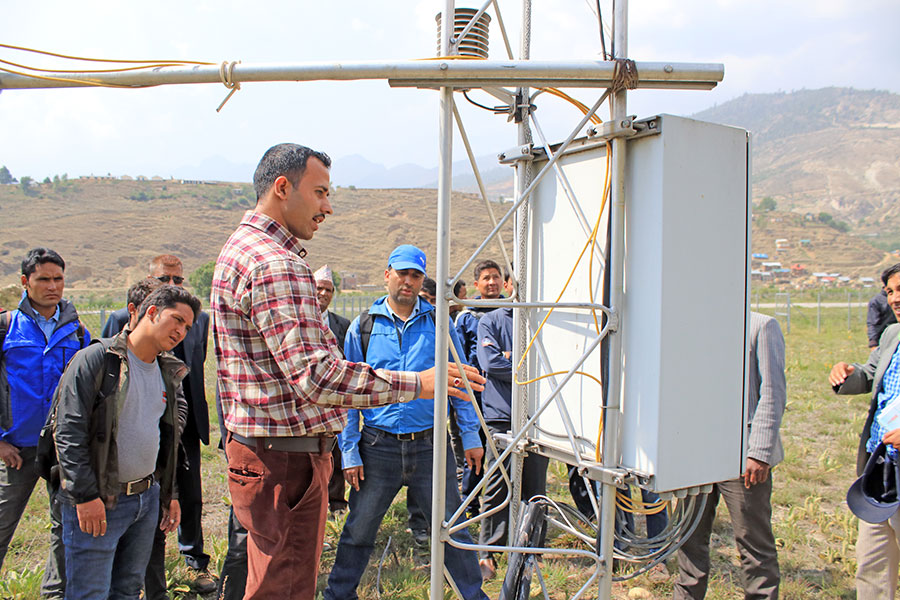 The major issue Nepal faces in weather forecasts is a lack of equipment to measure snow or water. Hydrologist and climate change expert at International Water Management Institute (IWMI) Santosh Nepal says the country needs to look at the larger picture because things like these caused recurring issues.
"Scientifically, it is very important to know how much snowfall and rainfall is occurring in an area. And if we know this, we can even use it for agriculture and irrigational purposes," says Nepal, who believes not having accurate data is even affecting infrastructure development in many areas of the country.
A flood in the Marsyangdi river on June 15, 2021, did major damage to 22 hydropower projects. Out of them, most of them were on the verge of completion. The Independent Power Producers Association Nepal says damages exceeded Rs 12 billion.
Engineer and investor Shailendra Guragain says that most projects that were damaged in the flood had never thought of a major flood that would hit the area.
"The designs weren't made with the flood in mind because we didn't have data from higher areas," says Guragain.
There are even examples where the hydropower projects produce 40 per cent less power during the winter as they do not receive accurate data about the flow of the river. This issue is being faced by both small and big hydropower plants due to the lack of data.
The only accurate data that Nepal has is from the Everest region. But, no one knows what is happening in other areas of the country. Experts say more scientific research is needed to assess the effects of climate change on weather. They also say the country needs to set up more and more weather forecast units across the high mountain regions so that the next generation can make use of them.
Apart from the one weather station installed on Everest by National Geographic, there are only five weather stations around Nepal above 4,000 metres that measures rainfall. Of these, only one is operational. Like National Geographic, others have also installed weather stations, but the department is unaware of this.
Since not many people live in the high hills of Nepal, the only way to get accurate data is via automatic weather stations. Although these stations do not come cheap, there is no other option, hence the government has to set aside a budget to set these stations up, say experts.
Senior hydrologist at the National Disaster Management Risk Reduction and Management Athuhotity, Rajendra Sharma, says that the country does not use human-operated weather stations anymore and emphasises the need for automated machines. But, these towers need a telephone network to operate.
"We don't have phone networks everywhere. We need help from telecommunication companies and set up these automated weather stations. The Department of Hydrology and Meteorology needs to talk to them about this," says Sharma.
The automated stations have a sensor that sends out hourly information about the weather in the area. The other option for a country like Nepal is using weather forecast satellites, but this will be very expensive, says Sharma.
The department has stepped up efforts to set up weather stations in the Annapurna region to minimise the risk of trekkers and locals getting affected by blizzards and snow storms. This will also help mountaineers who come to climb Annapurna I.
"To ensure what happened in 2014 doesn't repeat, we have stepped up efforts to install nine weather stations around the Annapurna area," says Poudel from the Weather Forecasting Division.
The department's director general Kamal Ram Joshi also says they are talking to donor agencies about installing one weather station every year.
Yet, the department is not proactive. Why? Because once it installs the station, it will have to regularly go monitor it and the department will have to hand out daily allowances to those who go there.
"Finance-wise, it's going to be an issue because the money that the government allows us to spend will not be enough," says the department's former director general Sharma.
---
This story was translated from the original Nepali version and edited for clarity and length.