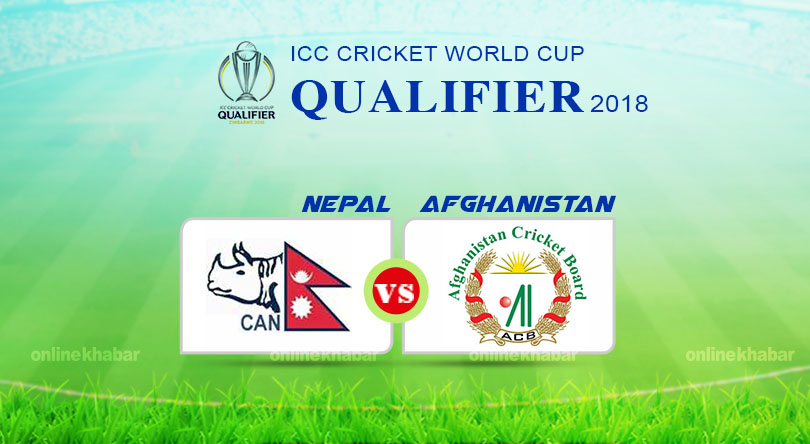 Nepal and Afghanistan lock horns tomorrow in what is now a must-win game for both the sides in the World Cup Qualifiers being played in Zimbabwe. After a good show in World Cricket League(WCL) Div 2, Nepal have fallen short of their expectation to reach the super six after losing two games on the bounce against Zimbabwe and Scotland. Afghanistan haven't had a good tournament either after losing to Hong Kong yesterday and now have lost all three games played so far in the tournament. Both Nepal and Afghanistan are tied on zero points and both are looking to get their first points on the boards.
Here are five mini-contests that will determine the game at Bulawayo tomorrow:
Paras Khadka vs Rashid Khan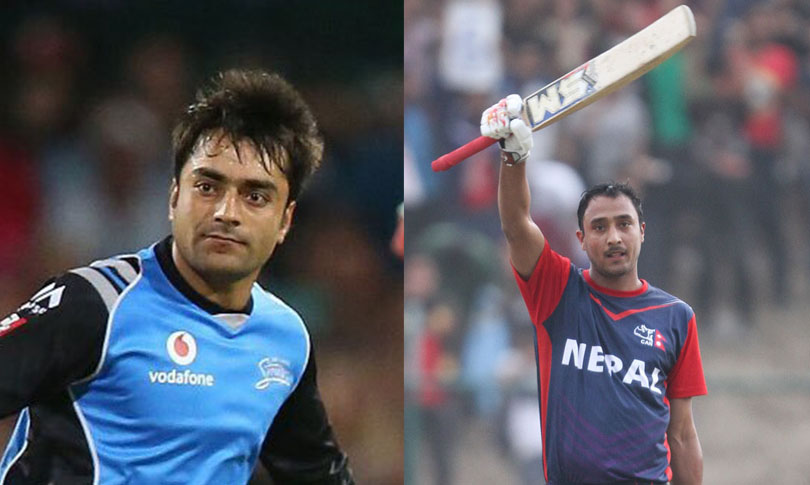 It's a captain vs captain affair when these two go head on. Nepal in recent times have been over-dependent on their captain when it comes to batting. Paras has scored 63, 40, 28, 112* in his last four matches. If you look at it since ICC WCL Div2, Paras Khadka has scored 25 per cent  of total runs scored by the entire Nepal team. If Nepal are to do well Paras has to continue his good form once again, especially against his counterpart Rashid Khan.
If Afghanistan want to stop Nepal, Khan has to play well. Khan is the first teenager to captain a men's international side and the youngest player ever, male or female, to captain a full international match. Thursday was his off day as it was only the fifth time in 38 ODIs that Khan hasn't taken a wicket. If Afghanistan want to win this match, Khan has come good with both ball and bat.
Sandeep Lamichhane vs Mohammad Nabi
If its Khadka who's impressing with the bat, it Sandeep Lamichhane who is doing so with the ball. The young leggie has develped quite a reputation after being picked by Delhi Daredevils and St Kitts for tje IPL and the CPL. If you look closely, he has picked 37 per cent of all wickets claimed by Nepal. That is why he needs to be at his best when he faces one of the most experienced Afghanistan batsmen with over a 100 List A matches under his belt: Mohammad Nabi.
Nabi is undoubtedly Afghanistan's in-form player with both the bat and the ball. In the last three games that they have lost, Nabi has been their lone star performer scoring 181 runs and taking four wickets. If Nepal want to win this match, they have to get the experienced Nabi early just like they did in the 2014 T20 World Cup match in Bangladesh.
Gyanendra Malla vs Dawlat Zadran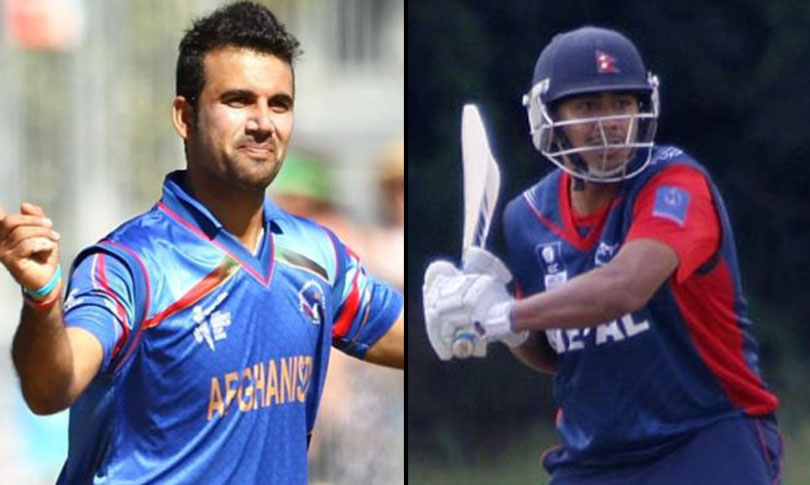 Gyanendra Malla needs to step up if Nepal have any hope of qualifying for the Super Six. In his last nine innings, he has scored 114 runs at an average of 12, which is pretty low for an experienced top order batsman. He will have a tough task to better that average when he faces Afghanistan's opening bowler Dawlat Zadran.
Dawlat Zadran is one of the most promising fast bowlers to come out an associate nation and is famous for his slightly unorthodox action, which is reminiscent of Waqar Younis during his day. Consistently clocking over 140kph, his bowling is  sure to trouble Nepal's batsmen. His hard-hitting at the bottom of the order will also be valuable in what is a somewhat inconsistent batting line-up.
Sompal Kami vs Ihsanullah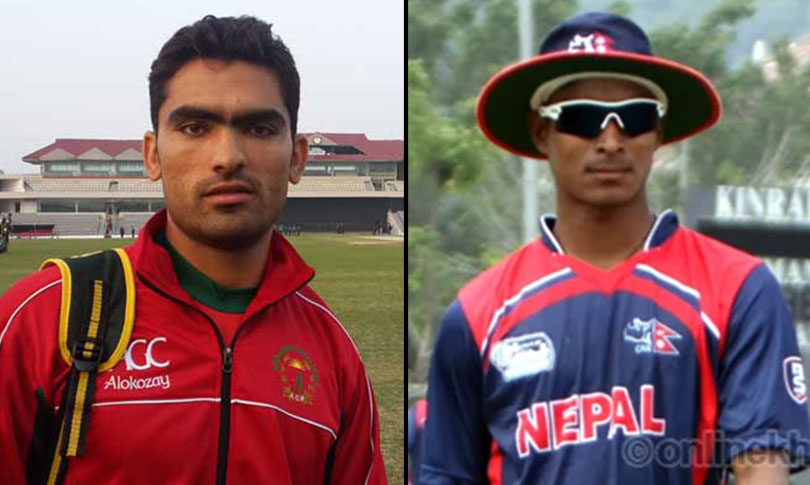 The 22-year-old fast bowler hasn't had the best of times in the qualifiers, picking up only two wickets so far. He has to bowl well at the start to give Nepal any hope of reaching the super sixes. The flat tracks in Zimbabwe haven't helped him either and his extra pace might give the Afghanistan batsmen the edge.
Facing Kami first up will be Ihsanullah who is another Afghanistan player who has underperformed in this tournament–having reached double figures only once. His battle with Kami first up will decide where the match will go.
Lalit Rajbanshi vs Najibullah Zadran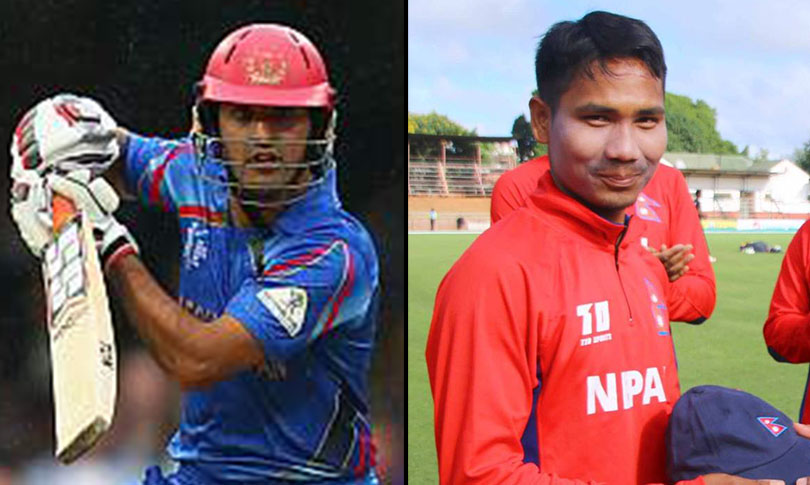 Lalit Rajbansi caught the eye of the selectors following his performance in the 2017 Everest Premier League and was handed his debut against Zimbabwe in the opening match of the qualifiers. His performances haven't been great, but this is right match to show everyone that he belongs to the big league. But as he will be bowling in the middle overs he needs to be wary of the explosive Najibullah Zadran.
Zadran had an impressive series against Zimbabwe and has continued his form in the qualifiers as well scoring 103 runs in three games. His explosive batting style means he is a player who takes risks and maybe Nepal's young slow-left armer can get him cheaply.