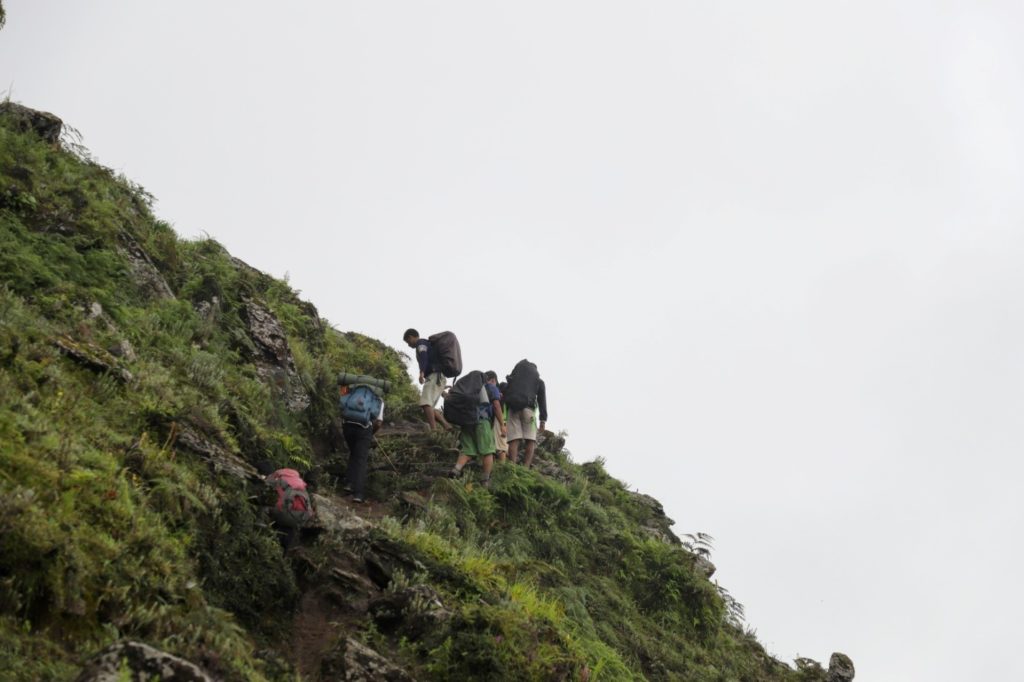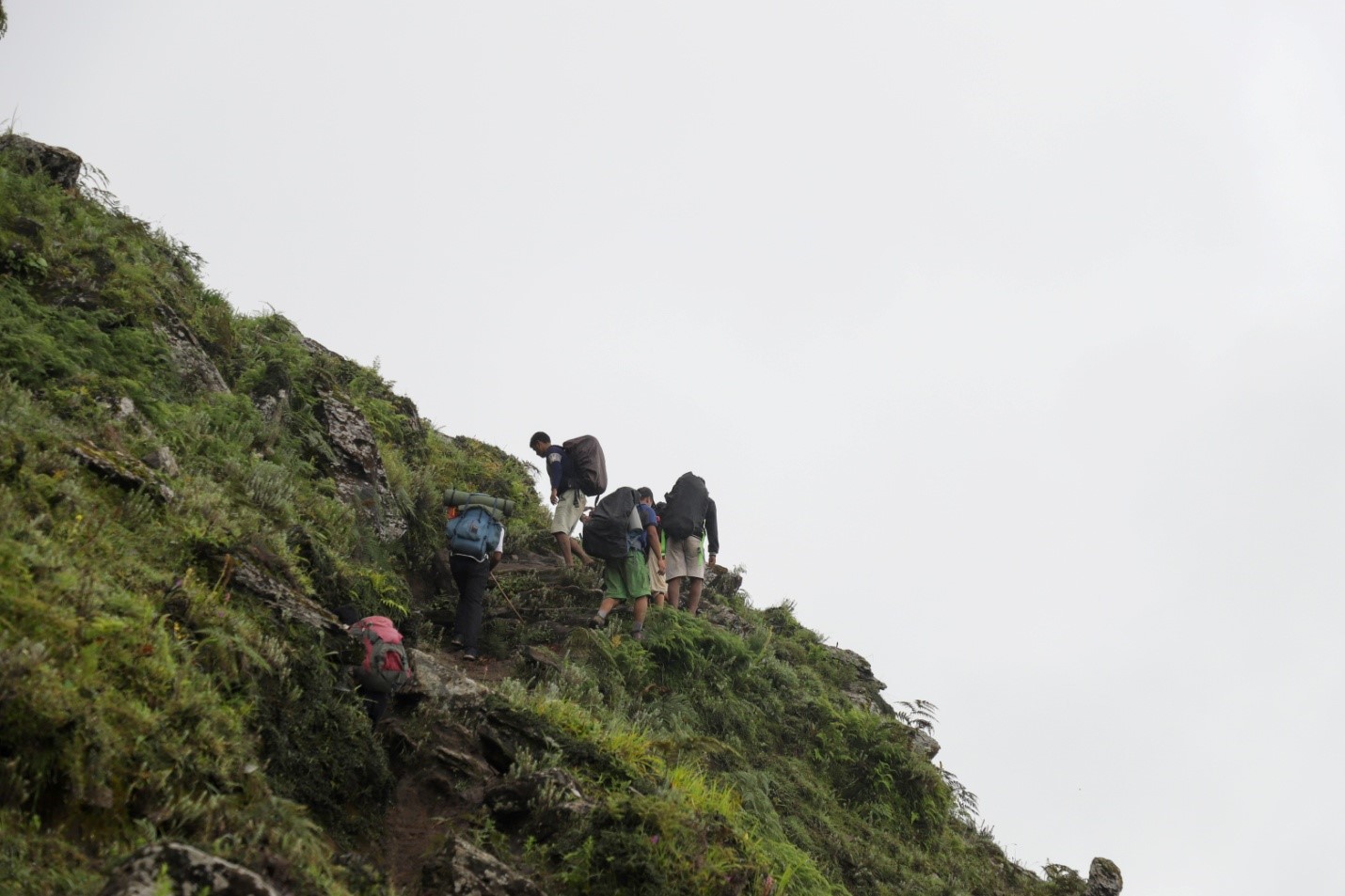 As the Nepal tourism industry was heading towards a revival post-Covid, Luca Wagner came to the mountainous country in the first week of October to trek the Manaslu circuit. He had heard a lot about it and was excited to trek one of the raw trails in Nepal that not many do. But, things got tricky for the German who, on his way to Larke Pass, got stuck as the rain brought landslides in the region and blocked the trail.
"It was quite scary. Nothing happened, but things could have gone horribly wrong as we heard a Nepali died after getting caught in a landslide," says Wagner who returned to Kathmandu without completing his trek, "I mean we had walked past different mudslides along the trail but managed to get to Samagaun safely. Trekking there, while it was raining, was a scary experience."
The first week of October was chaotic for the Nepal tourism industry. The extended monsoon caused major issues in the tourism sector as people got caught in landslides, some went missing, and many were left stranded as rescue flights could not fly due to poor weather.
So far, three people (two Nepalis and one US citizen) have been reported dead due to this, but there are enough reasons to believe that lack of security measures has once again put the lives of Nepali guides and international trekkers at risk. In spite of the risks, people were allowed to trek in regions which have seen some major disasters in the past killing a number of people. With neither the trekking companies nor government regulators taking accountability for this, there are questions if the Nepal tourism industry is ready to host millions of tourists every year.
Concerning chaos
Things were the same around the Annapurna Circut as tourists trying to cross the Thorong Pass had a hard time as they could not find the footrail. This, for Deepak Gurung, a trekking guide, brought back bad memories of 2014 when a blizzard in Manang and Mustang killed over 30 people, mostly on the 5,416-metre pass.
"There were flashbacks as it was snowing heavily in Manang. I decided to not go further because it was too risky. Some groups went ahead and were lucky to make it out alive," says Gurung.
A similar issue plagued tourists trekking in Dopla, an emerging destination in the Nepal tourism industry. Over 100 trekkers in the region are believed to have been affected by rain as flash floods and landslides across the region made trekking very hard and in some areas impossible.
Ram Parajuli, a porter, says that in some areas, the flash floods were so fierce that they had to return to the same spot they spent the night before.
"It was scary. There was no way we could have crossed it. The risk of landslides was huge too; I'm not surprised people went missing there," he says.
The Himalayan Times reported that at least eight French tourists went out of contact in the Upper Dolpa region after they faced adverse weather conditions. Some were rescued, but most are still around the area.
The blame game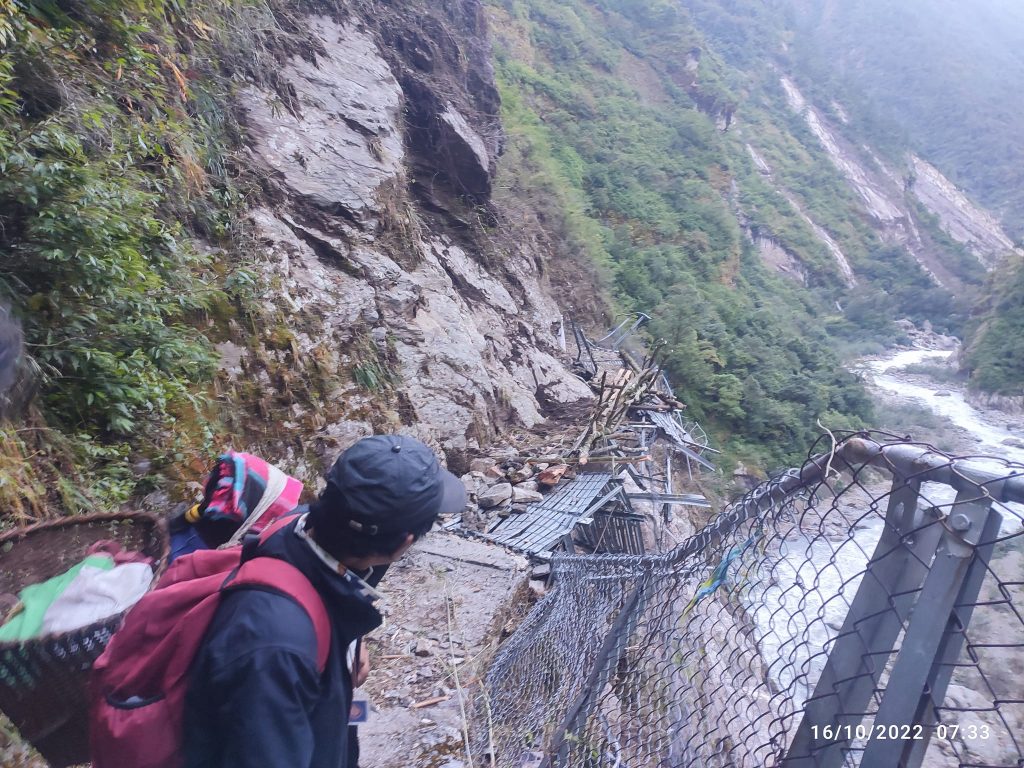 Major patrons of the Nepal tourism industry come to Nepal to trek the remote areas and have a set itinerary. These people do not want to miss out on even a day as they do not want to miss their flight back home. But, in cases of emergencies, even though their trekking companies advise them not to go, many go on taking risks.
"These people come here for a specific time and because they are here for a specific purpose, trekking in the mountains, they go despite the risks," says Nilhari Bastola, the president of the Trekking Agencies Association of Nepal (TAAN).
Bastola agrees that the Nepal tourism sector has not learnt from past mistakes, but, right now, when the industry has only just kick-started after the coronavirus pandemic, it would have been impossible to tell people "don't go."
"We have failed to give other alternatives. We should have told people don't go to Manalsu or Dolpa or Everest and go instead to Langtang or Gosaikunda or other areas that were safe to travel, but we couldn't and that has been a failure on our part," says Bastola.
He says that in future, all trekking companies active in the Nepal tourism industry should do so as most mountain areas in the country do not have phone networks or internet and that causes a lot of issues when disaster hits. That said, he also calls on the government to help when there are disasters.
"These people have bought permits from the government to get to these places. We feel it's important that the government becomes a little more proactive to help find and rescue tourists stuck in remote areas," he says.
He says that the businesses had to seek help from the police to locate 11 tourists who went out of contact in Dhorpatan earlier this month after the Nepal Tourism Board and other authorities did not help.
"The police from East Rukum helped and we were able to locate the people. Thankfully all of them were safe," he says.
The Tourist Police under the Ministry of Culture, Tourism and Civil Aviation says it did a lot of help find stranded tourists and missing ones but says the entire system needs to change for the Nepal tourism industry to get better.
"We do our bit, but when we don't get information on how many tourists have come to the country and gone trekking to which area we can't do much," says inspector Chandra Kishor Shah, the spokesperson of Tourist Police.
He says issues like what happened in the first week of October will continue to happen if the government does not take the Nepal tourism industry seriously. He says a lack of professionalism and accountability in the sector is doing a lot of harm.
Officials at the Tourism Ministry agree. They say that the Tourism Act needs a major review before the country can celebrate the Visit Nepal Decade.
"Our Tourism Act is too old. We need to ensure it is reviewed," says an official who wants to remain anonymous. "We want to celebrate the tourism decade, but we can't even guarantee their safety."
"This needs to be reviewed and everyone involved in the Nepal tourism industry should be held accountable because right now no one wants to take the blame even though everyone is at fault."
Empathy with Everest trekkers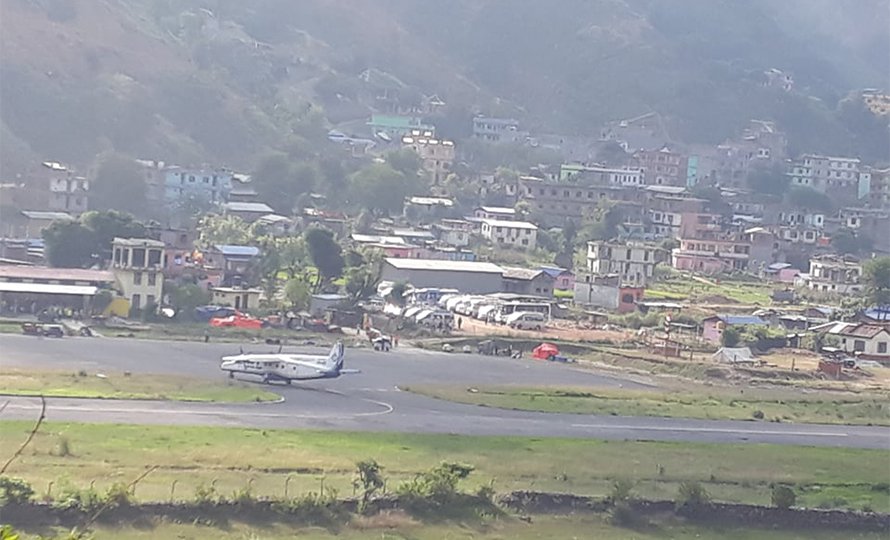 Another issue that the Nepal tourism sector faced this year was the flight to remote areas. Everest is the country's crown jewel when it comes to trekking. It is the goose that lays the golden egg, but since flights to Lukla got halted for over a week due to poor visibility and rain, 2,000 tourists were affected.
After the Civil Aviation Authority of Nepal (CAAN)'s recent decision, all flights to Lukla operate from the Manthali airport in Ramechhap, some 130 km away. As Manthali does not have enough lodges to cater to the tourists, there were a lot of issues.
Packed lodges meant a lot of people wanting to travel to Everest had to either adjust themselves in Manthali or return to Kathmandu. Some restored to hiking to Lukla from Manthali itself.
A few, however, took SUVs to Khari Khola, a day's trek away from Lukla. But, the SUV which usually costs Rs 16,000 was charging tourists over Rs 50,000.
"This is very wrong. It feels like we're overcharged and cheated everywhere we go. We paid Rs 30,000 for a jeep ride which I was then told was cheap, but when we got to Lukla, we were told how we paid twice the amount," says Jason Clarke from Australia.
TAAN president Bastola feels this is wrong and that the government should monitor such activities in the Nepal tourism industry more effectively.
"Over 1,000 people were stranded there. There's nothing there and many complained that they had to stay in their rooms bored. Had they been in Kathmandu, they could have engaged themselves in Kathmandu or chosen to go somewhere else," says Bastola.