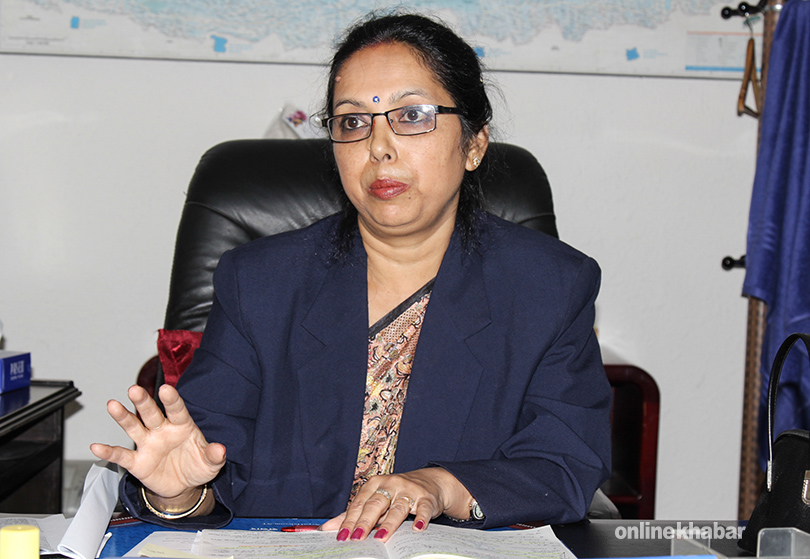 Kamini Rajbhandari joined Nepal Telecom, the country's state-owned utility, as temporary staffer in 1985 after completing her BE in Electrical, Electronics and Communications Engineering from Punjab Engineering College in Chandigarh, India. Thirty-one years later, she was appointed as the company's executive Managing Director. Rajbhandari, who completed her MBA from Asian Institute of Technology in Thailand in 2001, was appointed the company's Chief Technological Officer last year. 
Onlinekhabar recently caught up with Rajbhandari at her office in Kathmandu to talk about her plans to take the company forward. Translated excerpts:
You have just been appointed MD of Nepal's leading telecom company. There were 12 others who were in contention for the post.
Well, I am very happy. NTC's MD was chosen for the first time through open competition, and I had the privilege to become the first MD through this process. I am happy, as well as excited.
Could you tell us how competition was like?
Under the process, the applicants had to present their take on four crucial issues related to Nepal Telecom. The first issue was the company's current situation, the second was on its past. The other two issues, we had to present our views on, were the problems faced by the company, and its opportunities and threats. All of us also presented a plan to introduce reforms.
I see a lot of potential in this company. I also see things that need to be improved. I told the selection committee that the Nepal Telecom needs to adopt latest technology by introducing reforms in both technical and non-technical aspects of the company. I also proposed a plan to enable the company to compete in the market. I think all these things got me the job.
Now that you are the chief executive of the company, what new services can NT users expect to get in the coming days?
Our subscribers will soon be able to avail services such as IP TV, video-on-demand, mobile money and many others. But we still have several hurdles to clear before we roll out these services. The first hurdle, as you know, is the government's regulations. The second one is the power crisis that the country is facing at the moment. On top of it all, our infrastructure has been severely damaged in the course of road expansion in Kathmandu, and laying of pipelines for the Melamchi project.
What are other projects on your priority?
We want to increase our customer base to 17.3 million from the existing 15 million. We will expand our fibre to home network in coming days, and gradually replace copper wires with optical fibre. We want to be ideally in a situation where we use copper wires only for distances less than one km. Wimax service is also another of our products we want to promote.
Could you tell us about the company's plans to roll out 4G services? When can subscribers in Kathmandu use 4G?
We are preparing to roll out the service at the earliest. I can tell you that we will launch it in Kathmandu within two months after Nepal Telecom Authority issues us a licence to run the service. We will also make the service available in major cities across the country.
But if you compare our work procedure with that of private companies, you would find that we have a lot of legal hurdles to clear. That is why things like rolling out 4G services take time.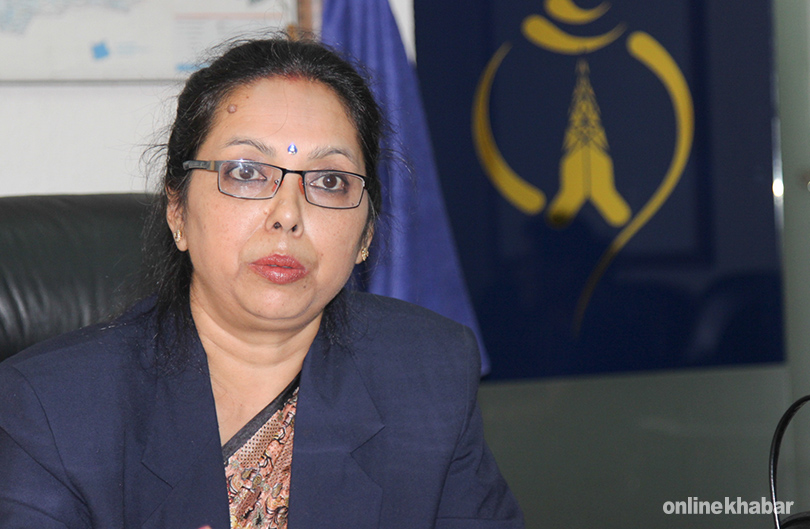 On Wednesday this week, the telecom regulator signed a Rs 5 billion deal with NT to lay optical fibre along the Mid-Hill Highway. When will work on the project begin? What are the challenges facing this project?
Yes we signed the agreement this week. Work will begin within the next six months. Although we have been given two years to complete the project, we believe we can finish it ahead of time. But we can do that only when work on the highway also gathers pace.
Now let's talk about Nepal Telecom and its internal administration. Will you continue the voluntary retirement scheme you predecessor introduced?
When the scheme was introduced, we had said we will implement it in three phases. We have already implemented two phases of the scheme, and over 800 staffers have taken the golden handshake. In the third phase, more staffers are likely to opt for the programme.
NT has also been investing in hydro projects. Do you have any new projects in the pipeline?
NT has invested in Trishuli B and Upper Tamakoshi. Yes, we want to invest more in hydropower, but we are yet to decide on what projects we want to invest in.
You have created history as the first woman to take charge at Nepal Telecom. What can NT staffers, and subscribers expect from you during your tenure? 
First of all, I would like to make one thing clear. I do not think I have made it this far just because I am a woman. I have been appointed to the post on merit basis. What I want to do is to improve the quality of services we provide to our 15 million subscribers. My approach to doing this is to optimise our services by slowly upgrading our network, and bringing in new technology simultaneously.
I think that the millions of subscribers who use NT services are the company's asset. Yes, there may be some problems, but in general, people are happy with our services, and they trust us.
Lot of NT users tell us that it is not the price that they are worried about when using the company's service, it's the quality.
We would like to tell our costumers that we will launch a one-window customer care centre in the days to come. Our efforts to improve the quality of our services will go on as we acquire latest technology and equipment.