On November 11, the scene outside the Supreme Court was disturbing. At its gates were police officers from the Armed Police Force (APF) with self-loading rifles (SLRs) in hand. A few hours before their arrival, Nepal Police's special task force (STF) was guarding the apex court where agitating lawyers were due to protest, demanding Chief Justice Cholendra Shamsher Rana resign from his position.
Once the lawyers arrived, the Supreme Court looked like a war zone with a standoff taking place. Nepal Bar Association vice-president Ishwari Prasad Bhattarai condemned the deployment of the APF. "They've turned the apex court into a war zone. Why do they need guns? This is wrong on so many levels," he said at a press conference on November 18.
And, he is right. Lethal weapons are rarely used to disperse crowds. Even in Nepal, police normally use batons, shields and water cannons to control crowds. When things get really out of hand, they have been using tear gas to disperse the crowd. But, the use of automatic lethal weapons is a new phenomenon, and it is illegal, according to stakeholders. But, lethal weapons is not the only concern. The personnel, mostly undertrained to contain protests, recruited in Nepal Police, which itself is underresourced, have breached laws and moral values in forcefully dispersing crowds, and it should stop, stakeholders say.
Illegal acts continue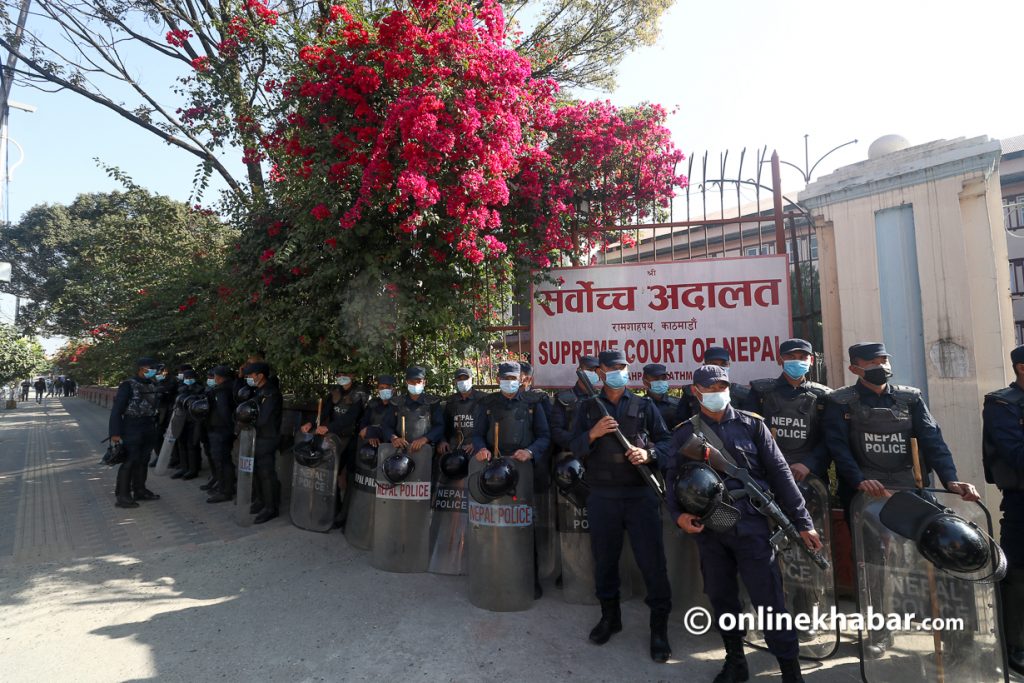 "The use of SLRs to disperse crowds is wrong internationally. But, to do that at the Supreme Court is wrong on so many levels. What was the Home Ministry and the Supreme Court thinking," questions senior advocate Satish Krishna Kharel.
But, this is not the only case.
On October 10, things got well out of hand in Rupandehi, the home district of Home Minister Bal Krishna Khand. Four people died after police fired shots to disperse squatters who were protesting.
The scene around the Motipur industrial area in the district was horrifying, says local Yam Lal Bhusal. "The squatters had built temporary houses in the area. It was the eve of Dashain and they could have destroyed it after Dashain. But, the police used excessive force needlessly and people died," says Bhusal.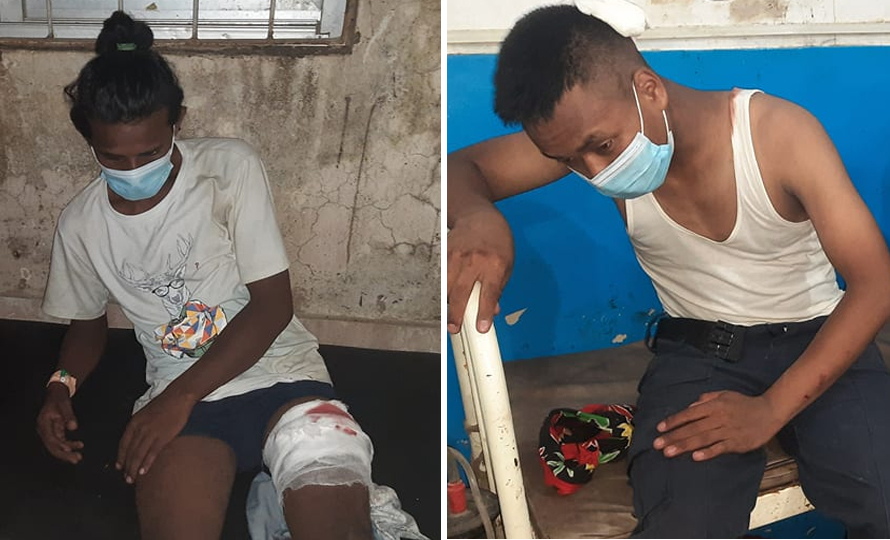 What makes things interesting is the Local Administration Act, 1971, only allows security personnel to use firearms when everything else fails. Even when they do, police officials have to give prior warnings to the crowd. Even when they do fire, the act states they can only fire below the knee. But, locals from Rupandehi say that no prior warning was issued before shots were fired as they say that the deceased people were shot in the head and chest.
There are so many cases of police using excessive force. Ever since the APF was formed during the Maoist insurgency, there have been many cases where people have been injured, or worse died, due to the negligence of the police force. Even though there are so many examples, this still continues even today.
A recent example of Birgunj is proof of this. On November 29, students from Gajendra Raj Joshi School were protesting because there was no teacher. After complaints, police arrived at the scene and used batons and tear gas to disperse the crowd.
"Why to beat them when they were protesting for a valid reason," says Milan Dharel, the executive director of the National Child Rights Council. "The law gives them the right to protest."
In 2018, Dr Govinda KC was staging a fast-unto-death for the betterment of medical education in Jumla. The state asked him to stop his hunger strike, but KC refused, and the KP Sharma Oli-led government forcefully brought KC back to Kathmandu.
In doing so, the police force had a small tussle with KC's aides who say they were beaten with sticks inside the hospital. The police also lied. To lure KC out of the hospital, they announced that a police officer had died in the tussle. KC, not wanting any more problems, said he would go to Kathmandu but when he arrived in Kathmandu, he learnt that the police had lied to him.
Morality out the window
The Local Administration Act, 1971, gives the chief district officers the permission to deploy force to control a situation if it affects the peace of the district. But before excessive force is used, the law clearly states that the CDO or people who work under him/her need to go to the incident site.
But, according to sources close to the Home Ministry, CDOs or their staff rarely go to these places.
"There was a time when CDOs would go to the field with us and monitor the situation. Now, there is no one from the district administration office," says former Nepal Police DIG Madhav Thapa. "When they don't get there, rational dialogues don't take place and anger takes over."
It is not that they do not get information about it. The District Administration Office is one of the first places to get information about an incident.
"But, they don't want to come and talk with the protestors. Only when the incident reaches a tipping point do they come. If they come forward before it starts, things can be handled smoothly," says an official at the Home Ministry.
That is what happened during the incident in Rupandehi. The district's CDO Rishi Ram Tiwari called a meeting only after people died and said he would talk to the government regarding relocating the squatters who were living in the industrial area.
The locals say that if the local government had decided that earlier, four people would not have died needlessly.
"Because there is hardly any investigation regarding these cases of using excessive force or even guns, the Nepal Police personnel hardly think twice about using force," says a senior international legal advisor of International Commission of Jurists, Mandira Sharma. "Unless there is a law that punishes the police, nothing is going to change."
Lack of resources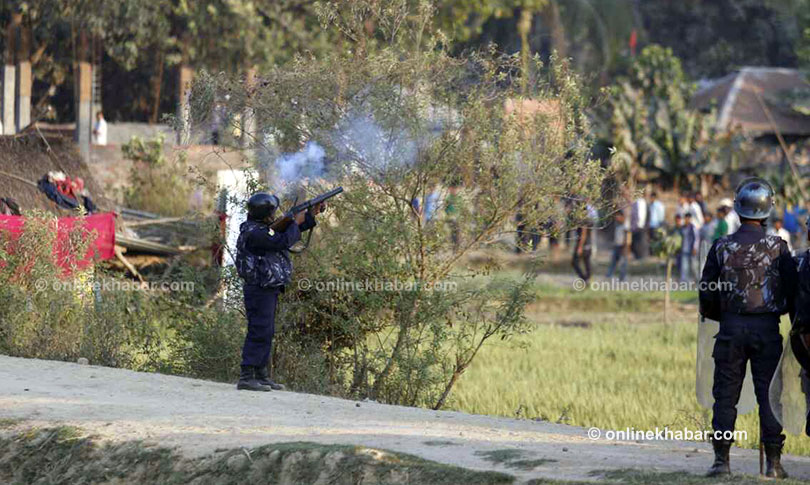 But, former Nepal Police DIG Hemanta Malla Thakuri says the police force does not have adequate resources to deal with crowds. He says even the batons they have are not ideal to control crowds.
"When the police deal with the crowd, we need to think about the safety of both the crowd and the police force. But, due to poor resources, we can't do that," says Thakur.
He says police should avoid hitting people on the head or bones, but lately, he has not been seeing the police being sensitive towards this as people have been injured on the head too.
Former DIG Thapa recalls an incident that took place in the 1990s, which he says Nepal Police should always keep in mind while dealing with crowds.
That time, Man Mohan Adhikari, Madhav Kumar Nepal along with 92 other MPs entered the Singha Durbar's restricted zone. The situation was getting tense.
"I was present there and had I started debating with the crowd, there would have been chaos. But I brought in 50 shells of tear gas and fired those. Soon, there was no one in the area," he says.
But now, security forces in Nepal do not have enough tear gas. The shells that were bought in 2006 are still in operation, says Thapa, adding there have also been examples of police using tear gas past expiry dates. Health officials say using these expired shells is very harmful to the human body.
Nepal Police spokesperson Basanta Bahadur Kunwar says as the personnel seldom use tear gas, things like that happen. But, according to officials, expired tear gas has been fired in Kathmandu too.
Even a 2016 report submitted by the Human Rights Commission states Nepal Police had used expired tear gas during the protest in Terai, where locals were demanding equal rights for Madhesis.
Defences and limitations
Since the Maoist insurgency, 19 people have died due to tussles with the police. "The number is low because we didn't use dangerous weapons. Had we used dangerous weapons, they would be higher," says Thapa.
Thakuri says that for a long time, Nepal Police only used rubber bullets. He says many people did not die during the 2006 movement due to the use of rubber bullets and baton charge.
"We fired rubber bullets even when the crowd injured one of our own, but hitting them on the head," says Thapa. "We used to remain calm even amidst chaos because this was a job."
But like tear gas, police do not have enough rubber bullets. A police officer says that as a result, they have to use SLR guns.
"We don't have an alternative," says the officer. "We don't have non-lethal weapons for these tense situations."
But, a former National Human Rights Commission member Mohna Ansari says that the defences police give when accused of killing are quite weird.
"One Nepal Police officer said he accidentally shot a person in the head after his bullet ricocheted off the ground, and hit the person on the head," says Ansari.
A senior police officer says the Nepal Police has also not been able to train its people to shoot people below the knee. "Rubber bullets are quite expensive and we haven't been able to afford them for training," he says.
Internationally, non-lethal weapons like tasers, pepper sprays and nets are used to control crowds. But, Nepal does not have these tools. "We don't have anything," says APF spokesperson Mandip Shrestha.
Nepal does have water cannons, but they have not been used as efficiently as it should. "We don't have enough water cannons. Ideally, it would be great to have one in each province, but sadly that isn't the case," says an APF official.
Nepal Police spokesperson Kunwar says it has bought five state-of-the-art water cannons to curb this. "We will purchase more when there is need," he says.
But, another Nepal Police official says Nepal's demographic is not ideal for these water cannons.
Lack of training
Ansari says Nepal Police personnel think all protesters are criminals. "They don't know how to make do with limited resources and that is a major problem," she says.
But, former DIG Thapa says this depends on who is leading the force. He says that if there is a good commander in charge, things rarely go out of hand.
"If I was at the Supreme Court, I'd use civil police to solve the issue because when people see police with guns, things can go bad," says Thapa.
How poor leadership from police worsens the situation is evident from the Tikapur incident of 2015. Eight police officials, including an SSP, died in the tussle with the protesting Tharus. Investigation proved that the incident got out of hand due to the poor leadership of SP Laxman Bahadur Singh.
"Nepal Police officials were ahead of officers from the Armed Police Force. The first fault lies there," says an official who was a part of the investigation team. "When Nepal Police's SSP died, the commander wasn't even present there."
Unaccountable CDOs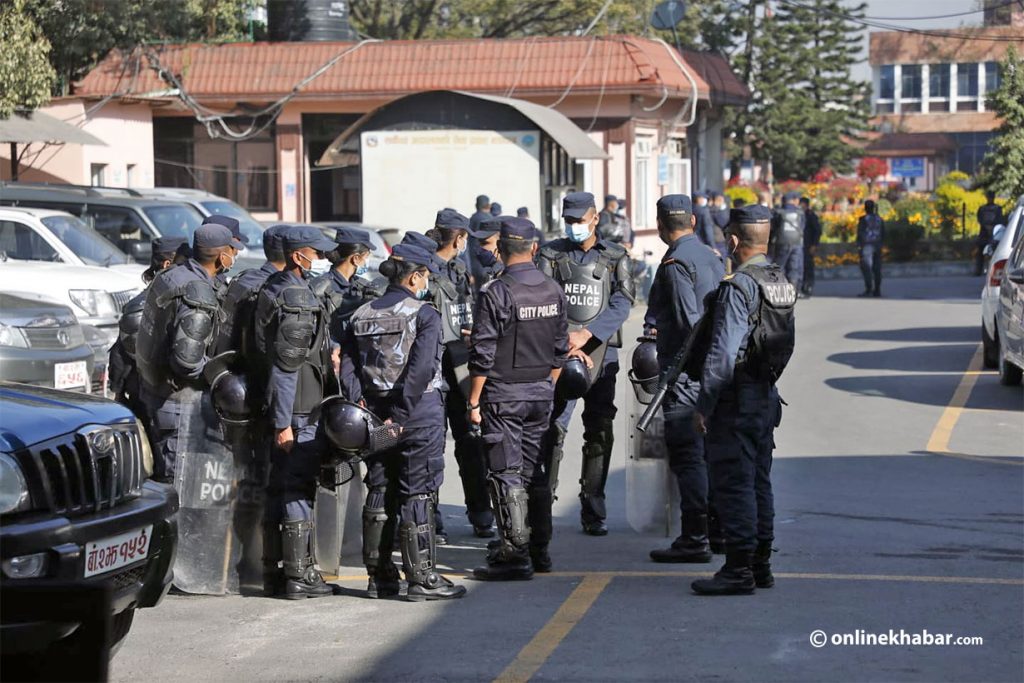 The CDOs should be the first commander, believe various stakeholders. In the past, a command post would be set up near the conflict area, after which the CDOs would deploy security personnel.
"The CDOs had to undergo similar training that the police went through. Because they were well trained, they had the know-how to lead the police force during times of conflict on the streets," says former home secretary Dwarika Nath Dhungel. "But, the CDOs that are appointed today are not trained and don't know how to act during these troubled times."
Even though the law states that the first respondents to these conflicts should be Nepal Police, the CDOs time and again deploy the APF.
"This creates more tension as people will feel that the APF personnel are there to attack them. Only if Nepal Police fails, the APF should be deployed," says an official at Nepal Police.
Even though the Armed Police Force Act does state that high-ranking officials can deploy them during protest and tension, it was for a short time period. But, using that law, the CDOs have been deploying APF officers as they choose.
A senior officer at the APF says that officials are misusing the force. He says the APF should only be used during crises or when Nepal Police cannot deal with a situation.
"In India, when the special task force is called, people are traumatised because they know that the STF means bullets. If we were used like that, we would be able to deal with situations in a better manner," he says.
But in Nepal, the APF is taken for granted as the personnel are deployed by anyone and at any time.
This is why senior advocate Satish Krishna Kharel wants the Local Administration Act amended. He says that the act is too archaic and at a time when technology is peaking, the act just does not make sense.
"At a time when we should be using tasers, we're using age-old guns used to guard the border. It's quite sad," says Kharel.