On March 29, 2021, Chularam Tharu, 35, from Janaknagar, Geruwa rural municipality in Bardiya of western Nepal, was on his way to his paddy field to irrigate it.
It was 5 am in the morning, dark and extremely quiet. After releasing the water, he went to a nearby bush to defecate. As he neared the bush, he heard a noise. Before he could react, a royal Bengal tiger jumped from the bush behind him and attacked him.
"I yelled," he recalls in his hospital bed. "For a moment I thought I was going to die. But, my cry was heard by the locals who came to my rescue. I'm alive thanks to that."
Even though many say that Tharu was lucky to have survived this, the attack did leave a mark on him. The fight with the wild beast meant he had injuries on his head, ear and back. Having seen that, the locals rushed him to Nepalgunj Medical College and Teaching Hospital, where he is being kept in an intensive care unit.
"He's conscious and doing okay. The wounds are bad, but we're trying our best to ensure that he survives," says the hospital's Assistant Director Dr Roman Kidwai.
This attack on Tharu is not a solitary incident. Humans and tigers have been at odds ever since humans started to settle around the buffer zones of national parks across the country. In the past year alone, there have been over a dozen cases of such incidents. While Tharu was lucky to have escaped, 10 people have died while eight have been seriously injured around Bardiya and Banke national parks alone in the past year.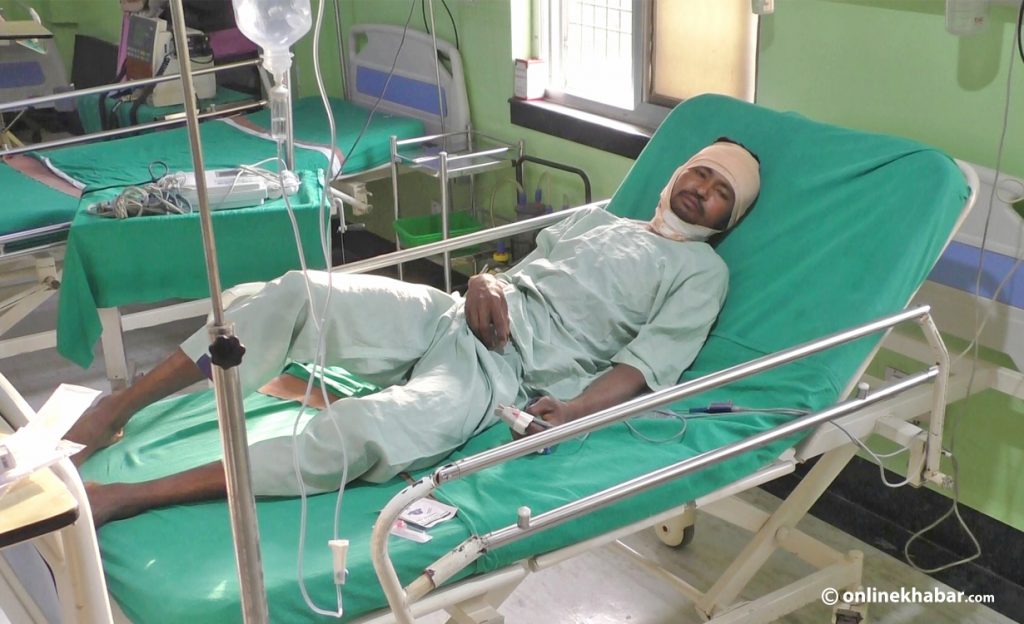 People in peril
As incidents like this have become common, people of the villages around Madhuban, Geruwa and Thakurdwara are living in fear of being killed by a tiger. Incidents in areas surrounding the national park like Geruwa and Khata corridor along the East-West Highway have escalated in the past few years.
The people of these areas have time and again asked the government to help them take care of the tigers in the area. But, to date, there has been little to no help from the government, complain locals.
"Earlier, it was elephants and rhinos," says Amar Bahadur Tharu. "Now, it's tigers. Every morning and evening, we live in the fear of being attacked by them whenever we go out of our houses. We feel we are in danger all the time."
He says that the people have been constantly calling on the national park officials to take the tigers under control and take them away from their areas. After regular complaints, a team deployed by the Bardiya National Park and the National Trust for Nature Conservation (NTNC) has been identifying the human-eaters and taking them under control.
Since January 2021, three of these beasts have been taken under control from the Geruwa village and the Khata corridor and taken to holding centres in Bardiya and Banke. However, on March 22, one of these escaped again. The tiger that escaped, to date, has killed seven people.
Naresh Subedi, a tiger expert from the NTNC, says that out of the seven, five were from the Khata corridor and two from villages near the border between India and Nepal. The animal, according to Subedi, is a five-year-old male who previously lived with his mother. After being separated from his mother, the tiger had been living in the Khata corridor.
After the tiger's escape from the holding centre, the locals of Rapti Sorani rural municipality in Banke have been living with fear. No one goes out after dark as the national park has told people to stay alert and vigilant.
Similarly, the tiger taken under control from the Geruwa river area is old and injured, say officials. They say that the tiger got injured after fighting with another tiger for territory, due to which it fled the national park drifting towards the community forest area near the human settlement where it gets easy food.
Subedi says that as tigers get old, they lack the energy to chase down preys and instead choose to attack domestic animals and human beings. This tiger is being kept at the holding centre in Bardiya National Park.
Human-eaters who are normally taken under control are either kept at a zoo or are released in an area where the tiger population is low. A radio collar is attached to these tigers before being released to monitor them.
Habitat-inhabitant proportion
As tiger attacks in the region have increased, locals are questioning if this is to do with the rising number of tigers in the area. However, experts say that while it might be a reason, the blame for the attacks cannot be entirely given to the rising tiger numbers as there are other factors leading to the rise in attacks.
A total of six tigers live in a 100 square-kilometre radius of Bardiya National Park. Just across the border at Jim Corbett National Park in Nainital, which has a similar habitat to that of Bardiya National Park, 14 tigers live within a 100 square-kilometre radius. According to Jim Corbett National Park, the tiger population in its 1,288 square-kilometre area is 252.
Even though the tiger density at Jim Corbett National Park is more than double that at Bardiya National Park, there have not been many incidents of tigers attacking humans. There are 108 tigers in Bardiya and Banke national parks, which is only 300 km away from Jim Corbett National Park.
Bardiya National Park is spread across 968 sq km while Banke is spread across 550 sq km. If you total both national parks, the total area is 1,518 sq km, which can accommodate a total of 175 tigers.
Experts say that an additional 60 tigers can easily be accommodated in these national parks. They say that the national parks are ideal for tigers as the number of sambar deer, hog deer, wild boar and spotted deer, which are its primary sources of food, is quite high.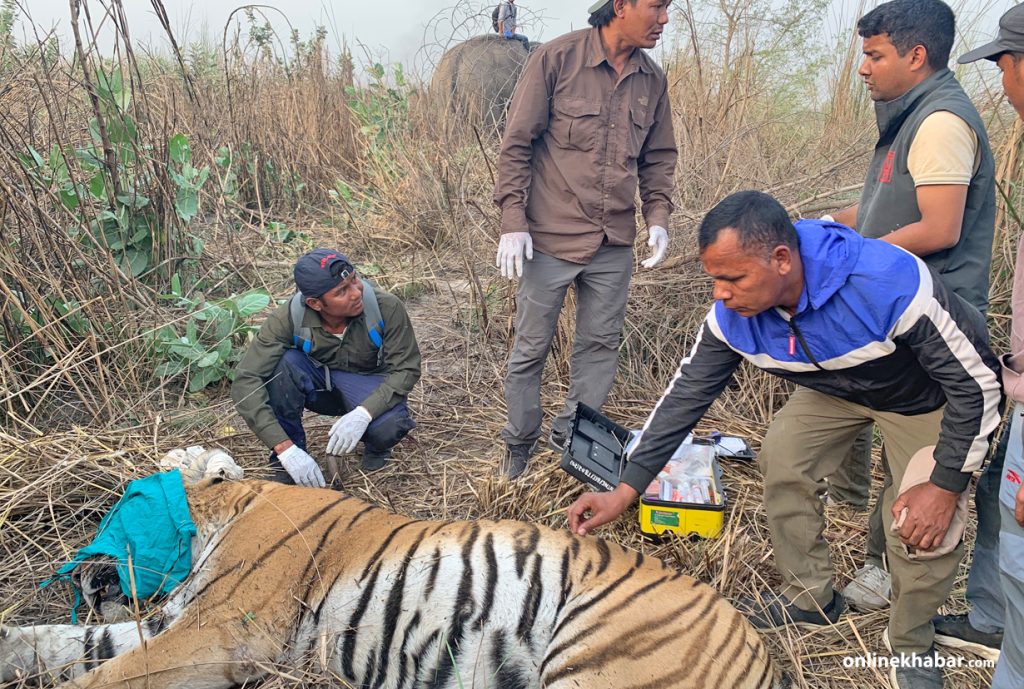 Tigers on the road
Recently, tigers are being seen in areas beyond the community forests and buffer zones. In the past year, tiger sightings have increased in the highways surrounding the national parks across Nepal.
However, experts say that this is normal as the highways go through a core area of the national parks.
With the country locked down due to Covid-19, the highways did not see much traffic. Since then, tiger sightings along the 14-km stretch of the East-West Highway from Amreni to Karnali in western Nepal has significantly increased.
On February 27, 2021, an ambulance hit a tiger, near Budhikhola, injuring it in the process. Similarly, two tigers had died after being hit by a bus and a car around Amreni on the highway.
These were the news of the tigers being killed. There have also been cases where they have killed people on the highways too.
On January 1, 2021, a tiger attacked a woman on the same highway. The woman was travelling to Chisapani from Nepalgunj with her son. They had stopped on the highway to take a leak when the tiger emerged from the jungle attacking and killing the woman.
On March 27, 2021, an auto-rickshaw that was going to Thori from Birgunj was attacked by a tiger. The tiger's attack was so strong that the driver could not control the rickshaw as it tilted sideways. But, the tiger did not attack the people on board as it ran away to India, says Police Inspector Ashok Sah.
The place where the tiger knocked down the auto-rickshaw is the area where animals like bears, elephants and tigers roam on a regular basis.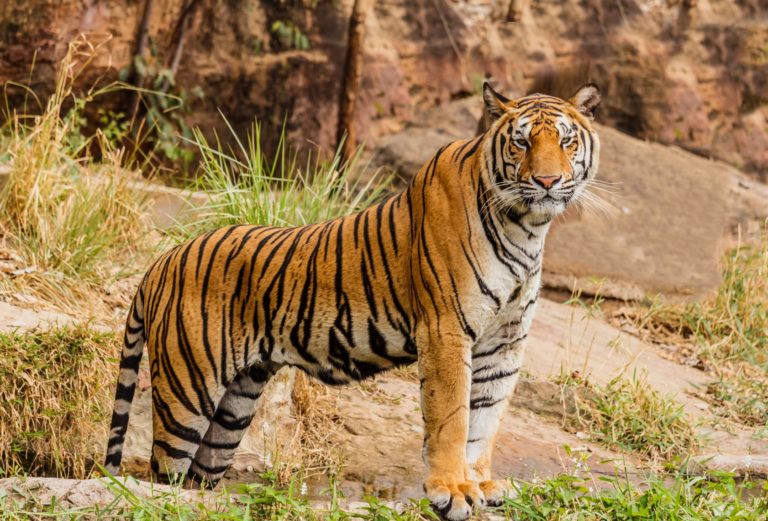 Call for caution
As the cases of tiger attacks have increased, the Bardiya National Park and the Bardiya Division Forest Office have requested people not to enter the forest to collect fodder and wood alone. They have requested people to go in groups if they have to.
The national park on January 2, 2021, also released a notice that people on motorbikes, foot and bicycles were allowed inside the core area of the national park from 8 pm to 6 am. Time cards were given to vehicles that ply the highway that passes through the core area.
The national park implemented the time card rule after recurring cases of wildlife being killed by over-speeding vehicles. Those taking the highway on the Rammapur-Sainawar section have to complete the stretch in 22 minutes and the same goes for the Amreni-Karnali section.
"We've set a speed limit of 40 km/hour," says a national park official.
There have also been calls by locals to make wildlife-friendly infrastructures along the Karnali-Chisapani stretch of the East-West Highway and Khata corridor area of the Postal Highway where tigers and other wild animals roam free.
This has left locals fearing for their lives as tiger attacks continue to increase while wild elephants continue to destroy crops.
The royal Bengal tiger is an endangered species, which is why this has become a both national and an international issue. A large number of tourists, both domestic and international, go to Bardiya in the hope to see a tiger.
However, people's lives are more important and cannot be taken lightly under the name of wildlife conservation, says Navaraj Neupane, a former president of the Shreeramnagar Forest User Committee.
He says that the number of tiger in Bardiya National Park has been on the rise as poaching has completed stopped in the national park. In the last tiger census (2018), 87 tigers were found in the national park. The number in 2013 was 50. As the number of tigers has risen, so has the number of cases of tiger attacks.
On December 21, 2016, a tiger was killed after a bus hit it. Cases of tigers dying continued up to 2018 when one was found dead near an electric fence near Geruwa village along the Nepal-India border. Cases related to poaching, however, have not been reported since then.
Meanwhile, the locals, who use these road sections on an everyday basis, have also asked the national park to cut the tall grasses on the left and right sides of the highway.
The Department of Roads has been given the task to clear the tall grasses on the left and right sides of the highway. Even though this has been its job for a while, the department doing nothing means the side of the roads are full of tall bushes, trees and grass which cover the forests, where experts say tigers normally hide.
When asked why they have not cleared the bushes from the side of the road, the department told Onlinekhabar that it does not have the budget to do so.
A former warden of the Bardiya National Park, Ramesh Thapa says that wild animals are often found in these bushes. He says that while most run away after hearing the sound of vehicles, there are some beasts that attack out of fear.
"We need to cut down trees, bushes and grass along the highway until we can build proper infrastructures. Unless we do that, incidents of wild animals killing humans, will continue," says Thapa, adding plans need to be made to construct an underpass or an overpass for wildlife in areas where a highway passes through national parks.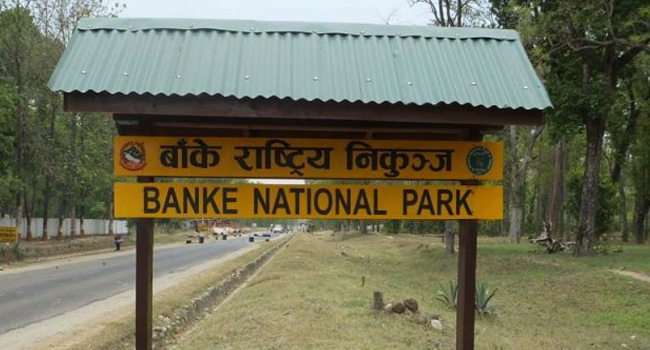 Root causes
The main situation a tiger attacks humans, according to Thapa, is when it is with its cub, when it is eating and when someone enters its area. During these three instances, the tiger gets very defensive and attacks anyone who comes near, says Thapa.
"Apart from these three situations, a tiger rarely attacks anyone," he says.
Out of 87 tigers in Bardiya National Park, only four have been found to have attacked or killed humans. One of the three is an old tiger who has lost its territory to a young tiger and now resides near the Geruwa river and the community forest near the river.
This tiger, due to its age and injures, cannot hunt and resorts to hunting domestic animals and when possible even humans, say wildlife experts.
The tiger in the Khata corridor that attacks and kills humans, however, is young and has been termed a man-eater. Other cases of tigers attacking humans, according to experts, are nothing but an accident.
People, who see a tiger on the highway, often stop to take pictures and videos. This disturbs the tiger as it feels irritated and then resorts to attacking people to drive them away, say experts.
Wildlife conservation experts, even though they have been studying the areas on how to deal with human-wildlife conflict, are yet to come up with a concrete solution.
With the tiger population continuing to rise, fights between young and old tigers for territory and female counterparts are also rising. In these cases, the old tiger normally loses and has to give up territory and locate elsewhere. They normally choose the buffer zones near human settlements as they get easy food in these areas. These tigers, according to Subedi, are also very aggressive and when they see a human, they normally feel threatened which is why they attack.
Former warden Thapa says wild animals are also being disturbed and are coming out due to constructions in the national park and use of bulldozers and excavators.
Costs and compensations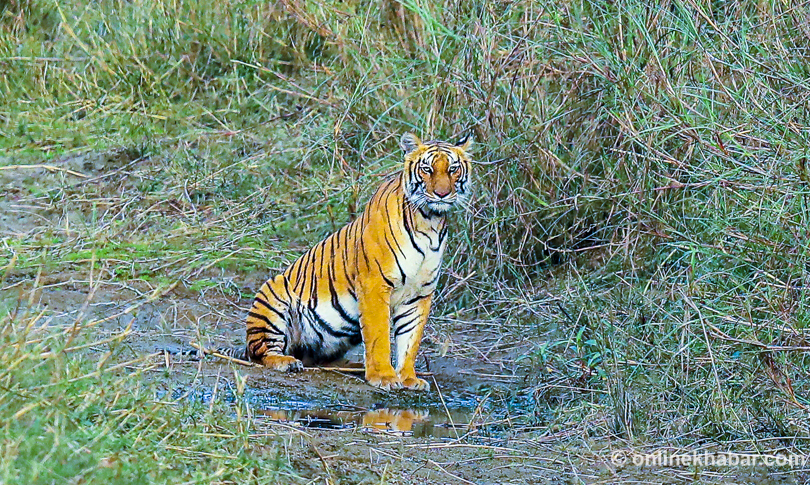 The government has been giving Rs 1 million to those families whose members die due to tiger attacks. Those who suffer minor injuries are provided with Rs 10,000 whereas those who suffer critical injuries get up to Rs 100,000.
Bardiya's local governments have formulated a work plan to save the lives of both humans and wild animals and stop the human-wildlife conflict. Putting electric fences between the national park and buffer zones, helping out locals with treatment and providing compensation to people who have lost crops due to wild animals are some activities being done by the local governments.
To understand tigers and their behavioural patterns, a radio collar has been put on an eight-year-old male tiger. This is the first time it has been done in Nepal.
A month since that, on March 29, another satellite radio collar has been implanted on a female tiger. National park officials say that through these collars, they aim to study the movement of the tigers, says Rabin Kadaria, a conservation officer of the NTNC's Bardiya Conservation Programme.
After monitoring the tigers for 91 weeks, the radio collars will be studied via satellite and the VHF technology.
The Global Tiger Summit held at St Petersburg, Russia, in November 2010, made a goal of doubling the population of tigers in Nepal. That goal became a reality in 2018 as the number rose to 235 from 121 in 2010.
According to the Tourism Ministry, these data attracted a lot of tourists as nearly 60 per cent of tourists who came to Nepal during that year visited many national parks in the country, primarily looking for tigers. In 2019, 1.15 million tourists came to Nepal, out of which over 700,000 visited at least one national park or conservation area.
Even though Nepal has received plaudits for doubling tiger numbers, questions regarding human-wildlife conflict and how to solve it still lingers like a tiger in the tall bushes of Bardiya National Park.