Kumar Thapa debuted for Nepal's national team in 1998 and played for the squad for five years before he decided to quit due to a spat with then ANFA boss Ganesh Thapa.
Thapa, who recently passed his grade 'A' coaching exam, returned to the national scene recently, after 15 years, after he was appointed head coach of the women's team, ahead of the South Asian Football Federation Women's. The former midfielder had said the only team that posed a challenge to Nepal was India. Ever since the SAFF women's tournament began in 2010, India is the only team Nepal has not defeated, not even once.
Thapa was optimistic that his side would beat India this time, but the South Asian giants thrashed Nepal 3-1 in the semi-final and went on to win the title. Onlinekhabar recently talked to Thapa about his experience coaching the national team. Excerpts from an interview:
How was Nepal's journey to the semi-final?
During the group stage of the tournament, all matches we played were one-sided. Our defenders and goalie were hardly troubled. I knew that when we play India, all that was going to change. So even when our defenders were not challenged, I had instructed the girls to play as much as possible on our part of the ground.
Could you describe to us the semi-final match against India? 
We expected to meet India in the final, but they played a 1-1 draw against Bangladesh in the group stage, and finished the first round as runners up in the group. As winners of our group, we had to play the runners up, and that is how we had to face India earlier than expected.
I remember clearly that our team was playing good football during the first half of the match. I think both sides made 2-3 attempts at the post in the first half. We had better possession of the ball and we could have scored. Things were going according to plan.
We should understand that if the opposition scores withing the first 10 minutes of the game, it is difficult for any women's team to make a come-back. My experience tells me, that if a woman's side concedes in the first 10 minutes, the opposition scores at least 5-6 goals.
We were fortunate that we did not concede in the first 10 minutes of the match. But India scored in the dying moments of the first half. What cost us the most was that our midfielders are not very tall. They played long balls, and India took advantage of this. We conceded the first goal in a counter-attack.
During the break, I told the players to play their natural game. I knew that a 1-0 scoreline is the same as a 5-0 scoreline in terms of win and loss. So I decided to be more aggressive, and added one more striker to the squad. During the first half, we had adopted he 4-2-3-1 formation while in the second half we went of a 5-3-2. We even managed to equalise with a change in strategy.
Then what happened? Was the referee's booking of Sabitra Bhandrai affect the outcome of the match?
Our main striker Sabitra, who is more of a physical player, was handed a yellow card early in the first half of the match. An Indian player had tackled from behind, that too inside the box, but Sabitra was penalised. I believe she was then under mental pressure to not to get another yellow. This has a telling effect on a player like her.
So, what happened was that by the 75th minute, we had equalised. In the 82nd minute, India capitalised on a corner, and I realised that the tournament was over for Nepal.
Do you think the players could not adjust to the new strategy you adopted in the second half?
I would have to concede that I could not properly explain my strategy to the girls. It was also because they are used to playing under the traditional formation, and it is hard for them to think beyond that.
Why do we always lose to India, this is a question all Nepali fans are asking these days.
We last played India 10 months ago. The only international match we played after that was against Malaysia. If you look at the domestic scene, there is a one-week-long league and then there is one CoAS cup. How can we expect all this to help us build a side capable of beating India?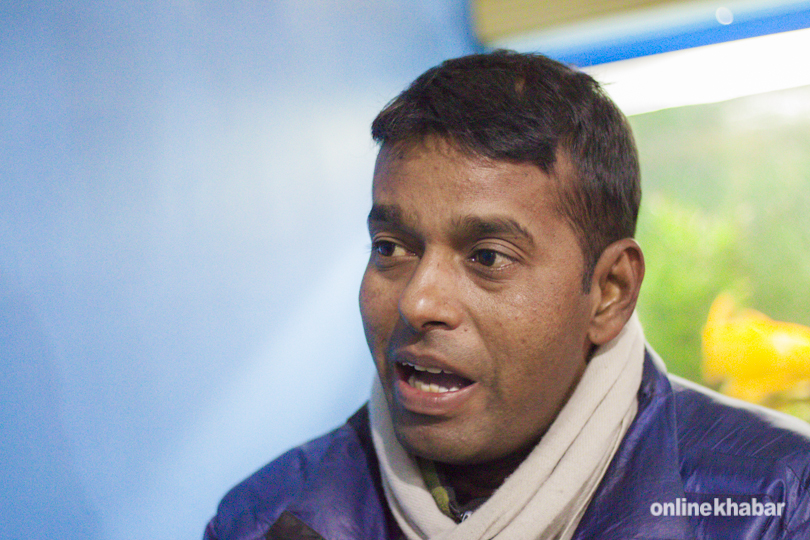 You have been saying that the future of the women's game is brighter than that of men. Why so?
If you look at the FIFA ranking, Nepal's men's squad are ranked near the bottom. But Nepali women are ranked around 105th in the ranking. India is ranked 51th. If we can challenge India, it would not be difficult for us to be ranked at least 50th in the world. If FIFA's decision to have a 48-team World Cup is implemented for the women's game also, we would be close to qualifying! Now tell me, when can Nepal's men's squad even dream of qualifying for the World Cup?
What do you think administrators of the game need to do to promote the game in Nepal?
The first thing we need to do is make the women's league stronger. What we have right now is a U-14 national squad and a national squad, we need teams in between as well. Why don't we have a U-23 team, or a U-19 team? The second thing we need is a role model for young girls to look up to. If we have role models, they can inspire young girls to take up the game, and dream of playing for the national team.
There are many other things that we need to do. But these things could give us a start.