A new-look Nepal cricket team led by Rohit Paudel will play their first match of the ICC Cricket World Cup League 2 today as they take on hosts Namibia in Windhoek.
Here, Nepal will take on Namibia and Scotland until December 8 as they hope to make inroads in the league table to stand a chance at qualifying for the ICC Cricket World Cup in India in 2023.
Currently second from the bottom with 17 points, Nepal face a tough battle to reach the global qualifiers of the World Cup where the top three teams will take part. So if Nepal want to make inroads, they will have to will all four games in Namibia.
But, past records do not paint a good picture as the Nepal cricket team only managed to win one out of the four games played against the same two opponents in Scotland in July.
A lot has changed since the series. Both the captain and coach have changed as have some members of the team. The environment of the Nepal cricket team is also different as many are keeping a keen eye on how the team fare against Scotland and Namibia.
Does the new captain mean new hope?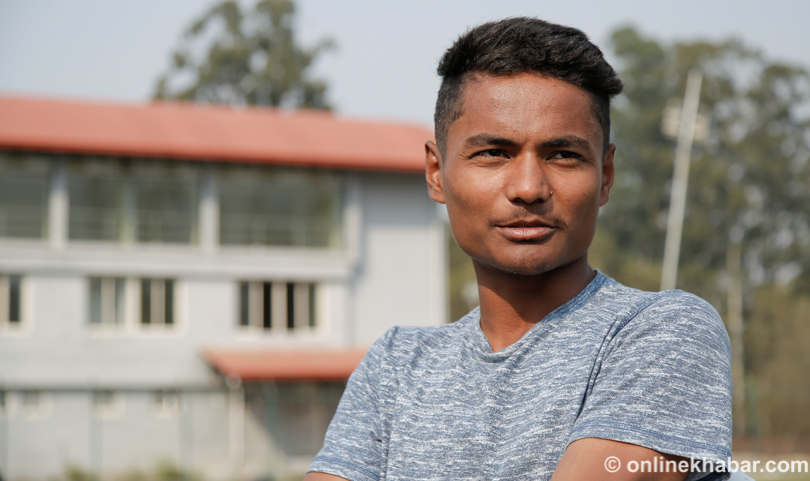 Following the rape charge against former captain Sandeep Lamichhane, the Nepal cricket team are going into the four matches with Paudel as the captain. Lamichhane led the team in three of the five series in the ICC Cricket World Cup League 2.
Nepal are likely to miss Lamichhane the bowler more than Lamichhane the captain as he took 42 wickets in 20 League 2 games. Even though Karan KC has a good record of picking up 37 wickets in 19 games, there is doubt among many regarding who will take wickets during the middle overs of games.
In the recently held Ssixers ODI Series against the UAE, Nepal's middle-over bowling looked weak. Despite Lalit Rajbanshi and Sagar Dhakal doing well along with Kushal Bhurtel, the Nepal cricketers were unable to pick up regular wickets during the middle overs. Despite Nepal winning the series 2-1 and the bowlers doing a decent job, it will be interesting to see how they will perform away from home and how Paudel will captain his troops.
How do they bat away the bad batting?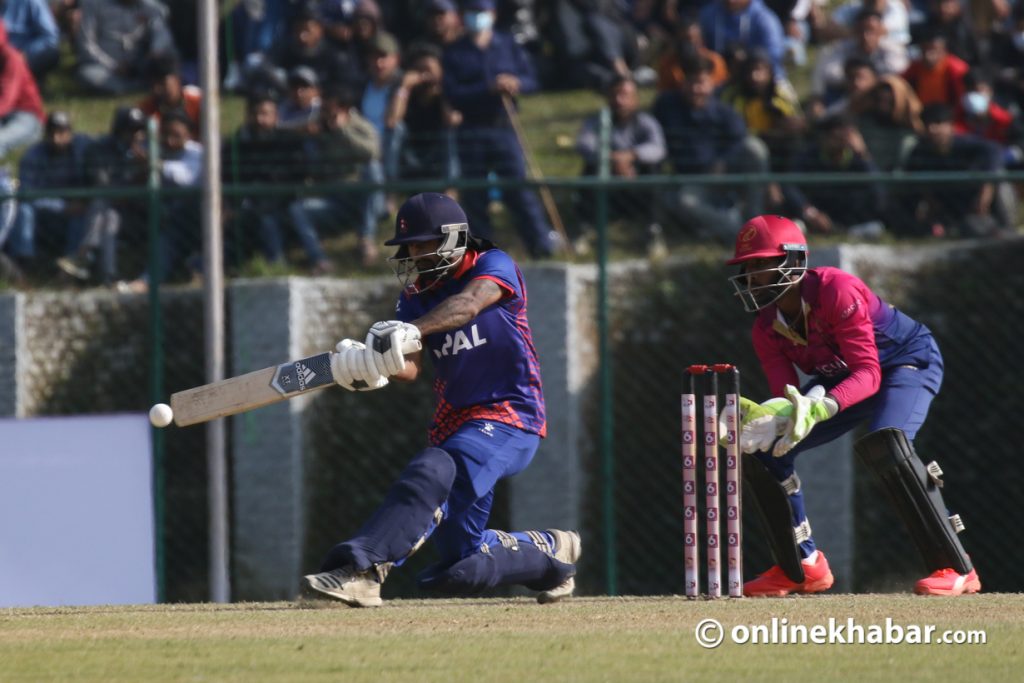 Nepal's coach Manoj Prabhakar said the series against UAE was like a practice series before the League 2 series in Namibia.
In the first match, Nepal's batting failed as the UAE beat Nepal by 84 runs. Following that loss, the batters did show grit and they won the second and third matches by three and six wickets respectively as the Nepal cricketers won their first bilateral series at home.
Before leaving Nepal, coach Prabhakar said the team did well in the series against the UAE and added it was good preparation for the Namibia tour. That said, he said as the team were still young they were still susceptible to mistakes and that he was working with the players to reduce these mistakes.
Along with reducing mistakes, captain Paudel said the team needed to bat well and they had learnt a lot from the UAE series.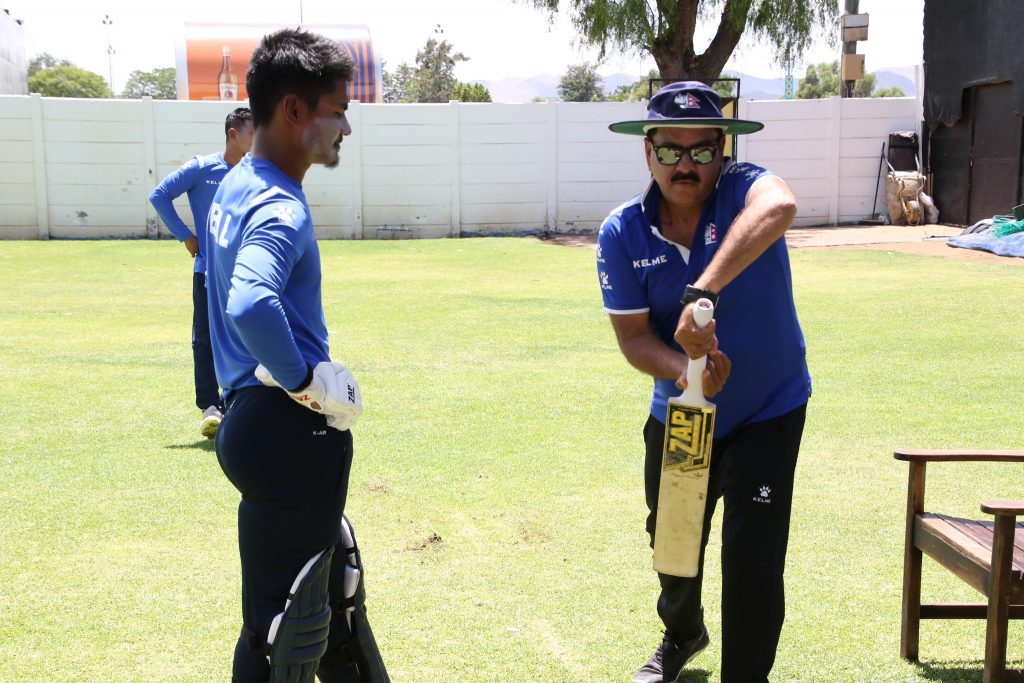 Openers Arjun Saud and Aasif Sheikh along with Gyanendra Malla and Dipendra Singh Airee all scored half-centuries in the series, which is a good sign.
The Nepal cricket team then even went to Delhi to play a few practice matches as they could not practice at the TU Cricket Ground due to a u-19 cricket tournament taking place there. Nepal lost the first practice game in Delhi despite captain Paudel and Airee scoring centuries. Nepal won the second game thanks to a superb bowling display from Sagar Dhakal. How much will this help in Namibia? Only time will tell it.
Namibia are the informed team as they won three out of the four matches they played against the USA and Papua New Guinea. Scotland are not a slouch either as they recently returned after playing the T20 World Cup in Australia.
What are the other challenges that could hit hope?
The Nepal cricket team have seen a host of changes since the Scotland series. Following a disappointing series, Pubudu Dassanayake resigned and was replaced by former Indian allrounder Manoj Prabhakar.
Prabhakar's approach to the game was different from Dassanayake's. Former captain Gyanendra Malla was recalled to the squad, but destructive opener Kushal Bhurtel was dropped and replaced by Arjun Saud. Both Malla and Saud played well in Kenya and impressed Prabhakar who has once again included them in his team to take on Namibia and Scotland.
Basir Ahmed, Adil Alam, Binod Bhandari, Dev Khanal, Kishor Mahato and Pawan Saraff, who were part of the Scotland tour, miss out on the Namibia tour.
Replacing them are Gulshan Jha, Nandan Yadav, Sagar Dhakal, Hari Shankar Sah and Lalit Rajbanshi. Prabhakar expects Jha, Airee, Bhurtel and Sah to perform with both bat and ball.
The current Nepal cricket team have four specialist batters: Paudel, Aasif Sheikh, Malla and Saud. Saud and Aasif are wicketkeepers too. Airee will also have to play well for Nepal to stand a chance at winning games in Namibia along with Bhurtel who will likely be used as a finisher in this series too.
This is going to be tough series for Nepal. Even though Nepal are familiar with conditions in Namibia thanks to the different series they have played there, the team will want to do better than what they did in Scotland.
Former captain Gyanendra Malla says the preparation of the teams has been good and they hope to do a lot better than the Scotland series when they lost three matches.
"Our aim is to win three out of the four matches. That's the challenge we've given ourselves and we hope we can achieve it," says Malla.
---
This story was translated from the original Nepali version and edited for clarity and length.