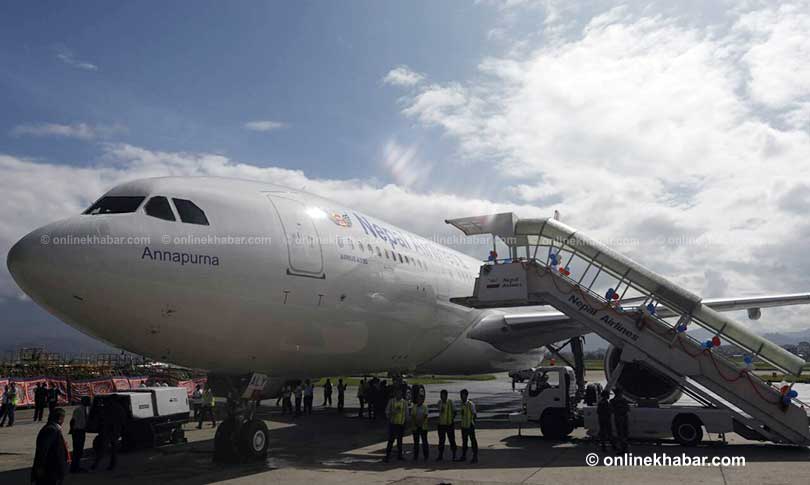 Kathmandu, October 28
Nepal Airlines is yet to put its two new wide-body aircraft to optimum use, four months after the state-owned company welcomed its first A330.
The company had said that the new aircraft would be used to launch direct flights to Korea, Japan and the UAE. However, the two new jets have not received permission to fly to any of those destinations. NAC is flying the jets to destinations such as New Delhi, Doha and Bangalore, suitable for narrow-body aircraft.
"When the NAC approached the Korean and Japanese governments before the aircraft were procured, they did not believe that the company could procure the two aircraft and refused to start the registration process," said a government source. "Now that the planes have arrived, the company needs to start negotiations from scratch," the source said.
The underutlisation of the two wide-body aircraft costs the NAC pretty penny. According to sources, the company is losing upto Rs 250 a month because its wide-body jets cannot fly far. The company would have earned up to Rs 300 million if it could fly the aircraft for 16 hours a day. However, the A330s are only flying upto eight hours a day.
NAC's growing list of rejection
The state-owned company tried to seek permission to fly to Incheon and Henada Airport in Japan, but both Korean and Japanese authorties are skeptical about Nepal's air security record. South Korea has said it would monitor air safety in Nepal, but has not sent at team to Nepal. The NAC also approached Guangzhou Airport for permission, but Chinese officials rejected the proposal saying they were short on slots. The company is now looking at Shanghai.
Meanwhile, NAC's spokesperson Ashok Sigdel says the wide-body aircraft are in operation, regardless the distance they cover. "The aircraft are in operation and as long as this continues, we are not losing money."