Nawayug Shrestha is, without any exaggeration, the most-talked about footballer in Nepal at the moment. His treble during the semi final of the Banga Bandhu Cup, and again another treble during the semifinal of the South Asian Games football, has made him the star Nepali football fans were yearning for. Onlinekhabar recently talked to the army man on life, love, and of course football. Translated excerpts: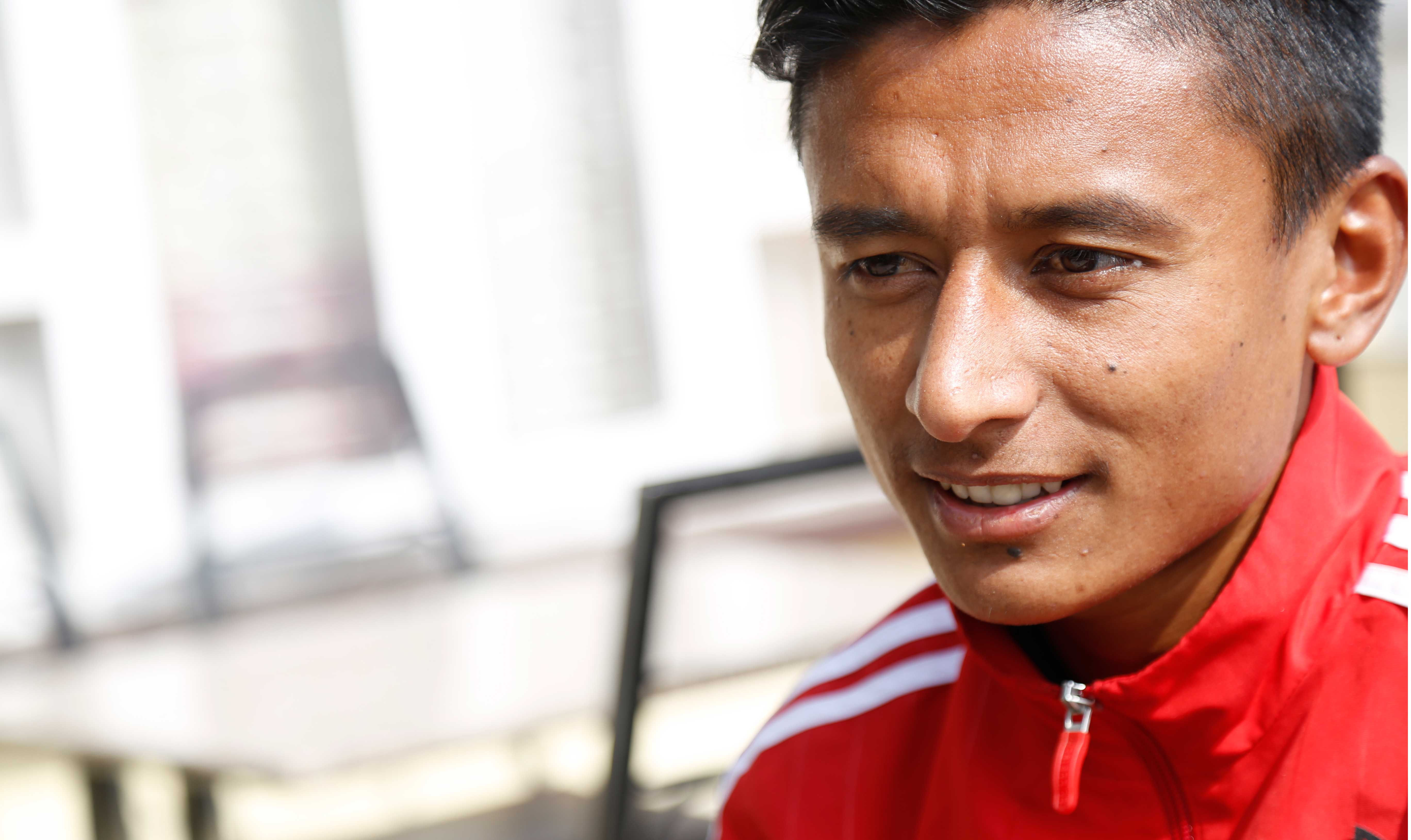 Do you like to call yourself an army man or a footballer?
I am a Nepali army man before I am a footballer.
Could you tell us about your family, and school days?
I was born in Mangalbare, Ilam in 1990. Although my father was a teacher, he was very much a football lover. My dad even used to play district-level football, and where ever he'd go, he'd come back with a football for me. That is how I was introduced to football.
Ever since my school days (I went to Sunrise Academy, a school in the neighbourhood), I used to take part in inter-school games. I was the leading goal scorer for my school. When I finished sixth grade, my dad sent me to Bhanubhakta School ( a government-run school). He did that because the then Maoist party had said that government school teachers would not be allowed to send their children to private schools.
How did that change things?
I had no qualms about changing schools because I had little interest in books. I still remember my dad yelling at me. "Only football will do no good. You need to study," he used to say. I used to smile at him whenever he'd say that.
I passed my SLC, but football was what I was after. In Mangalbare, there was a club called Tribeni Club. The club used to organise junior football tournaments. I learnt the basics of football at the club.
I was part of the team that won the inter-district U-14 football tournament organised by ANFA in 2005. We won the trophy again in 2006.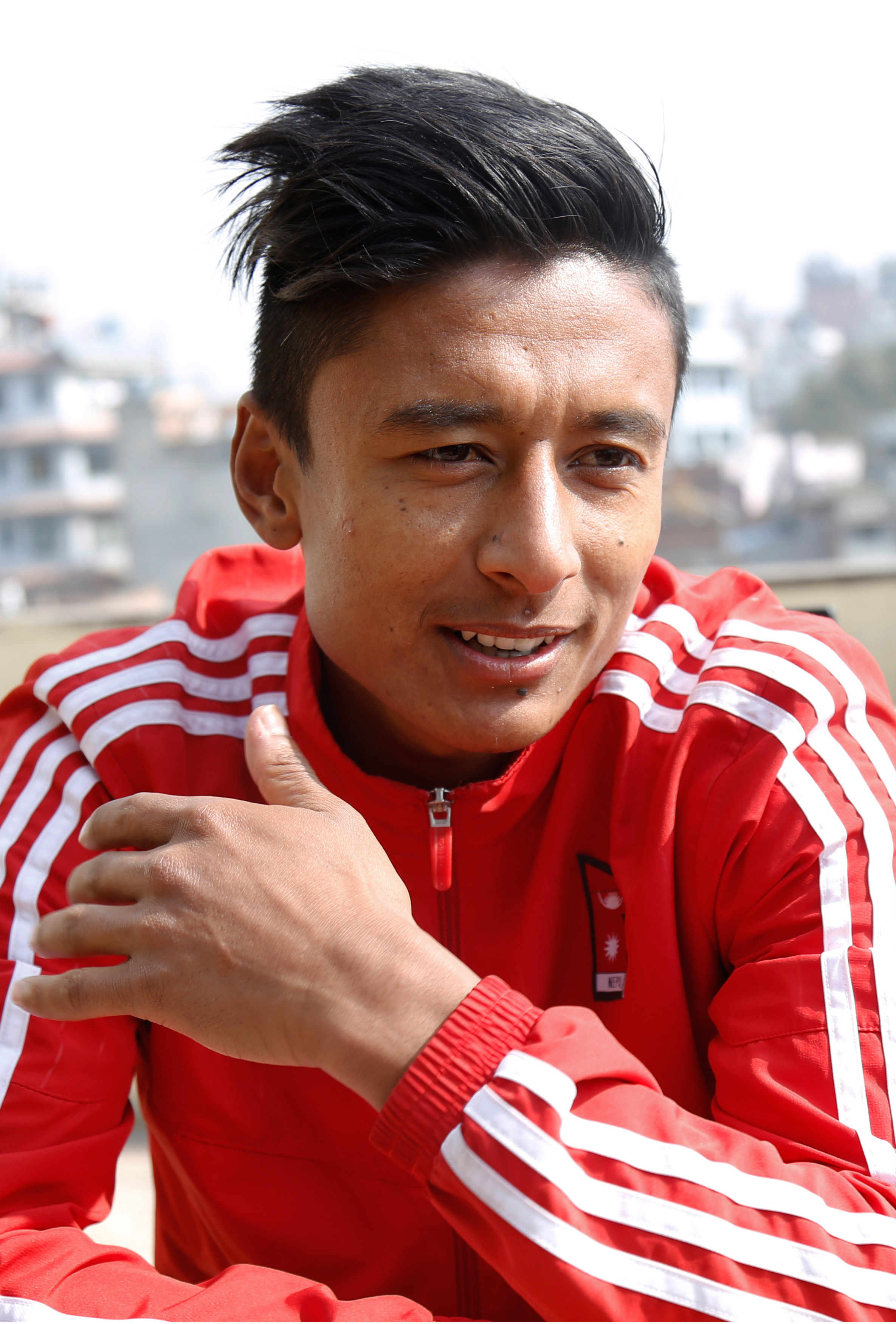 When did you first come to Kathmandu?
I came to Kathmandu when I was studying Plus 2. I quit everything and came to Kathmandu to take part in the U-16 national tournament. But for some reason, the tournament did not happen that year. But I did not want to go back home, I wanted to stay in Kathmandu where there were better opportunities for an aspiring footballer. I don't know how but after a few days I found myself practicing with the Armed Police Force footballers. Then I was training with the C-divison Club Tokha.
"I don't know how but after a few days I found myself practicing with the Armed Police Force footballers."
After a few days, Himalayan Sherpa's Karma Tshiring spotted me, and I joined the B-division club. But there I was limited to the bench, I did not get to play much. Meanwhile, I also could not pass the Grade 12 exam.
How did you join the army?
I was thinking of going home when a friend suggested that we go to Dhankuta to try and get selected in the national army. At that time, I was not sure whether my dad would agree to that. But later, my dad opened up to the idea.
To tell you the truth, I joined the army so that I could play football. But now, I like to call myself an army man, rather than a footballer.
When did you debut for Nepal?
It was at a friendly with India in Pune. I could only play for 25 minutes. After that, my performance at the 2015 SAF Championship was also below average. After that, we played the Banga Bandhu Cup. We were determined to reach the semis. Winning the cup was beyond our imagination, and getting a hat-trick was beyond my wildest dreams.
How are you coming to terms with your stardom?
When I was on Facebook the other night before going to bed, I was flooded with friend requests. I have not been able to respond to all requests by now.
Your favourite team? Favourite players?
Argentina, Real Madrid, and Ronaldo.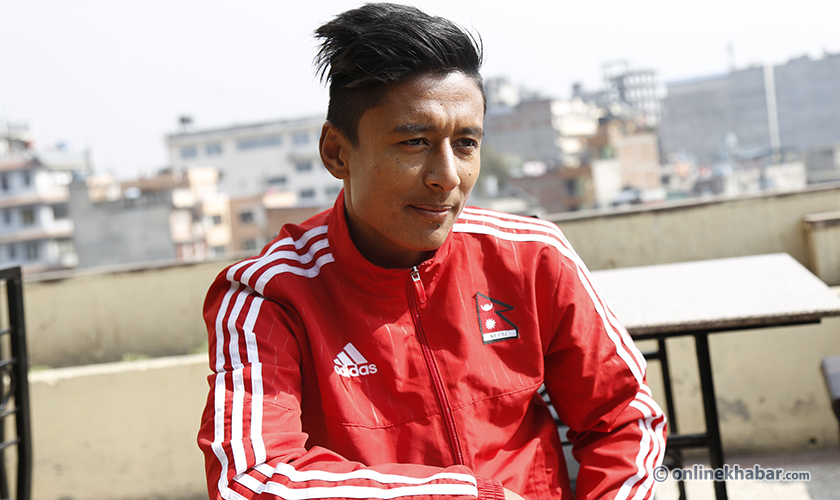 And Messi?
Yes, but Messi is not like Ronaldo.
What about your love life?
Well, it's complicated. She's just a friend. I am not thinking of getting hitched any time soon.
Did you meet her after returning home from Bangladesh?
She's not my girlfriend, she's just a friend!