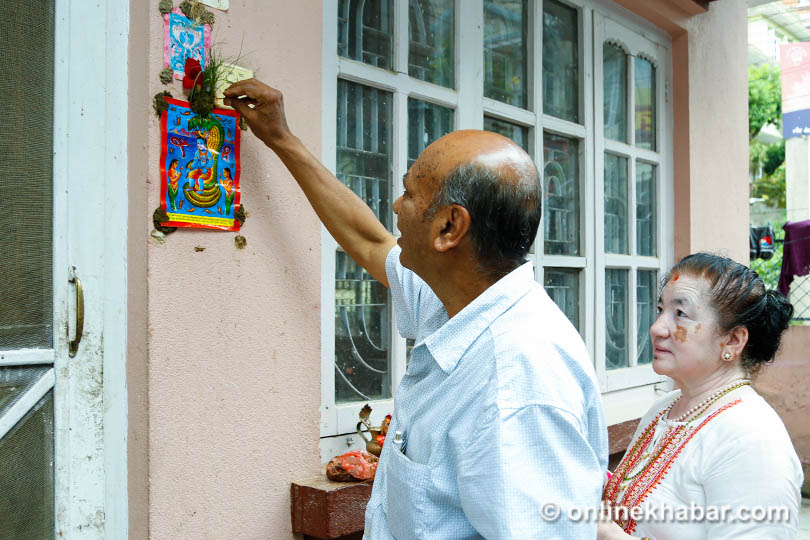 Today is Naag Panchami, the festival of snakes. This Hindu festival is celebrated across Nepal and India on the fifth day of the bright half of the lunar month of Shrawan (Shrawan Shukla Paksha Panchami). It is another rendition of the Hindus celebrating various aspects of nature, this time by celebrating for and worshipping the serpent gods, Naags. It is one of the major festivals when Nepalis worship animals.
According to the scriptures, there are 12 Naag deities, but only eight of them are worshipped at this festival. These are Ananta, Vasuki, Padma, Mahapadma, Takshak, Kulir, Karkotak, and Shankha. It is religiously believed that worshipping the serpent god will protect from poisonous bites of snakes, scorpions as well as other calamities such as fire, storms, and lightning.
Things to do on Naag Panchami
Generally, Naag Panchami is celebrated by mounting pictures of Naags on doorways with cow dung (gobar) and offering milk, dubo (Bermuda grass), a paste of rice grains and red vermillion (tika), and performing puja. Some people fast to offer their devotion during the auspicious festival.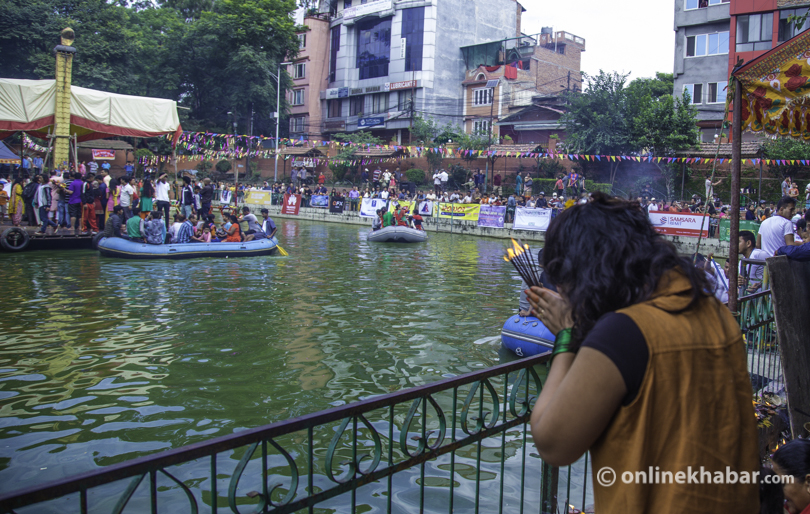 People worship other deities such as Lord Shiva and Lord Vishnu also on Naag Panchami. A serpent king named Vasuki coils around Shiva's neck while Vishnu rests on Shesh Naag, the king of all the Naags. Similarly, a snake in the shape of a crown can be seen on Buddha's head while Karkotak Naag is believed to be the garland around Machhindranath.
Naag Panchami legends
Naag Panchami is believed to have been celebrated since the Vedic ages (c. 1,500 to 500 BCE). It is believed that angering the serpent gods would bring massive drought and therefore Naag Panchami is celebrated to please Naags.
A legend from the Mahabharat epic states that Janamejaya performed a snake sacrificing yajna – Sarpa Satra, powerful enough to kill all snakes, to avenge his father Parikshit's death by the bite of a Naag called Takshaka. Takshaka had fled to Lord Indra's lair and coiled around Indra's cot. When the fire pulled Takshaka, it pulled Indra alongside. To save Lord Indra, other gods appealed to Manasadevi, who sent her son Astika to the yajna site. Astika impressed Janamejaya, who then ordered the priests to halt the sacrifice on the day of Shrawan Shukla Panchami. Hence, it is believed that Naag Panchami has been celebrated since.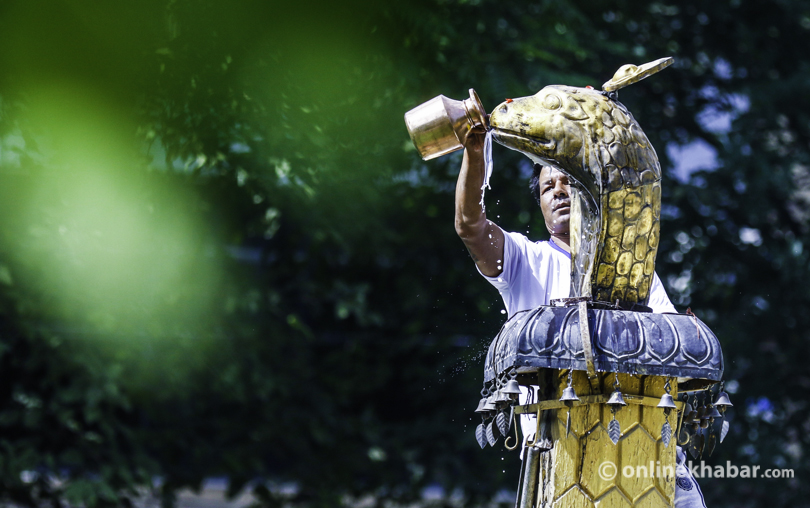 Another legend states that the Earth rests on the head of Shesh Naag and thus Naag Panchami is celebrated. People engaged in agriculture do not work on this day as it is believed that the Naags come out of their places and working in fields might kill or harm these Naags, making them commit a sin.
Places to go in Kathmandu
Naag Panchami has a very important value to the people of Kathmandu valley, which 120,000 years ago was a giant lake. According to mythologies, the lake was called Naag Daha (the lake of snakes) before Manjushree travelled from Tibet and cut the ridge at Chobhar with his sword, draining the water for a new settlement in the fertile land. It is said that Naags of the lake were also wept out from the river and created drought for many years.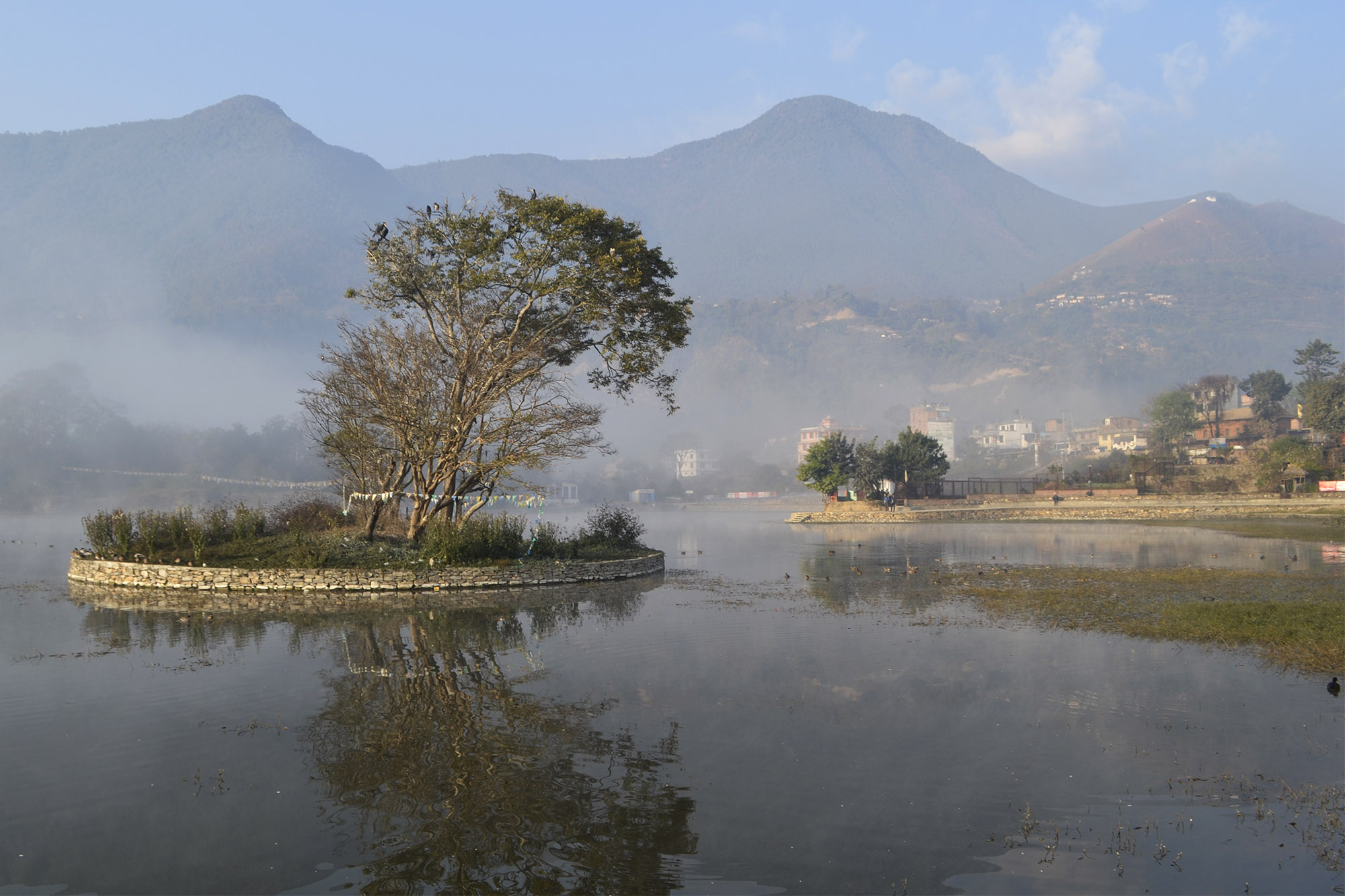 Legends say that Karkotak Naag was kept in Taudaha and Vasuki at Nagdaha, both on the southern outskirts of Kathmandu so that the valley would get adequate rain every year. Both ponds attract thousands of devotees every year on Nag Panchami. Besides, the people of Kathmandu visit places such as Naagpokhari in central Kathmandu, Siddhapokhari in Bhaktapur, and other holy places around.
On this day, thousands of people also visit the four Narayan temples: Changu Narayan at Bhaktapur, Shesh Narayan at Pharping, Ichangu Narayan nearby Swayambhunath and Bisankhu Narayan nearby Godawari in Lalitpur.
---
Originally published on July 25, 2020