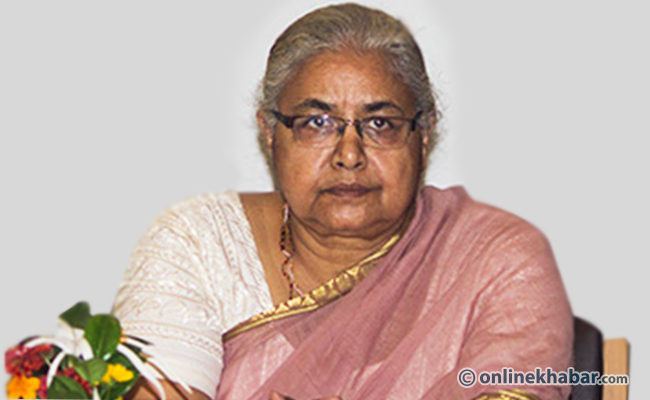 Kathmandu, March 16
New Year 2073 BS will give all people, seeking women's increased roles in the affairs of the Nepali state, something to celebrate.
Onsari Gharti is heading the legislature as its Speaker, while Bidhya Devi Bhandari is the head of the state. And within a month, Sushila Karki (63) will join the league of top women by becoming Chief Justice, replacing the incumbent CJ Kalyan Shrestha. A woman heading the judiciary will be a landmark in 64 years of Nepal's judicial history. Three women in top decision-making positions of the country is rare for any country in the world, including Nepal.
A different background
Speaker Gharti has courted controversy, with the Supreme Court deeming her act of returning a letter containing names of candidates for judges' positions to the Judicial Council. And there's no dearth of people, who think Bhandari got the top post because of backing from her political party. Basically, these two are political appointments.
Karki is a different case. She is replacing the incumbent Shrestha on April 12, leaving behind male aspirants for the top job, on the bases of her qualifications and seniority.
Interestingly, ascension of Karki, known for her zero tolerance against corruption, comes at a time when tainted Nepali Congress leader Khum Bahadur Khadka is 'rising' again (he recently got elected as NC central committee member) and is trying to get clean chit through the Supreme Court by pressing it for the review of a corruption case filed against him.
More about her
Karki was born on Jestha 25, 2009 (June 7, 1952), in Shankarpur, Biratnagar-3. She is the wife of reputed Congress leader Durga Subedi. The couple has a son. The family lives at Dhapashi, Kathmandu.
In 1972, she obtained a BA degree from Mahendra Morang College in Biratnagar. Three years later, she obtained MA in Political Science from Benaras Hindu University. It was only then that she studied law, earning a Bachelor in Law degree from the Tribhuvan University at the age of 26, in 1978. A year later, she started her career as advocate. From 1986 till 1989, she taught at Mahendra Multiple Campus in Dharan.
For a year starting 1995, she also worked as president of Nepal Bar Association's Koshi zonal chapter.
On December 20, 2004, Karki became senior advocate. About five years ago, she became permanent judge of the Supreme Court. At present, she is senior justice of the apex court.
The jurist has worked in the fields of human rights, among others. She has travelled to the US, the UK, Sri Lanka, Japan, China, India, Tanzania and the Netherlands, presenting working papers at workshops. She has worked as an advocate for 32 long years and spent seven years as a Supreme Court justice.
Challenges 
Every personality has its strengths and weaknesses and this jurist is no exception. Appointment of a woman as chief justice is indeed a positive development. Advocate  Bhimarjun Acharya says Karki will face tough challenges as the chief justice at a time when the Supreme Court has been facing number of issues. "Appointment of a woman chief justice is good news," Acharya told Onlinekhabar. She is a good judge."
Nonetheless, Acharya points: Though Sushila has established herself as an impartial and blemishless judge, her capacity as the ultimate decision-maker remains untested.
Acharya says: There's no doubt that her decisions have been impartial. But on theoretical grounds, many of her decisions seem to be lacking in quality. This she will have to do away with in the capacity of chief justice.
On the grounds of age, Sushil's tenure as chief justice will last about eight months. Here's hoping that eight months will be enough to leave a rich legacy behind.