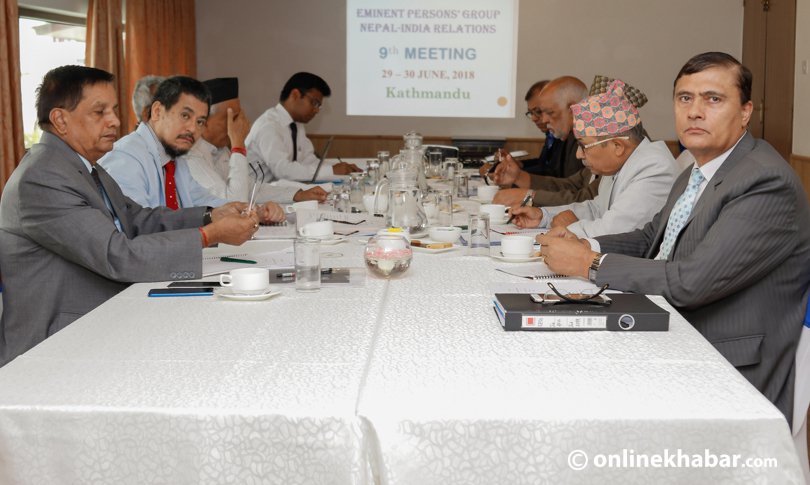 Kathmandu, November 13
Multiple sources have revealed why India did not receive the report of Eminent Persons' Group on Nepal-India Relations that the bilateral think tank prepared five months ago.
Highly placed sources say Indian intelligence agencies and bureaucracy have piled pressure on the government not to accept the report as it is, claiming the report favours Nepal and is against Indian interests.
"In particular, the Indian side has objected to the mention of 'smart border management'," a source says, "The bureaucracy wants it removed. The bureaucrats have pointed at various risks [that the phrase might suggest]."
Currently, the New Delhi government is not in the position to ignore the pressure of the bureaucracy and the intelligence as the ruling Bharatiya Janata Party is preparing for the 2019 general elections; and the party needs their support to make another victory. Hence, the party wants to keep the border security arrangement as it is now.
Consequently, Prime Minister Narendra Modi is not ready to receive the report as it is.
Meanwhile, through informal channels, New Delhi has begun piling pressure on Nepal to amend some key clauses of the report.
In response, Kathmandu has told New Delhi that the report cannot be amended as the EPG was already dissolved in July after it completed the assignment. Indian officials, however, argue that the group consisting four intellectuals and experts from each side will not dissolve unless both the governments accept the report.
While signing the report in July, the EPG members had agreed that the report would be submitted to Modi first. But, upon failure to get his time, they have not submitted the report to Nepal government as well.
Nepal, on its part, has continued its efforts to convince India about accepting the report. Foreign Affairs Minister Pradeep Kumar Gyawali talked to his counterpart Sushma Swaraj about the issue last month. Just last week, Foreign Secretary Shanker Das Bairagi also made a follow-up call to New Delhi.
In addition, Indian members of EPG have also assured Kathmandu that they would take initiatives to get the government's nod to the report. But still, Nepali officials are not much hopeful.