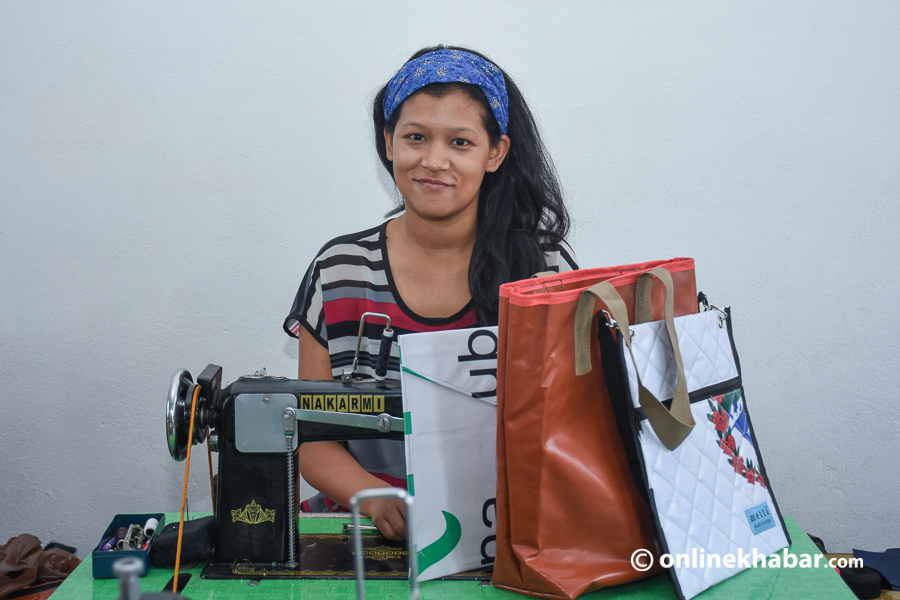 Rushka Sthapit worked for CWIN, a leading child rights NGO,  between 2012 and 2014 as an environmental officer. Besides her regular work, she also wanted to do something extra to prove herself as an 'environmental officer'. She wanted to devise a unique project that could also contribute to the environment.
"Therefore, my colleagues and I there developed the idea to make bags out of banners that organisations use for their events," Sthapit remembers, "CWIN also accepted the idea and launched a new programme called 'Banners to Bags'."
Sthapit left the organisation in 2014, earned a master's in business administration from the Kathmandu University and started working for different employers. But, over these years, she could not forget her brainchild 'Banners to Bags'. Hence, she decided to establish a private company with the same idea. This is how Metta Hastakala was born around five months ago.
Metta Hastakala is a startup that collects used banners made of vynil, and produces bags useful for grocery shopping among others. The company ultimately wants to reduce the use of non-reusable polythene plastic bags for daily shopping, but it faces challenges galore.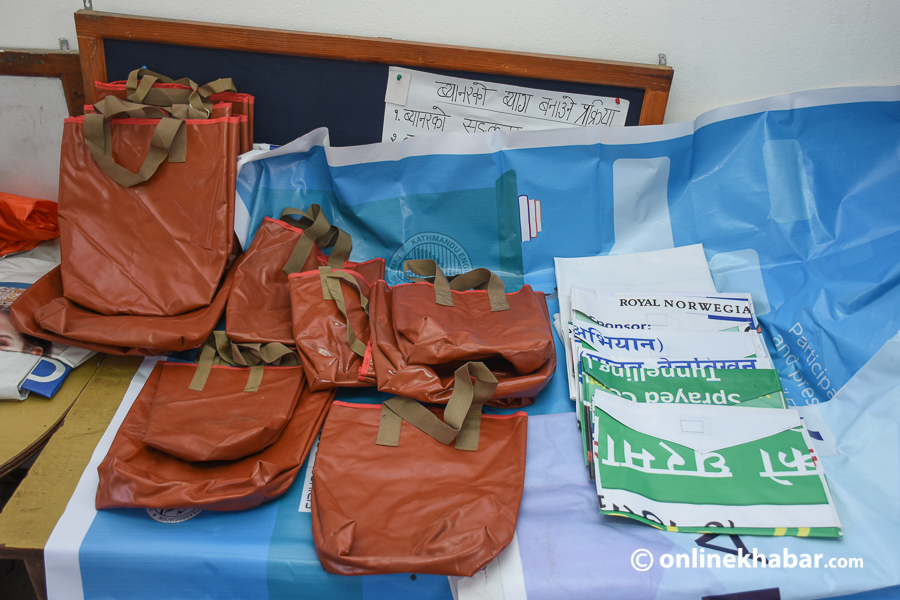 From idea to implementation
Though Sthapit left CWIN in 2014, she and some volunteers working for the organisation continued producing a few bags out of banners occasionally.
"It was a kind of trial and error. Between the ideation and the company's registration at the government as a cottage and small enterprise, we switched between occasional operation and shutdown," she says.
But, considering the wide availability of banners, Sthapit decided to take the idea ahead as a private business and registered the company five months ago.
Sthapit says the support provided by CWIN was significant to keep the idea alive over these years. Even after the registration, the NGO has also let Metta Hastakala team use the sewing machines which it had purchased for some training programmes. Likewise, it has provided the company a room at its Child Helpline Office in Naikap on the western outskirts of Kathmandu. The previous sewing training hall has been transformed into Metta's workshop.
"CWIN has been a guide and mentor for us," Sthapit says, "Therefore we have to pay back." Perhaps that is why Metta, which means 'unconditional love' in Buddhist literature, is employing some youth at risk who have been receiving different kinds of support from CWIN. According to Sthapit, these women are at the risk of different threats including domestic violence and sexual abuse, and a salary from the company, which she claims is dignified, will add to the support CWIN has been providing for their empowerment.
To register the company and facilitate its regular functioning, Sthapit has invested over Rs 200,000. She thinks she needed not put in additional amount thanks to the NGO's support.
With the investment, she covers salary, marketing campaigns, materials and other fixed costs.
The entrepreneur hopes that the company will gradually come out of the NGO's ambit as it moves toward expansion.
Expansion plan
Sthapit thinks she will be able to get back her investment within one year since the launch of operation, i.e. by February 2020. "Then, we begin earning profit, which will be added to our capital. This way, we will expand our business."
Currently, Metta Hastakala sells its products via word of mouth and social media. "Besides banner bags, we also produce bags out of fabrics. Various organisations which are familiar with our works for a past few years post their orders and we supply the products to them," she says.
Likewise, Metta Hastakala participates in various entrepreneurship development events and Saturday markets. They have been helpful to reach out to additional potential customers.
Alchiko Pasal in Jhamsikhel also sells its bags. Soon, another shop in Thamel is also partnering with the company.
Because it receives a limited number of demands, the company has limited its production till now. Sthapit says it employs only two workers these days, that too for 15 days a month. They produce around 80 bags from banners and fabrics every month.
"Once we receive more demands, we need to increase the amount of our production. Employing people supported by CWIN could not be sufficient by then. We will also need to open our own outlet inside the city because our workshop here in Naikap is quite far for our customers."
Sthapait says the company is most likely to open its city outlet by the first anniversary in February next year.
Challenges galore
But, she knows it is not easy.
"We know our products do not sell without any effort. It is not yet appealing to general public," she concedes, "Young people who are conscious of environmental issues are interested in our products. Then, there are expats living in Kathmandu. But we have to tell them our background story."
A common challenge for companies like Metta is that its products are way expensive than easily available alternatives in the market. "But we are on the cheaper side of the market," Sthapit claims, "You also need to consider their durability."
The costliest of a Metta product, a multi-pocket bag, is worth Rs 750 whereas the cheapest, a key chain pouch holder, is available for Rs 150.
Sthapit is confident that a well-managed marketing campaign can address such issues, but collecting the raw material, banners themselves, is really hard.
"You go to the organisations, explain them your purpose and convince them about donating their banners," she describes the hardship, "At the end of the day, you receive just two pieces of banners, which will make just one bag."
"Sometimes, the banners are too dirty. A lot of effort is needed to clean. Other times, they are already worn out by the sun or rain."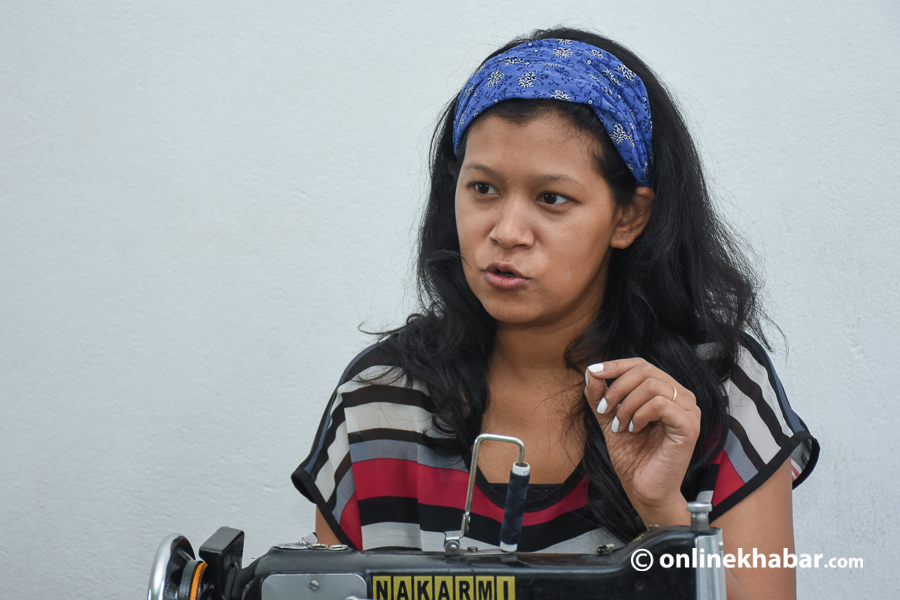 Despite the challenges, the young entrepreneur is determined to go ahead. "There are a lot of banners being used in the city, and we at Metta want to spread a message that youth need to handle that waste more smartly" she says, "With persistent efforts, we will be able to stand up and move forward."