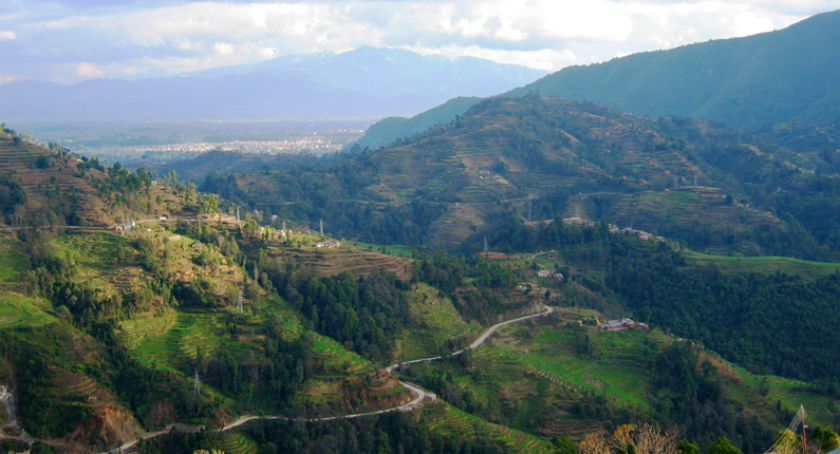 We were riding on the Mudkhu-Teen Piple-Jitpur-Phedi-Kavresthali-Sangla circuit, a 25km round-trip which happened to be one of my frequent spins on my mountain bike. This route is also favored by many riders of Kathmandu.
Ours was an odd bunch. There was Lisa, a British lady from East London. She came to Kathmandu to do a CELTA course run by the Cambridge University and conducted by the British Council, Kathmandu. I came to know Lisa by pure chance through an old friend who happened to be doing the same course with her. My other co-rider was Shayeet, my neighbor.
Another oddity that marked our group was age: I was 65 years old, Lisa fortyish and the youngest Shayeet was just a kid, 17. More surprises seemed the order of the day. When I looked at Lisa's bike, I almost got a shock.
It was an old rundown 6-speed Chinese bicycle that she bought at almost a throwaway price (Sorry, Lisa, for the throwaway remark!). God, the bike did not even have the suspension forks! Frankly, I would not ride it for all the tea in China! Shayeet had a Trek, a 29er, a hardtail (9-speed) and mine was a Trek Fuel8 dual suspension (10-speed), the high-end bike among the three.
My ten years of mountain biking has taught me to ride safe and always wear a helmet. I learned it the hard way after enduring loads of bumps and bruises. I always made sure my co-riders wore helmets. No helmet, no ride. To my dismay, Lisa had a ludicrous turban around her head resembling a woman's brimless hat instead of a helmet, which I later learned was a buff-gear we use to cover our noses against the dust.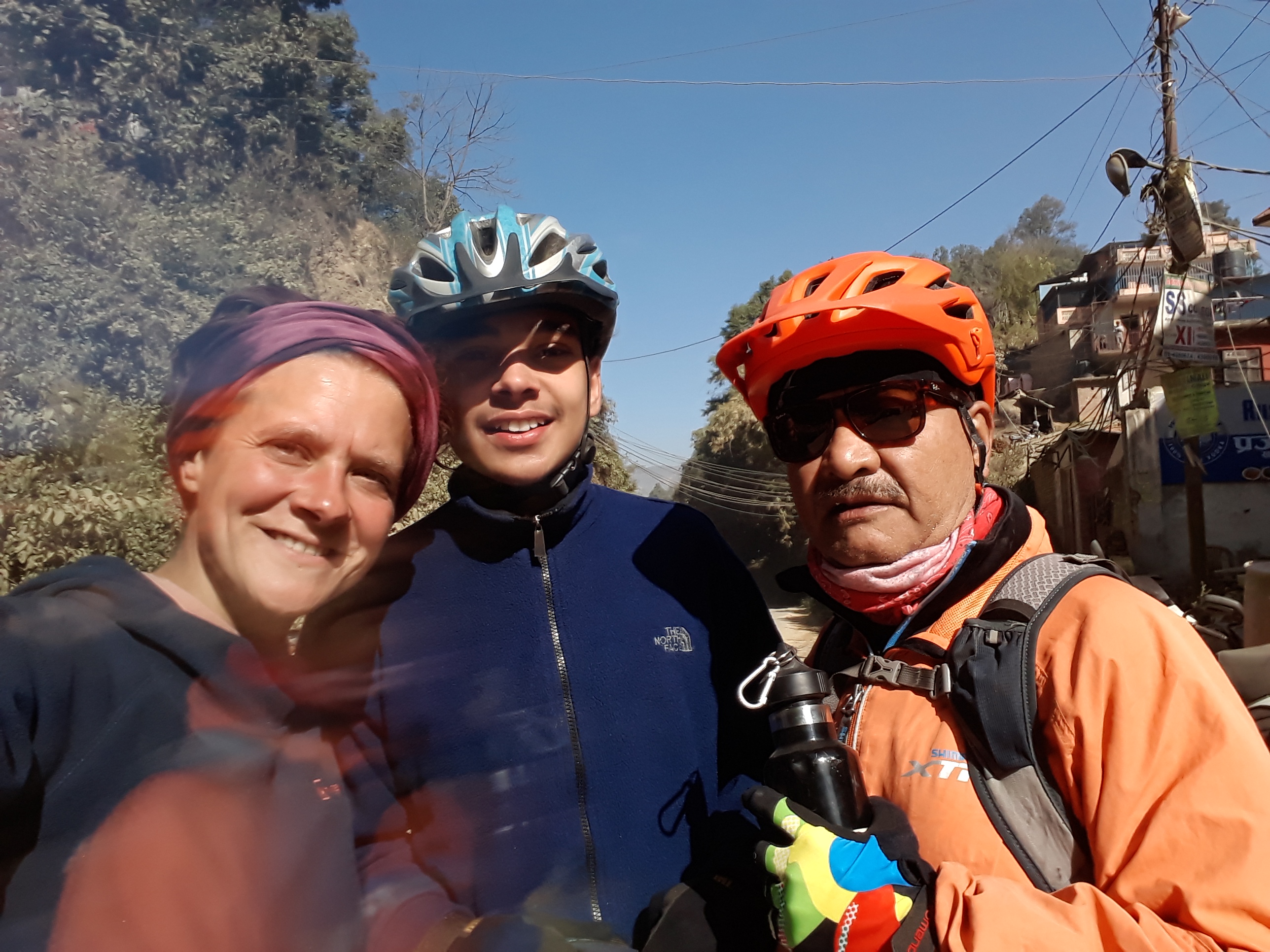 Helmet or not, I had to bow down that day because we did not have a spare one and we were running short on time. We started around 9.30 from Jalpa Chowk some 10 minutes from my place. At the first incline that began shortly after we started, I was cocksure, Shayeet, and I would leave Lisa way behind considering her low-geared bike.
Lo and behold, as it turned out, I was the last one to finish the climb after the two of them! She proved me completely wrong. Wow, lady, you're a real tough rider, I said to myself! Little wonder she looked so athletic and carried that shredded physique. Later, I learned she ran, too, and had participated in some marathons back home.
The strapping young Shayeet is a natural athlete. He plays soccer, futsal, does weights at a gym and cycles. So, as it turned out, I was always behind the two when it came to climbing. Hang on–not on the downhill though; the two could not keep pace with me when I barreled down the slopes like a pro.
Mudkhu Bhanjhyang was like a half hour ride, the paved road on a mild gradient all the way. We stopped for a while at the police check-point for a breather and to sip water. The densely forested Nagarjun hill towered on our left behind the high walls of the Shivapuri-Nagarjun National Park. The next leg to Teen Piple was really dusty.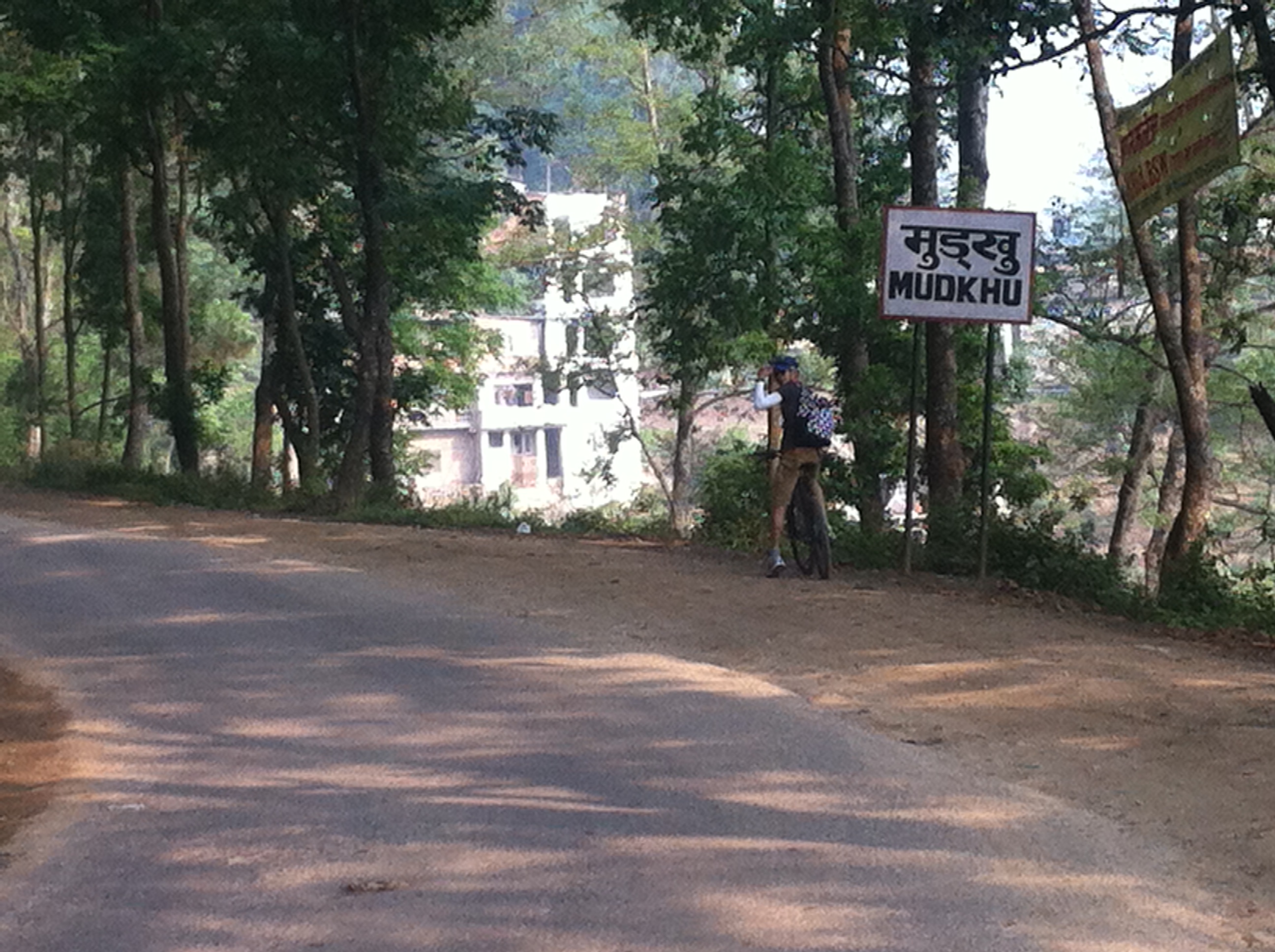 As the road was undergoing construction, we were sprayed with clouds of dust almost like every five minutes when a heavy tip truck roared past. Even my buff would not shield me from the thick dust. We must have inhaled a ton of dust by the time we made it to Teen Piple.
After Teen Piple, it was pure country, away from the dust and pollution of the city. The jeep-track going up and down led through small settlements and farmland. It was wheat time. The terraced fields with the young wheat grass sprawled over the hillside cascading down into the lower valley like a green carpet. In the distance was Kathmandu looking leaden and gloomy under a perennial pall of smog.
Lisa was doing fine save for a few occasions when the chain came off the chainring on the gravely slopes. That was not a big deal. I was afraid her rusty old wheels might buckle instead while doing the rocky downhill. After something like 40 minutes, we arrived at Jitpur Phedi.
History has it that the demure little settlement was named Jitpur after King Prithivi Narayan Shah (the first king of Modern Nepal) won over the Kathmandu Valley (Kathmandu, Laitpur and Bhaktapur). He had his barracks stationed at this village prior to the victory. To our left, I could discern the faint mark on the face of the high hill, which was the Tarkeswor Mahadev (a Shiva temple).
After Jitpur I felt we should stop for a cup of tea made from buffalo milk, a rarity in the city. It had become second nature to me to have a buffalo milk tea on every ride I made into the countryside. I kept on looking for a tea shop but given the odd time (it was close to noon), some of the shops did not have tea, missed some, and others were closed.
After Jitpur, the gravel track again cut across open country and a panoply of greenery. I kept looking at the roadside teashop as we pedaled on enjoying the rural landscape. At a place called Kavresthali, I spotted a teashop and stopped to ask.
"Sahuji (shop-owner), do you have buffalo-milk tea" I called. A pot-bellied man with graying stubble appeared and said, "Yes, we serve tea made from organic buffalo milk." The three of us looked at each other and smiled at the use of the word 'organic'.
The tea was good and refreshing. Then, I noticed the sahuji kept on eyeing Lisa as we sipped our tea and talked. "Are you British?" The shopkeeper suddenly asked Lisa.
"Yes, how did you guess?" That surprised Lisa. The guy then fell into a conversation with her . . . in English. Surprised, we listened to him as he told us he had stayed in England for a couple of years.
Before going to England he worked in a restaurant for a decade in Manali, a Kullu Valley town in the Himachal Pradesh, India and after the first few years there visited Goa to work during tourist season. Goa–a land of sea, sun, sand, spices and cashews–a multicultural hub–was a place where he could earn as much in a season (4 months) as he earned in a year in Manali.
"What's your name?" I asked. "Pandy, like a candy," he replied with a smile. We all smiled, too. Later, as we prepared to leave, I asked him why that funny name 'Pandy'.
"My actual name is Kamal Prasad Dhakal. I'm a Brahmin or a 'pandit'. During my stints in Goa, I met a lot of tourists. They always asked my name. Now, it was kind of difficult for them to call me by my Nepali name. So, I decided to name myself Pandy, a short form for 'pandit'. There was another round of smiles among us. Interesting chap, I said to myself.
We did not stop the rest of the way. Shayeet and I were getting late for lunch and Lisa had to see someone in the afternoon. The downhill at Sangla gave us all a real kick. The uneven gravely road was steep, narrow, pitted at several places and strewn with pebbles. Obviously, I was in the lead. To sum it up, it was tricky and required skillful handling. A rider at the speed I was doing could break several bones if he flipped.
Shayeet and I parted with Lisa at Jalpa Chowk. Lisa was happy, so were we, like always, after a ride into the hills and the country. That's mountain biking. As we headed back home, Pandy's words kept coming back to my mind. He sure seemed an idiosyncratic character and I thought he would definitely make an interesting story. I decided I should take another ride in the coming week to Kavresthali to see Mr Pandy.
The story continues . . . .